Of all of England's national holidays, Easter has a particularly special place in the calendar. The daffodils are out, the nights are longer and lighter; it marks the true beginning of spring. It's four lovely days of catching up with friends and family over long walks and even longer meals, which, for bakery owner, food writer and recipe developer Claire Ptak will be chock full of the fresh, organic produce that has become synonymous with her name. We paid Ptak a visit to her East London home and, under the guise of learning more about her long-weekend celebrations, had the pleasure of taste-tasting some scones she'd baked in advance of Easter afternoon tea (more on these later).
American-born Ptak moved to London "for love, initially" nearly 20 years ago and has never looked back. She's best known as the founder of Violet Cakes, a fan-favorite bakery-café in Hackney that is the culmination of a lifelong passion for baking, and as the creator of Harry and Meghan's wedding cake. It was days spent with her mother and grandmother as a child that first got her into the art of baking, but it was initially a passion rather than a career option: "It was only when I got an internship at Chez Panisse [a restaurant in California credited as the birthplace of the farm-to-table movement] that my course really changed," she tells us.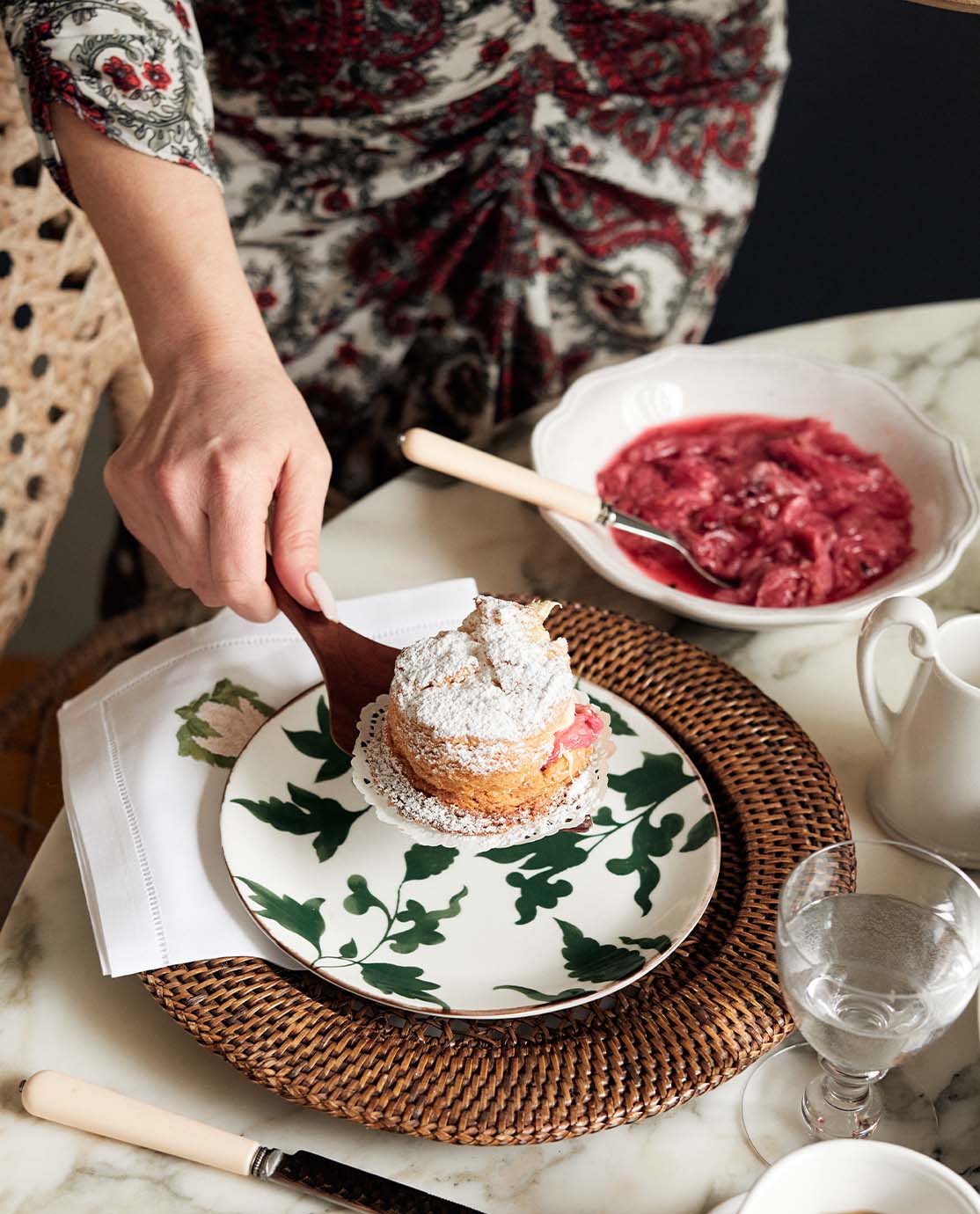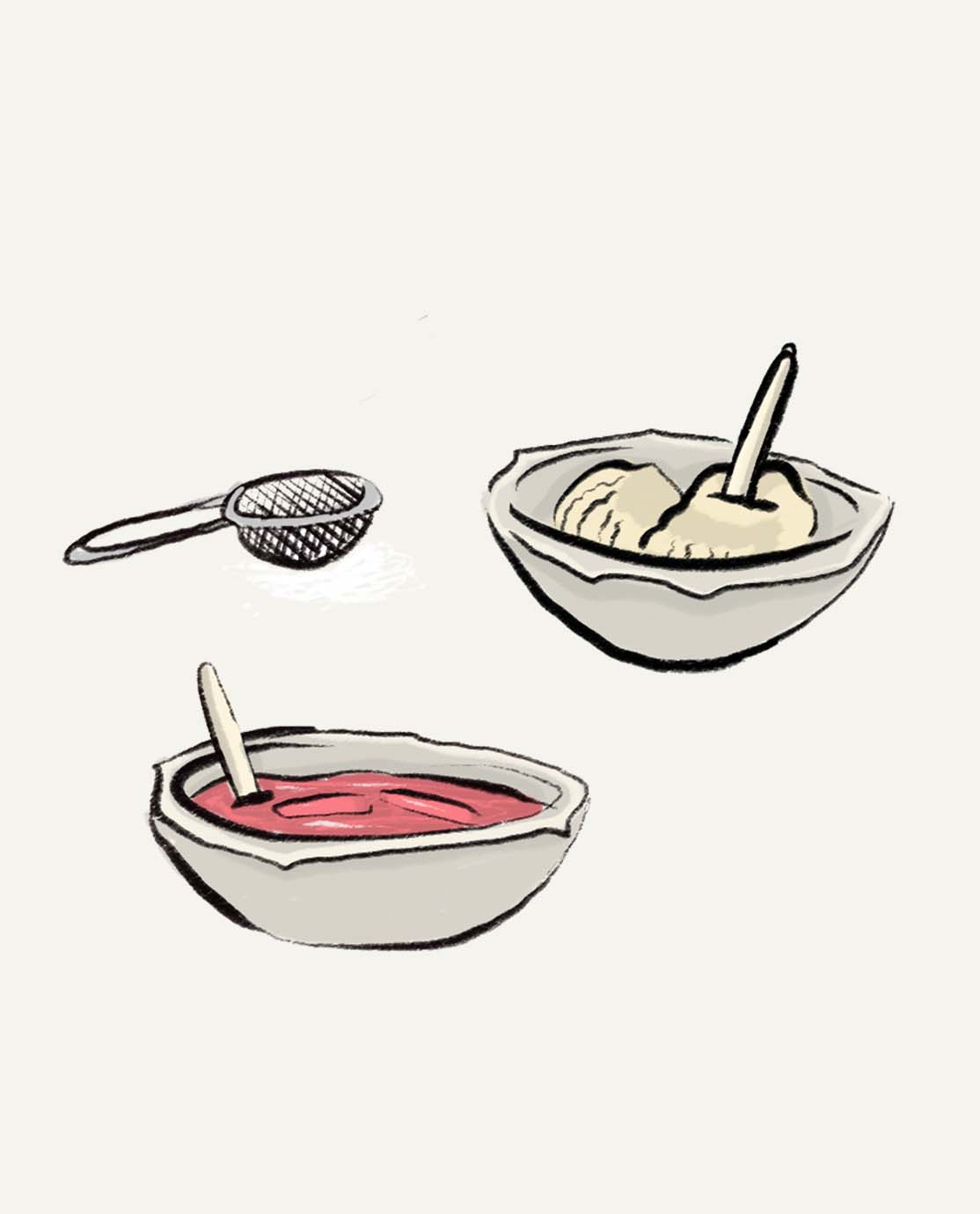 Aside from whisking her away from film school in Hollywood—"I was so disillusioned with it"—Ptak's years at this "visionary" culinary institution shaped her approach to low-intervention cooking and eating. "Alice Waters [founder of Chez Panisse] has been an incredible influence on my work and taught me to really stay true to my values," she explains. "When things are hard and other people are using cheaper ingredients or not thinking sustainably, I have her voice over my shoulder going 'but you have to.'"
If you're planning on hosting this Easter, take a leaf out of Ptak's book and use it as an opportunity to get creative, basing your menu around what's in season. "Rhubarb is always what I think about around this time; it's so delicious," says Ptak. She likes it so much that the vegetable shapes one half of the pair of scones she'll be baking for Easter afternoon tea. Although dessert is "always the main event", for Ptak—making a tea the perfect choice—it won't be a simply sweet affair: the occasion will kick off with a spring herb-inspired savoury bake, Sour Cream, Chive And Feta Scones.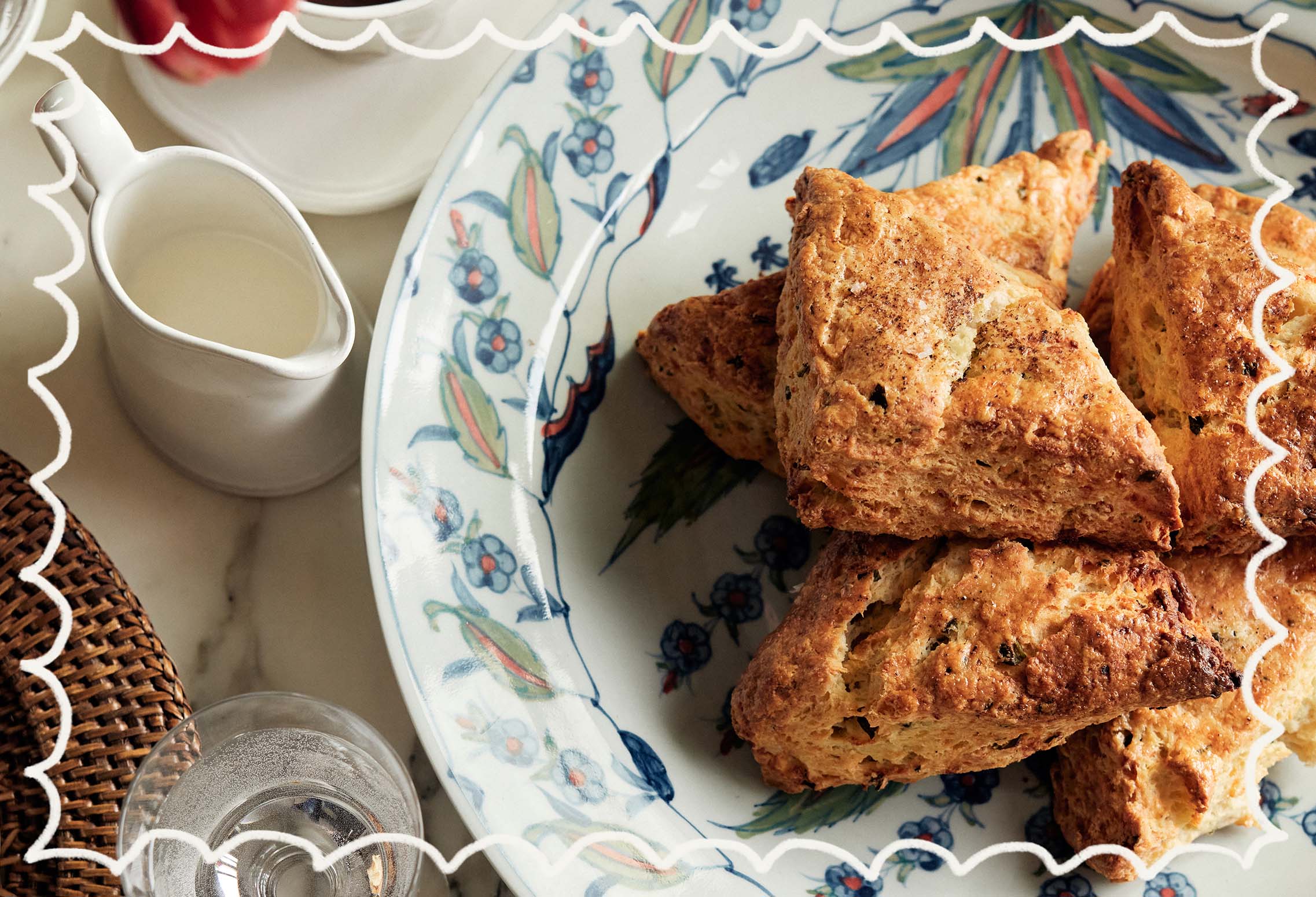 Beautiful food deserves beautiful presentation, not least for an occasion such as Easter, but when it comes to tablescaping Ptak is careful not to overdecorate—"I like to let the food do the talking," she tells us. She's a fan of abundance, but done mindfully. To tap into this ethos, think about taking cues from what you're serving to inspire the table setting; on Ptak's table the "awesome color" of the rhubarb compote is complemented perfectly by beautiful similarly-hued tulips. "I love to play with color on the table," she says. "My home is mostly white and wood, so the table is where I bring in color through the food, plates and flowers."
Understated rattan underplates and leaf-design crockery enhance the natural theme, while adding a subtle layer of pattern and texture. The latter addition is of particular importance to Ptak: "I love using natural textures, such as rattan chargers next to embroidered napkins and pretty ceramic dishes," she explains. If you're sitting down for a leisurely meal, she recommends using giant chargers to serve a help-yourself feast: "I often serve food on large, beautiful plates and platters for sharing; I like the scale. OKA's Isphahan plate would look good on any table." She's also a fan of using different plates and cutlery for each step—"I sometimes feel overwhelmed by how much goes out onto the table, so I like to course it a little bit, I like the stages," she says.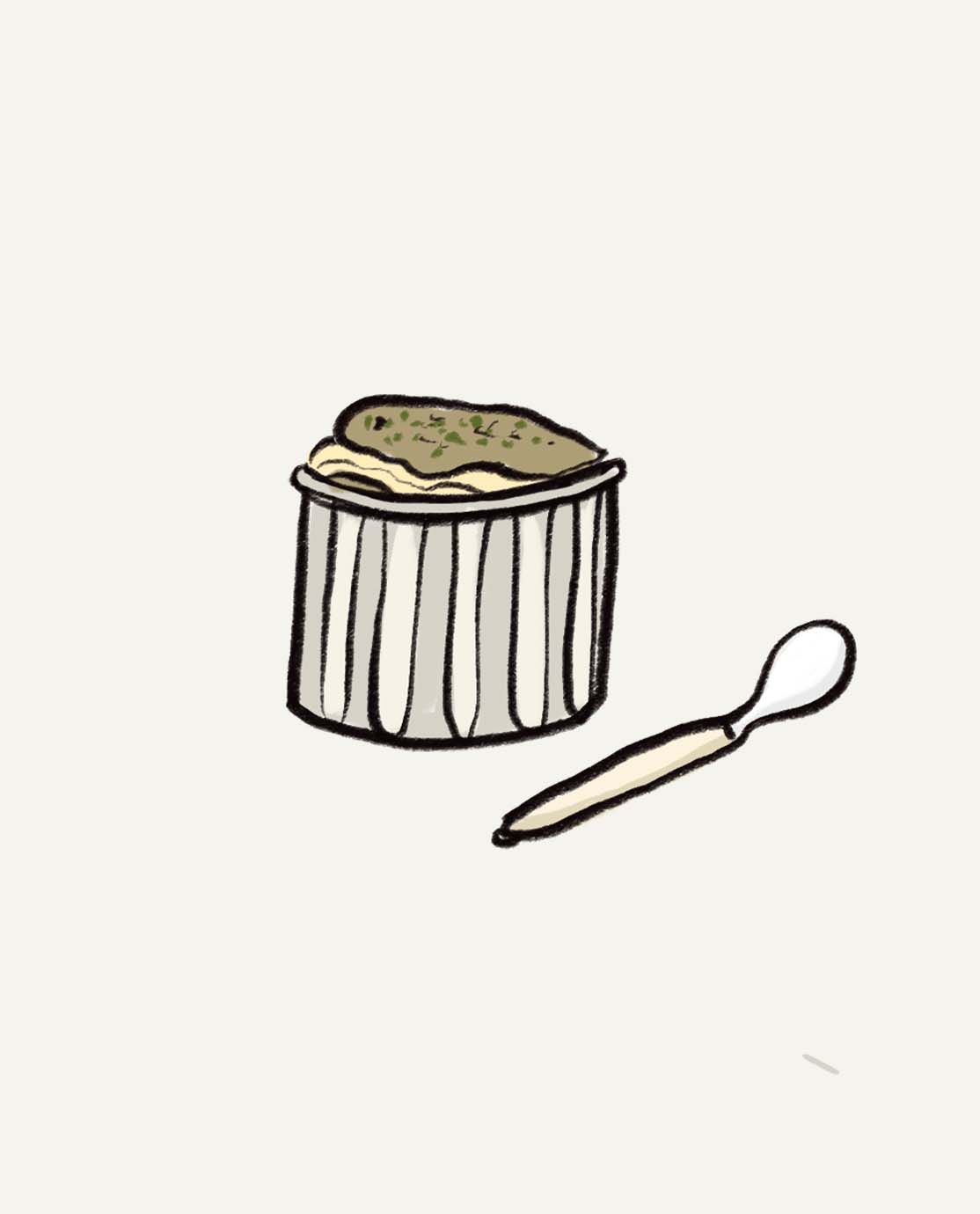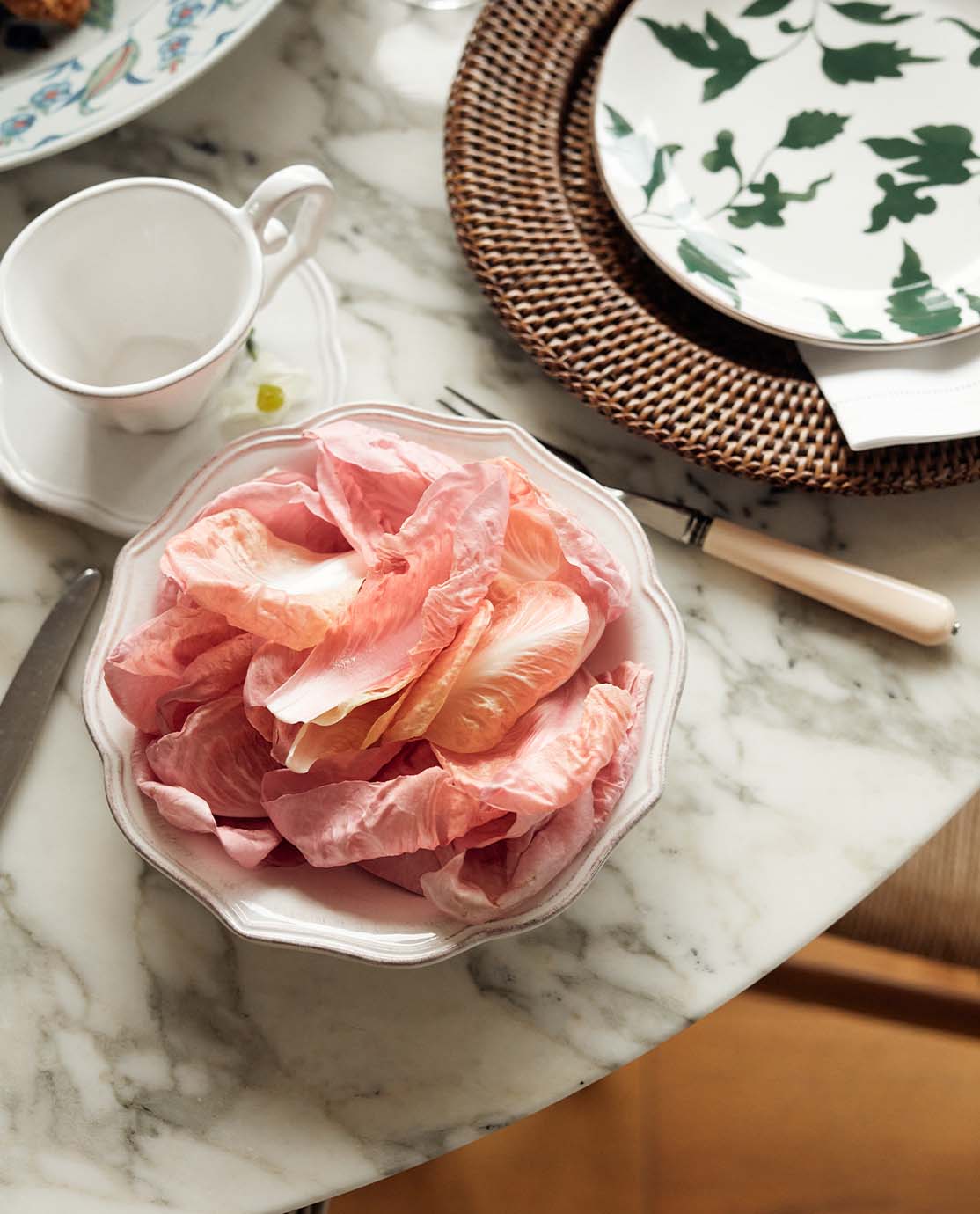 In short, Ptak likes to keep things simple but high-quality, in her food and in her home. "I like beautiful things, I use nice things every day, but I don't have anything in my house that's just for show; everything has a purpose," she says. You'll see the same minimalism in the recently renovated interiors of Violet (which used to be a garage). "It's always felt to me like the building could look Californian, with the stucco brick, so when we did the remodel, I wanted to embrace that," she says. The work of English architect—and Violet customer—John Pawson was another influence; the result is pared back and minimal, with plenty of windows to let the light in.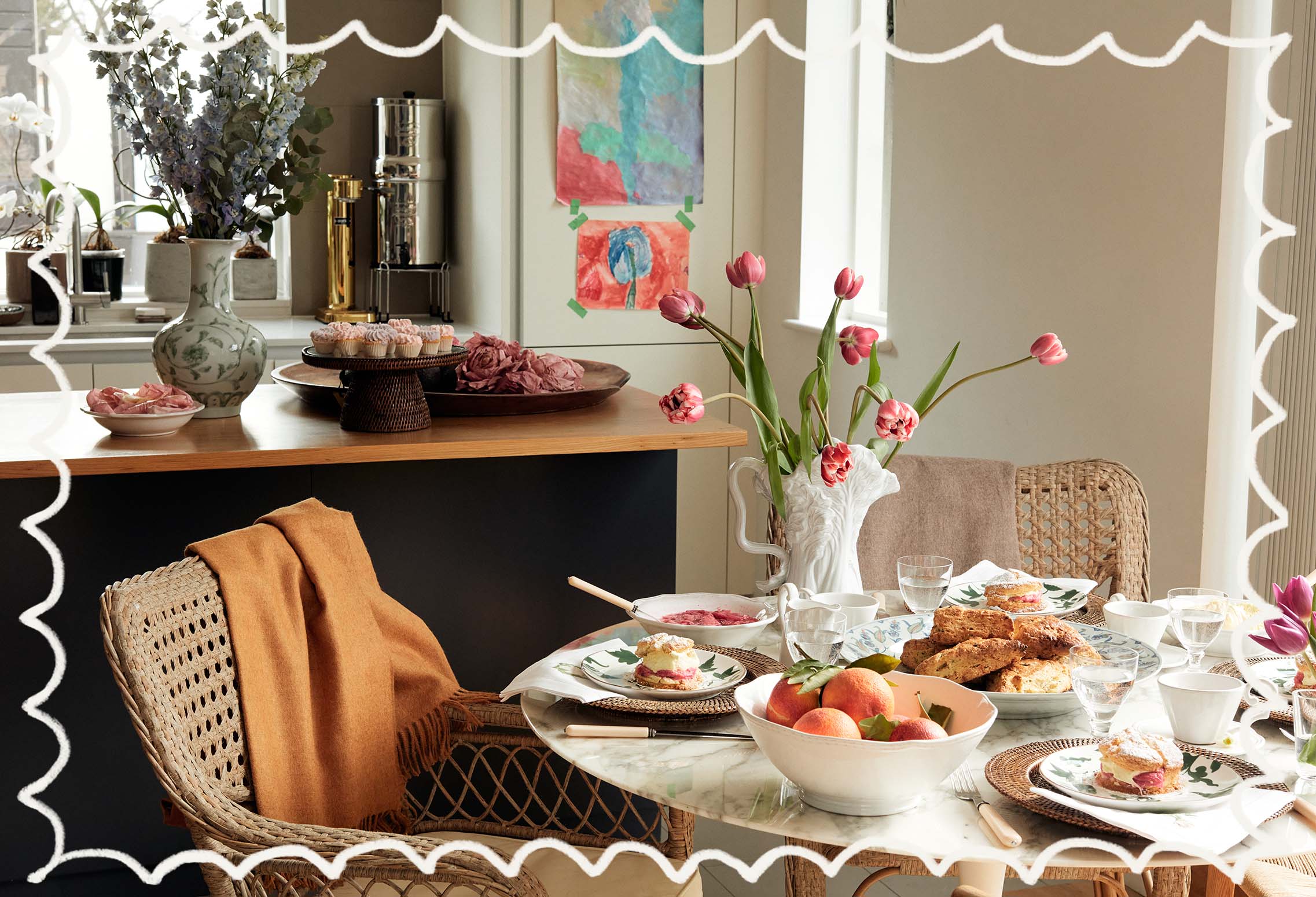 When it comes to Easter Sunday activities Ptak and her daughter are fans of all the classics. Easter egg hunts for one, are on the agenda—her Californian hometown in fact is renowned for theirs. They'll also be turning their attention to the lovely art of dyeing eggs with food coloring. In a similar vein to baking, "anything when we can take a minute off our screens is good, and when your hands are busy, you're concentrating but there's a different kind of relaxation going on, on a different frequency," Ptak muses. Sounds like an excellent plan.