Within a split second of pulling up to The Grove, India Hicks' mother's home in England's bucolic Oxfordshire, her family's storied heritage reveals itself most beautifully: a set of interlocking Hs decorates the facade of the house, an emblem speaking to the legacy of her father, the late interior decorator David Hicks. Step inside, and we're met with corridors of old photographs of her mother, Lady Pamela Hicks, who was Lady-in-Waiting to Queen Elizabeth II—in short, it's a property that's positively bursting with tales and memories. The perfect setting then for a festive family reunion; while the author, designer and entrepreneur spends most of her time in the Bahamas, a holiday celebration in the UK is always on the calendar. We had the pleasure of catching up with her to learn all about their festivities, from the importance placed on the Christmas table décor to fun-filled traditions that transcend generations.
"Our Christmases are very traditional in many ways," muses Hicks. Decorating the tree is an occasion in itself, even in the Caribbean, where a combination of beloved ornaments—some of which were inherited over two decades ago with the purchase of their house on Harbour Island—and newly acquired trinkets results in a fir that becomes more and more laden with each passing year. The presentation of gifts, too, is important in the lead up: "I go completely over the top; there was a point in my childhood where I wanted to work at Harrods [London's most famous luxury department store] in the present-wrapping area." Hicks loves to have a theme each year; one might be craft paper and tinsel, the next, paper stamped with each person's name, or even all-out fluorescent everything.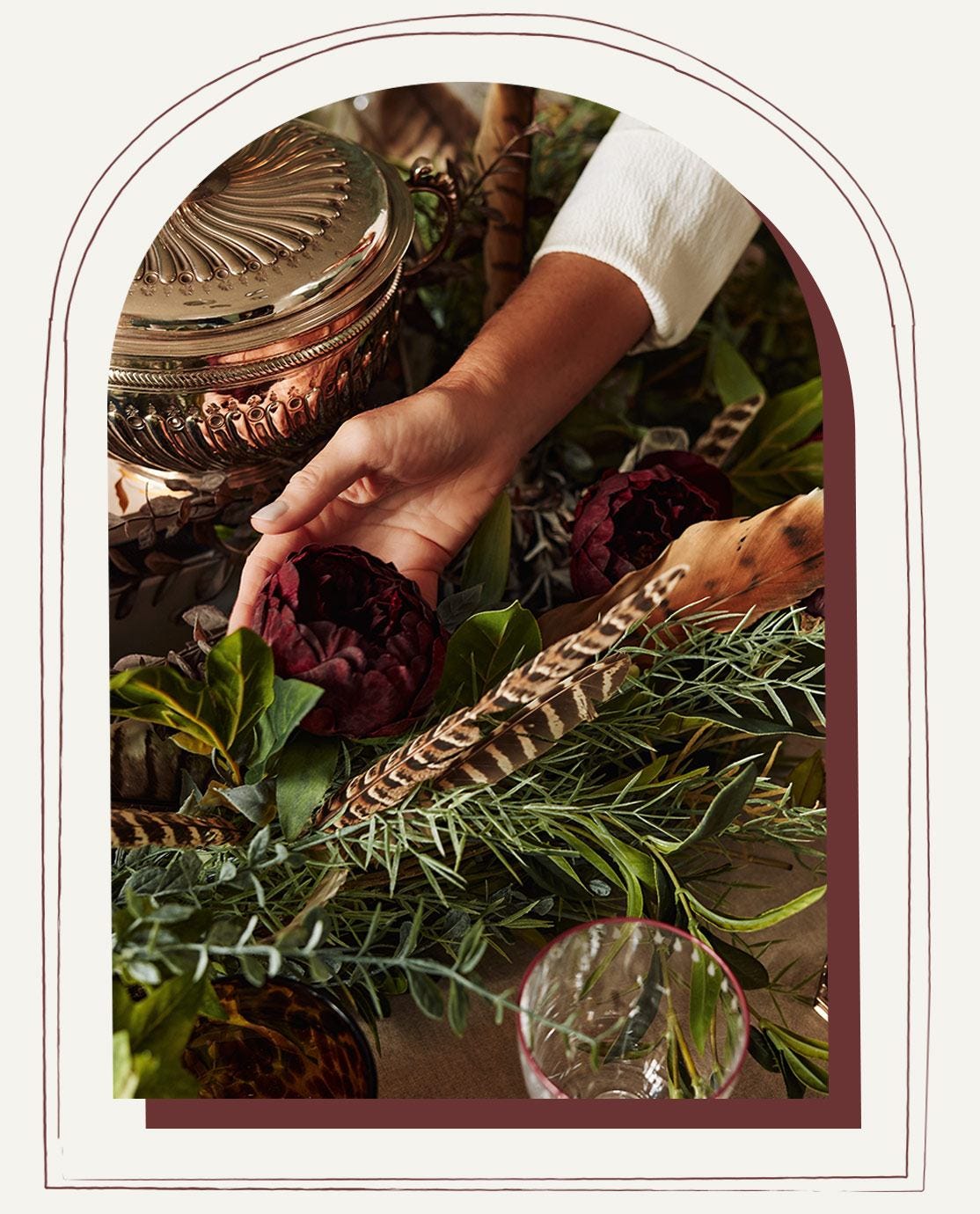 The big day starts with her five children opening their stockings; crafted by her mother's dressmaker with each name inscribed in stitching, they are heirlooms in the making. "There have been protests recently when I posed the question of whether, in their 20s, did they all really need one. Apparently, they do," she laughs. "We used to open them on my bed, but as the boys got bigger and bigger and bigger, there was more and more and more chaos. So now we do it downstairs in our sitting room and there is still utter chaos." Then follows a full English breakfast and a trip to church, all gearing up to the main event of an early dinner with all the trimmings. "It's an entirely British Christmas menu," says Hicks. "From the roast potatoes to the stuffing and the turkey; the mince pies and Christmas pudding... our American guests are certainly surprised if they find a penny in their dessert that nearly chips off a tooth!" This reference to visitors sums up Hicks' outlook to the holidays: in her house, everyone is welcome. "We're usually joined by various waifs and strays," she laughs, "I think making someone feel a part of your family is the best thing in the world."
There is, of course, a beautiful table setting to match such a feast. "It takes very little effort to make a Christmas table feel utterly warm and inviting," Hicks says. While she likes to mix up her tablescapes, she has one golden rule: "For a festive feel, more is more is more. This is not an occasion for less, in my opinion," she tells us. It's all about layering in abundance, from Christmas crackers, which when in the Caribbean she will "lug out" from England, to candles, glassware and napkins.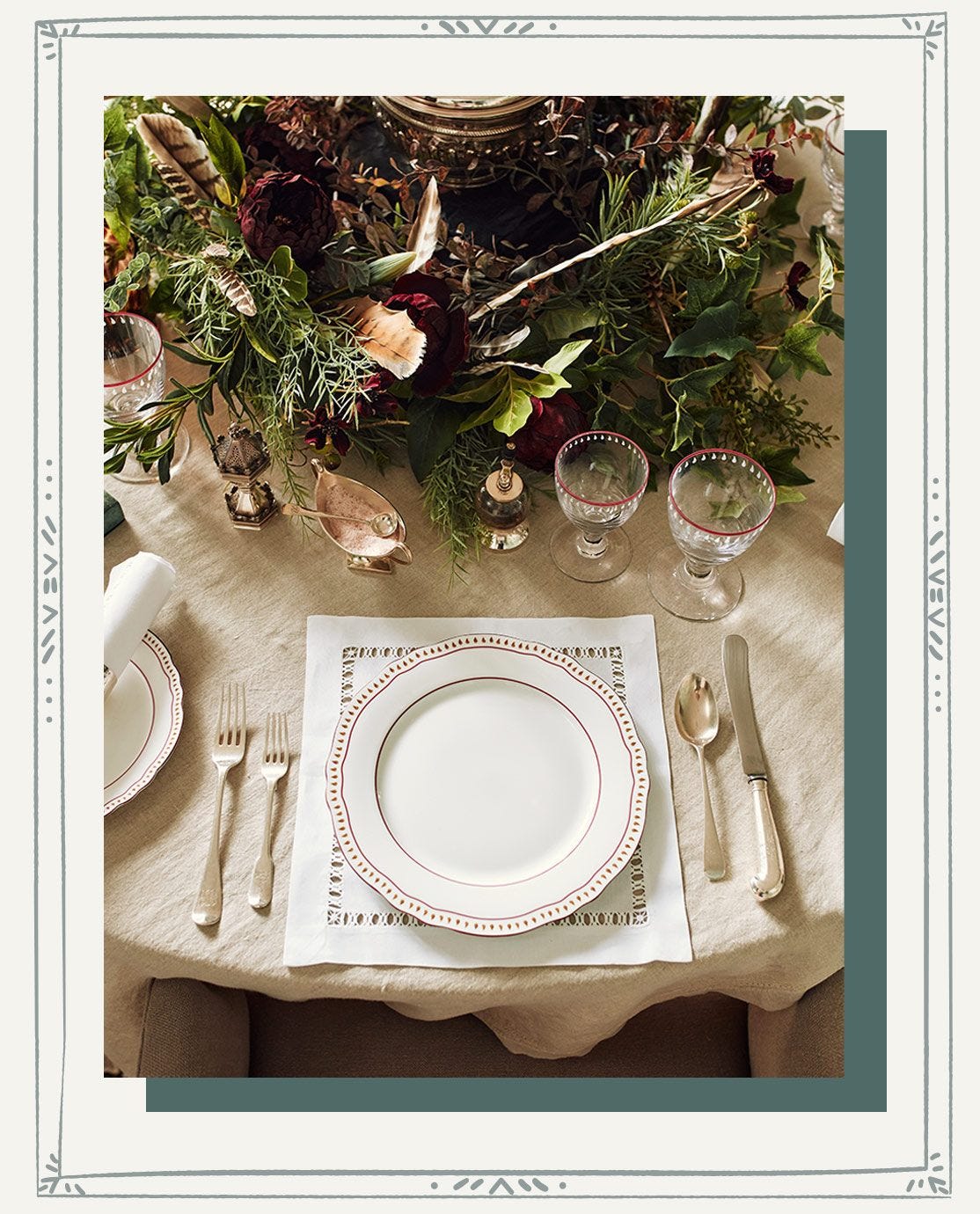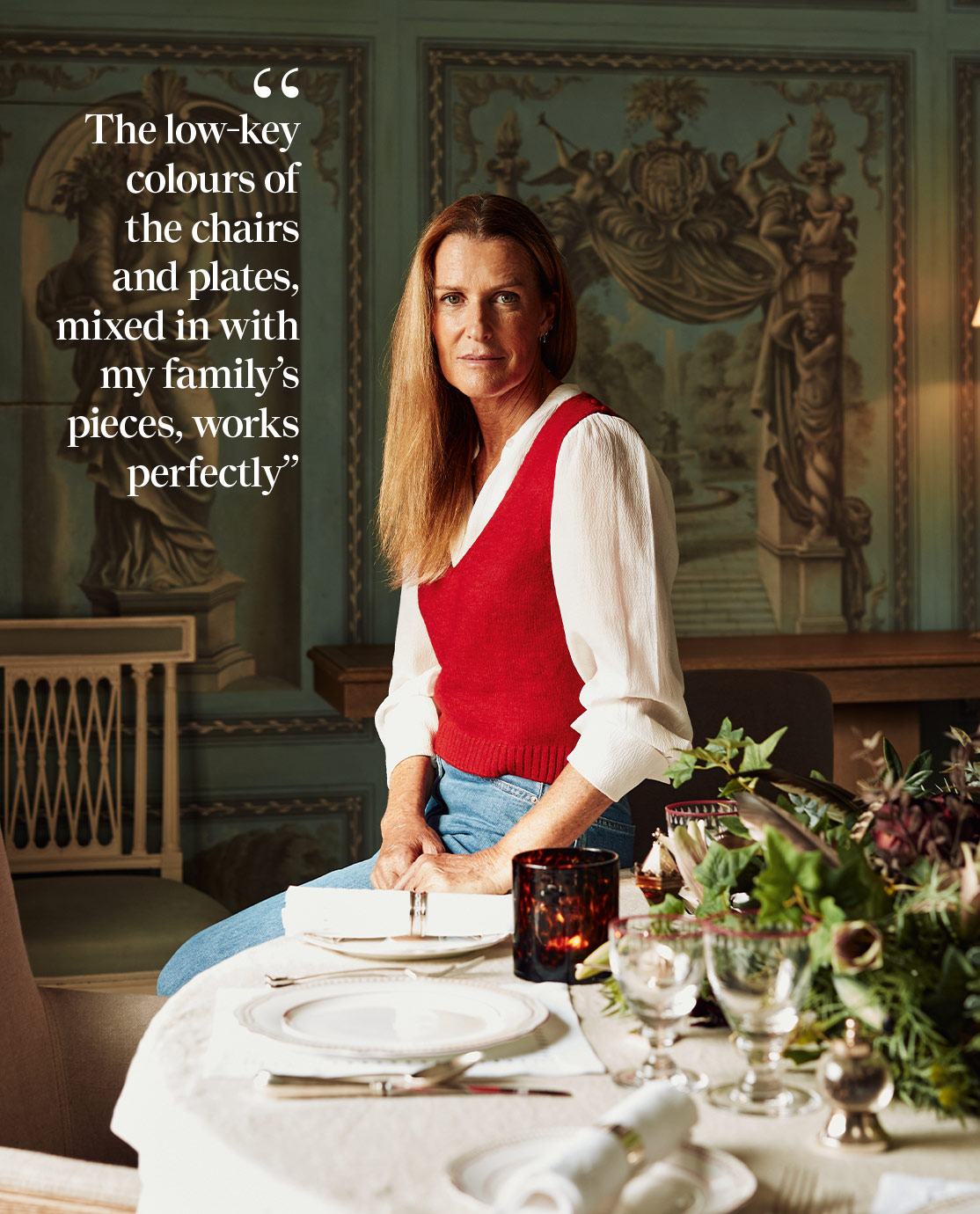 If you're not sure where to begin with Christmas table decorations this year, let your surroundings be your starting point; here, the paneled walls of the dining room guide the tabletop. Created by the famed 20th-century painter and illustrator Rex Whistler for Hicks' grandparents, they tell (and hold) a fascinating tale. Originally designed for the Mountbatten's London home, each vignette details an element of their lives—had they not been painted on panels and relocated, they would not have survived WWII. "There are themes within the pictures that tell a rather lovely family story," Hicks tells us. "There's war, nautical, gardening and music scenes."
"The panels anchor the room, they command it. The palette on the table needs to work with them, not against them," explains Hicks. "The low-key colors of the chairs and plates, mixed in with some of my family's pieces, work perfectly." Hicks' chosen silverware includes cutlery that has been passed down for generations and napkin rings that she and her siblings have had since childhood. Her Christmas table centerpiece—something that every truly festive setting needs—is a piece of silver that was originally her great grandfather's, adorned with a faux wreath to add that essential festive drama. "OKA's wreath is very convincing, which is hard to find," says Hicks, "but adding some pheasant feathers from the garden makes it feel a little wild, and certainly not predictable; I hate predictable."
To discover more of Hicks' world, follow her on Instagram @indiahicksstyle