When we visited Jemima Jones and Lucy Carr-Ellison, the co-founders of British catering company Tart London, we were met with a veritable feast for the senses. Beautifully served on a table in Jemima's Somerset garden using some of our favorite tableware pieces, the colorful menu was a perfect summation of Tart London's unique culinary ethos: delicious, seasonal food boasting a medley of flavors, textures and colors. "We wanted to go very much in our style, which is lots of dishes to share," Jemima says of the menu. "It was really wonderful to be able to use lots of seasonal vegetables and create a big summery spread of food, with lots of salads, color and flavor." If you're looking for summer recipes, you're in luck—the friends have shared three of their favorites from our feast, so you can recreate them at home. Pair with a chilled glass of rosé and your prettiest dinnerware.
Zucchini with Goat's Curd and a Crunchy Spiced Oil
Ingredients
Serves five
5.3oz soft goat's cheese
2 tbsp Greek yogurt
4 zucchini (or 6 small ones)—lovely to use both yellow and green varieties.
1 lemon, zest and juice
A selection of herbs (it's nice to have a mix and keep it rustic). We use mint, dill and cilantro, but you could substitute them for tarragon, basil and parsley.
For the crunchy oil
4 tbsp olive oil
1 tsp nigella seeds
1 tsp cilantro seeds
1 tsp cumin seeds
2 tsp chopped pine nuts
2 tsp chopped almonds
1 red chili, finely chopped
2 garlic cloves, finely chopped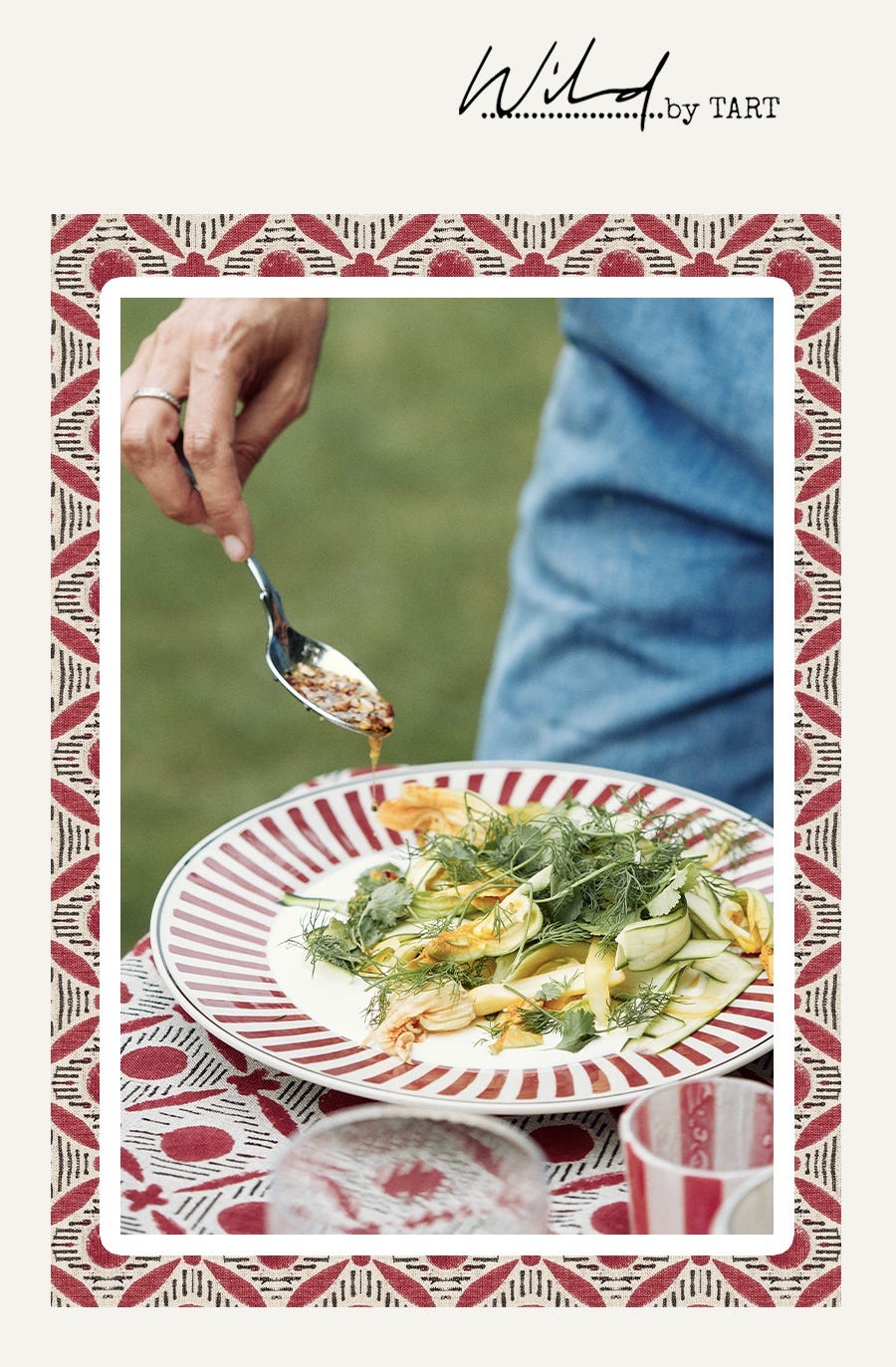 Method
1. Start by making your crunchy oil. Heat the olive oil in a pan over a medium heat and then add the spices, nuts, chili and garlic—allow to sizzle for a few minutes until fragrant and golden, making sure not to burn the garlic. Then take off the heat and allow to cool and infuse. Make extra if you like and store in a glass sealed jar—it's delicious with so many dishes.
2. Next make your simple goat's curd—whisk the soft goat's cheese with two tablespoons of yogurt in a blender until silky smooth (you can use a hand-held blender, or even just beat it with a whisk). Leave to one side.
3. Thinly slice your zucchini lengthways, ideally with a peeler to get beautiful ribbons. Once peeled, toss in a bowl with a good squeeze of lemon and the zest, and season to taste.
4. Plate up on a serving dish with the smooth goat's curd first, generously smeared across the plate, then add a big handful of the zucchini ribbons, lashings of the crunchy oil and then roughly torn herbs over the top—beautiful cilantro stems and leaves, dill and torn mint leaves.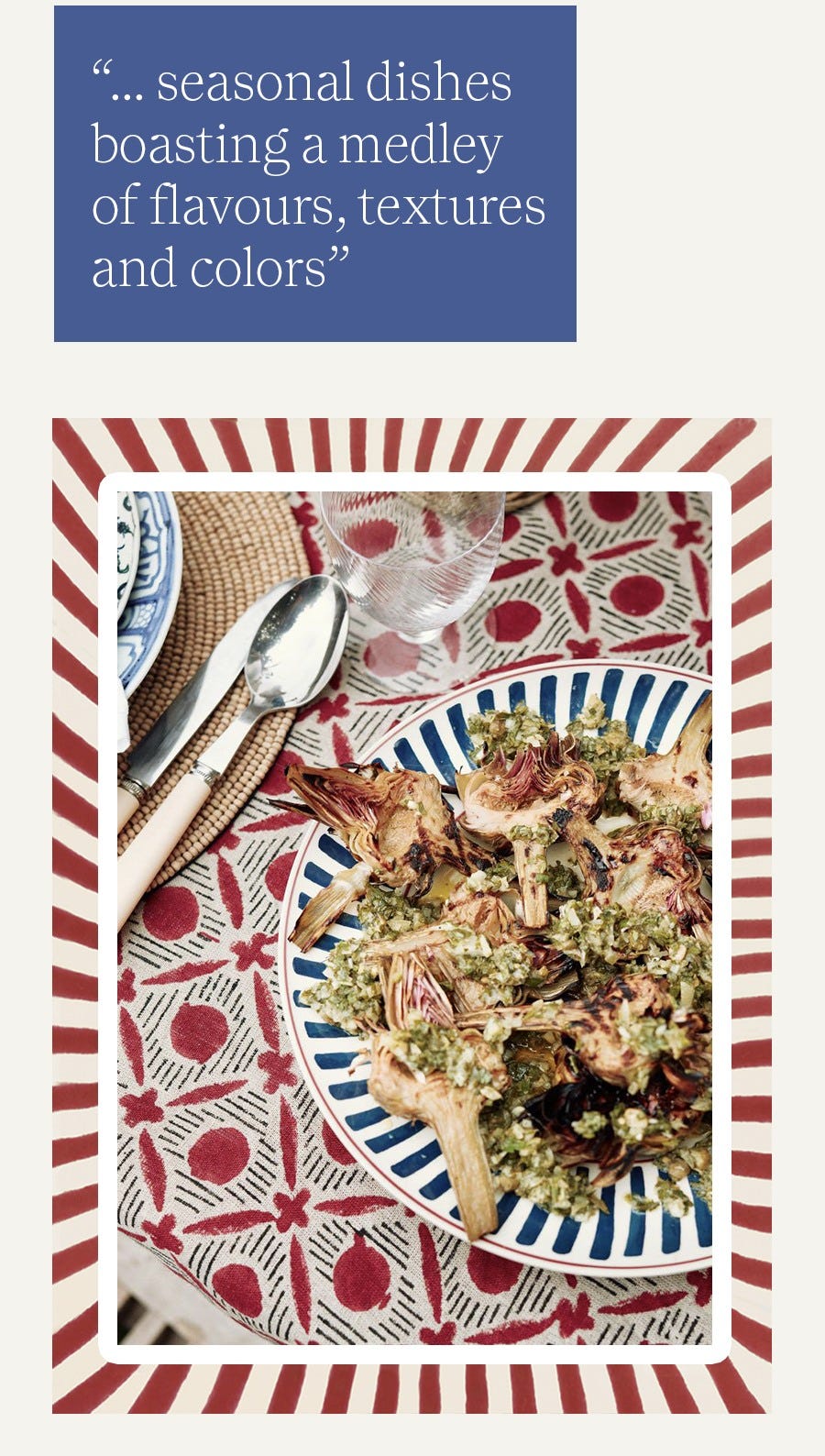 Barbecue-Braised Artichokes with a Preserved Lemon Salsa Verde
Ingredients
Serves 5
For the artichokes
5 globe artichokes
1 cup white wine
¼ cup water
¼ cup olive oil
3 bay leaves
5 garlic cloves, sliced
1 shallot, finely diced
1 lemon, juice and sliced rind
A few sprigs of thyme (other herbs welcome—lovely with rosemary and sage)
A pinch of sea salt
A pinch of ground pepper
For the salsa verde
1 shallot, minced
2 tbsp lemon juice
1 tbsp minced preserved lemon rind (or lemon zest)
4 tbsp olive oil
1 green chili, minced (optional)
½ tbsp cider vinegar, or white wine vinegar
Small bunch of cilantro, finely chopped
Small bunch of mint, finely chopped
Small bunch of parsley, finely chopped
Method
1. Fill a bowl with lemony water and place to one side while you prepare the artichokes. With a peeler, cut away the thicker outer layer of the stems, and then trim the stems to three inches from the base. Cut off and discard the top inch of the artichoke, peel away the tough outer leaves and snip the spiky tops of the leaves (for nice presentation). Cut the artichokes in half and then use a metal spoon to scoop out the fuzzy chokes. Then place these into the lemony water to prevent from browning.
2. Fill a large pot with your braising ingredients and the artichokes and bring to a boil. Lower the heat to medium and allow them to slowly braise with the lid until you can easily pierce the heart with a knife—around 20 minutes, but may be less or more depending on the size. You could do this section the day before and allow the artichokes to sit in the delicious braising juices in the fridge overnight.
3. Prepare your barbecue or grill, and place the artichokes cut side down on the grill for 5-10 minutes.
4. Meanwhile, make the salsa verde by mixing the ingredients together in a bowl. Season to taste.
5. Plate up on a lovely platter with the artichokes piled up and the salsa verde generously spooned over the top.
Summer Cake with Elderflower Cream
Ingredients
8.8oz soft butter
8.8oz superfine sugar
1 vanilla pod or a tsp of vanilla extract
4 eggs, beaten
3 ½ oz natural yogurt
8.8oz self-rising flour
1 tsp baking powder
For the cream
3 ½ cups whipping cream
7oz mascarpone
3 tbsp elderflower syrup
17 ½ oz of fresh fruit of choice, such as strawberries (chopped if large), raspberries, blackberries
Mint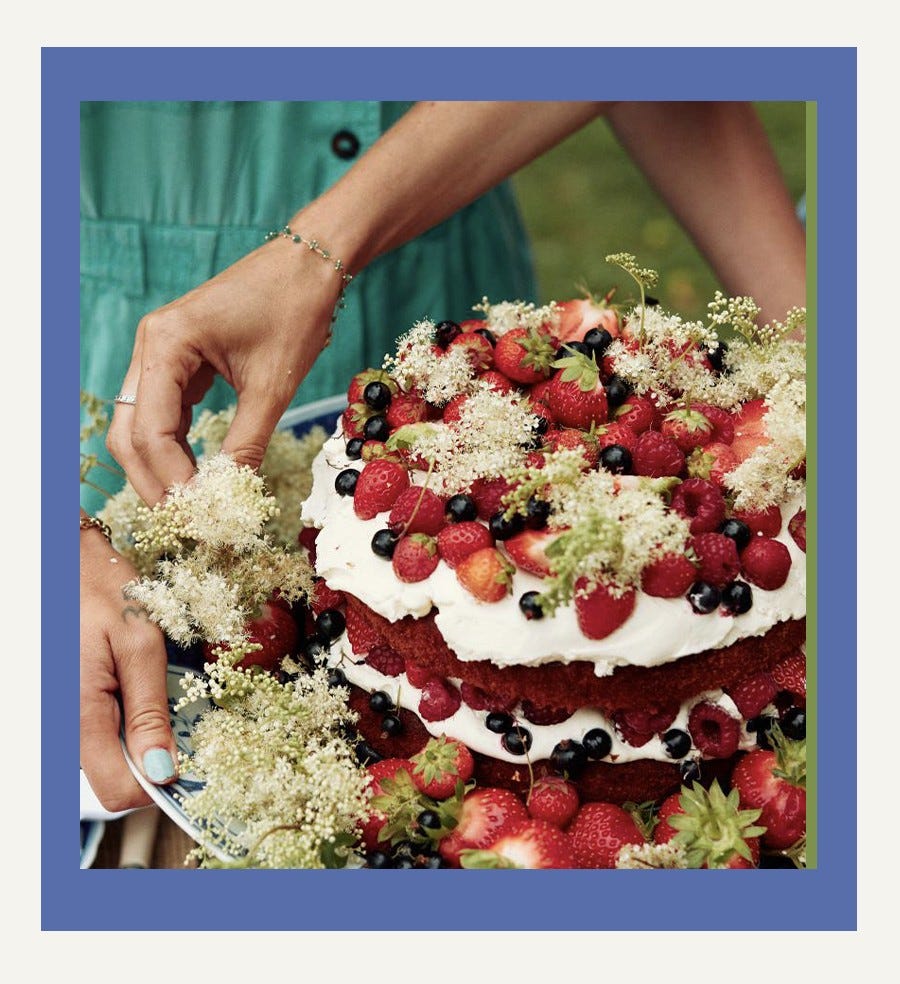 Method
1. Preheat your oven to 356ºF. Line two 8.6 inch cake pans.
2. Beat together the soft butter, superfine sugar and the vanilla pod (slice the pod down the middle and scrape out the seeds; you can discard the outer pod).
3. Gradually add the eggs, and then the yogurt. Then gently fold in the sifted flour and the baking powder.
4. Spoon the cake mix into the cake pans and place into the oven. Cook for about 30–35 minutes until golden and bouncy to touch. Place on a wire rack and leave to cool.
5. Put the whipping cream, mascarpone and elderflower syrup into a bowl and beat using an electric whisk until it is just thick enough to hold its shape (you can add powdered sugar if you prefer your icing slightly sweeter).
6. Place the base of your cake onto a serving platter and spoon over a third of the icing and add a third of the fruit. Spoon the rest of the cream mixture on top and finish with the rest of the fruit and mint.
To discover more of Tart London's world, follow the company's Instagram or visit the website