There's a lot to be said for good lighting. Like Midas with his golden touch, the right glow can make a home shine – and during the darkest of winter days, nothing makes a living space feel more welcoming than ambient light. To capture the cosy feeling of Christmas through your interiors, turn your attention to your lamps. "Lighting can literally change the feel and mood of a room," say Natalie Stephenson, Co-Founder of interior design company Stephenson Wright, which she runs with her business partner Juliette Wright. "Even basic candlelight creates all the feels for us." With a portfolio of homes and commercial spaces that span London to the Algarve under their belts, the designers have garnered a unique understanding of lighting and the impact it has on an interior. To achieve a festive glow at home, keep reading to discover their expert lighting ideas.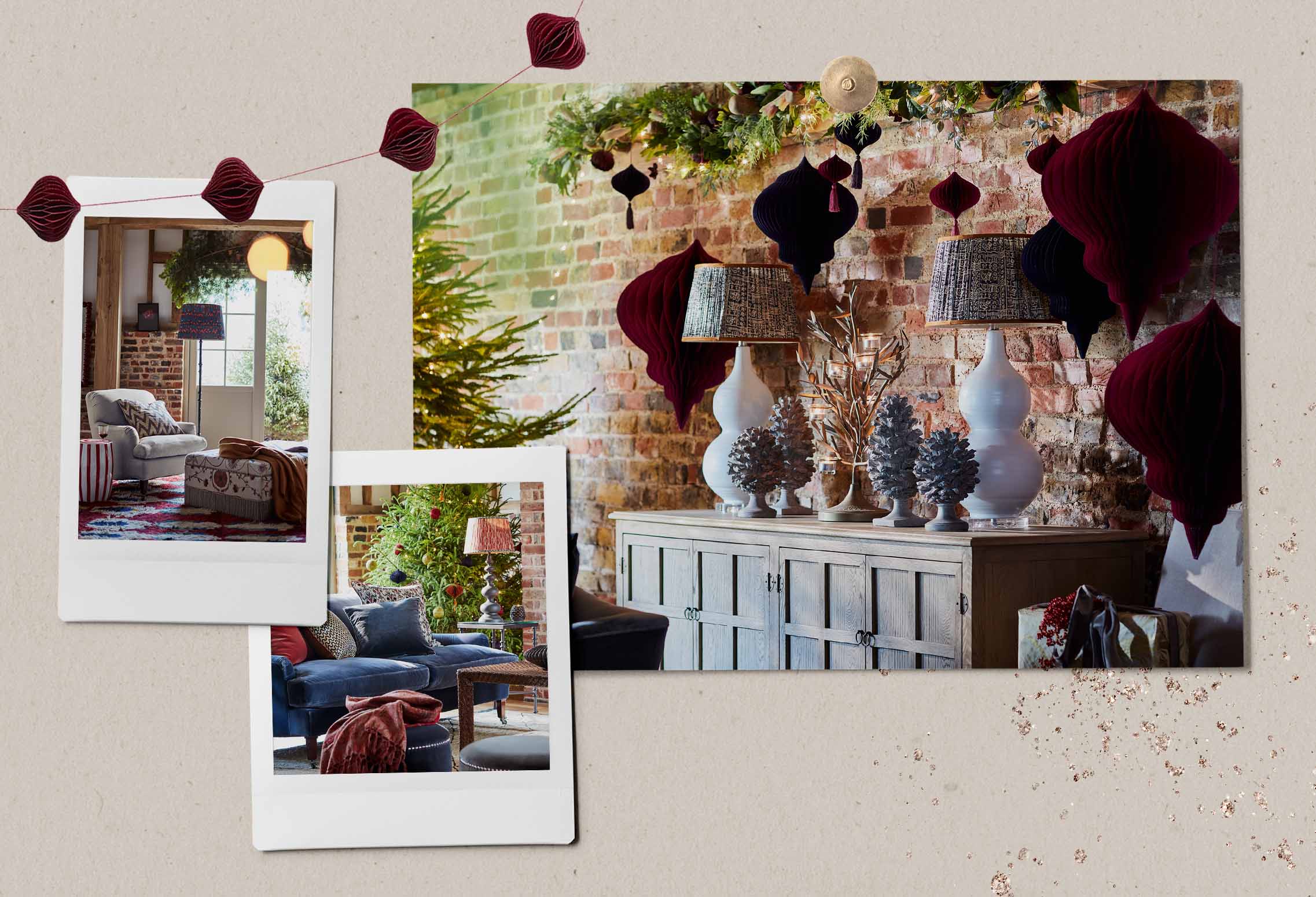 Master the art of layering
There are three kinds of lighting commonly used by interior designers – ambient lighting, which is basic illumination; accent lighting, which is used for aesthetic purposes; and task lighting, the most practical of the three. Thoughtfully arranging these styles together to accentuate different areas of a room will help you to achieve a warm and inviting look. "Layering is key," Wright explains. "Make sure you have good, dimmable overhead lighting with a thoughtful layout, balanced with wall lights – which we love – and table lamps."
By design, task lighting is brighter than the rest, but that doesn't mean it has to infringe on your festive feel. "Task lighting for a specific use, such as reading, can be incorporated by using floor lamps with directional heads beside a chair or sofa," Stephenson adds. "This doesn't have to ruin the ambience, as it can be combined with table lamps and your normal lighting. Again, it's all about layering lighting to cover all bases."
Switch up your light bulbs
An easy – and affordable – way to make your lighting feel cosier is to simply swap harsher light bulbs for soft, LED alternatives; an instant fix, this will make your previously stark lights feel warmer. "The most common lighting design issue we come across is 'grid lighting' on the ceiling, with bright white halogen bulbs dimming to a cold grey colour, which does nothing for the ambience of the room," says Wright. "This can easily be improved with a change of bulb to an LED, which dims to a warm colour."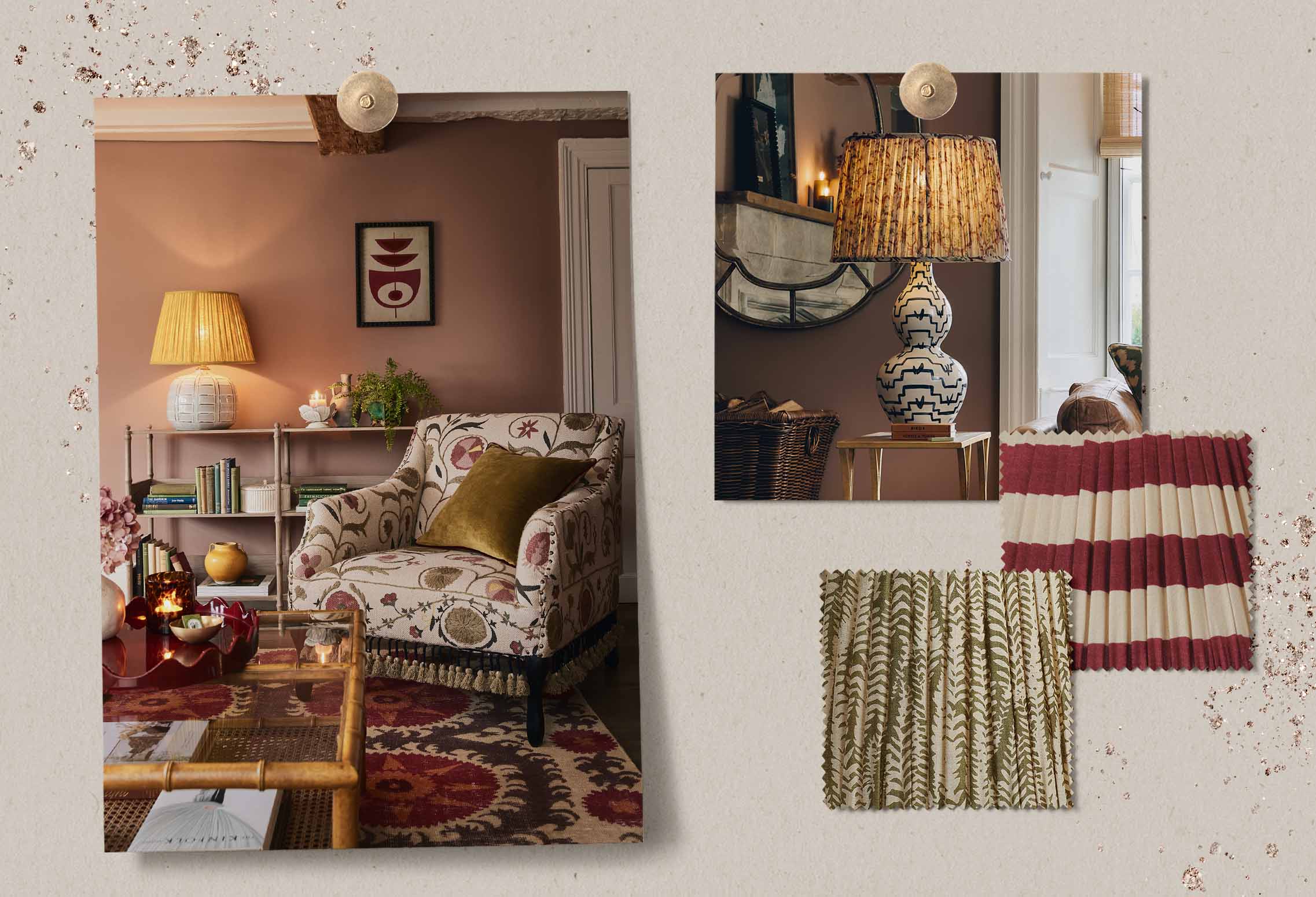 Show your home in its best light
When you've put a lot of time and effort into your interiors, you want to enjoy it in all its glory. Give your home the spotlight it deserves by using lighting to complement accent features. If you're starting from scratch, consider repositioning ceiling light fittings to highlight joinery, curtains and artwork for a "much more interesting and purposeful layout that sets the scene for different uses".
"Scaling your light fittings is also important," adds Stephenson. "Pendant lights above a dining table should be a decent size in proportion with your furniture and hung at a height that has a connection to the surroundings – not too high and not too low. If necessary, use two pendants to get the desired result."
Don't underestimate the power of a lampshade
If you've switched up your lighting, changed your bulb, adjusted the angle and it's still not looking right, it could be the shade that needs sorting. Switching colours or designs can have a big impact on the overall effect of your light. For a brighter shine, opt for a "cream or neutral colour"; for moodier lighting, "a darker shade or pattern is perfect".
The best of both worlds will be the most effective, Wright says: "We tend to mix the lampshades in a room – enjoying how a patterned shade can pull a room scheme together – so we may use a pattern on a large lamp and a cream on a wall light shade."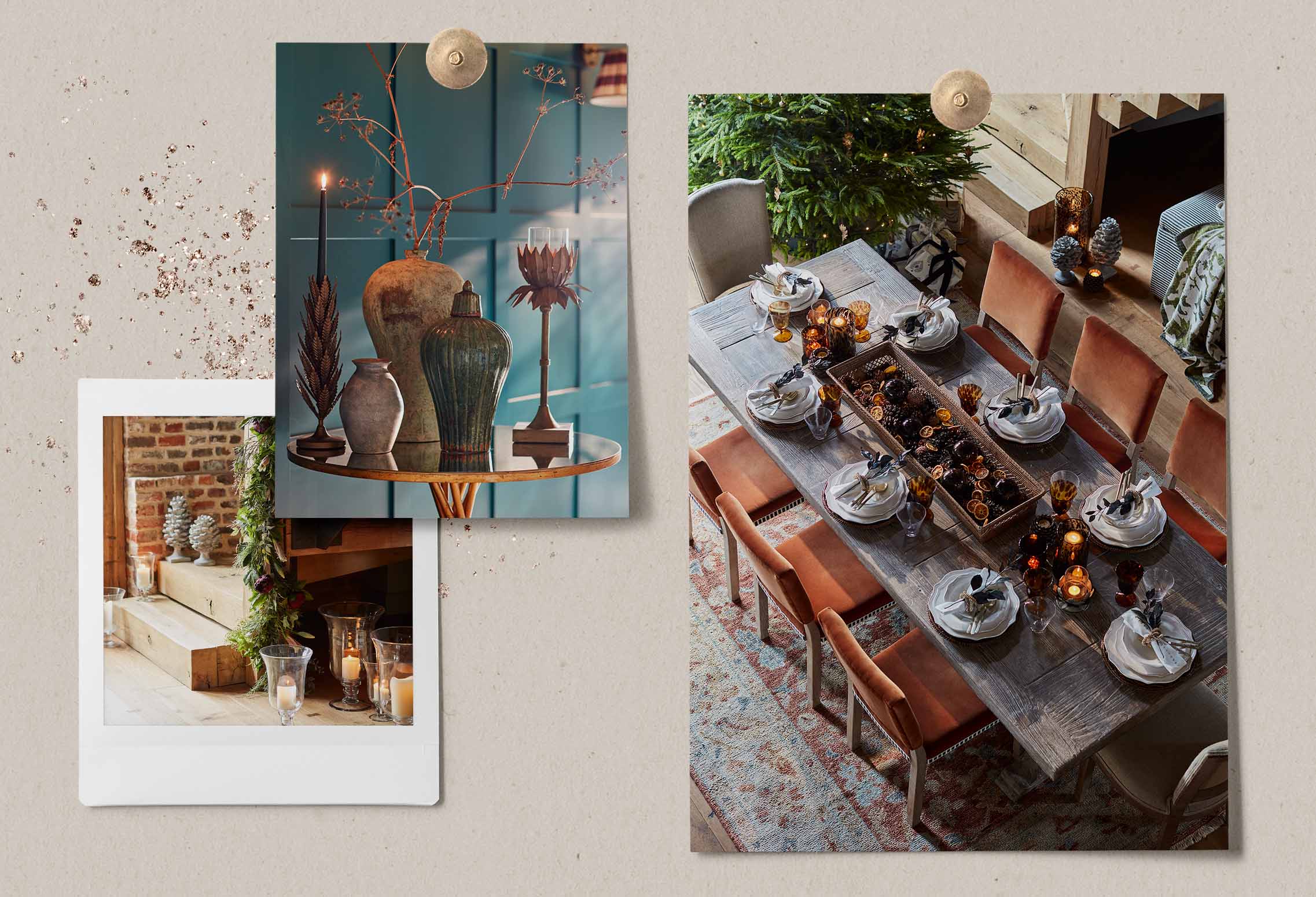 Think outside the box
If you're looking for ideas for lighting, don't feel you have to keep with tradition; lighting needn't be restricted to walls, tables or floors. Finding secret spots to shine a light on cosy corners will add to the ambience without impacting on your overall design. "Our little trick we use is a tiny plug-in pin-prick light the size of a pen, discreetly pressed into the base of a house plant pot to up-light the leaves," says Stephenson. "We did this recently with a large olive tree and the effect is really subtle, but it adds such a warm glow to the corner of the room."
Light candles for the ultimate glow
The soft flicker of candlelight will enhance your Christmas look. Taper candles arranged on mantelpieces, tealights on tabletops and pillar candles on coffee tables will lend a festive finishing touch – and all the better if they're fragranced with the scents of the season. "In the darker evenings, it's always lovely to have lanterns around your home with candles," adds Wright. "We sometimes use candles that have batteries rather than a real flame – with these you can set the timer to come on at dusk."
Don't feel limited to the main rooms in the house; decorative lighting in unconventional places will amplify your seasonal display. "Multiple lanterns placed together on a hall table with seasonal foliage can be really festive," says Stephenson. Team with traditional Christmas lights twined around the bannister and you'll feel in the spirit of the season the moment you step through the door.