As autumn rolls around, coppers, clarets and cinnamons decorate the landscape outside, adding visual fire in contrast to the colder climes. Inside we take the approach of easing ourselves into this new season, choosing colours that hark back to the summer months, mixed in with those blazing beyond our windows. Our latest collection features a palette of muted greens and dirty oranges that carefully complement each other and sit equally nicely with soft florals and dark accents. Classic patterns reign supreme, from the ever-popular stripe that we've added to one of much-loved designs, to the off-kilter spots that decorate a new, exciting range. We haven't fallen short on the design details, with attention given to round metal accents, removable tassels, turned wood and rattan touches. Read on to find out more of the specifics behind some of our new and renewed autumn pieces.
The Estella Range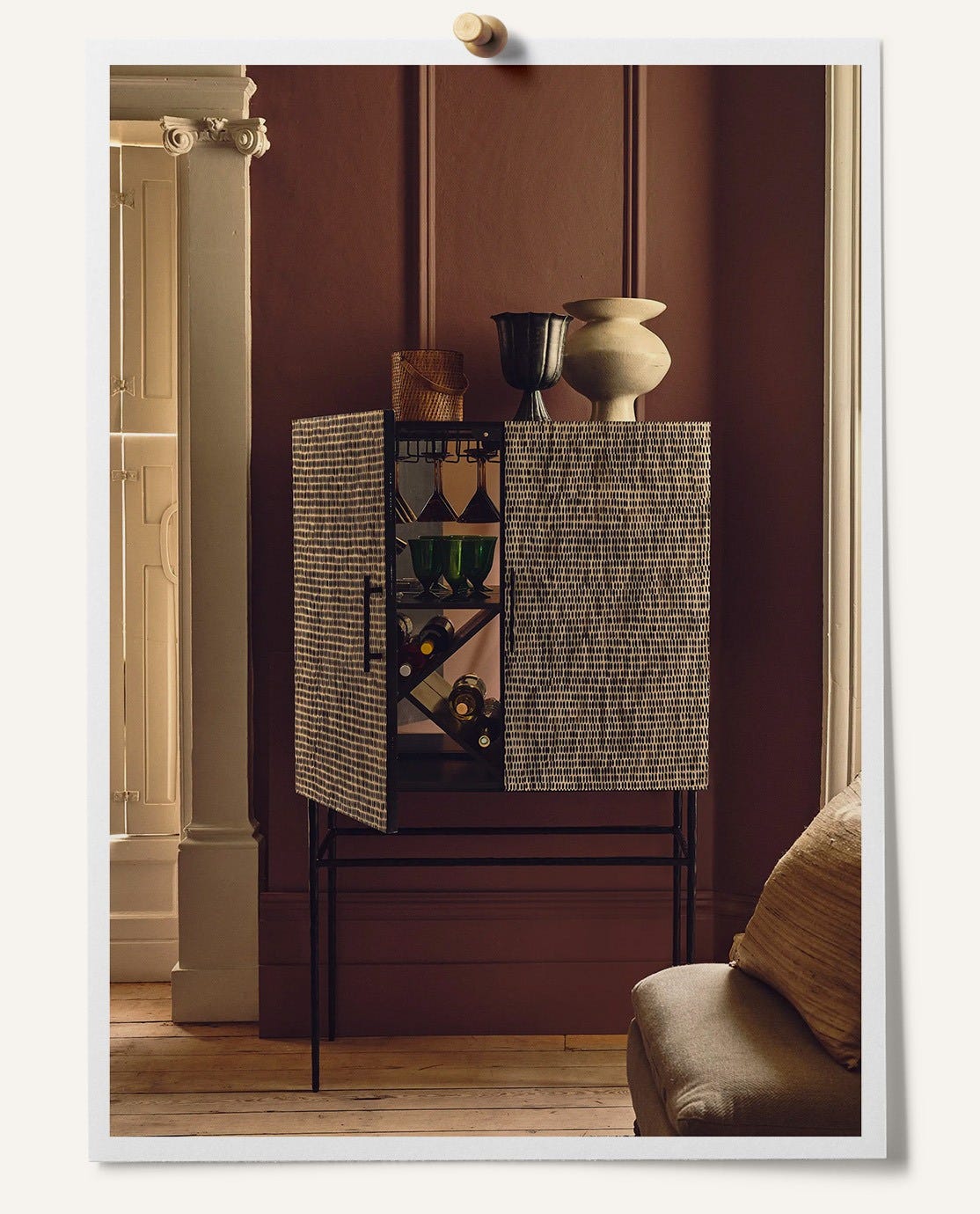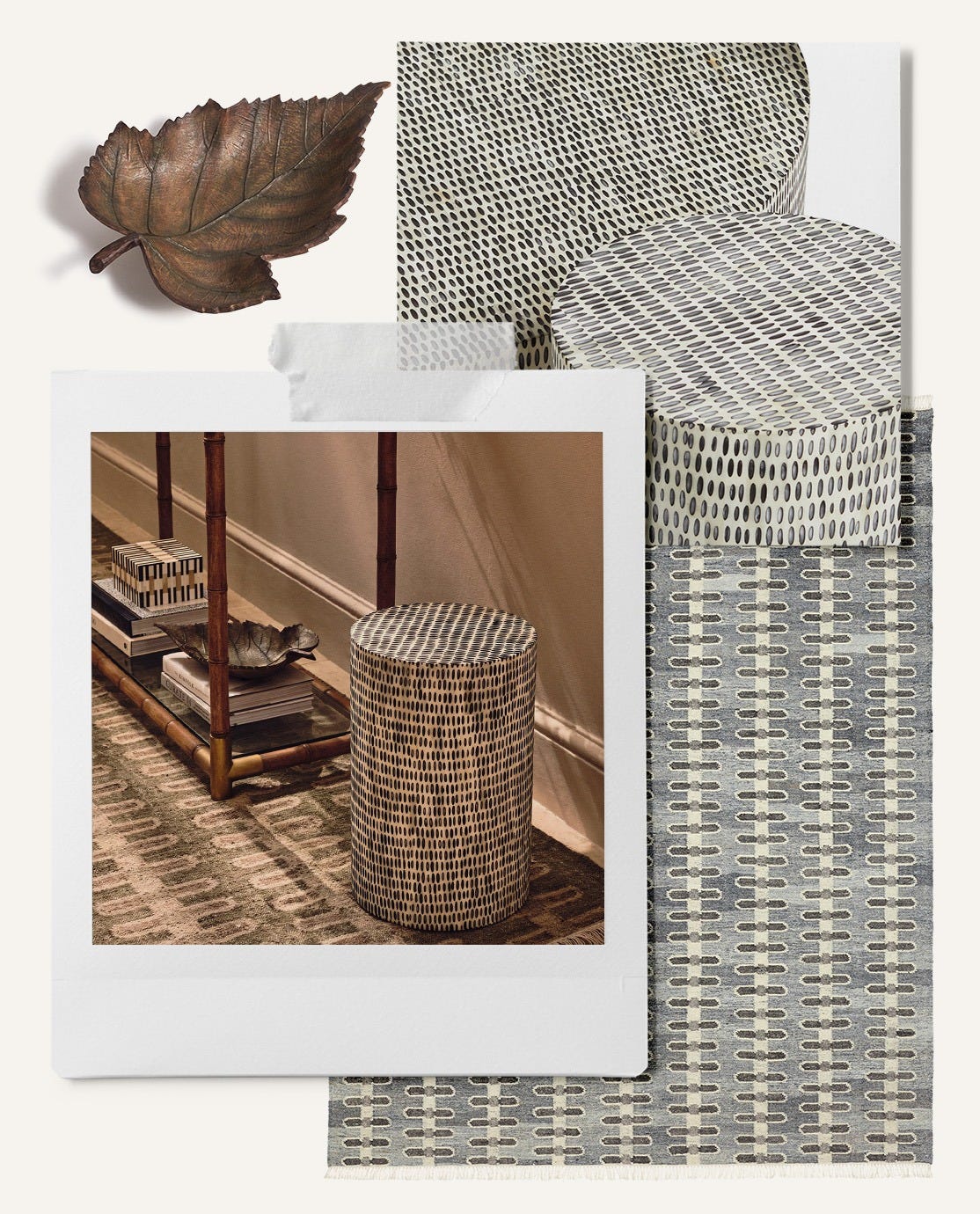 First up is not one, but four brand new designs. Our Estella Range features a wine cabinet, coffee table, side table and a mirror. Oh, and did we mention the wine cabinet? Her façade, across all the iterations, is inlaid with bone that has been carefully carved with indentations by skilled artisans, and each one hand-painted black for a striking speckled appearance. The cabinet also features hammered black metal legs and handles for extra sophistication, while inside there is a dedicated x-shaped bottle rack and shelves for hanging your glassware in style.
The Alora Armchair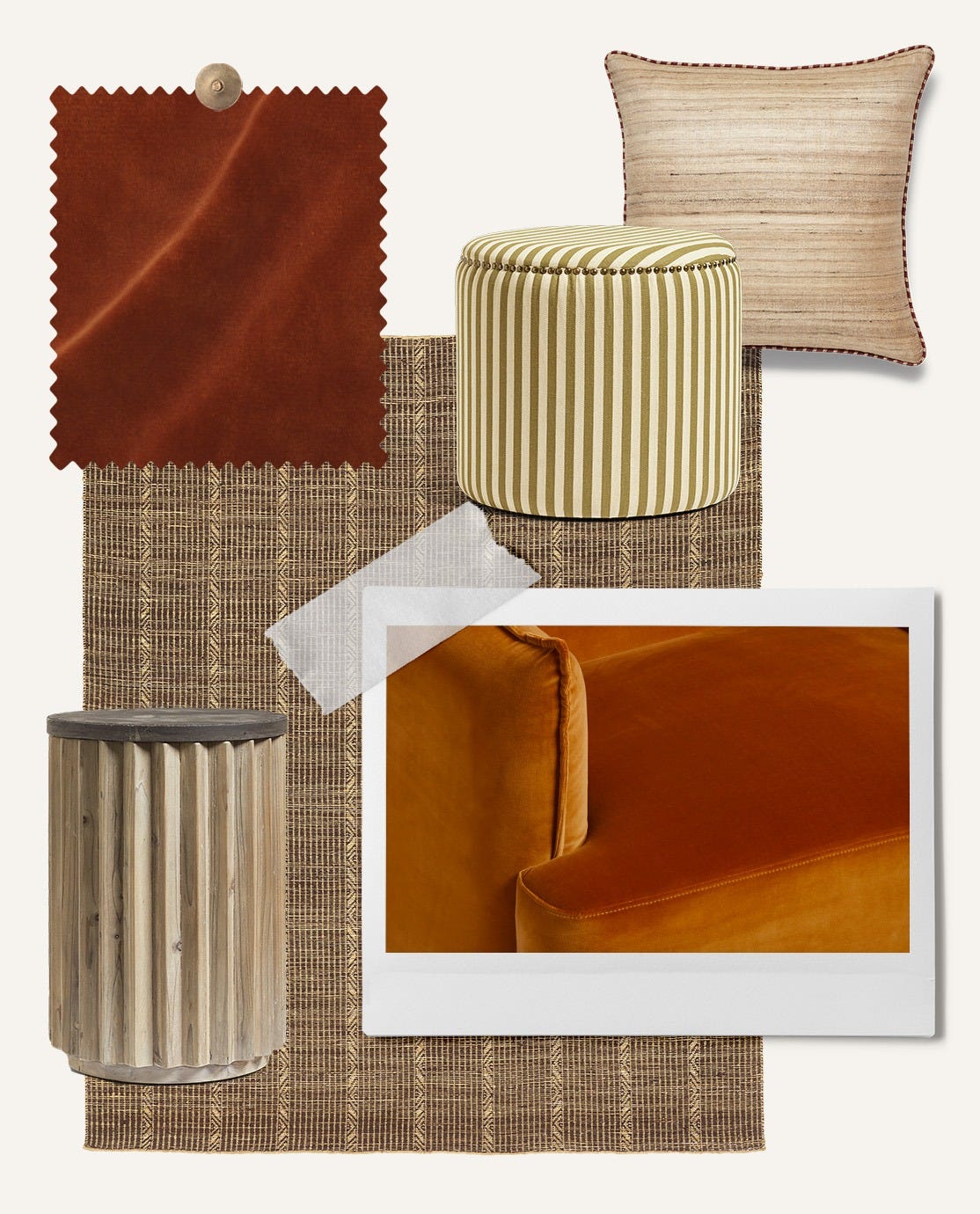 Melt into the pillowy softness of our Alora Armchair ­– named for its dreamy qualities – and you may find yourself not wanting to leave. From the voluptuous nature of its velvet upholstery to the warmth of its orange hue and the carefully seamed armrests that look like they belong at the top of your bed, it's the perfect spot for a snooze. Square feet finish the look without taking away from the relaxing form of the chair itself.
The Sovannah Range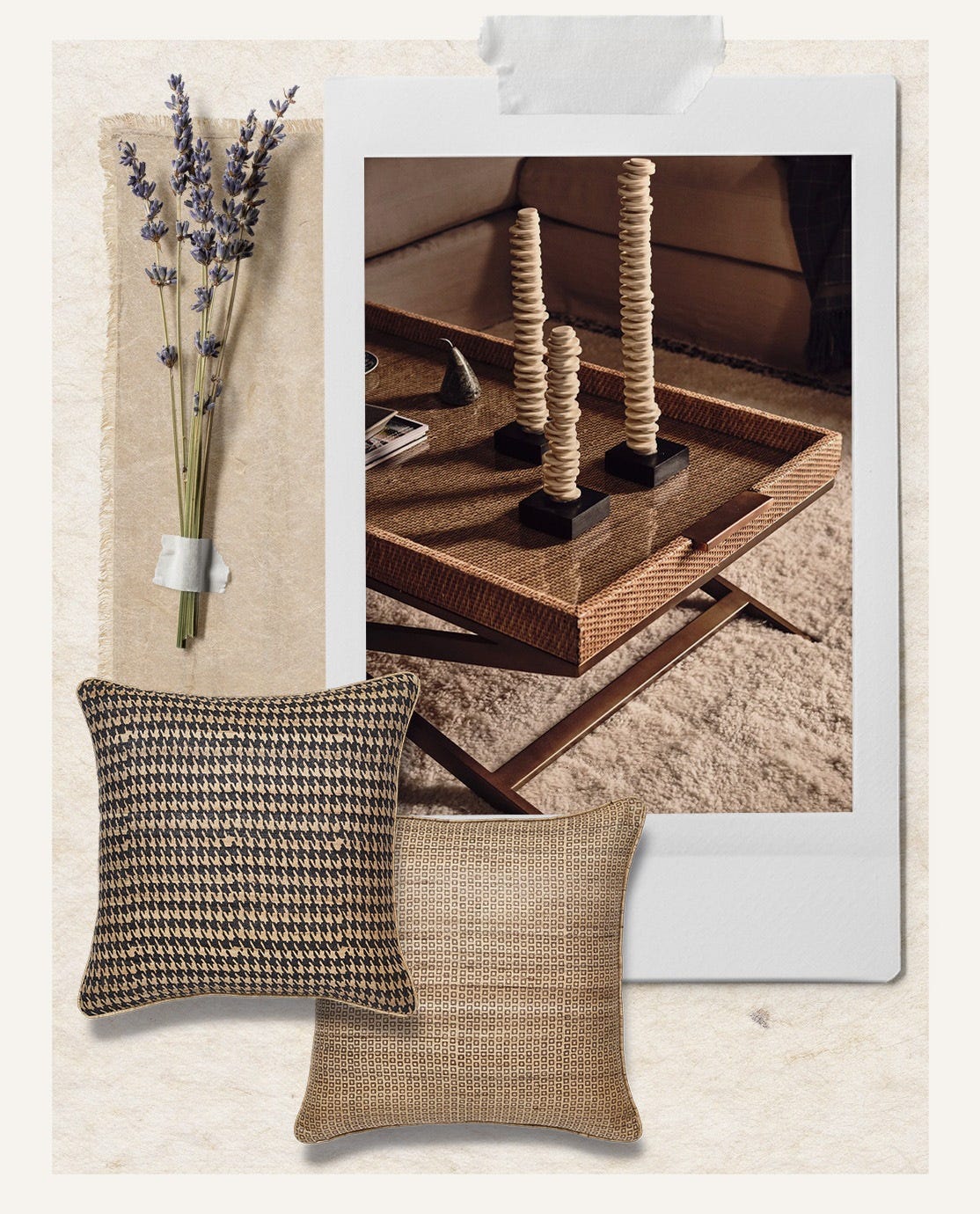 Ah, still dreaming of summer? Let the golden tones of this new rattan range take your mind away to sunnier climes. This collection is based upon a previous design – our Sulamani Coffee Table – which in turn was based on the classic butler's tray. We have now expanded it to include console and side tables. Its surface features a new gold-hued rattan that could blend into many different interior styles. Don't worry about spills, as a glass panel will protect the weave from any accidents.
The Pomona Ottoman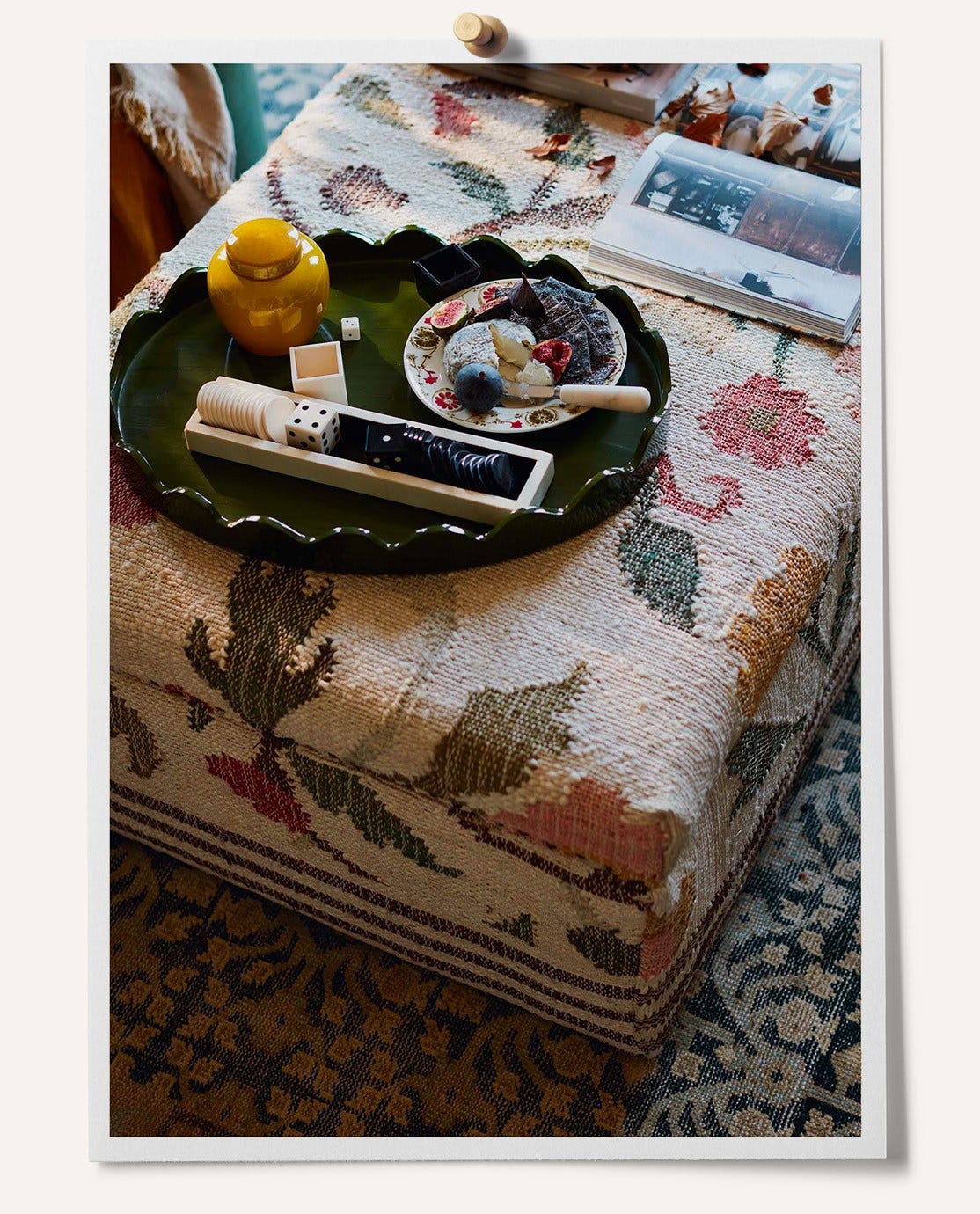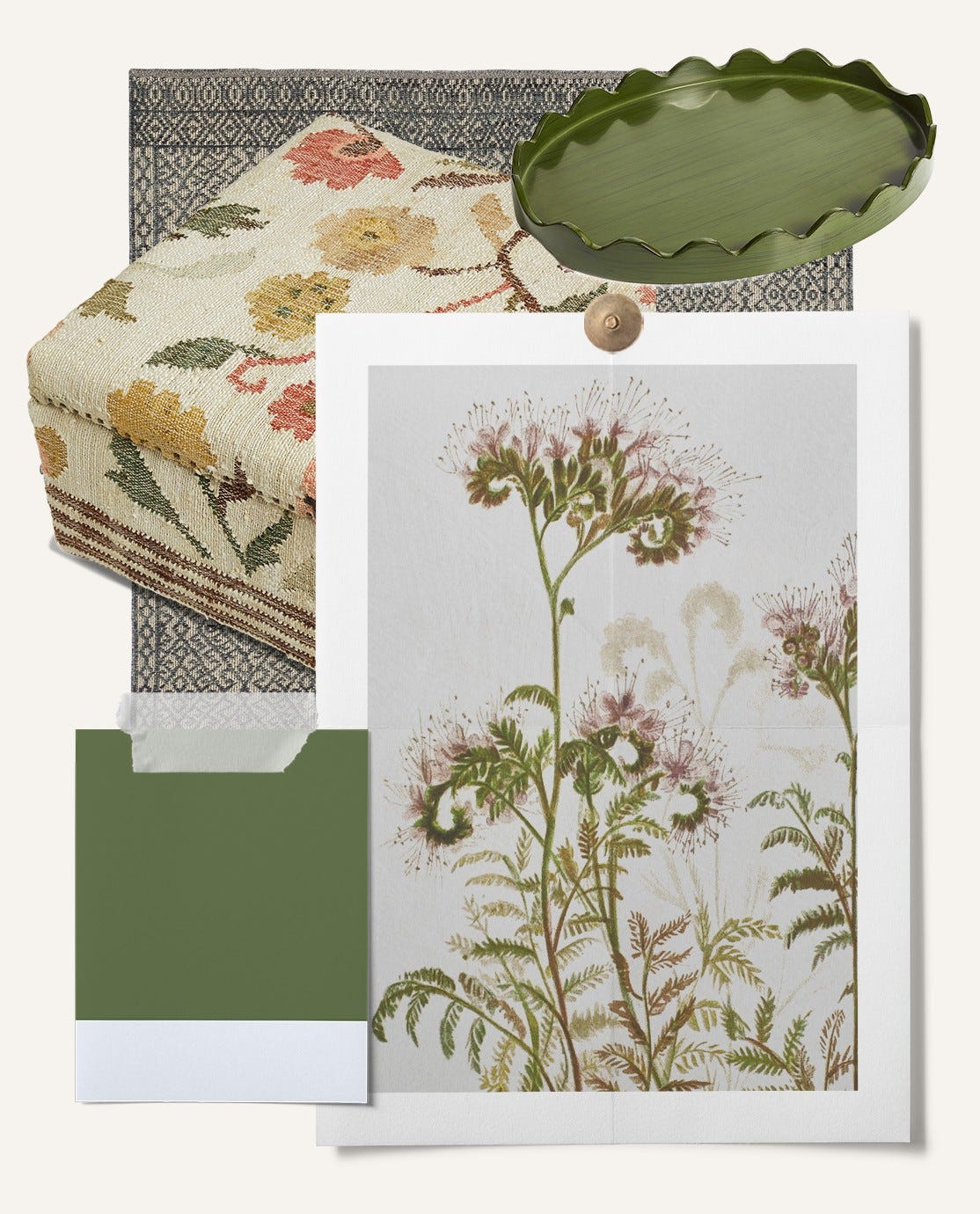 The blossoming floral pattern of our Pomona Ottoman is delightfully rustic, due to its thick upholstery formed from a handwoven jute rug. The finish in the rug has been purposefully left with its natural bobbles – these form during the weaving process and are ordinarily snipped off, but we think they lend the piece a well-loved and homely aesthetic to match its muted tones. A triple stripe running around the ottoman's base perfectly frames the piece with something a little more contemporary, enabling this storage trunk to fit into a variety of interiors.
The Lauretta Range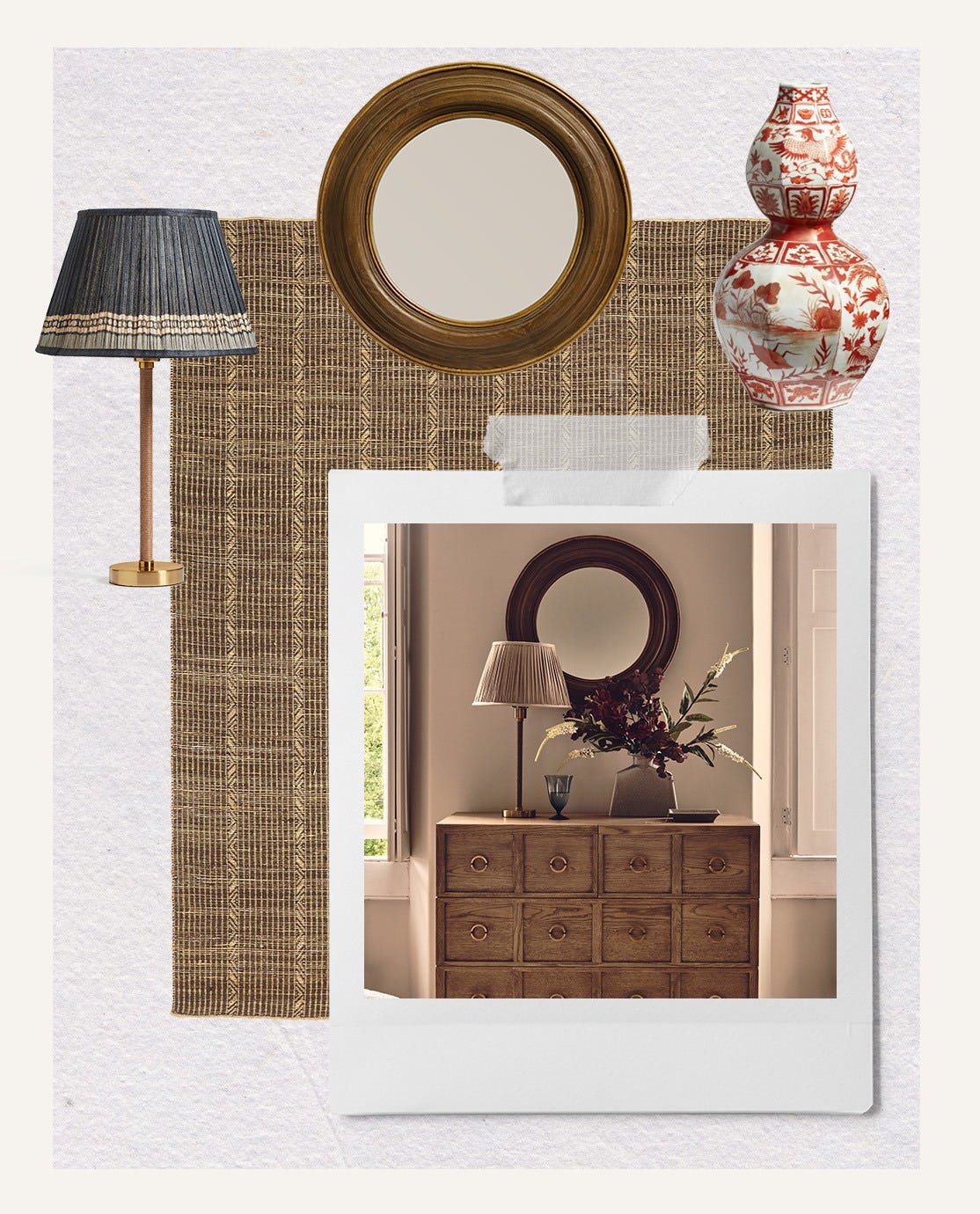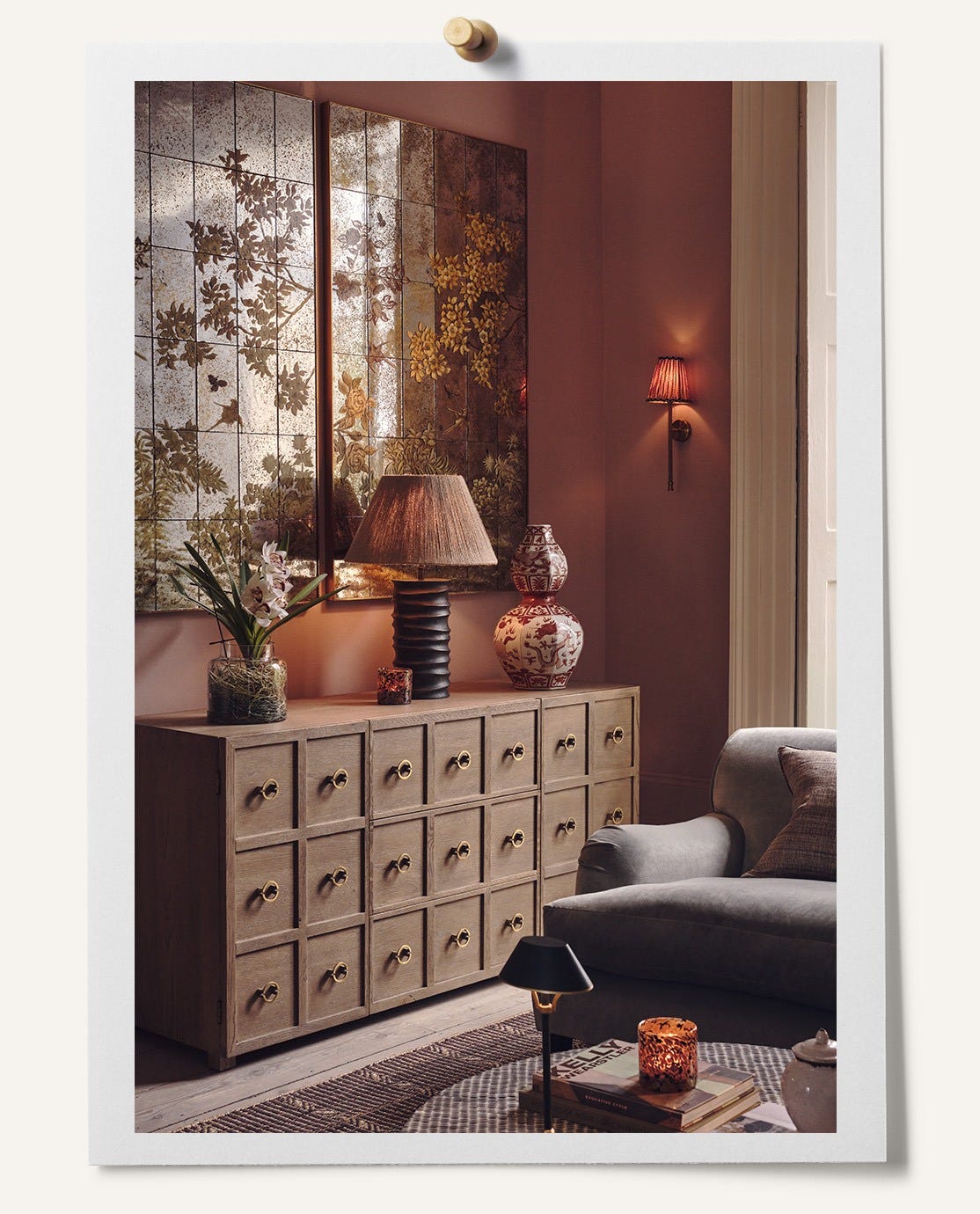 So many new designs have come to the Lauretta Range. We launched its first iteration in our Spring Collection earlier in the year; this took the form of an extremely smart black-painted wine cabinet which you can read more about in our Spring 2023 design stories. As promised, Lauretta has returned, now in the form of a Sideboard and Chest of Drawers in the same top quality solid oak, but in a paler Weathered Oak finish. You could be fooled for thinking both pieces feature lots of individual square drawers due to the circular brass details that line their fronts, but in actual fact this illusion hides larger drawers and cupboards that offer lots of storage potential.
The Samena Ottoman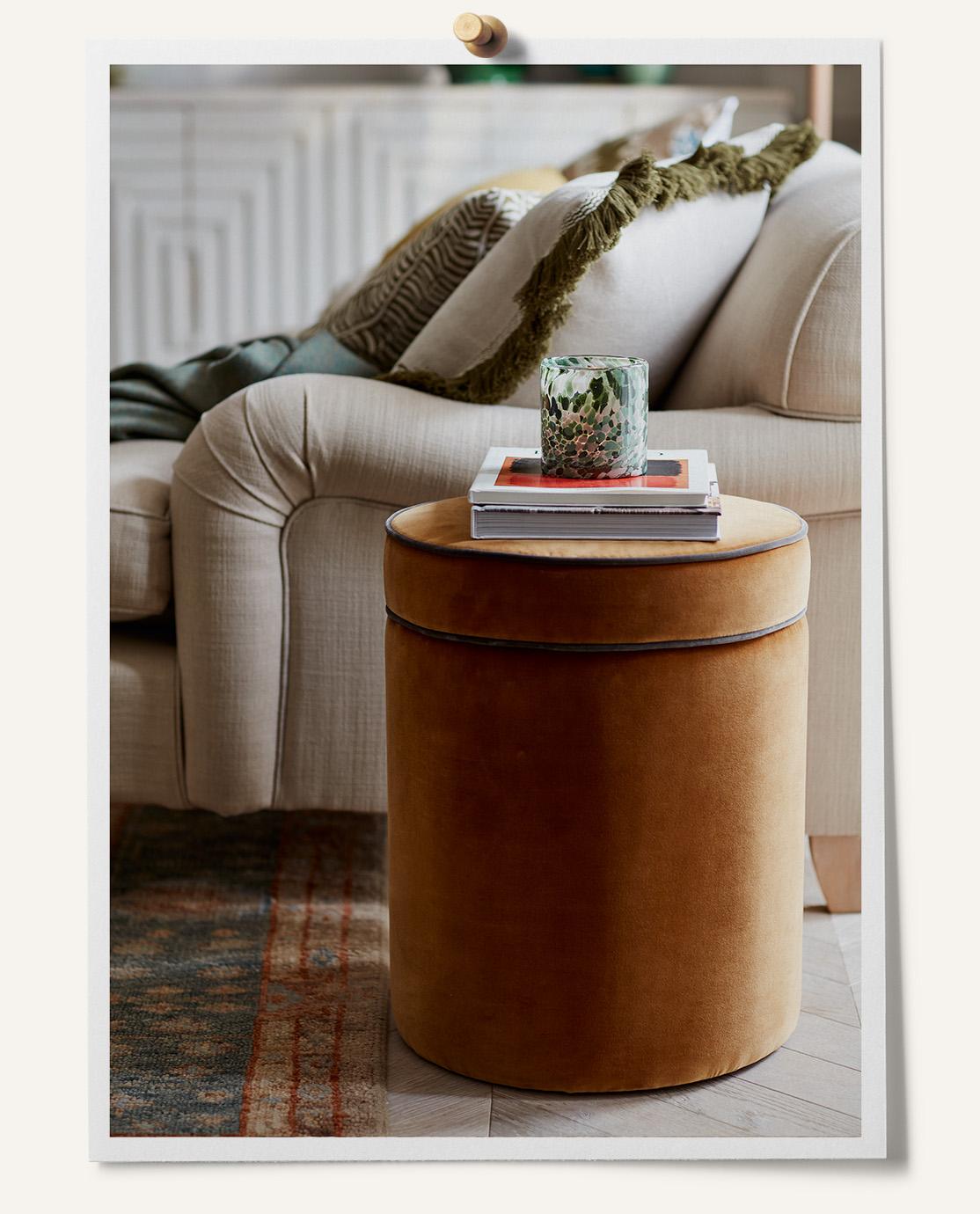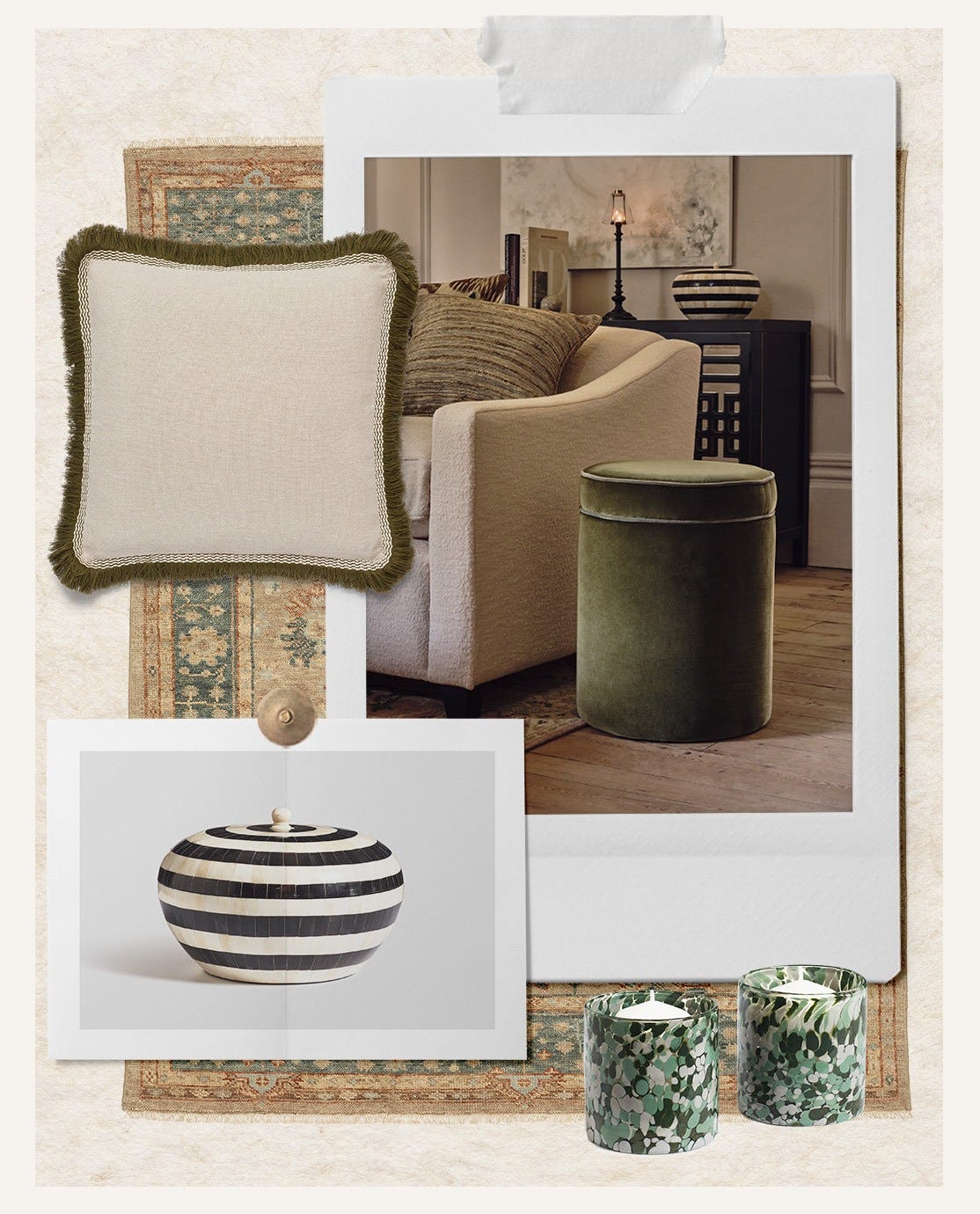 Orange or green? With the velvet Samena – whose name means secret – you can have either. The contrasting-coloured piping conceals a lid that can be lifted off so that you can hide away odds and ends in its depths. Slot the lid back in place for a piece of furniture that acts just as well as an occasional and moveable table and seat. Guests will be none-the-wiser if you've done a last-minute spring (or autumn) clean and stuffed an abandoned jumper out of sight.