A home should reflect its inhabitants; it's a container for a patchwork of precious, personal items that nod to the characters and lifestyles of those who reside there. If there's one piece of furniture that speaks to this most, it's the sofa. Synonymous with how you like to spend your time – whether playing host to family movie marathons, alone time with a much-thumbed novel or catch-ups with close friends – it's one of the most important items in the house.
So, what could be better than crafting a sofa that perfectly suits you and your habits? Offering more than a thousand iterations, our Tailored by OKA made-to-order seating range is an invitation to individuality. The selection comprises several classic styles in a variety of sizes, complete with a choice of legs, and a wide range of colour and fabric options, including two new 'clever' fabrics: velvet and linen. Both have been innovatively designed to look and feel just as luxurious as the natural materials, but with the benefit of greater durability.
In the words of our Co-Founder Sue Jones, one of the most gratifying things is "seeing how the sofas have lent a personal touch to homes all over the country", so we set out to show this to you, too. Read on to discover how three fans of OKA designed their ideal custom sofas.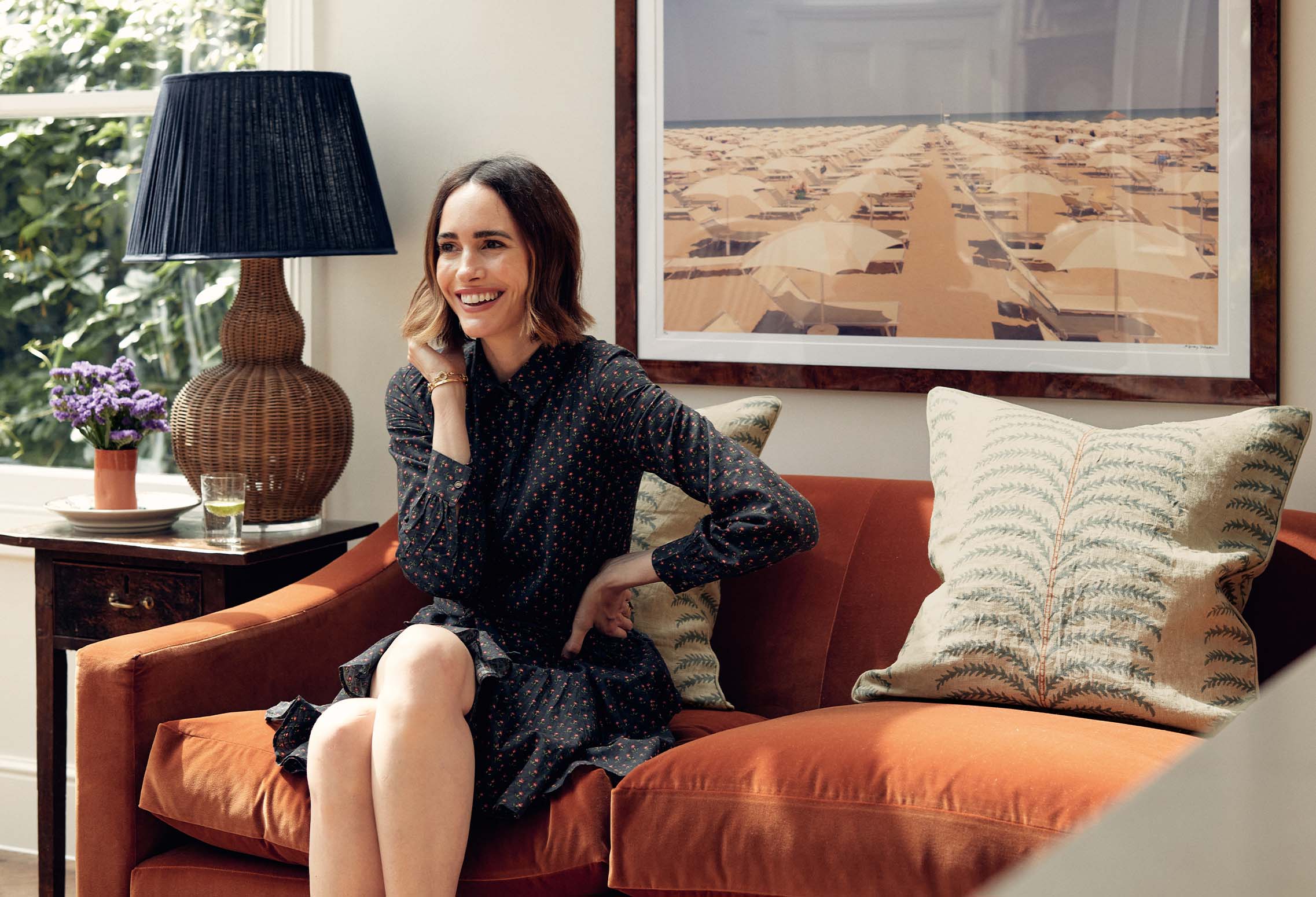 Louise Roe's Egerton Sofa
"I wanted my home to feel like a story, so you could really go from one room to the next and have a new experience, without it feeling jarring," says fashion journalist and broadcaster Louise Roe, who renovated her London townhouse last year. To achieve the synergy she desired, she wove her "very traditional English" style throughout the space, using complementary colour palettes, textures and materials to create a cohesive feel.
This sense of harmony was on her mind when she set out to find the perfect sofa for her kitchen, the heart of her home where her young family spend most of their time. With comfort high on the agenda, she opted for the gentle, sloping silhouette of our Tailored by OKA Egerton 2-Seater, along with soft, velvet upholstery. Next, she turned to colour. "I wanted, as usual, to do something a bit different and experiment," she explains. "I love our kitchen; the palette is dark blue and terracotta with lots of wooden tones, so I found the most stunning Dirty Orange shade to match. I squealed when I saw the sample; it sits so well with the rest of the house."
Though Roe's home isn't short of OKA pieces – our Coleridge takes pride of place in her sitting room – the opportunity to have something truly unique appealed to her creative side. "If you're going to do something bespoke then you might as well push the boat out," she says. "To be able to put your own personal spin on a brand you already love is a dream."
Roe chose the Egerton 2-Seater Sofa in Dirty Orange Velvet, with Greyed Oak Legs. To discover more of her world, follow her on Instagram @louiseroehome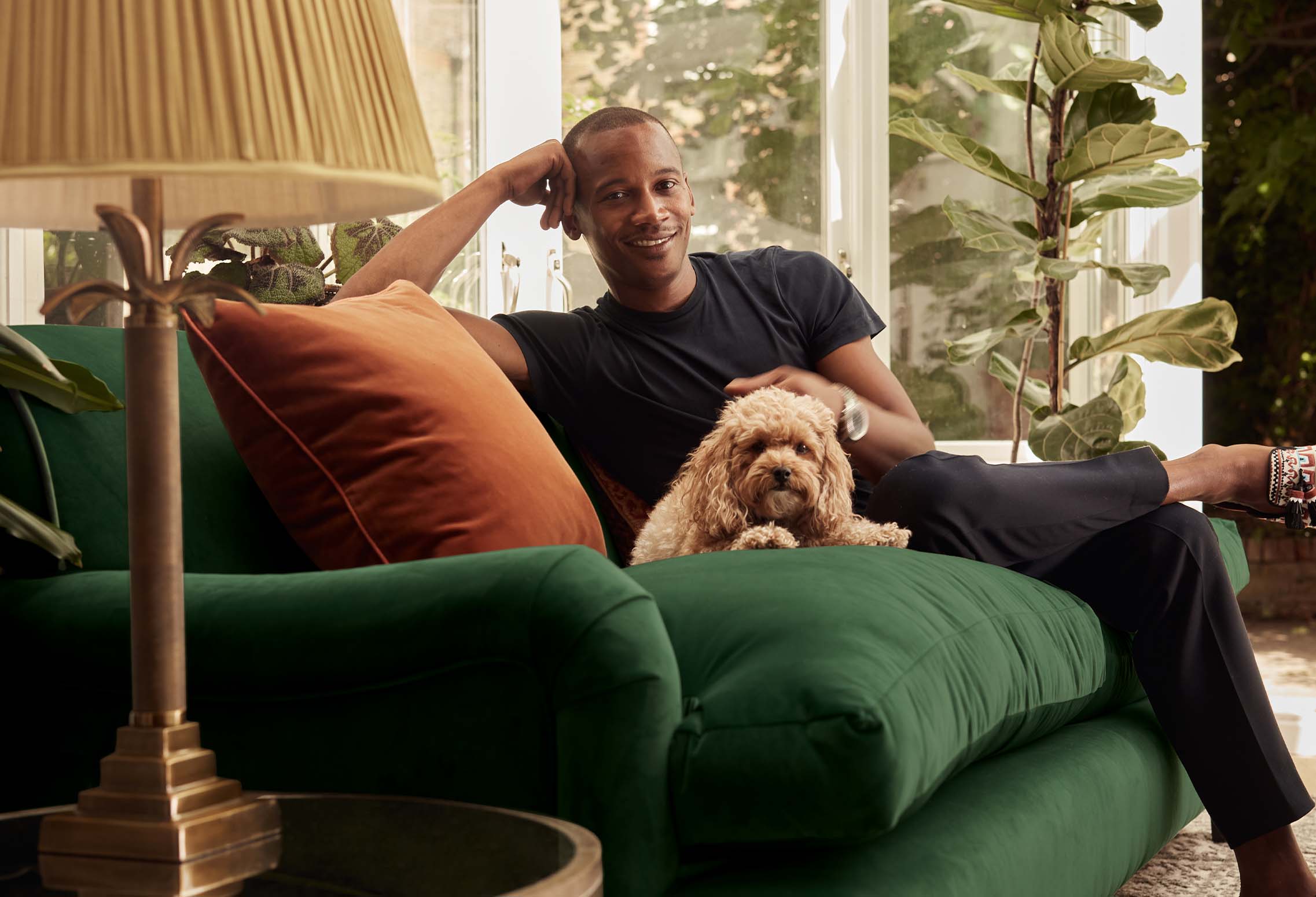 Eric Underwood's Highmore Sofa
"As a performer I'm 'on' so often, that when I get home, I just want to be 'off'," explains actor and dancer Eric Underwood when we meet him in his north London flat. "It's really important to me that as soon as I come through the door, I'm in an easy, safe space." Having to create a new home in a new city is, no doubt, tied into this sentiment. Underwood is, however, well-versed in moving around; born and raised in Washington D.C., he trained at the prestigious American Ballet Theatre in New York, before crossing the pond more than a decade ago.
When looking to move house during the first lockdown of 2020 – "yes, I was one of those mad people," he laughs – the first thing that caught Underwood's eye was this property's summer room. "I was captivated by it; when I was designing the house I started from here and worked back inside," he says. As he is a fan of blending the indoor with the outdoor – plants reign supreme in every room – this makes perfect sense. This verdant theme was on his mind when he chose Persian Green as his new sofa colour. "I love the idea of everything looking really natural and complementary," he tells us.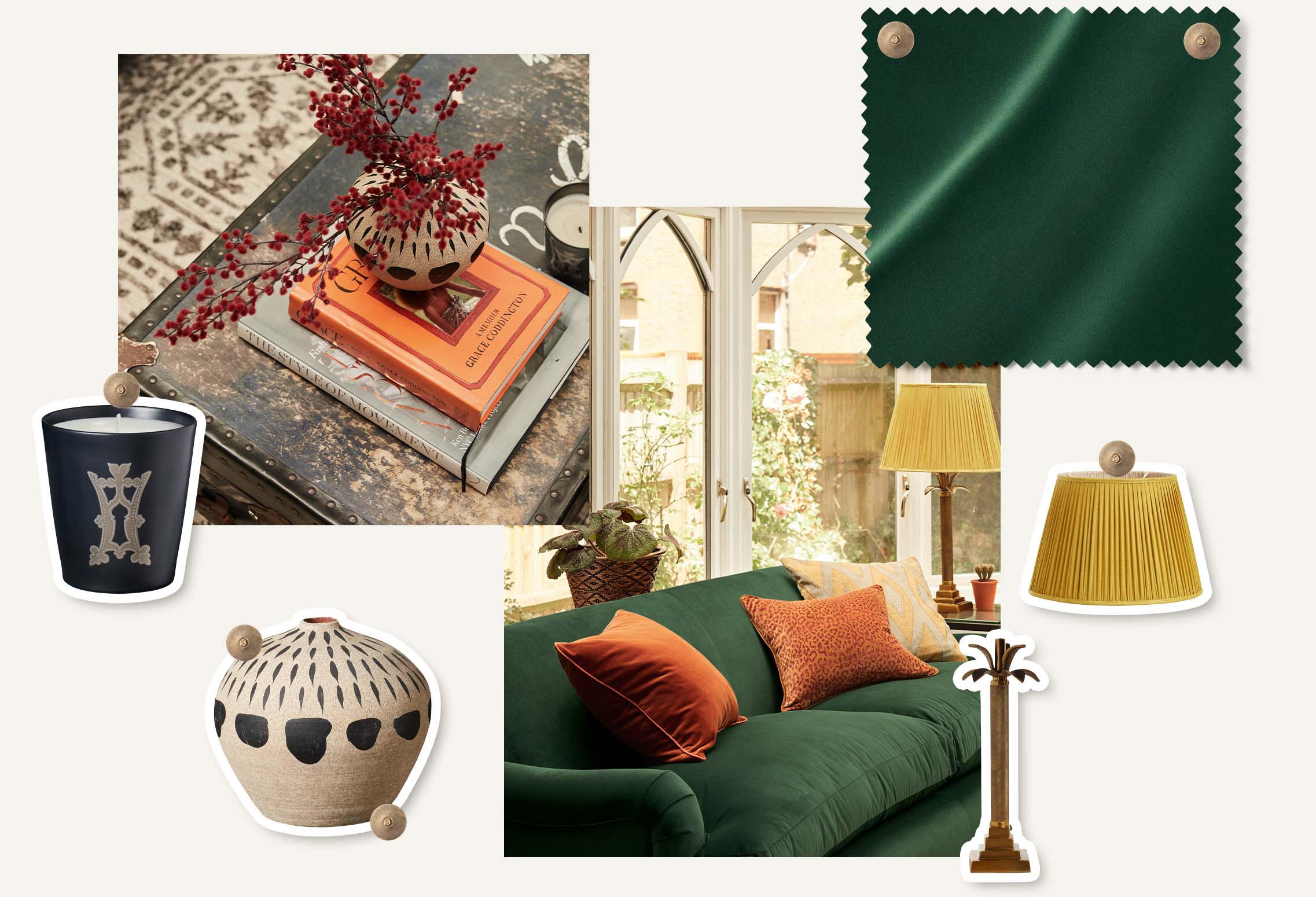 Describing his style as "relaxed and a little bohemian", comfort, too, was high on Underwood's list of requirements; the first thing he did when viewing the Tailored range was to lie down on the Highmore. "Being able to properly lounge, on something soft, with a bit of give, is a must for me. I'm 6'2" and I can actually stretch out on it," he says. "There's nothing better than getting home at night and being able to lie there and look up at the stars. It's very meditative." Underwood chose 'clever' velvet upholstery for his Highmore, which means his much-adored pup Sophia, who like her 'father' is clearly a natural in front of the camera, can join him as often as she likes.
Underwood chose the Highmore 3-Seater Sofa in Persian Green 'Clever' Velvet, with Ebony Legs. Stay up to date with Underwood's next acting projects by following him on Instagram @ericunderwood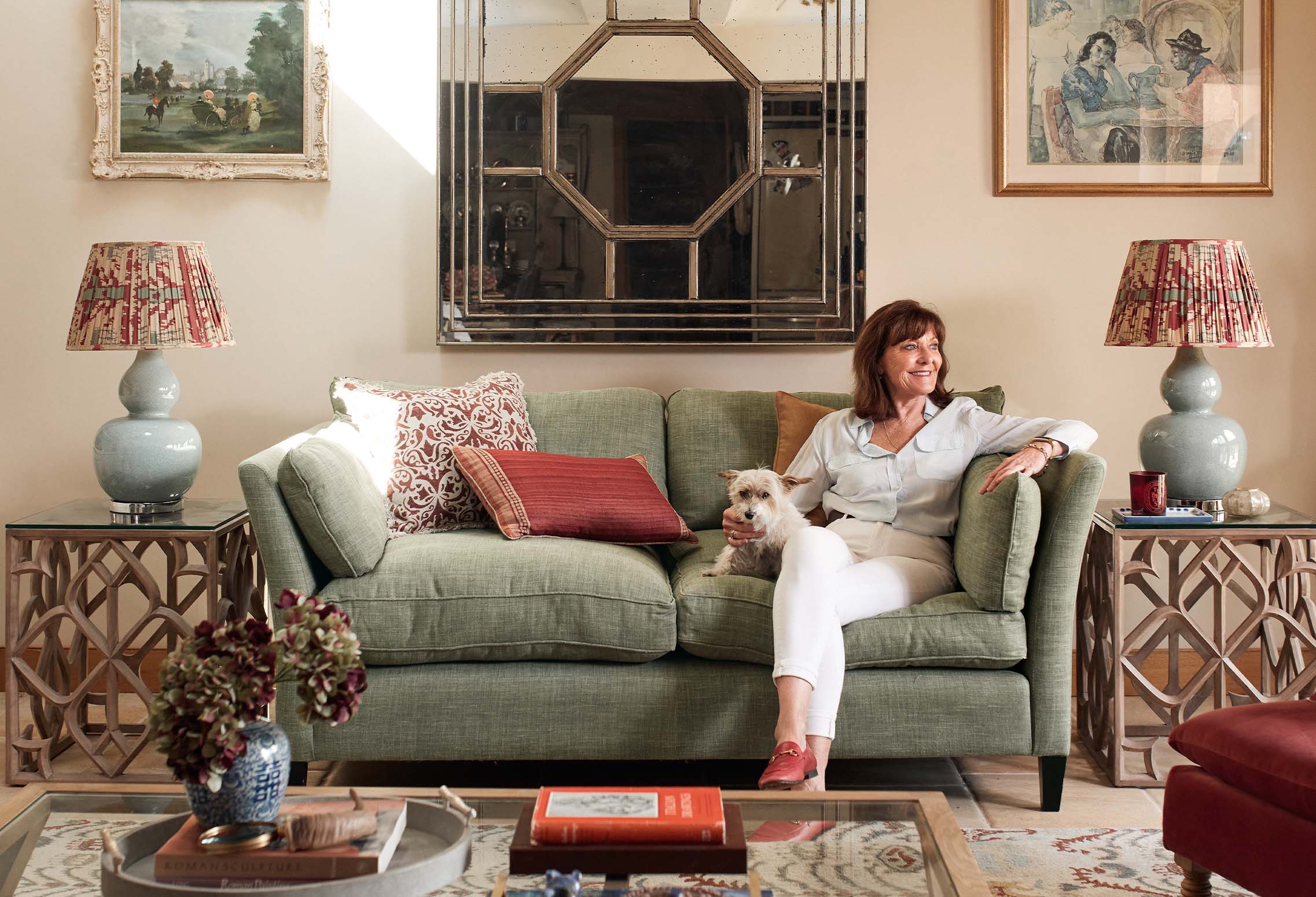 Deborah Abbot's Radcliffe Sofa
It doesn't get much more picturesque or quintessentially English than the village of Turville in the Chiltern Hills, home to interiors enthusiast and long-term OKA customer Deborah Abbot's gorgeous cottage, and equally pretty garden. While her house has all the charm of its Anglo-Saxon surroundings, it was actually only built in 2005, something that appealed to her practical side when buying it. "What I have here is something that looks very authentic, but has all the modern conveniences," she explains.
When designing and renovating, her main priority was curating a space that would work for entertaining. So, when choosing a new sofa, one that fitted her lifestyle was of paramount importance. "I love the linen; it's rustic enough for here and is going to be fairly easy to maintain," she tells us. "There has to be enough space for all the family to be comfortable; it has to work around the people in the room," which, she says, is why she opted for the Radcliffe. "I love the fact that the cushions are deep and soft; it's very snug, but elegant."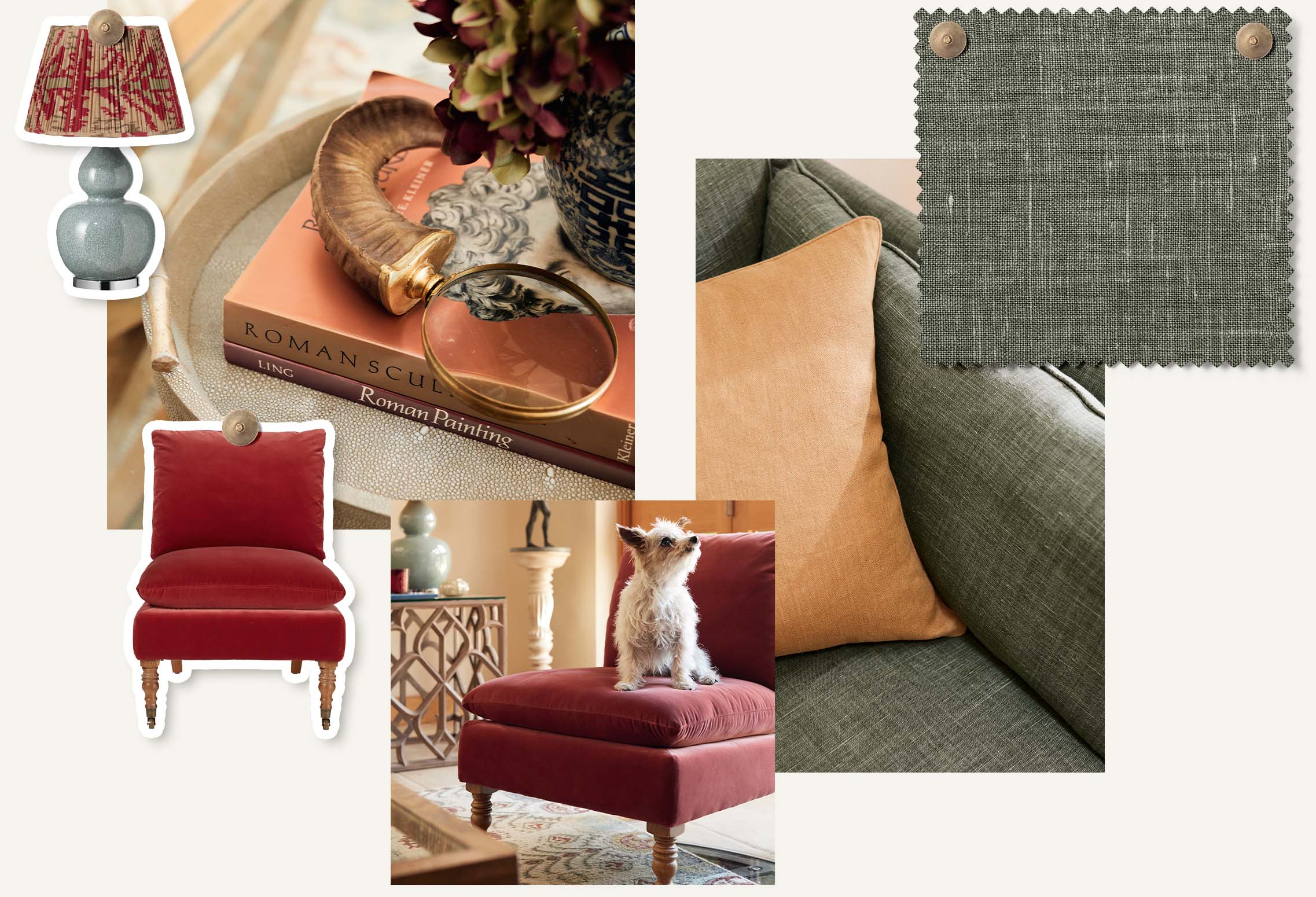 Abbot describes her home as a "collection of numerous bits and pieces that I love, which I've gathered over the years and work around." Some favourite items including a sculpture crafted by a close friend and a Tibetan tray from a stint working in Nepal, yet the effect is perfectly congruent, thanks to a carefully curated colour scheme. "Everything in my sitting room is very tonal. I adore the Dune Green shade of the sofa; it really picks out the colours of the rug, which I hadn't even realised had light green in it – it just adds that je ne sais quoi."
Abbot chose the Radcliffe 2-Seater Sofa in Dune Green Laundered Linen, with Ebony Legs

Please note, if you would like to receive your Tailored by OKA piece before Christmas, your order must be placed by 31st October.

Words: Jess Evans and Ellen Millard