As we inch ever closer to sunnier days, we're looking forward to balmy evenings spent dining outside. Food writer, author and photographer Joe Woodhouse is well versed in creating easy summer dinner recipes for the family – his debut cookbook, Your Daily Veg, is packed with deliciously simple vegetarian dishes, serving plenty of dinner ideas for summer nights. Among our favourites are these two salads, which are as tasty as they are easy to make. In the words of Woodhouse, they're "perfect enjoyed outside in the sun with a glass of white wine". Bring on the warmer season.
Bobby Beans, Smashed Roasted Tomatoes, Red Onion, Capers and Basil Salad
"A salad bursting with summer flavours," says Woodhouse. "I can't get enough of this salad when green beans start appearing in the summer. If left alone I could easily sit down and finish off this whole serving. I love the balance of the tanginess from the tomatoes and vinegar, with the crunchy onion and salty capers. All draped over just-cooked green beans. Absolute heaven."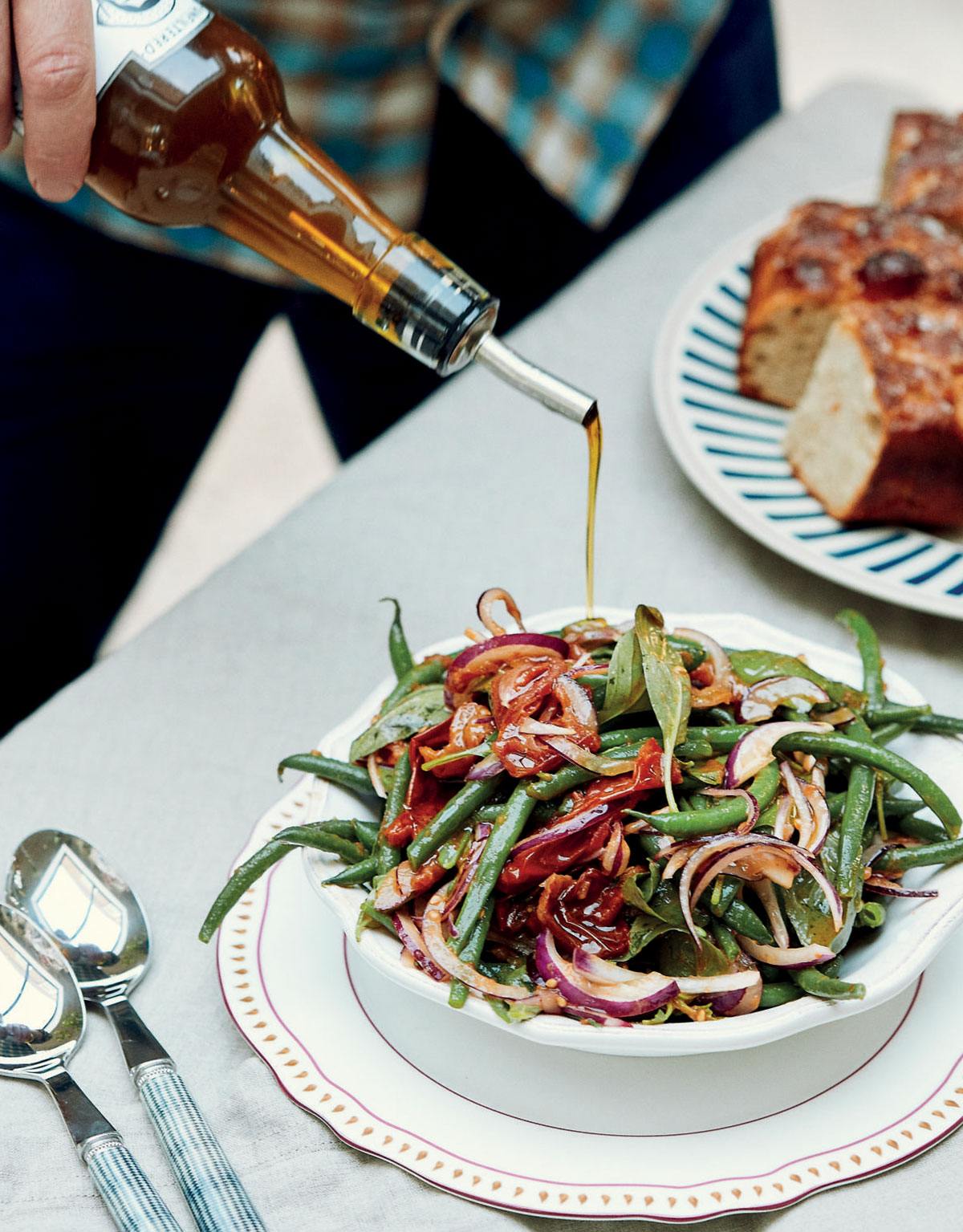 Ingredients
Serves four
55g best quality salted butter, at room temperature
1 tablespoon kelp flakes
500g green beans, trimmed
6 slow-roasted tomatoes
1 red onion (2 tropea onions when available can also be great here)
1 bunch of basil
30g capers
3tbsp red wine vinegar
3tbsp good quality olive oil, plus more to dress
Sea salt and black pepper for seasoning
Method
1. Heat the oven to 160°C. Cut the tomatoes across their equator, and arrange cut side up on a baking tray. Season with salt, pour over 2 tbsp of oil and roast for 1 hour. They still want to be juicy, but the flavours concentrated. I normally do a bigger batch of these as they keep well in the fridge, and can be used in many different ways.
2. While the tomatoes are cooking, finely slice the onion. Add the onion to a mixing bowl, along with the picked basil leaves and capers.
3. Once the tomatoes are done, blanch your beans in salted water until tender. They should be cooked through but not overly floppy; test one when you feel they are getting to the desired stage. I like to refresh them briefly in cold water, so that the cooking stops but they remain at room temperature rather than ice cold.
4. Add the drained beans to the mixing bowl with the remaining olive oil. Crush the tomatoes either in your hand, if cool enough, or with the back of a wooden spoon and add to the bowl. Turn everything over a few times to combine with a couple of grinds of coarse black pepper. Arrange on a serving plate with your hands.
Courgette, Butterbean, Onion and Dill Salad
"Salads of this nature are a mainstay at lunch for me," Woodhouse says. "Light but with enough flavour and substance to carry you through the afternoon. Great for piling high when friends come over. The included ingredients evolve as the seasons change and with what you have on hand. Don't be afraid to swap in other bits of fresh crunchy veg or herbs."
Ingredients
Serves two as a side, or one as a heartier lunch
325g cooked butterbeans
2 small courgettes
1 Tropea onion, or 3 spring onions
2-3 cornichons, finely sliced
25g dill
A generous splash of red wine vinegar
Extra virgin olive oil, to taste
A healthy pinch of chilli flakes
Salt and freshly ground black pepper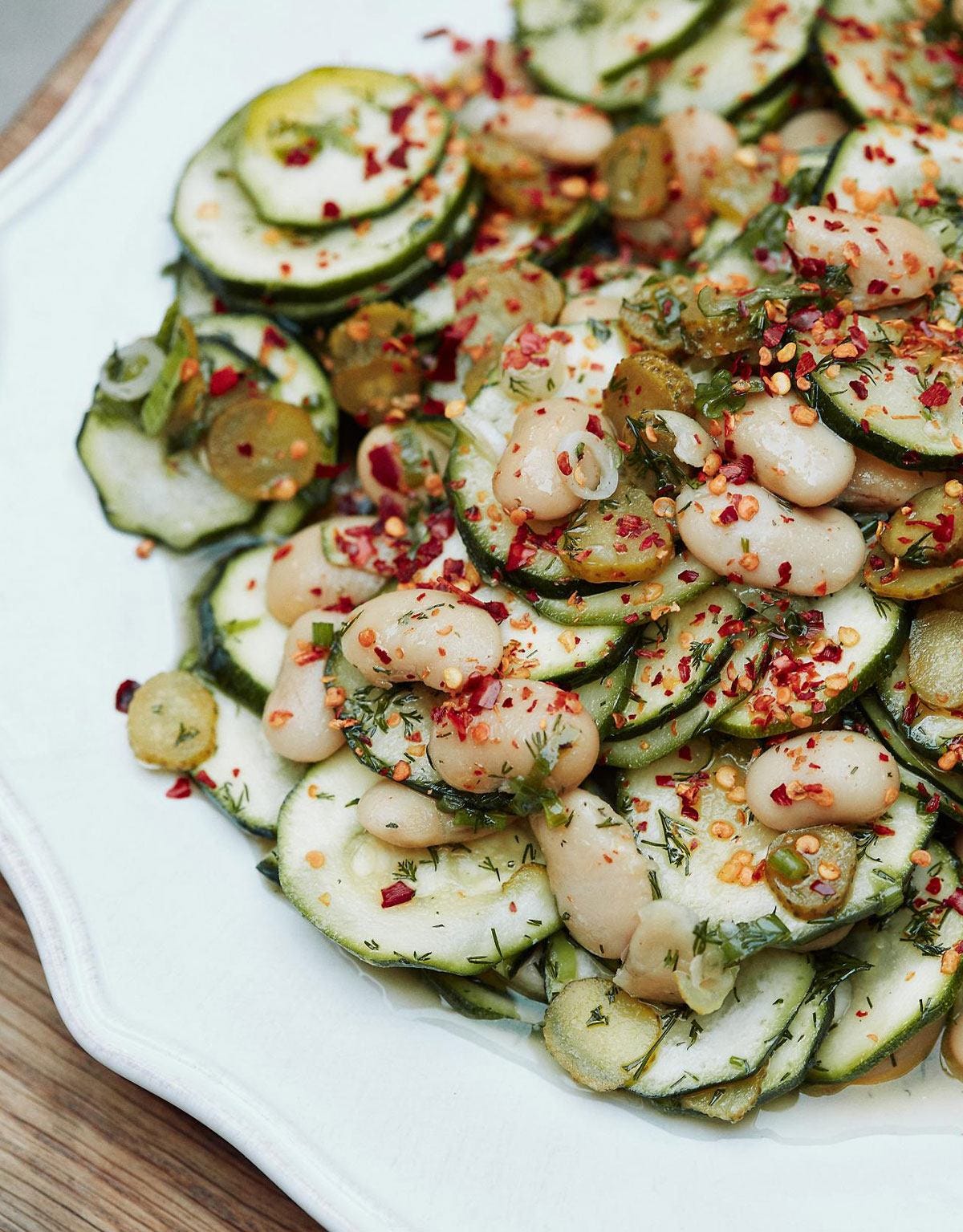 Method
1. Slice the onions into rounds, as thinly as possible. Separate the rings into a large mixing bowl. Add a decent slug of good quality red wine vinegar. This will take the edge off the onions and temper them slightly.
2. Finely slice the courgettes, either by hand or on a mandolin. Add them to the bowl.
3. Add the cornichons and roughly chopped dill to the bowl, along with 3-4 tablespoons of oil and the butterbeans.
4. Toss to combine, add some salt, check seasoning and adjust accordingly. Similarly, with the vinegar and oil levels. You are looking for a punchy, well-seasoned mix with a good slick of oil bringing everything together.
5. Arrange in a bowl or serving platter and scatter liberally with chilli flakes to serve.
Your Daily Veg: Modern, Fuss-Free Vegetarian Food by Joe Woodhouse is available to buy now (£22, Octopus)