Maybe it stems from growing up on a working farm, where there was neither time nor tolerance for egos. Maybe it comes from being a photographer, which entails spending more of life behind the camera than in front. Whatever the reason, Joe Woodhouse is one of the most self-effacing male chefs on the scene right now, whose sole focus, whether cooking at home or promoting his debut cookbook Your Daily Veg, is family, friends and feasting.
When it comes to summer hosting, Woodhouse would rather be cooking than sitting down: "Showing people different ingredients we've found, cooking over fire outside as it's fun and interactive for people to hang around." He's no fan of man-to-man barbecue chat though, describing wryly the "strange insecurity some men have when you're cooking with fire. It's like they need to show they're a real man by asking what charcoal you're using". Again, it seems Woodhouse has no time for any approach to food that centres around the self.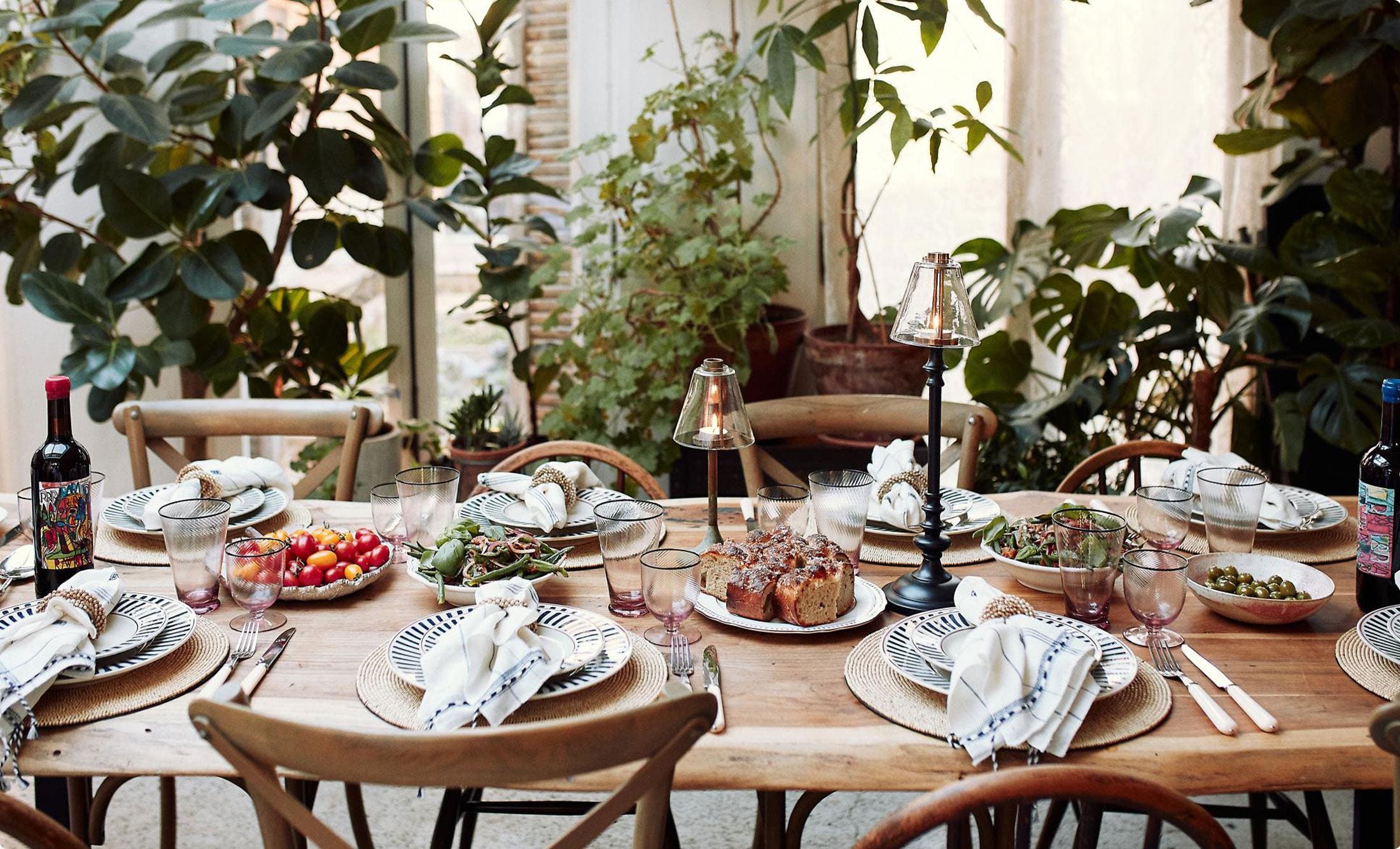 What he does have time for is having friends over: once, twice, even three times a week, together with his wife Olia Hercules, herself a highly successful food writer. What starts off as a group of two or three invariably ends up as six or eight. "Sometimes it is double that by the time the day comes," he laughs. "Olia really likes to add people." Once the group gets past a certain size, Woodhouse leans toward pizzas, fired outside in his pizza oven, as "once you've made the dough, it's a relatively simple thing to keep knocking out".
The merits of pizzas speak for themselves: "Everyone likes pizzas. They are versatile. They are kid-friendly," Woodhouse continues. At an age where most of their friends have young children, they are ideal for those looking for summer dinner party ideas. And as the nights get lighter and longer, the idea of firing up the pizza oven and inviting friends to gather around a table festooned with fairy lights and flowers has a particular appeal – even at their most sophisticated, pizzas mean party. "There is just that instant gratification," says Woodhouse. "The kids are fed, and then the adults can hang out."
As the title of his book might have led you to guess, Woodhouse is vegetarian – making for slightly different approach when it comes to entertaining. "Because you don't have an animal protein or fish, the meal is around a theme rather than a centrepiece. Usually that's a particular country or region, represented by a collection of dishes," he says, "though sometimes I lean toward doing one big dish like an aubergine parmigiana or a pie." The aim is to keep it simple, so as to maximise mingling time.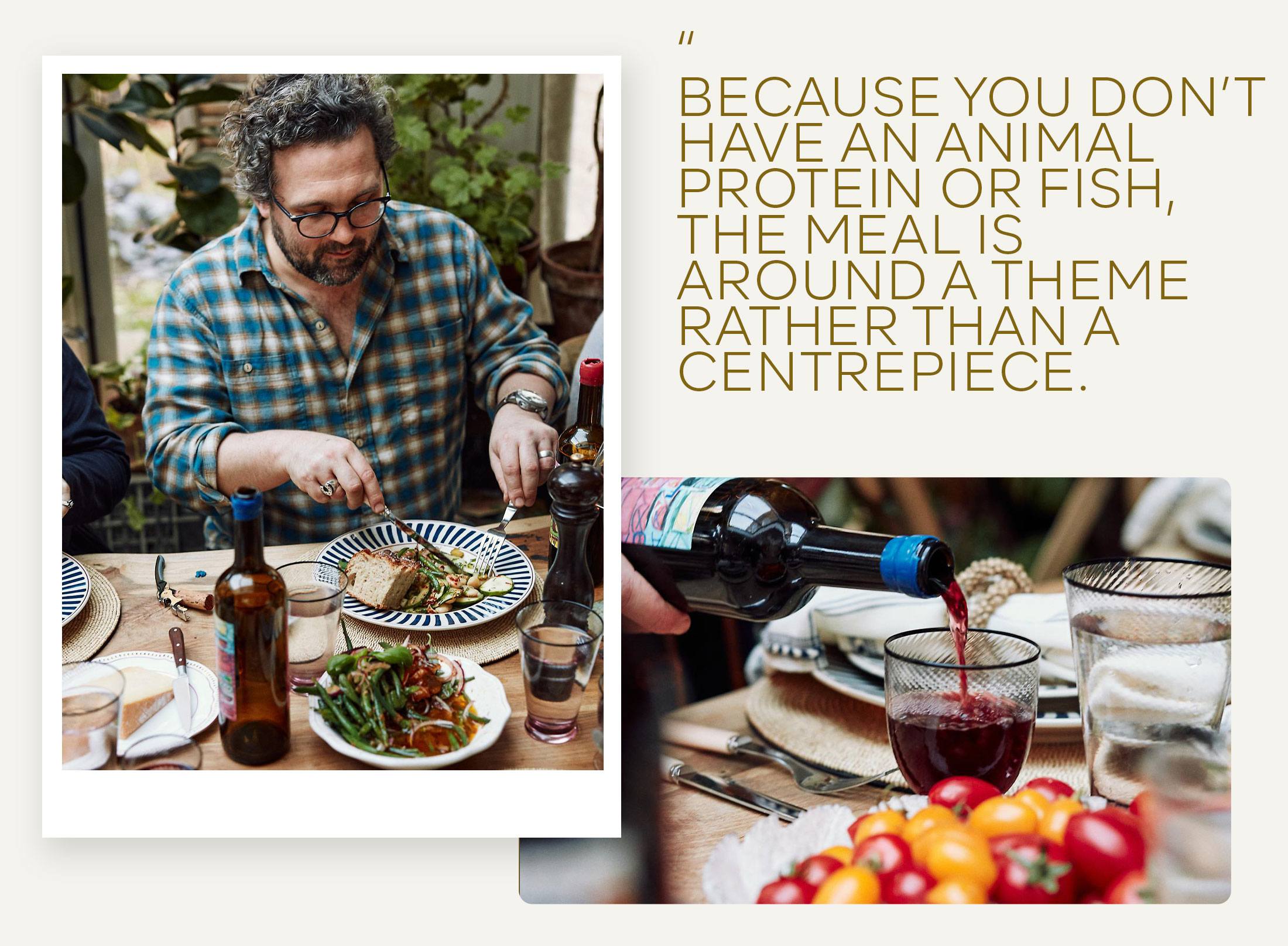 When choosing which dishes to present, Woodhouse aims for "different textures, showing off vegetables in different ways." His butterbeans with courgettes and basil, and green beans with roast tomatoes and capers are prime examples. "I love green beans. They're so easy – you just blanch them, cool them down and leave them until you're ready to dress them," he continues. Vibrant, crunchy and fresh, they encapsulate everything that's most enjoyable about summer entertaining: "Throw the bits together, toss, and you're ready to go."
Looking at food through a photographer's eyes means presentation is crucial for Woodhouse; having plenty of colour, from the food, table setting and crockery is key. When it comes to feeding a crowd outdoors, he recommends shallow soup bowls, "like those you get in bistros. A lot of my food is spoonable, and if you're standing up the rim means you can scoop easily".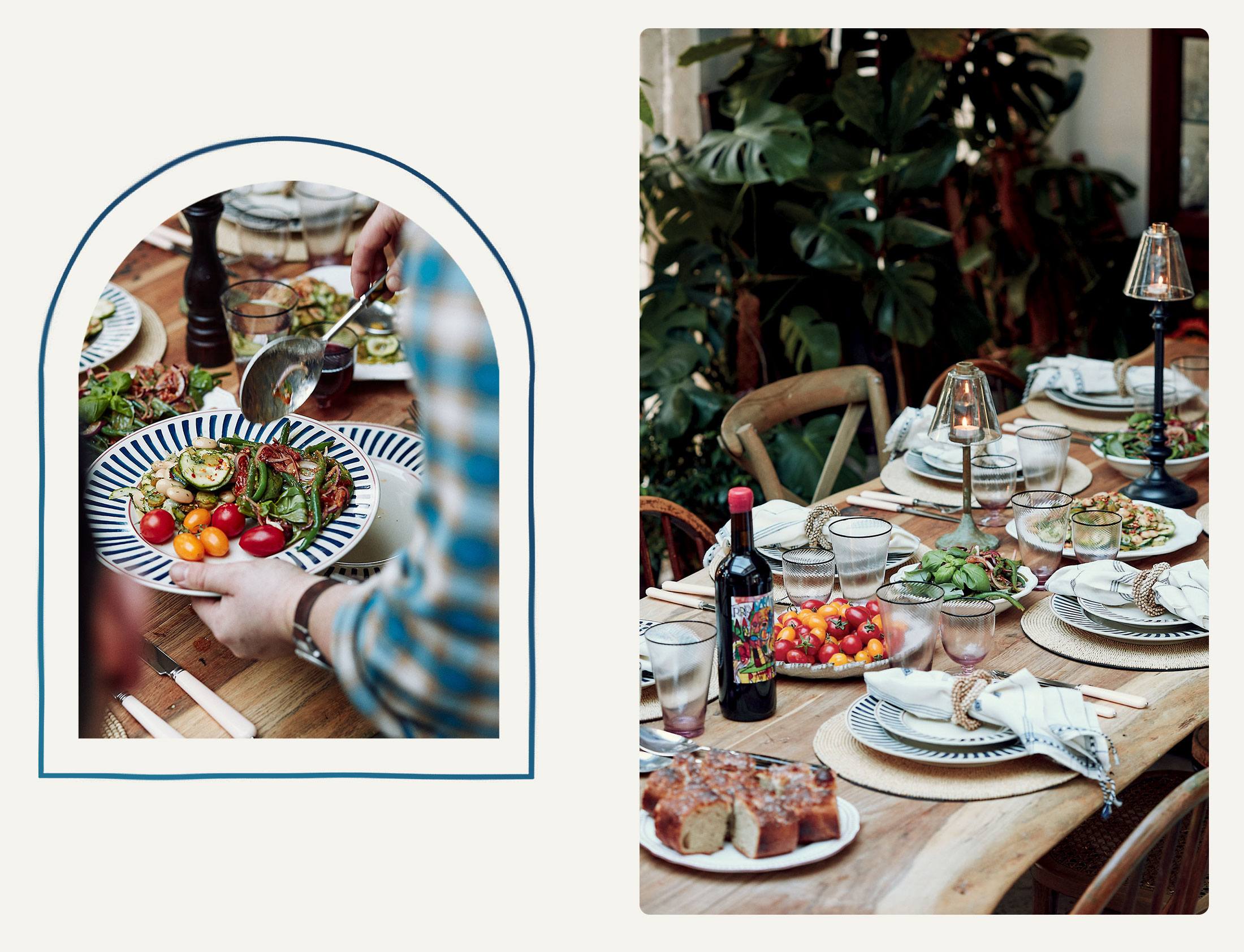 .The perfect starts for a vegetarian feast are invariably an array of homemade dips, which can be prepared in advance, and allow early arrivals to immediately tuck in. "The more we've hosted, the looser it's become," he smiles. Having bountiful platters of food that people can simply get stuck into while chatting is not incidental; it's fundamental, he says. "It's easy for you, and it's good fun for all the people around you. All you need is plenty of wine, and everyone feels satisfied. Everyone is well fed."
Your Daily Veg: Modern, Fuss-Free Vegetarian Food by Joe Woodhouse is available to buy now (£22, Octopus). You can discover more of Woodhouse's world here.