What is the difference between a bar stool and a counter stool? If you're currently designing your kitchen or looking for new furniture pieces to elevate an existing space, then it may be a question you're asking yourself as you delve into this interiors conundrum. To help you along the way, we've gathered our best tips for both styles in this comprehensive buying guide.
Bar Stool vs Counter Stool Height
Are you sitting comfortably? If you're not, you may have chosen the wrong chair for your space—when it comes to bar stools and counter stools, size really does matter. The main difference between the two is the height of the seat, and it's an essential component you'll want to get right, not just so that your chosen stool fits underneath your counter top (or bar), but so that you can sit in perfect comfort without feeling either overcrowded or far away from the table. As a general rule, these are the measurements you'll want to keep in mind:


• Dining Chairs: Dining tables are usually between 28 and 30 inches tall, which means the seat of your dining chair should be between 16 and 20 inches.
• Counter Stools: Most counter tops or kitchen islands will be around 36 inches tall, so the height of a counter stool seat will typically be 24 to 27 inches high.
• Bar Stools: The tallest of them all, bars can reach 42 inches, so an average bar stool height will be between 28 and 33 inches to accommodate this.


Remember, every home is different, so when shopping for bar or counter stools, or even dining chairs, be sure to measure the height of your table or surface beforehand—we recommend leaving at least nine to 12 inches between the top of the seat cushion and your tabletop for maximum comfort.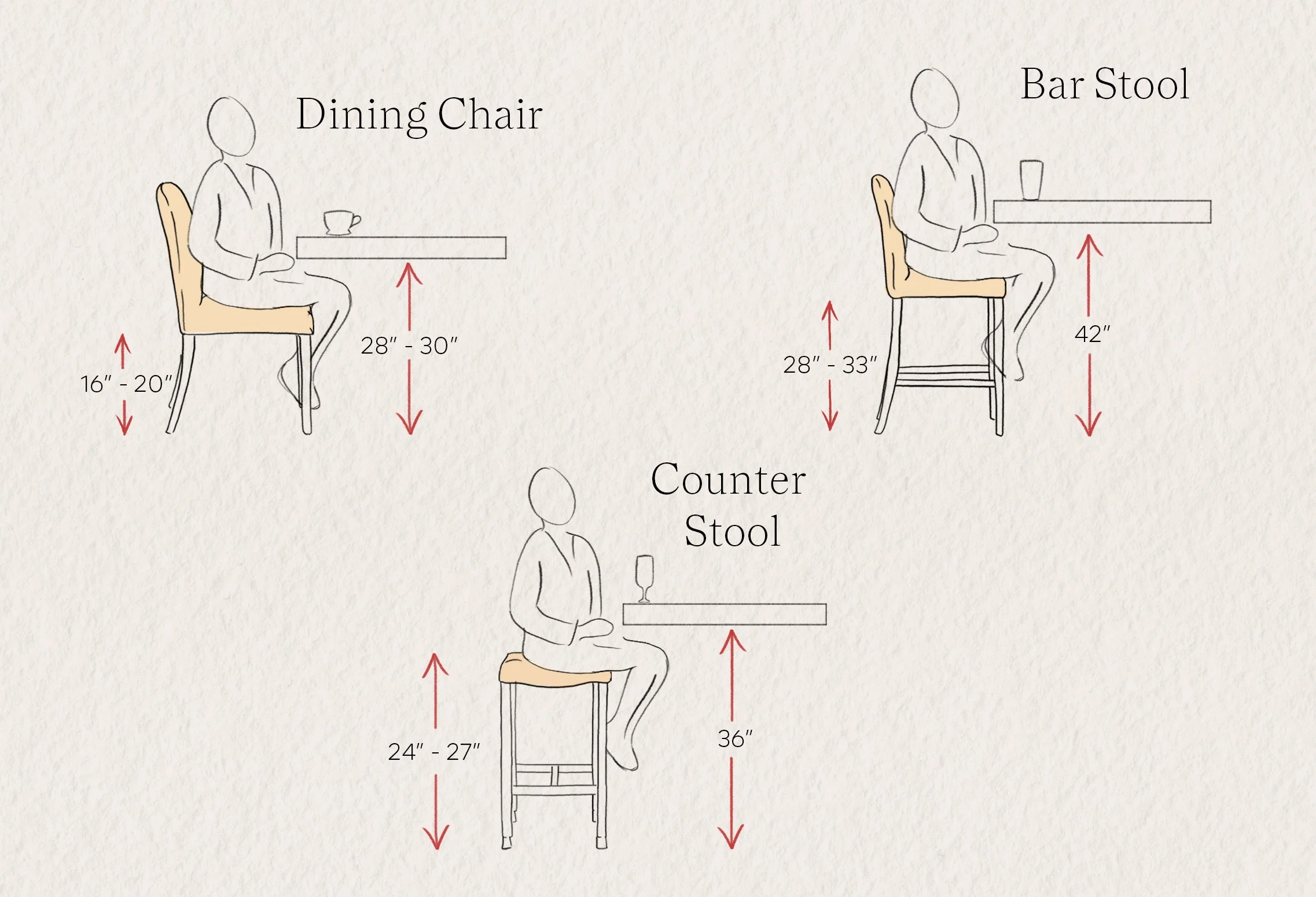 Don't Forget About Width
It's not just height you'll need to consider, but width too. To ensure there's enough space for multiple chairs to fit around your table, plus ample elbow room, we recommend leaving at least six inches between each stool if the seats measure between 16 and 18 inches wide. For seats with armrests or swivel functions, leave between 8 and 10 inches.


Think Practically
When shopping for bar or counter stools, it can be easy to simply select a design that looks pretty and hope for the best. But this is a practical piece of furniture destined for a highly functional space, so it's worth asking yourself the following questions before beginning the hunt.


How will the counter or bar stool be used in the space?
Will this be the primary seat in which you'll dine regularly, or will it just be a casual chair for a coffee and a catch-up? If you want the stool to be comfortable for long periods of time, we'd recommend avoiding those with hard surfaces, and instead opting for something more cushioned.


Will they be used by young children?
If so, steer clear of backless and upholstered designs, and instead seek something with greater support, made from a material that's easy to clean.


Will you be using your counter or bar stool elsewhere in the home?
You may want to use these seats in other spaces, for example as an extra chair at the dining table, in which case we'd recommend selecting adjustable height bar stools over fixed height bar stools, which allow for greater flexibility.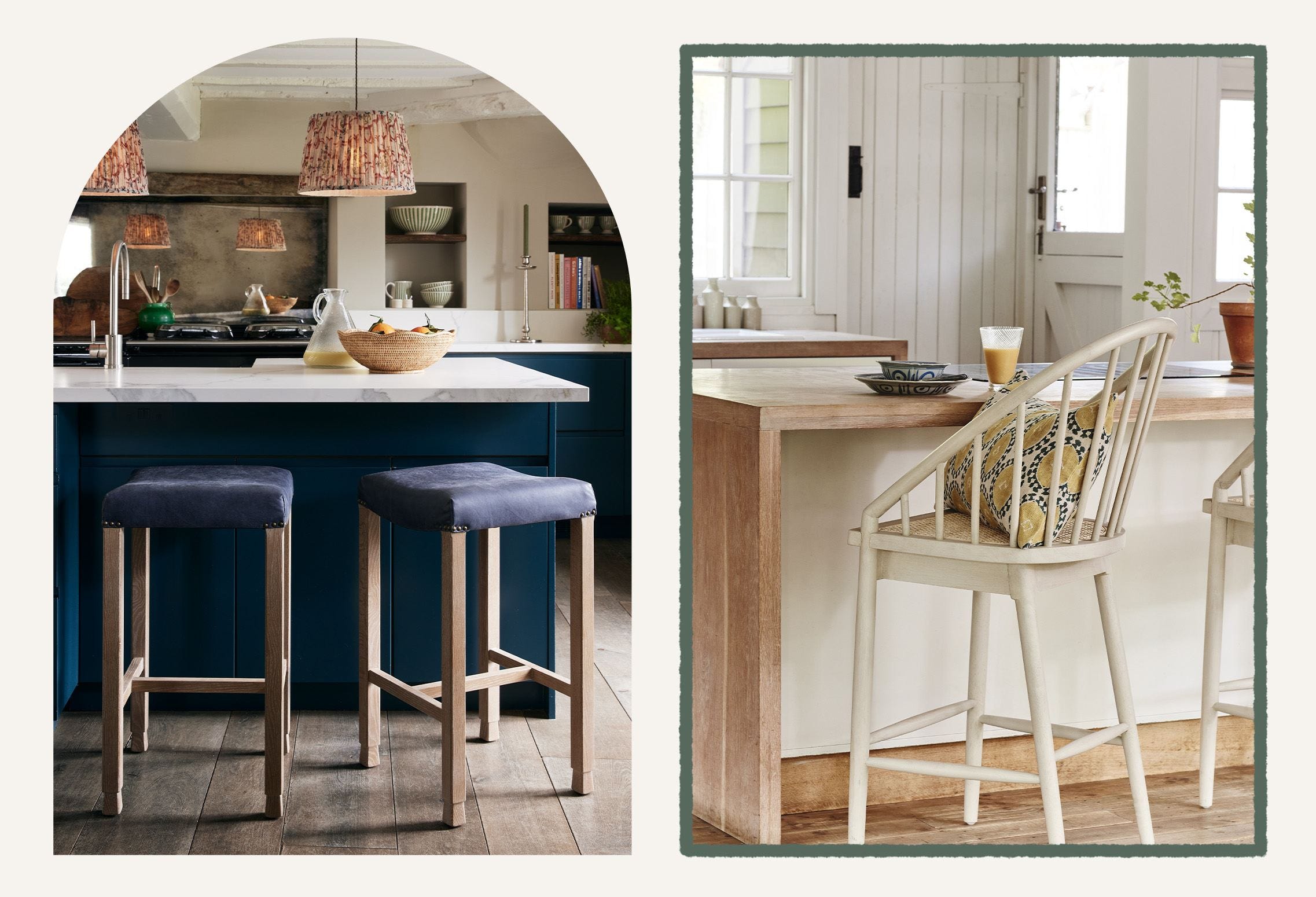 Types of Counter Stools and Bar Stools
Once you've considered all of the practical elements, it's time to start looking at options. There are plenty of bar and counter stool styles out there, so keep reading to find the perfect design for you.
Armless vs Arms
Allowing for more room around the table, armless designs are perfect if you're short on space or favor a more minimalist, clean-lined look. If comfort is your priority, look no further than styles with armrests—remember, you will need to factor in more room for these to ensure they can fit easily around your counter or bar.
Backless vs Backrest
Much like armless designs, backless stools offer a more streamlined style. They're also perfect for slipping underneath a counter or bar, allowing for more space and a less cluttered aesthetic. If you're decorating a small kitchen, we'd recommend choosing a design like this. If you're looking for a stool that will be used for long periods of time, we suggest selecting a style with back support for a more comfortable experience.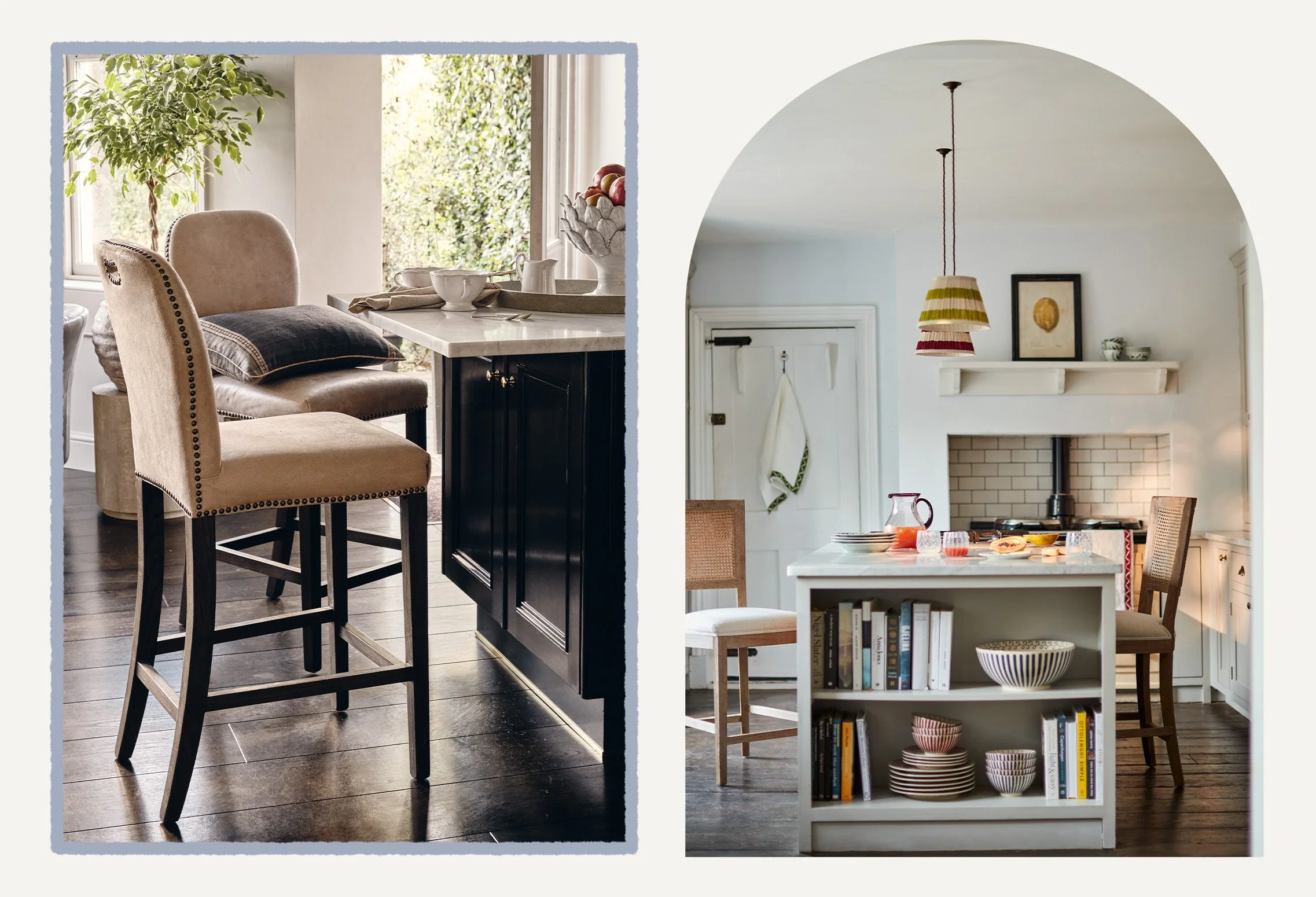 Adjustable vs Fixed Bar and Counter Stools
As previously mentioned, you can always select an adjustable stool if you want greater flexibility in your space. These work for both bar and counter tops and are ideal for family members of every height. If you're set on your style and measurements, then a fixed design will work just as well.
Swivel Bar and Counter Stools
Featuring a rotating seat, swivel styles make it easier for people to get in and out without having to move the stool itself, making them another good option for those short on space. Designs such as these also command a more sociable setup, as you can move to face the direction of the conversation—whether that's in the kitchen or towards the dining table.
Upholstered vs Non-Upholstered Bar and Counter Stools
There are pros and cons to both styles, and the one you select will come down to your personal taste, as well as your lifestyle. Metal or acrylic designs, for example, are probably not the most comfortable of options, but they often come with the added advantage of being stackable and are much easier to clean than upholstered options. Wooden designs are timeless and also easy to clean; they may not offer the most comfort, but they have more give than metal or acrylic alternatives and can always be improved with seat cushions if needed. Upholstered bar and counter stools are the softest style but the hardest to clean. If you're worried about stains, opt for a darker fabric, or a material that is easy to wipe down, such as leather.
Looking for more dining inspiration? From table shapes to decorating tips, you'll find lots of ideas here.