It hardly seems like the glamorous, fun part of interior decorating, but choosing the best pillow insert for your pillows will have more impact on the look and feel of your scheme than you may realize. Whether scattered on a sofa for extra comfort, dressing up a bed, or adding an accent to an armchair, these soft, pillowy forms are a staple accessory in almost every room—even hallways and bathrooms occasionally house a cushioned seat. They are, however, more than simply a dressing tool; pillows add comfort and support, too. So while our first inclination may be to focus on the esthetics, it's actually worth turning your attention to the filling inside your printed, patterned, or textural cover.
OKA pillow covers are supplied without pads, which means you can choose the softness of your filling —and thus manipulate the finish somewhat to suit your tastes—but how do you know what type to plump for? We talk you through the various pillow insert sizes and shapes, as well as the best filling for your needs. Once you have that sussed, you can get down to the fun part; placing your pillows (if you like, with the help of our smart.
What's the best pillow insert filling?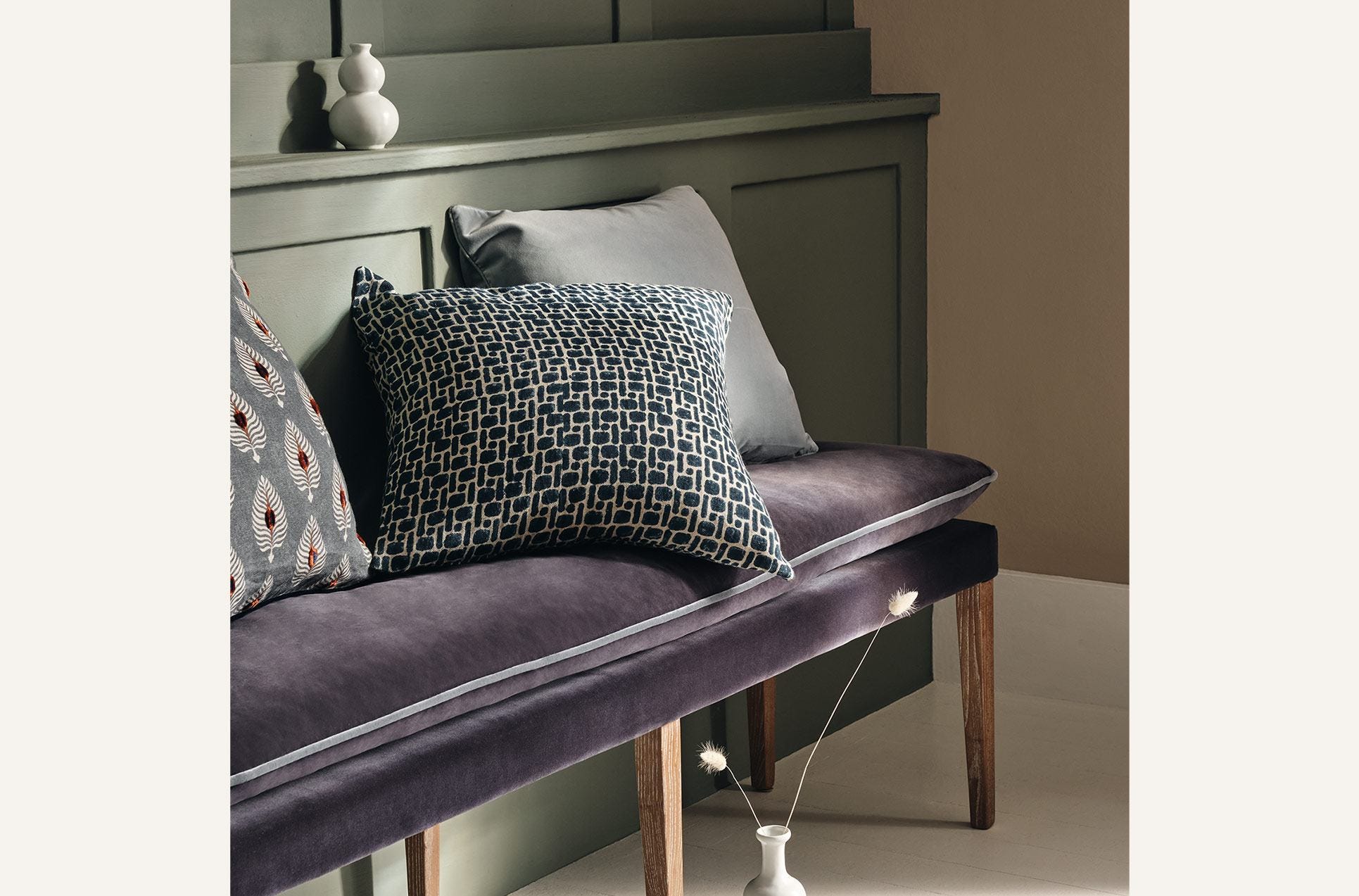 Price certainly plays a factor in choosing the right pillow insert; the bigger the pillow and the softer the filling, the more expensive it will be. Feather-filled pillow inserts are a great 'all-rounder', but if you're looking for that extra softness, you won't regret investing in a luxury pillow insert.
For a comfortable and economical option, our standard duck-feather pillow insert is made from shredded duck feathers, which endow it with a deliciously squashy feel. If you're looking for a more luxurious feel, our duck down-and-feather-mix insert is filled with a sublimely soft blend of 70% duck down and 30% duck feathers. All feather and down used in our pillow fillings is ethically sourced in France from Muscovy ducks; the feathers are washed with filtered water to remove oils, then dried, cooled and de-dusted so that they are as clean and fluffy as possible. For pillows that see daily use, it's definitely worth investing in one of these inserts.
Outdoors, as with all furnishings, practical considerations are foremost. In this instance, garden chairs can benefit from the addition of pillows with a fiber-filled insert; these dry easily, won't retain moisture or go mouldy (as long as you remember to store them somewhere dry when not in use). Hollow-fiber cushion pads are much sturdier than feather-filled ones but they're still very comfortable. Additionally, if you're allergic to feathers, they make a great alternative filling for indoor pillows too. Plus, because they're machine washable, you don't have to worry about pets curling up on them.
What size pillow insert should I buy?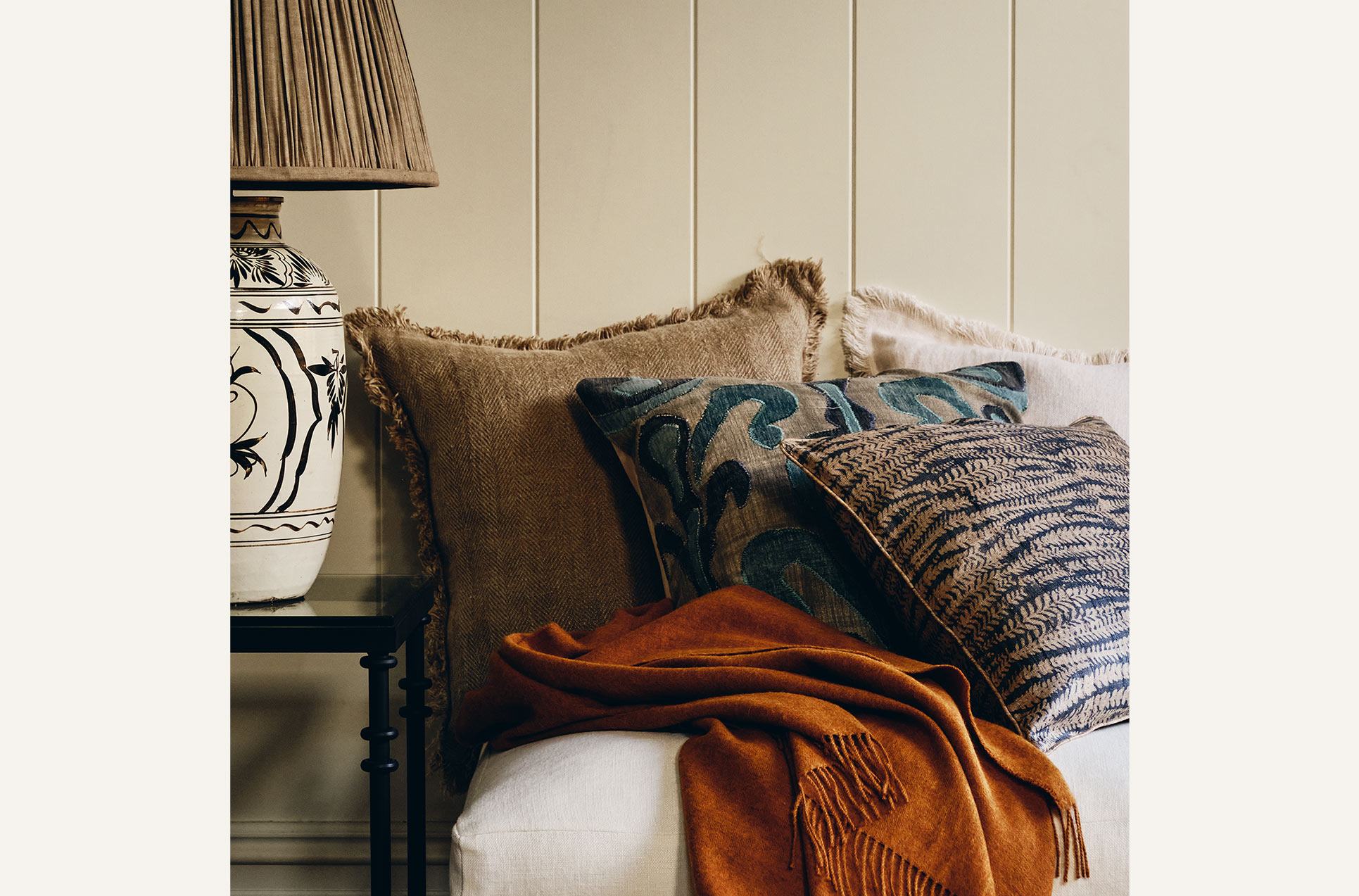 The size of pillow insert you need depends, of course, on the dimensions of your pillow cover. But it also helps if you take into account where and how you plan to use the pillow; will it be decorative or practical? A classic square design (usually 18"sq, 20"sq and 22"sq) can work in both scenarios—a single square pillow makes a great accent on an armchair but, beyond bringing a dash of color and pattern, it also offers that little bit of extra comfort and support. The size of your pillows (and thus inserts) will also depend on how you plan to layer them—for instance, on a bed you may choose to layer rectangular pillows against a base of square designs. In this instance, you'll need to think about scale; small rectangular designs (60x35cm) are ideal placed in front of a large, square one, while bolster pillows (35x14") are good for laying across benches and beds for extra depth and height (as well as comfort when sitting reading).

How do I measure a pillow cover?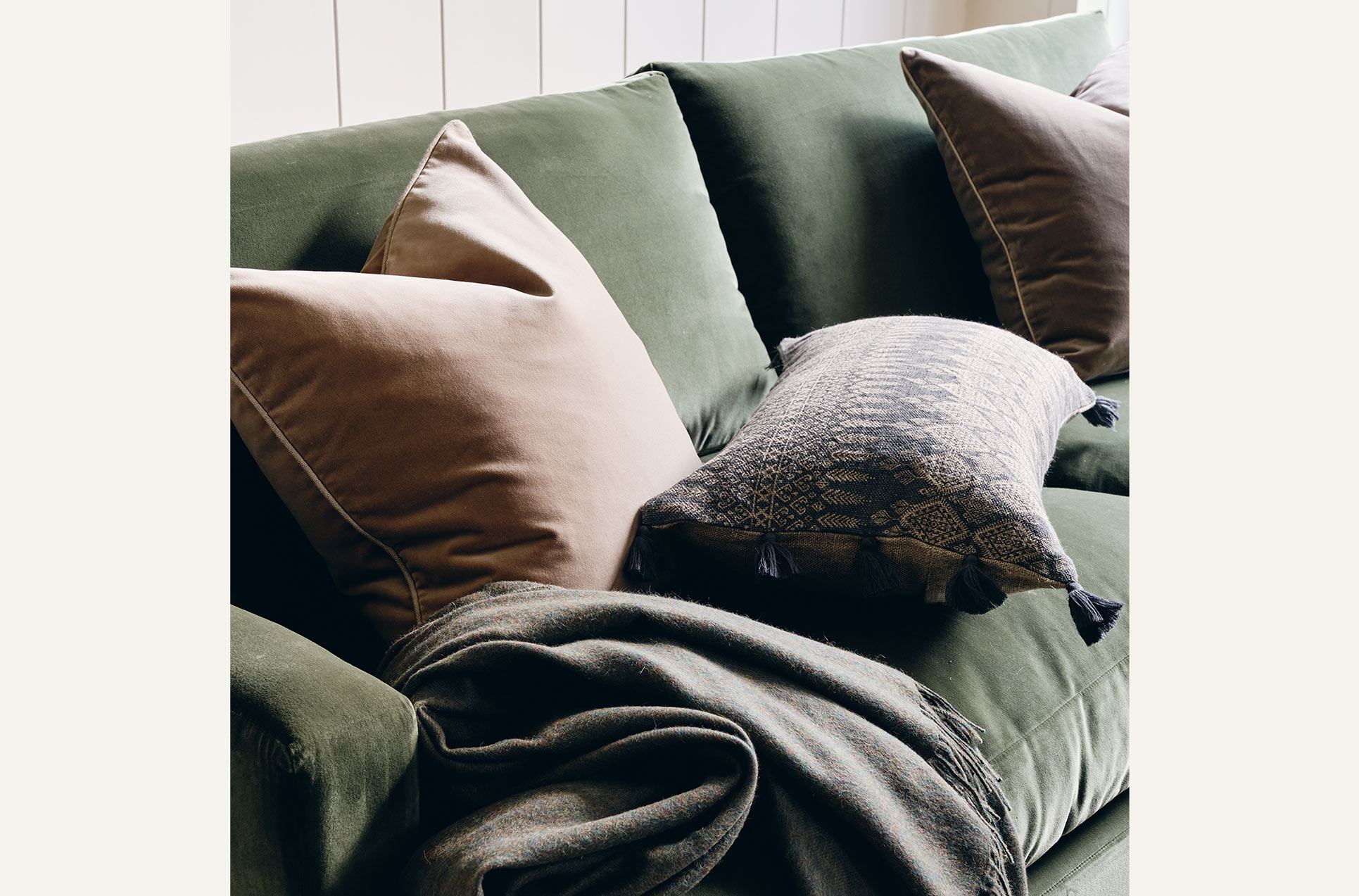 To measure a pillow cover, remove the insert (if there is one) and lay the cover flat. Then, in the case of a square or rectangular design, use a measuring tape to measure along the length and width of the cover. For round pillow covers, measure across from one side to the other to find the diameter. Expert tip: always choose a pillow insert that's the same size, or one size bigger, than your cover; this will ensure you experience extra plumpness and comfort. Never opt for a pillow insert that is smaller than your cover—you'll end up with flat, empty corners where there's no filling. Overstuffed covers have a more generous appeal all round.
How many pillows should I use on my sofa?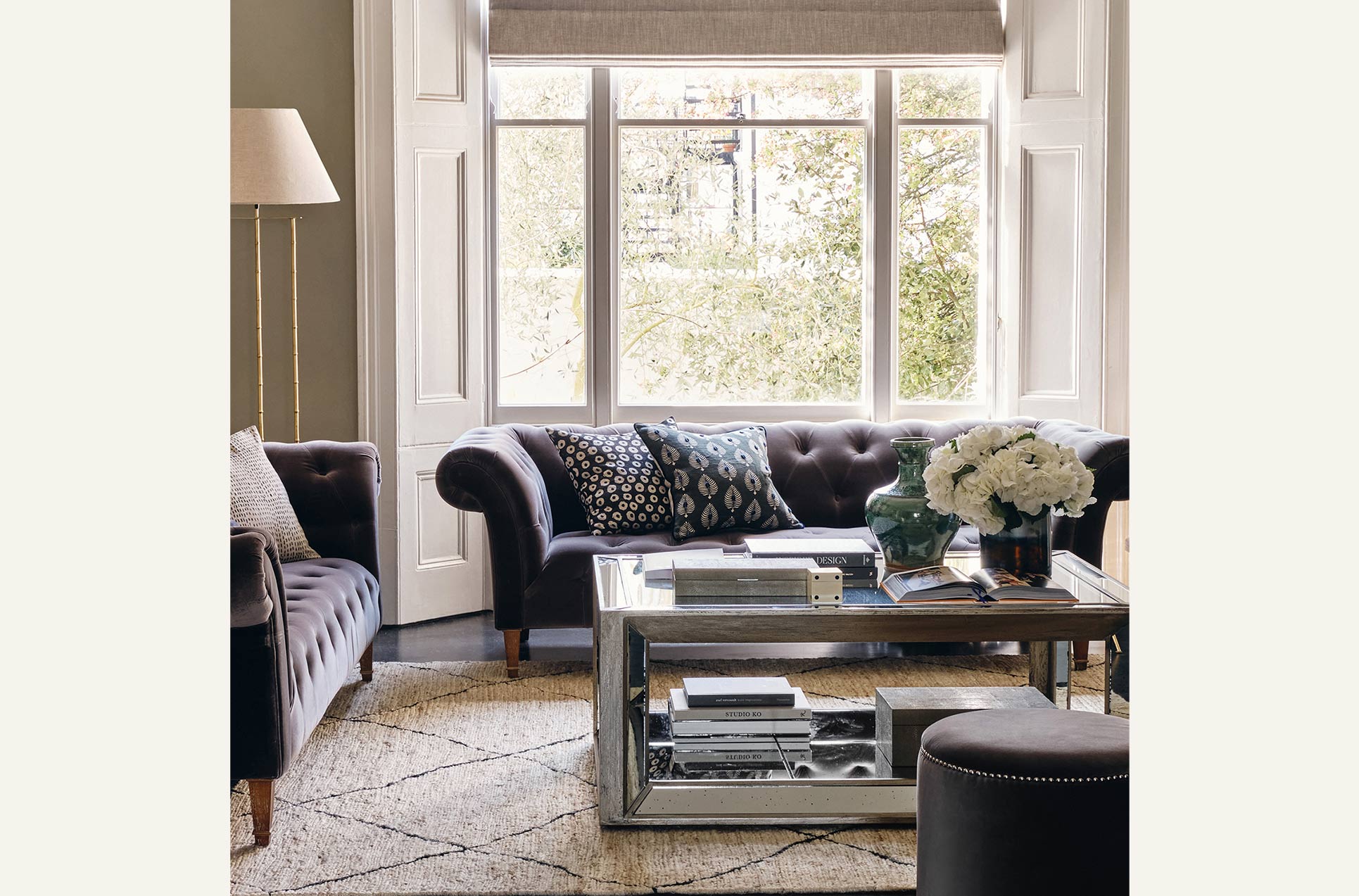 Sofas are a great blank canvas to play around with a variety of cushion sizes and arrangements, but you first need to consider the size of your seating. For a small 2-seater sofa, stick to a maximum of 3 cushions, either 46x46cm or 51x51cm – you don't want a situation where your sofa looks really enticing, but doesn't allow space for you to sit down. For large 3-seater sofas, why not try a mix of square and rectangular cushions? Remember, asymmetry is always more interesting, so if you do opt for a series of cushions of the same size, display an odd number of them. For corner sofas, anything goes. You can create smaller groupings of cushions in the corner, as well as at each end, or add pretty pads all the way along both sides – the choice is yours. If you need a little inspiration, our guide to dressing a sofa with cushions is a helpful place to start.
You don't have to stick to square cushions; there are so many different shapes and styles to choose from, and we introduce new cushions every season. OKA now has more than 200 cushion cover designs, ready and waiting to accessorise your home; take a look at our guide to adding color with cushions to get started.