Playing an important part in family gatherings, romantic meals, and celebrations with friends—and even acting as an impromptu home office on occasion—a dining table is the ultimate multitasker, so it's important to find one that suits your needs. Choosing the right size dining table involves a number of practical considerations, and there are all manner of questions to answer to help you find your ideal piece of dining furniture. Where is the dining table going to be located? How big is the space? How many people usually eat together? What number of guests do you typically entertain?
To help us answer some of these questions, we asked Sally Homan, Director at Robertson Lindsay, for her expert advice on how to hone in on the perfect size dining table for you and your home.

Consider how you plan to use your dining table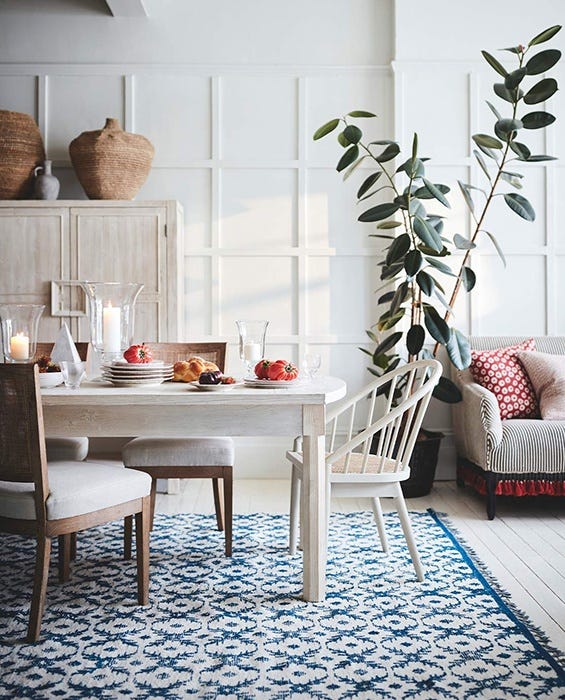 First things first, how much space do you have to give over to a dining table? Whether it's being placed in a separate dining room, a kitchen-diner, or a conservatory, you can only work with the available floor space. "You have to look at the space in the room and allow enough distance for people to comfortably move around a table," Homan explains. "It's also important to think about how many people you want to seat on a daily basis, as well as for occasional entertaining."
Why do you need to consider this last point? Well, if you generally use the table for small family meals or relaxed teas with friends, but occasionally host large dinner parties, you may want a table that's flexible rather than a fixed size. After all, a romantic dinner for two at a vast table doesn't have quite the intimate feel you're aiming for and, similarly, squeezing guests shoulder to shoulder around a smaller dining-table design doesn't inspire the comfort that leads to relaxed conversation. In this instance, an extendable design could be where you need to fix your attention; not only are they functional, but they're space-conscious, too.
What shape is best for a dining table?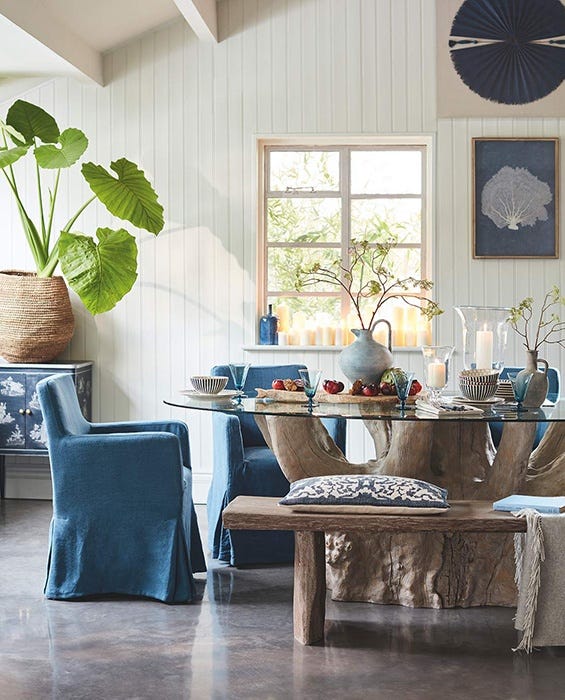 Hunting out the perfect size dining table also requires some thought about shape, and how the table will sit in your chosen space. Typically, rectangular tables are the most popular dining table shape, and they're also best for entertaining large groups of people. Round or oval tables, however, have their benefits—specifically, they are more sociable, as they remove the formality of the "head of the table" and allow everyone to see and speak to each other.
"I love round and oval tables," comments Homan. "But they do take up more space so it is not always possible [to choose them]; if space is tight, square tables are more efficient than round ones. If you are very short of space then banquet seating can be a great solution; buy a bench and upholster a panel in pretty fabric for a simple design."
How much space do you have... and how much should you allow?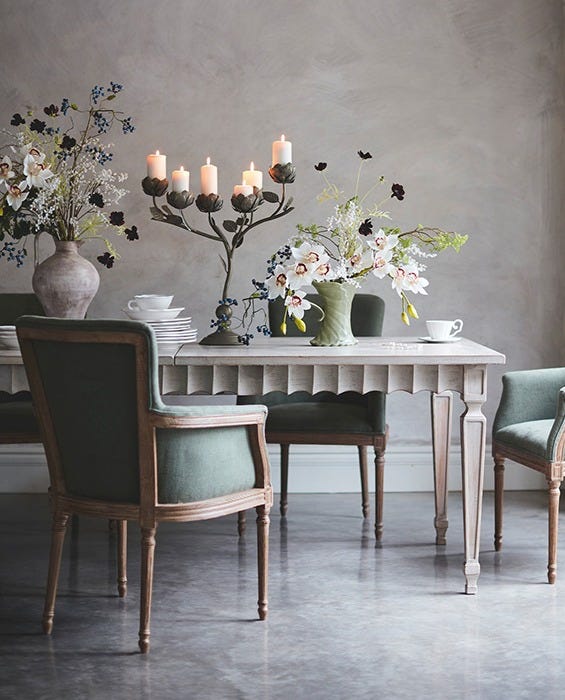 Once you've got a sense of how you want to use it, as well as the way in which choosing the best shape dining table can impact your space, it's time to think about the implications of the size of this essential piece of furniture.
Be realistic. You may want a large dining table that seats 10, but if the size of your dining room only allows for an 8-seater option, it's better not to try and force a big design to fit—you'll only pay for it later, with reduced comfort. In terms of space, you really have to take two things into account: movement around the table and the room each guest enjoys when seated at it.
When you and your guests are sitting around the dining table, it's important that everybody has plenty of room to relax and eat comfortably. Allow 24" of table space per person, or 31" if you want a little extra elbow room. For rectangular tables, add an extra 12" at each end—you want to be sure that people seated at either end of the table have sufficient space for tableware and glassware too.
Bear in mind that larger dining chairs, including designs that feature arms, will require more room per person. If you already have a set of dining chairs, or have some new ones in mind, measure how wide they are so you know how much space they take up, and thus how many people you can seat.
There's no point figuring out all the measurements for seating guests and then ignoring the bigger picture; guests will get up and move around during the course of a meal, so you really must ensure that everyone has enough room to comfortably stand up and push their chair back from the table. As a general rule of thumb, you need a minimum of 35" between the table edge and the wall—39" to 47" is even better, so that nobody feels jammed in.
To work out the largest-size dining table that will comfortably fit in your space and allow people to move freely, measure the length and width of the area you can dedicate to it, then subtract 70" from these two measurements to get a maximum length and width for your table. Cross-reference this with the dimensions below, which also allow you to see how many people each size dining table can comfortably seat.
2-seater dining table
- Square dining table – 31"
- Rectangle dining table – 32x24"
- Round dining table – 36"Dia
4-seater dining table
- Square/ round dining table – 48"
- Rectangle/ oval dining table – 48x32"
6-seater dining table
- Square/ round dining table – 60"
- Rectangle/ oval dining table – 70"
8-seater dining table
- Square/ round dining table – 70"
- Rectangle/ oval dining table – 98"
10-seater dining table
- Square/ round dining table – 82"
- Rectangle/ oval dining table – 118"
8-seater dining table
- Square/ round dining table – 70"
- Rectangle/ oval dining table – 98"
If you like to host both intimate suppers and large dinner parties, an extendable dining table, such as our Petworth Extending Weathered Oak Dining Table, is a good option, allowing you to make your table bigger or smaller depending on the occasion. Again, check your measurements so you know how many leaves—and of what dimensions—will fit in your dining area. When they aren't needed for dining, any extra dining chairs are always useful additions in other rooms, such as a study or dressing room.
Speaking of chairs, once you've decided on the perfect dining table, it's time to choose your seating. Take a look at our guide to choosing a dining chair for advice on style, material, and upholstery.
Dressing your perfect size dining table?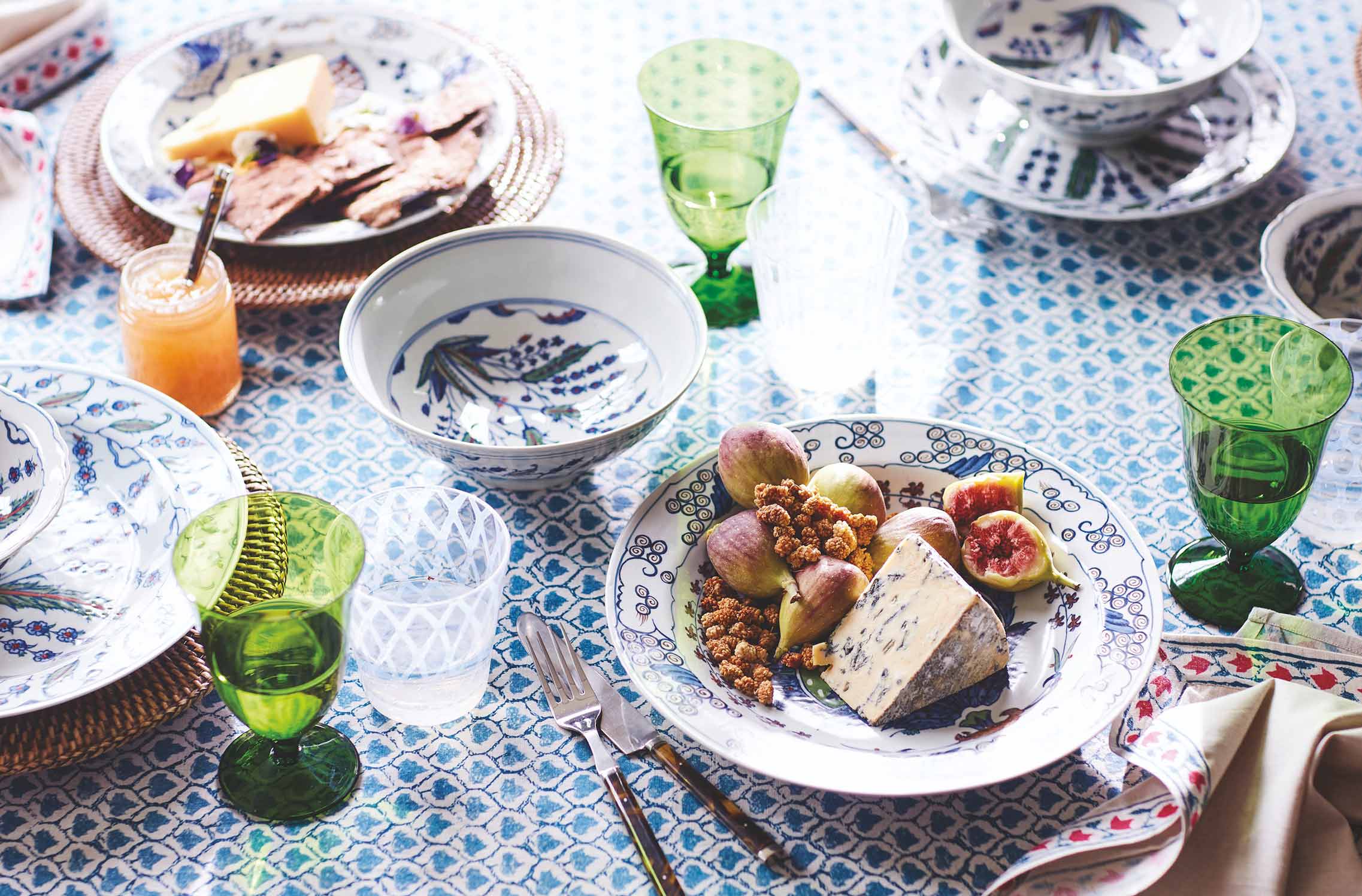 You've found the dining table that suits all your exacting requirements, and you're ready to start entertaining. Keep your tabletop looking its best, and set the tone for a special occasion, with table linen. This finishing touch has the capacity to transform the look and feel of a dining space, ensuring that every dinner party is a memorable one. But how do you know what size table linen you need?
As a guide, for casual dining a tablecloth that hangs 6-10" over the edge of your table is ideal, while more formal occasions call for a little extra drama and sophistication—opt for table linen that elegantly brushes the floor. If you have a round table, and aren't sure of dimensions, you're in luck: circular designs can take both round and square tablecloths. If you opt for a square design, for optimum overhang buy one that has a corner-to-corner diagonal length that is 12-14" longer than the diameter of the table. Once this is in place, you can start to create a tablescape that—whatever size your table—is certain to wow guests.