Selecting furniture for any part of your home requires striking a careful balance between function and form, and nowhere is this more important than in your backyard. The pieces you choose need to be able to endure the elements, be comfortable enough to support summers of sunbathing and, of course, look the part. In this guide to outdoor furniture materials, we take you through all the factors you'll need to consider when making your decision, as well as the pros and cons of each material type. Bring on the sunshine.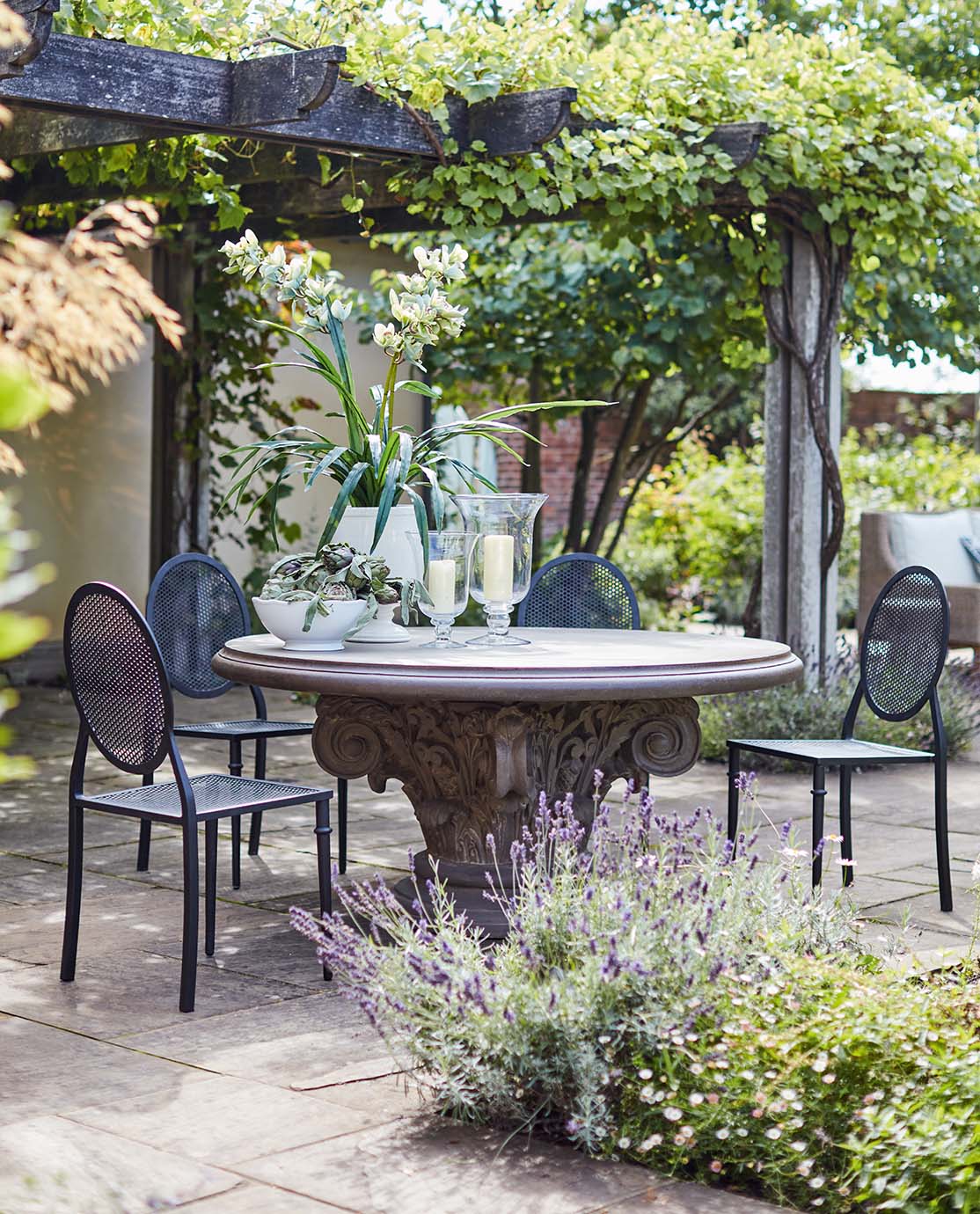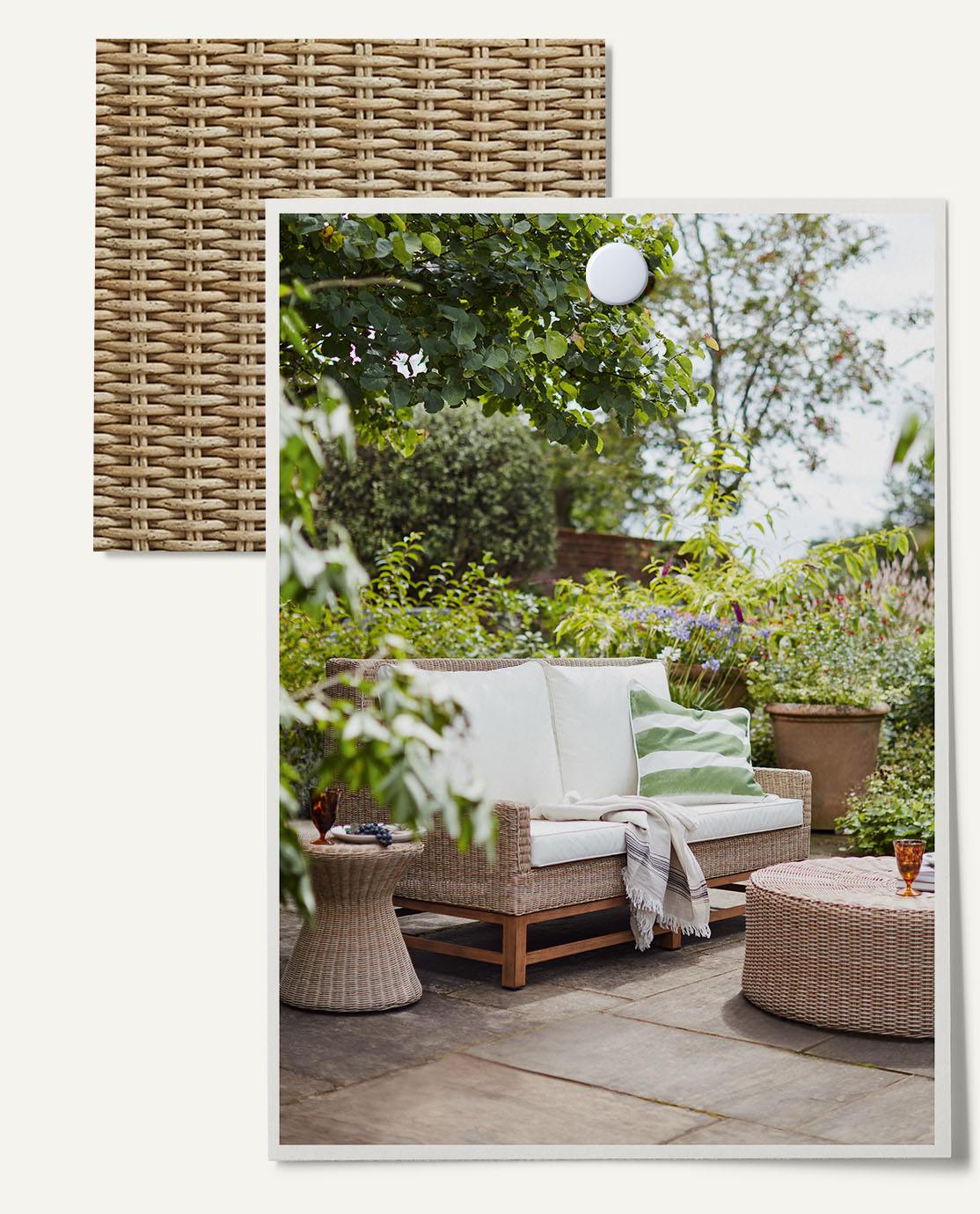 Factors to Consider When Selecting Outdoor Furniture
Outdoor furniture is an investment, and so you'll want your chosen pieces to stand the test of time. This requires them to maintain their structure and appearance during many years of usage and exposure to varying weather conditions. Even if you cover up your outdoor furniture, or have space to keep items indoors during the colder months, they will still likely face all manner of forecasts during the period they're left outside. Here are the factors to consider:
Rain or Humidity
Rain or high humidity can not only affect the condition and appearance of your furniture pieces, but it could also lead to potential health hazards due to mold, mildew and rust appearing. In order to avoid these, we'd recommend seeking weatherproof outdoor furniture that has been carefully treated to prevent water damage—such as powder-coated aluminum outdoor furniture, synthetic rattan, wooden or stone designs that have been finished with a resin seal. For furniture pieces without this protection, we'd advise covering them or, best of all, storing them indoors when not in use.
Sunlight or Temperature
Dramatic changes in temperature can also have an effect on your furniture, causing some materials to expand and contract, which in turn could cause cracking. Direct sunlight can also cause some colors to fade over time. As with rain and humidity, we recommend keeping your outdoor furniture covered or stored indoors when not in use to prevent this from happening.
Durability
You may be lucky enough to live in a location with year-round sunshine, or you may just enjoy a few glorious weeks each year. How often you intend to use your outdoor furniture pieces should be factored in, as those that are being enjoyed 365 days a year will inevitably require greater durability. Likewise, it's important to think about how you might use your backyard, and in turn your outdoor furniture—a dining table for alfresco dinners might be used more often than a sun lounger, for example, and therefore will require a more durable material.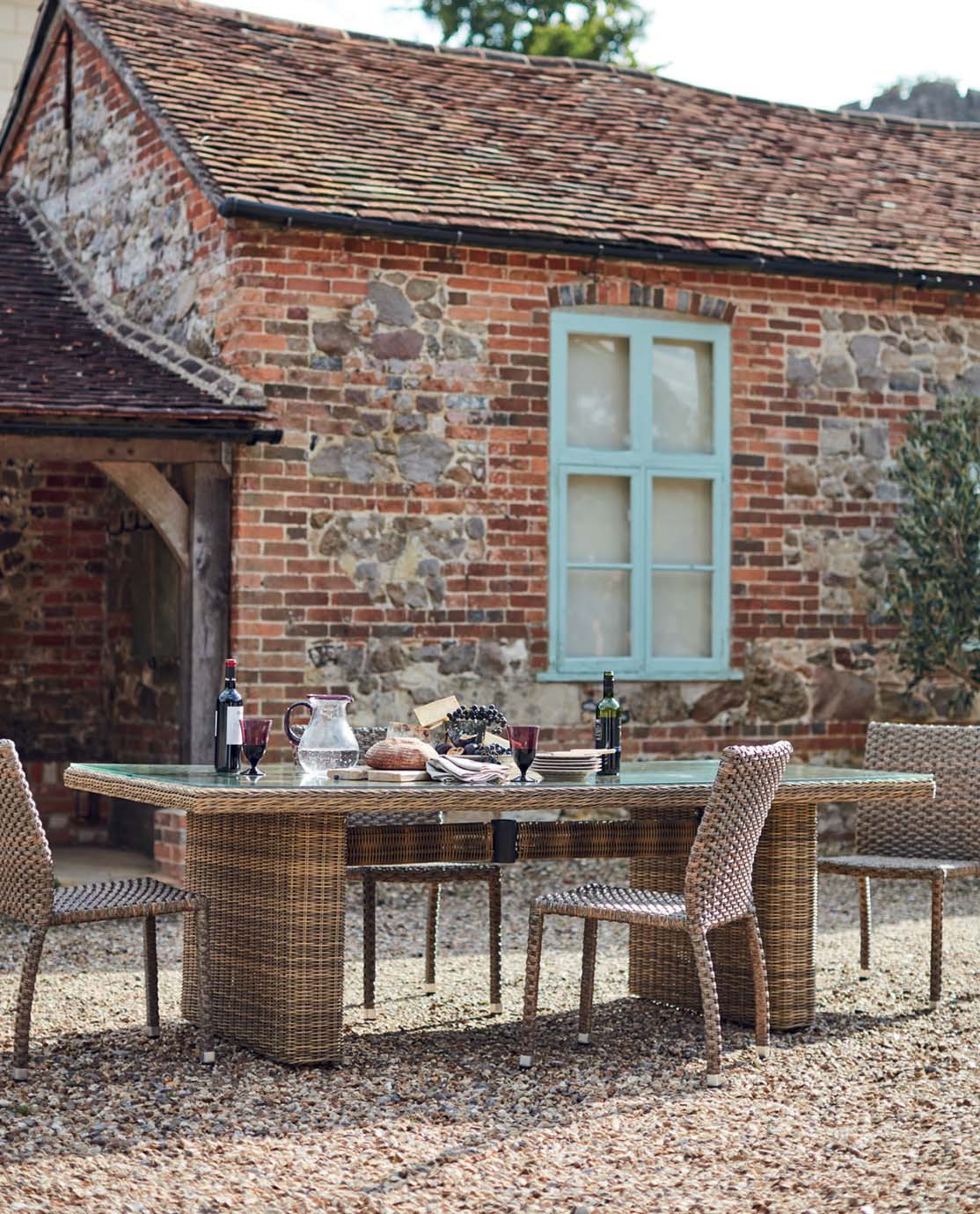 The Best Materials for Outdoor Furniture
When researching outdoor furniture, you may have noticed that there are a number of different materials to choose from. From synthetic rattan (our personal favorite) to teak, stone and resin, there are pros and cons to each material type. Here, we take you through the different types of outdoor furniture materials.
Rattan
Rattan was how OKA began—when our Co-Founders created our very first catalogue more than 20 years ago, rattan was a key component of the collection and has remained so ever since. It was only natural, then, that it would play a starring role in our Outdoor Collection, too. We worked with the best makers to ensure our synthetic version looked as attractive as the real deal, creating all-weather patio furniture and backyard sets that could withstand the elements, while maintaining the rustic appeal of original rattan.
Our synthetic alternative is tougher and more durable than natural rattan, with the ability to withstand sunshine and showers, without peeling or flaking over time. This is among the best backyard furniture to leave outside, as it has been specifically designed to withstand long periods outdoors—you can in theory leave this type of furniture in your outdoor space all year round. However, the appearance will alter slightly as it naturally ages over time and develops a patina. Some may enjoy this weathered appearance, but if you prefer you keep your pieces looking as new as possible, we'd recommend storing yours in a cool, dry place (such as a shed or garage) during bad weather or the winter months. Alternatively, you can use a protective cover when not in use.
You may be wondering which is better for outdoor furniture, wicker or rattan, however, while rattan is a material, wicker is actually a type of weave, and you will often find garden pieces made from a combination of the two. For example, in our collection you can find many wicker-style outdoor furniture pieces that have been made using synthetic rattan.
Metal
Metal is one of the most popular materials for outdoor furniture. From aluminum to steel to wrought iron, each style has its own pros and cons.
- Aluminum
Aluminum is lightweight yet sturdy, highly durable and rust resistant, making it one of the most durable outdoor furniture materials. Most aluminum outdoor furniture pieces will be finished with a protective paint or powder coating, or in some cases wrapped in synthetic rattan for extra longevity and, of course, style.
- Steel
Steel is hardy and heavy, making it highly durable and resistant to high winds. However, it is much more difficult to move around. Plain steel can also be prone to rusting, so, if you select this material, make sure you opt for stainless or galvanized steel to ensure longevity.
- Wrought Iron
This super heavy material won't bat an eyelid at strong winds, but that does mean it's extremely hard to move—this is a material for outdoor furniture that will be a permanent fixture in your backyard. However, it is much less water-resistant than other metals and can rust easily without proper care, so be sure to seek a style that has been powder coated for extra protection.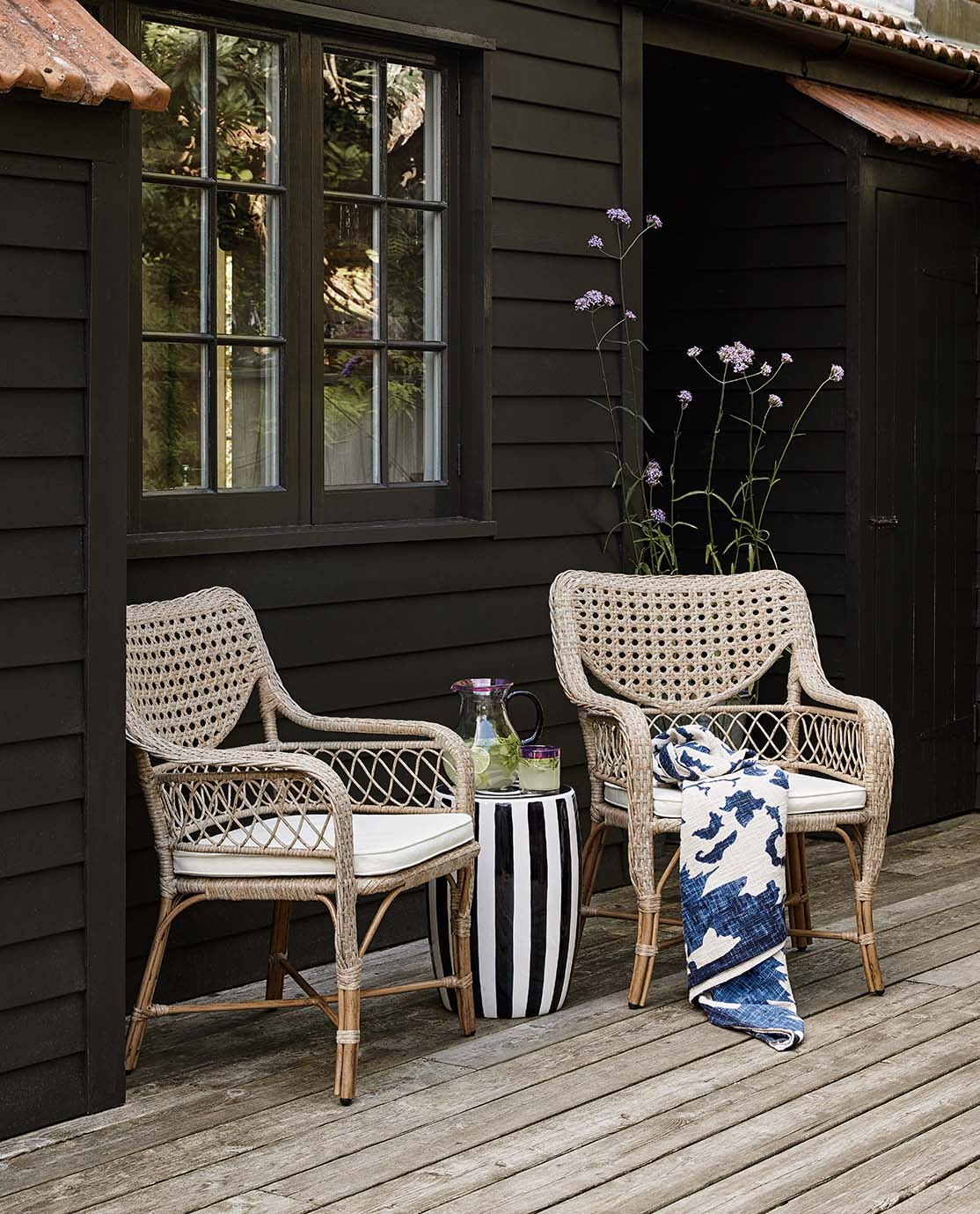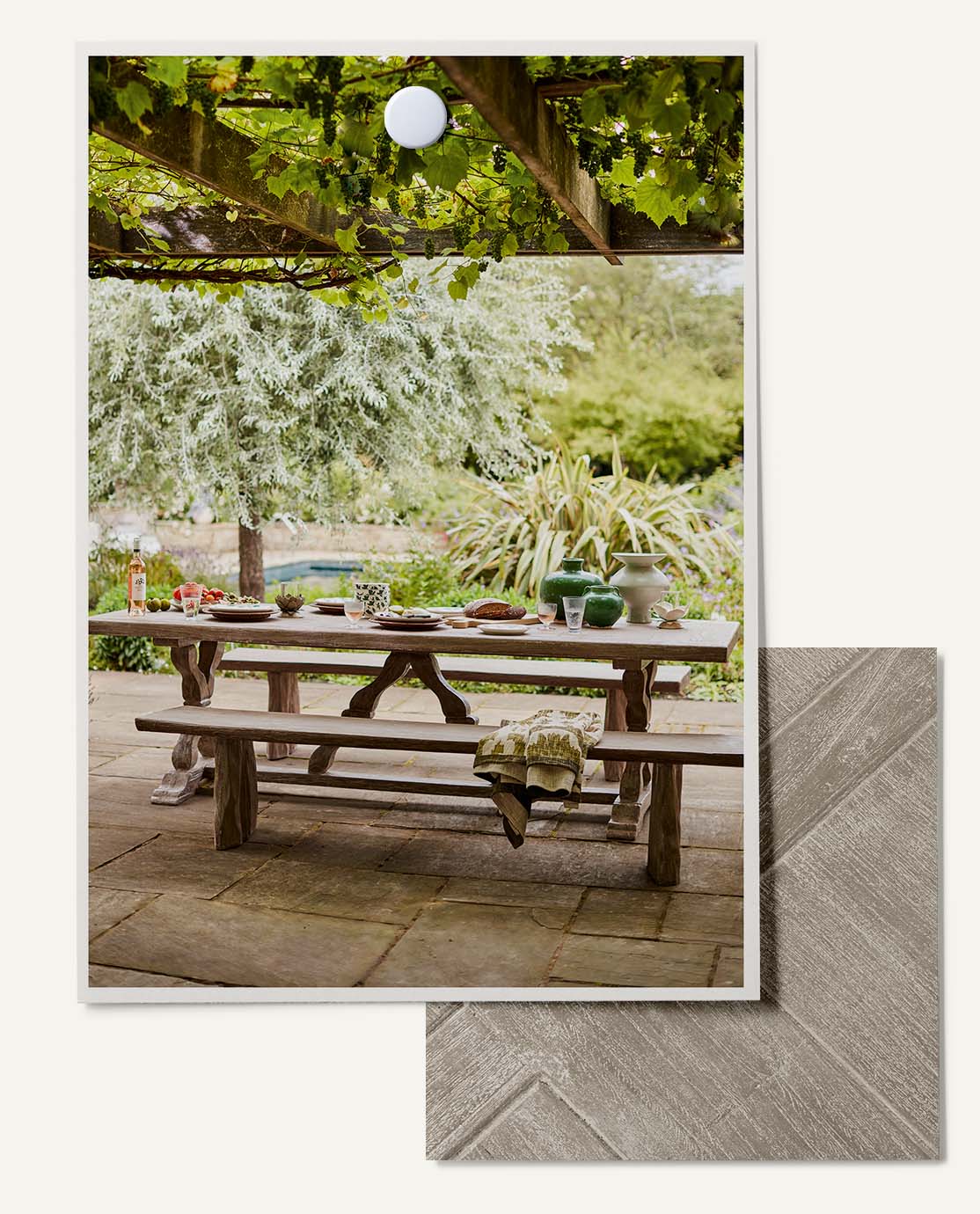 Wood
This natural material is a classic choice for backyard furniture; offering a rustic aesthetic befitting an outdoor space, with the added benefit of comfort and durability, it's little wonder this is so popular. There are lots of types of wood that you can choose from, but teak outdoor furniture is among the most common, and is the wood of choice for our own Outdoor Collection. This hardwood is tough and durable, able to withstand bumps and scrapes, as well as adverse weather. As with all wooden furniture pieces, your backyard designs will age gracefully, developing a pleasing patina over time. If you want to retain the original golden color for as long as possible, we'd recommend keeping your pieces covered with a breathable material when not in use.
Stone
As with wood, there are many different types of stone that are used for making outdoor furniture. In our Outdoor Collection, we've chosen to use cast concrete for our Pierre and Hokela collections—while concrete is a typically heavy material, our designs feature a hollow center to make them lightweight and easy to move around. This modern weatherproof outdoor furniture is perfect for homes with a more contemporary aesthetic. Strong, timeless and able to withstand harsh weather conditions, it's a great, long-lasting option for outdoor spaces.
Resin
Lightweight, durable and resistant to moisture and mildew, synthetic resin outdoor furniture is a popular choice. This style is among the best weatherproof outdoor furniture, as it's extremely low maintenance, and won't peel, crack or fade. Many of our powdered stone and wooden outdoor tables are finished with a resin seal, providing a natural look with the durability of a resin design.
The Best Materials for Outdoor Seat Cushions and Pillows
Almost all of our outdoor seating designs come complete with polyester seat cushions, which are water-resistant and easy to care for. We've also introduced several outdoor pillow styles to our outdoor décor collection; inspired by our core indoor pillow offering, they bring some of our most-loved prints outside, made using shower-resistant and anti-mildew polyester that can be machine washed.