We're firm believers that a beautiful bouquet of flowers, selected with the season in mind, is the perfect tool for uplifting an interior space throughout the year. You only need to look at our Bunched by OKA service to see how seriously we take this—with a collection of faux stems and bouquets worthy of a florist, plus an expertly trained specialist in every store, we put care and thought into ensuring our flowers are as lifelike as possible, allowing you to bring the great outdoors, indoors, at any time of the year. But, as our Bunched team will tell you, the perfect display requires more than just the perfect blooms. Where, how and what you house them in all play a role in ensuring your arrangement looks its best. In this vase buying guide, we share our tips on choosing the perfect vessel for your stems—whether real, faux, or a mix of both.
How to Choose the Right Vase for Your Flowers
Just like flowers themselves, vases come in many shapes, sizes, colors and textures. It's easier to work your bouquet around your vase than the other way around, so consider the silhouette or style you'd like to use before selecting your stems. Not all flowers will work with every type of vase—the general rule of thumb is that your stems should be no taller than one-and-a-half to two times the height of the vase, so bear this in mind. For example, if you're buying a long-stemmed flower that's 20 inches tall, you'll need a vase that's 10 to 13 inches tall. Here, we share the best vase shapes to consider, and the perfect flowers to pair them with.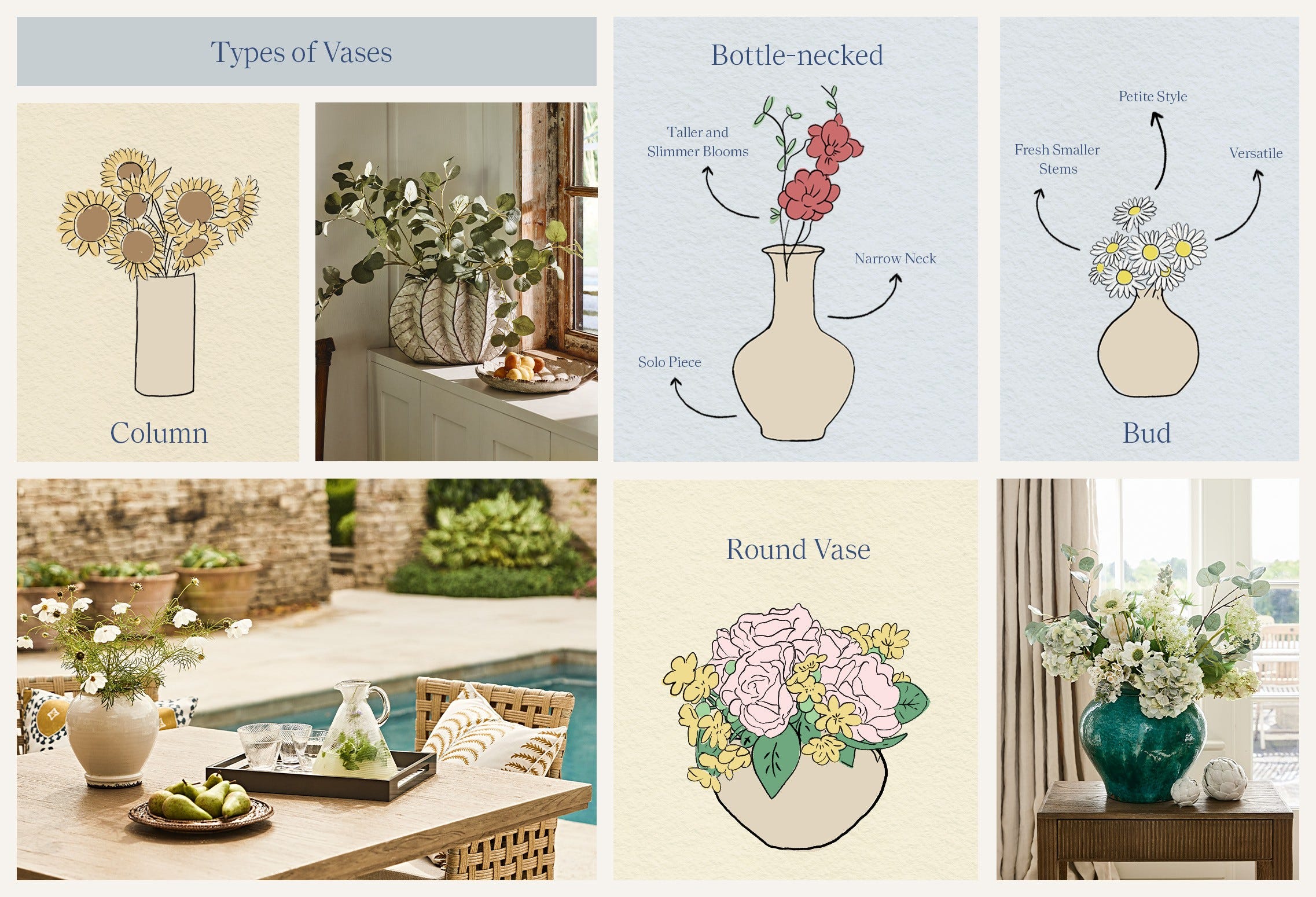 Bottle-Necked Vases
With a narrow neck, these designs are perfect for arrangements with just a few stems or even a single flower. These styles look lovely grouped together on a windowsill or console table, or standing alone on a nightstand for a solo statement. We'd recommend using taller and slimmer blooms for these, such as magnolia or apple blossom, or branches of pussy willow or winter berries.
Bud Vases
For cuttings of fresh flowers, such as daisies, these petite styles are perfect. Just as with bottle-necked vases, they can be grouped together for a charming display. Their shorter style makes them incredibly versatile; they look great arranged on a dining table as an elegant centerpiece, or placed throughout the home for floral cheer at every turn.
Column Vases
For these tall, slender styles, we'd recommend choosing stems that complements the longer silhouette—lilies or sunflowers, for example, are perfect as their natural shape mirrors that of the column vase. Plus, as these designs are generally quite narrow, they help to support stems with heavier heads, giving your bouquet more structure and offering the illusion of a fuller arrangement.
Hourglass Vases
An hourglass vase is one of the most versatile shapes; wide at the bottom, nipped in at the center and gently flared at the top, it is the perfect silhouette for more voluptuous flowers. We'd recommend pairing these with shorter-stemmed blooms that have large, round heads—think roses, hydrangeas and peonies.
Round Vases
These spherical styles tend to be quite squat and, while they won't suit all flowers, they can look striking as table centerpieces when carefully paired with the right blooms. The wider mouth suits a fuller arrangement, so seek a larger bouquet for a snug fit, such as tulips, roses or a mixed bunch. Cut the stems to the height of the vase so they stand upright and created a domed effect to complement the shape.
What Color is Best for Flower Vases?
When it comes to vases, there's no one set color that trumps them all—the design you select will simply come down to your preference. If you favor a more minimalist look, for example, or want your arrangement to do the talking, then you may find glass vases or a classic, white design to work best for you, as these will go with any color of flower and stem. If your vase is set to be a permanent feature in your home, you'll likely want it to complement the rest of your interiors, so let your style do the talking. Perhaps that's a bold pattern, a bright color, or a more rustic design—find your favorite, add some blooms and watch your space come to life.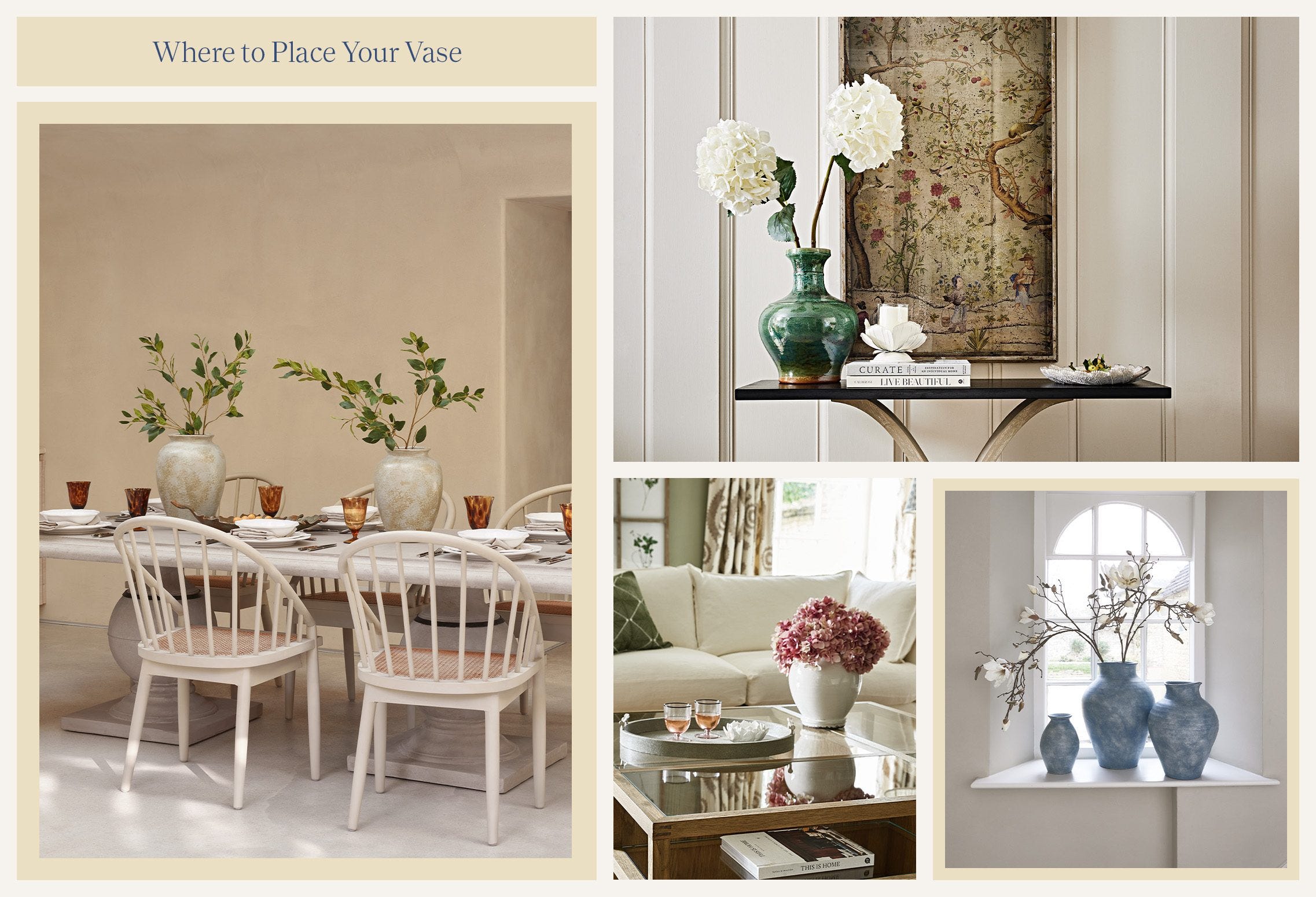 Where to Place Your Flower Arrangement
Another essential element to consider when selecting the perfect vase is where you intend to display it. If you want to add a floral element to your table setting, you'll need to think about how to create a display that catches the eye but doesn't draw attention from the main event: socializing. With this in mind, the rules for a table centerpiece are simple: keep it low and long. Shorter vases, such as bud or round vases, are perfect in this instance as you can arrange several of them down the center to create a beautiful tablescape, but they are also low enough that people can hold a conversation easily, as well as pass things to one another. If you're decorating a console table, on the other hand, with nothing but a wall behind it, you can be a bit more adventurous with your arrangement to create a true statement display.
How to Care for Your Flowers
If you're building an arrangement with fresh flowers, be sure to trim the stems before placing them in water—cut off about one inch, at a 45-degree angle. This will allow them to take in more liquid and in turn help them last longer. You should also snip off any leaves that will be below the water line, otherwise they will likely rot, shortening the life of your flowers and often omitting a bad smell. Don't forget to change the water every few days, too, to keep your flowers fresh for longer.
If you're building an arrangement with faux flowers, tweak the petals and leaves on first use to help them open out and look more lifelike. Don't be afraid to bend any wire stems to fit the height of your vase. For long-term care, blow them gently with a hair dryer on a cool setting to remove any dust. Otherwise, you can enjoy them all year round.