From solo stems to bountiful bouquets, there's nothing like a bunch of flowers to lift the look and feel of a room. Whether you're decorating a table, prepping a guest bedroom or simply want to inject some colour into your home, florals and foliage bring a touch of natural beauty to any space. If you're not blessed with green thumbs, faux alternatives are perfect for getting that fresh-flower look all year round.
In each of our stores, you'll find a resident Bunched by OKA expert, who uses their floristry skills to help our customers create a display that perfectly complements their home. If you're looking for ideas on how to make a faux flower arrangement, you've come to the right place – watch the video below to discover a step-by-step guide led by Carla De La Torre, OKA Chelsea's Junior Flower Specialist and Bunched by OKA expert, or keep reading for more tips from Natalie Howard, Assistant Manager at OKA Harrogate, who has more than 10 years' experience working with fresh and faux flowers. She shares her advice on choosing, arranging and making the most of your everlasting display.


Start with a Vase and Think About Where Your Display Will Live
Selecting a vase may seem like the last step in the flower-arranging process, but Howard recommends making it your first port of call. "I always start with the vase, as not all flowers work with all styles," she explains. "Obviously, this is down to personal taste, but most often we use a medium-sized vase that has a fluted shape at the top. This gives the arrangement a better shape than a vase with straight sides." Once you've settled on the silhouette, you can think about design – decide whether you want to go for something bright and bold, like a print or statement colour, or something simpler, such as a glass vase. If you already have your faux flowers in mind, be sure to choose a vase that will complement your display.
It's also crucial to determine where your arrangement is going to live before you begin creating it. "If it's on a sideboard or console without a mirror behind it, you could make half an arrangement as you don't need flowers at the back and that works out a lot cheaper." For a dining table, you don't want too tall a vase or it will obstruct the view across the table. "Hallways are popular locations for faux bouquets, as well as kitchen islands," Howard adds.
Factors to Consider when Choosing Stems for Faux Flower Arrangements
Once you've settled on your vase and location, it's time to turn your attention to the main event: the flowers. If you're seeking help from our Bunched by OKA service or an in-store florist elsewhere, Howard recommends bringing in photos of your chosen spot, so that they can get an understanding of your style. If you're taking the creative lead on the arrangement instead, we recommend thinking about the colours in your room, and emulating this with your chosen blooms. If you have red cushions, for example, then selecting faux flowers in similar tones is a good way to ensure the display will fit in seamlessly with the rest of the room's aesthetic.
The final result will be personal to you, but as a general rule selecting the perfect stems for artificial flower displays begins "with leaves or green foliage – usually two styles – and then two types of flowers," says Howard. If you're creating a mixed bouquet, it's best to go for contrasting shapes, for example peonies with hydrangeas for a mix of textures (as opposed to peonies with roses, which are both round). The key to styling lies in odd numbers: "This keeps the arrangement symmetrical," says Howard, "so choose stems in quantities of threes or fives."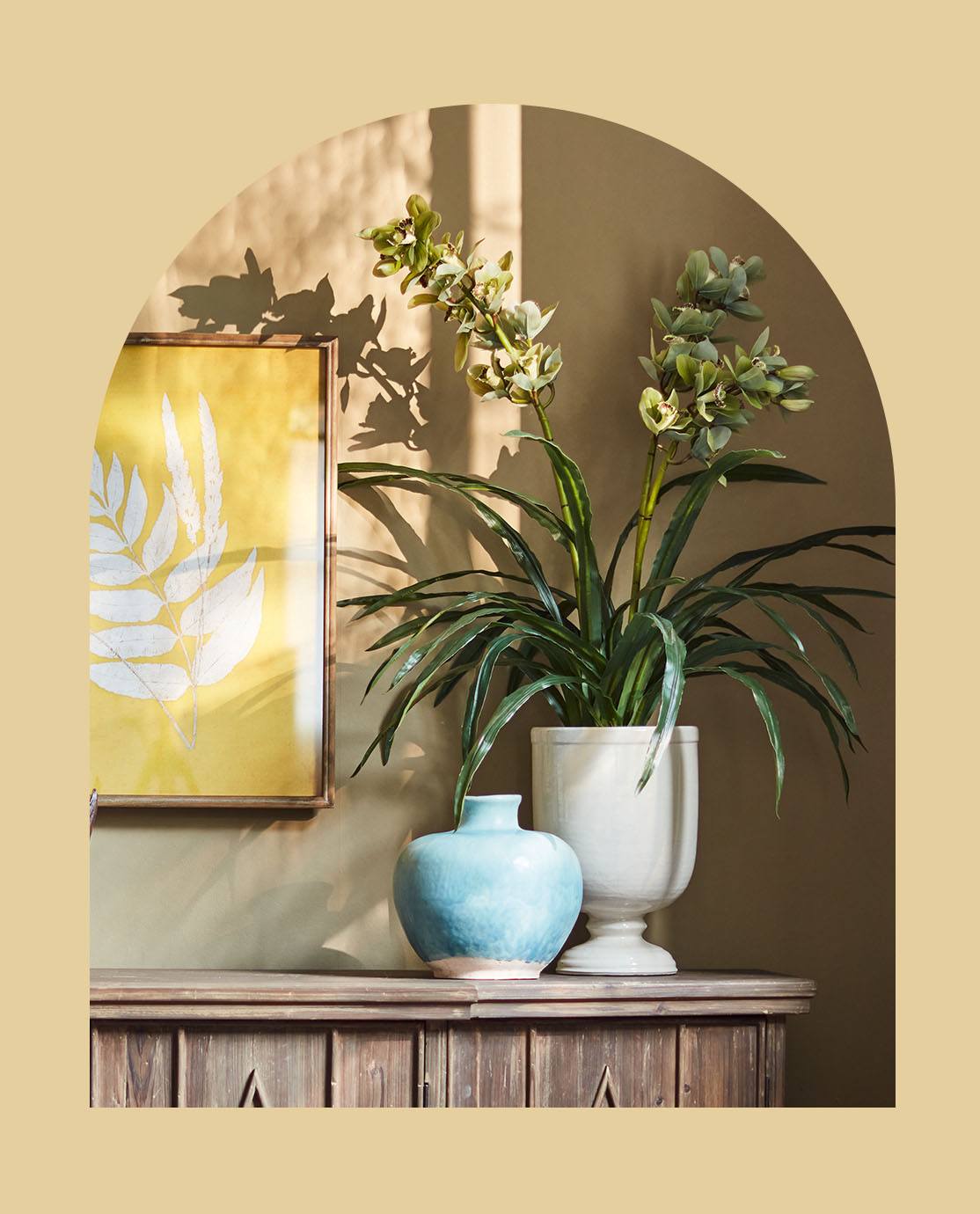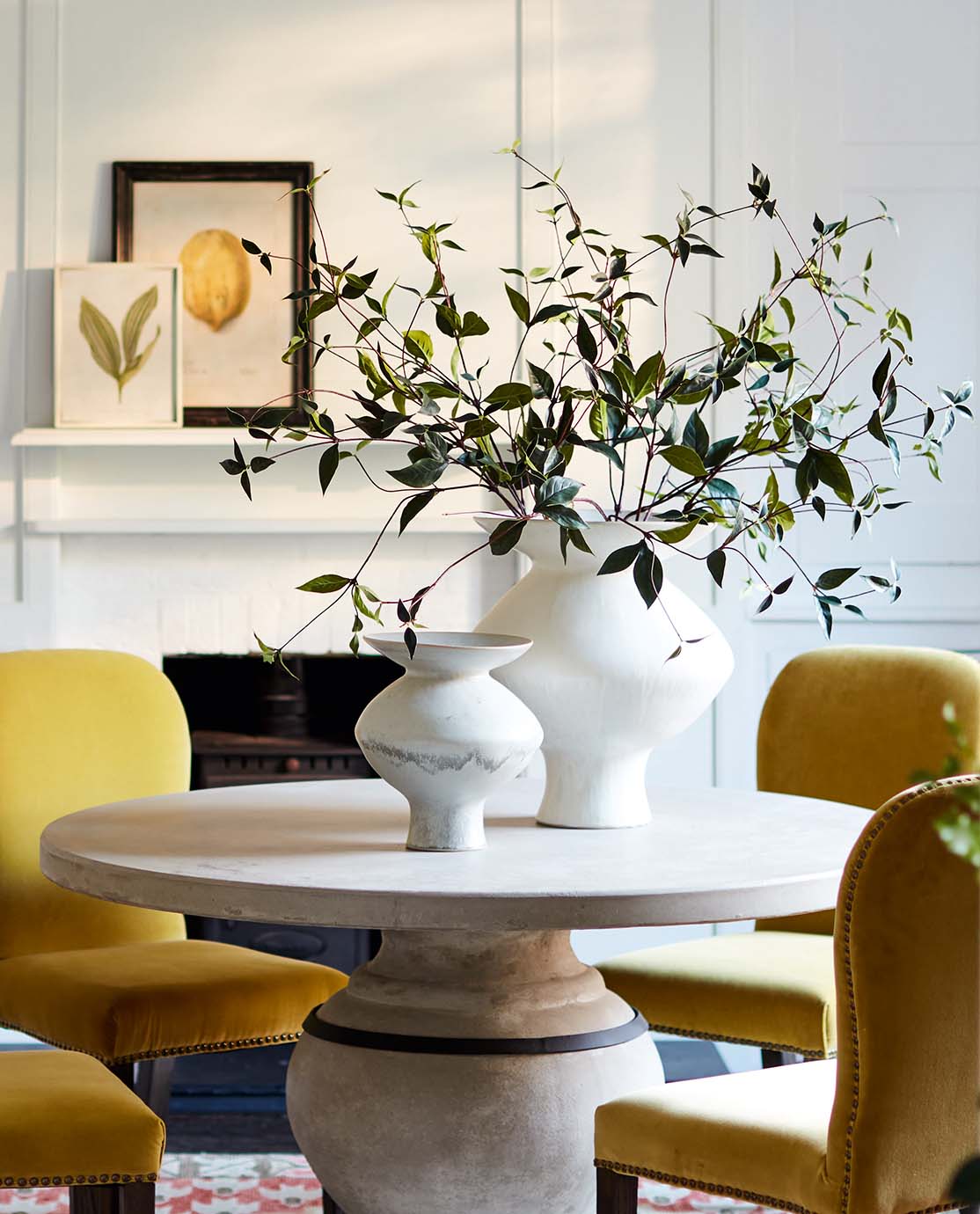 Creating Realistic Floral Displays with Artificial Flower Stems
If you have ordered your faux flowers from OKA's online store, they will arrive carefully wrapped but straight and closed. A few tweaks will get them looking fresh. "Always bend the flower head so it's facing you, so it's not sticking up but facing forwards," explains Howard on the manipulation involved. "All of our faux flowers and foliage have wire stems, so open them out to put shape into them. I use my thumb and forefinger to put a very slight curve in the stem, which gives movement and makes it appear more natural."
If the stem length and size isn't quite right for your vase, Howard advises avoiding cutting stems where possible (for which you'd need a pair of wire cutters – secateurs just won't cut it) and instead bending them to create the right height. "The bend gives more hold and the arrangement will sit better overall."
Tips for Mixing and Matching Faux Flower Stems
If you're wondering how to arrange faux flowers in a vase, follow Howard's tried-and-tested method: she likes to layer her stems to create "triangles". "In the bottom layer I would put one type of foliage in and a flower to the right of each stem, using all three of the same foliage stems. I'd repeat that all the way around and that would be my first layer. I'd then take my stems slightly higher for the second layer, so they look like elongated stems; this is when the idea of a triangle comes in. I keep doing this process within the vase, adding several layers." You could also use floral tape to keep your display in place; tie stems together to create a spray or use it to support flower heads.
A popular arrangement size involves around 25 stems, but a small bouquet could feature one foliage and two types of flowers, composed of just two layers.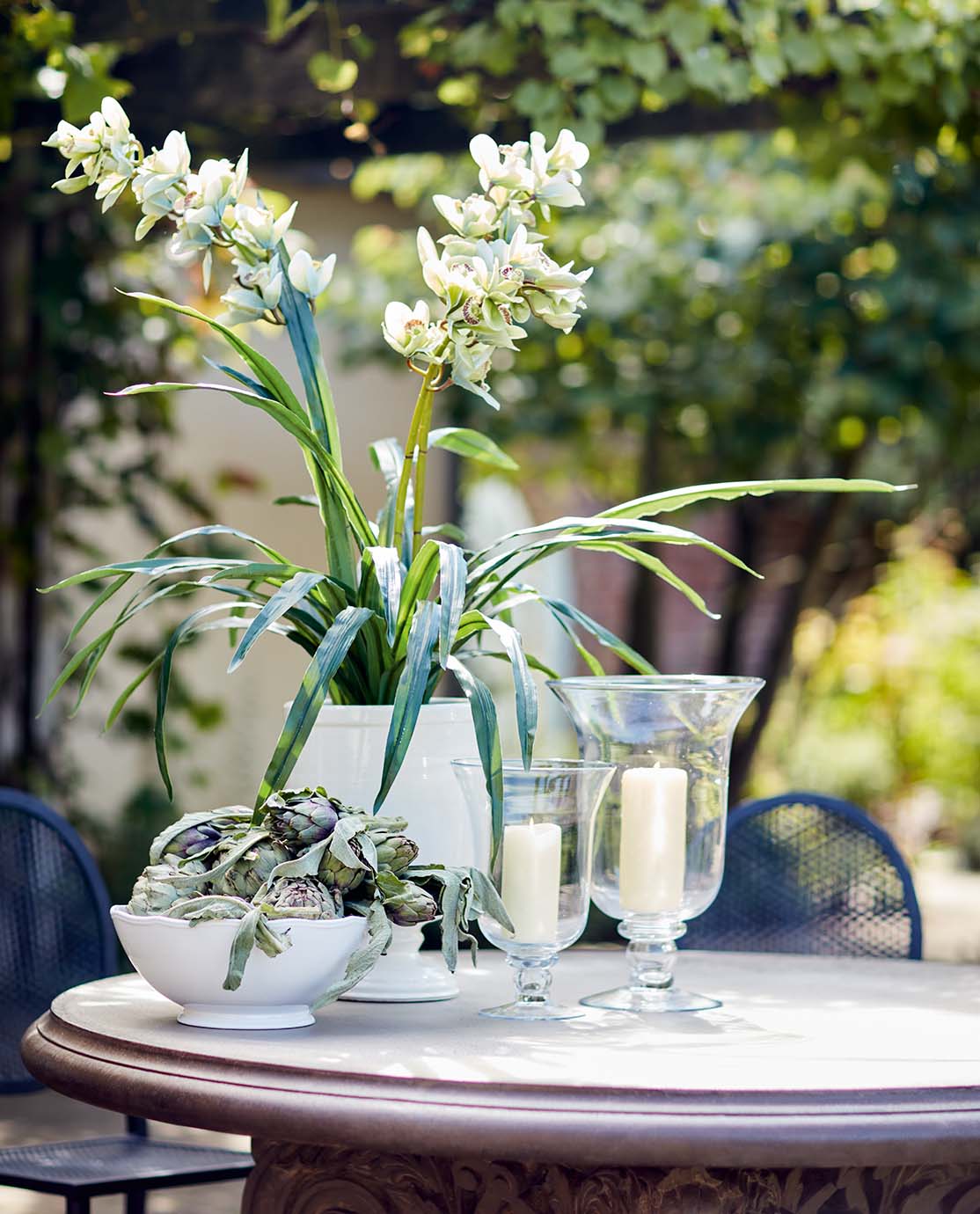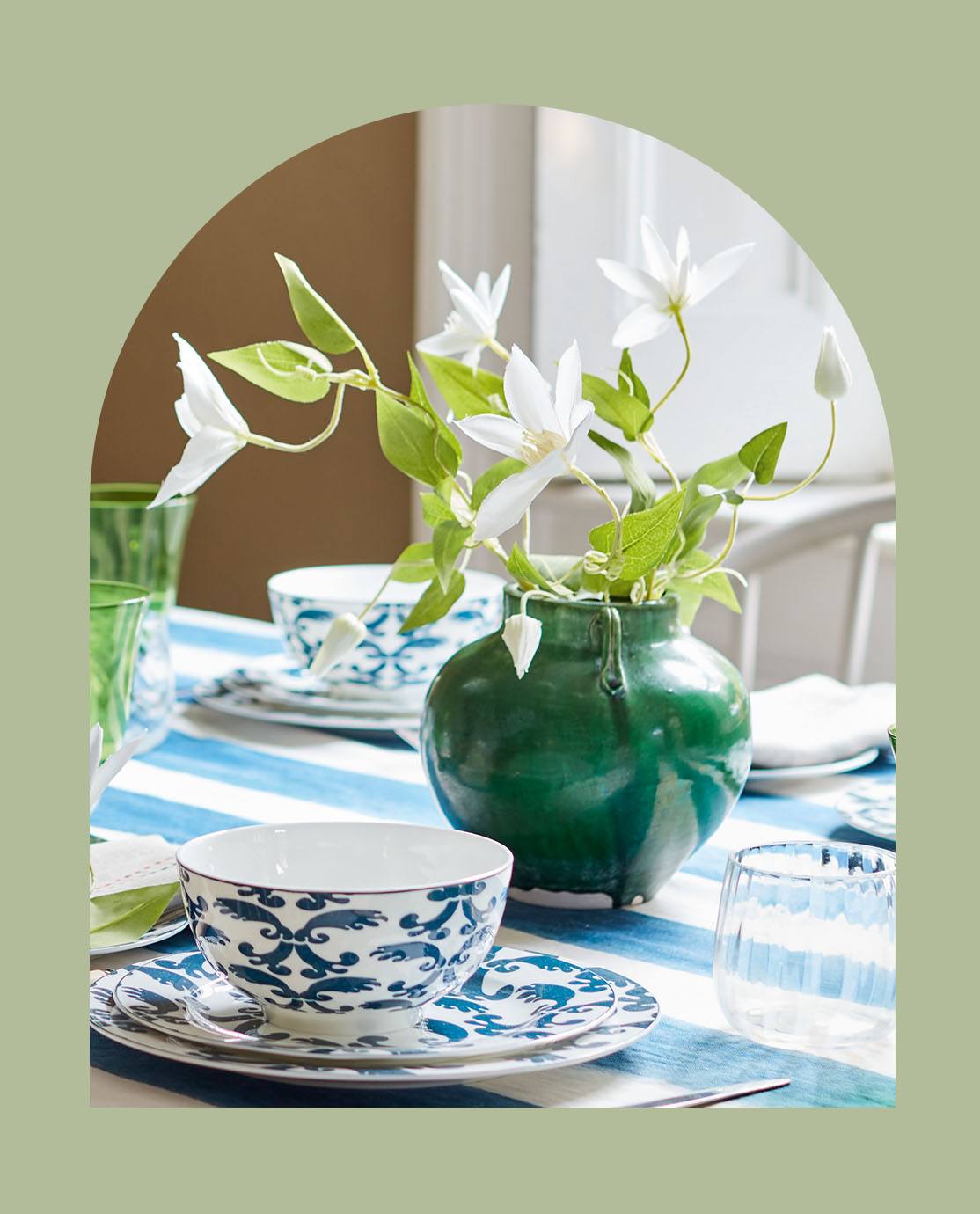 Update Your Arrangement to Keep it Looking Fresh
You needn't overhaul your floral arrangements at every turn of the season, but Howard does recommend swapping in flowers on rotation "because it makes the bouquet look even more realistic and fresh as it is different to look at". You could keep the foliage consistent but opt for peonies in spring and berries in winter. You can also add that fresh flower scent by placing a saturated diffuser stick in the vase where it can't be seen, or lightly spraying the display with room spray.
How to Care for your Faux Flowers
The best part about faux flowers is that you get to enjoy a lifelike bouquet without the upkeep that comes with real blooms. However, if you want to keep your display looking super fresh at all times, there are a few cleaning tips Howard has up her sleeve. "We always recommend blowing any dust off with a hairdryer on a cool setting," she says, "and don't use water or a damp cloth as that could mark the surface." Beyond this, your artificial flower arrangements should be hassle free – you can just sit back and admire your handiwork, all year long.