Buying a sofa isn't an off-the-cuff decision; a key piece of furniture in any home, a new sofa is an investment that requires as much thought as a bed and mattress. After all, as the intention is to lounge comfortably on it—likely for long periods of time—there's a lot to consider, from the size and fabric type to where it will live and who will be using it. You may already have a few ideas on this but, in case you're uncertain where to begin or need a quick refresher, we've put together a guide to walk you through the key points to consider when choosing a new luxury sofa.
Measure up
Most of the sofas in our collection come in various sizes, which means that, regardless of the size of your room, you have plenty of options to choose from. Our modular sets can, of course, become as large as you like.
If you've measured up, but still aren't sure if a sofa is the right size for your space—you don't want it to either dominate, or be dwarfed by, a room—there's a simple way to judge the size visually. Using newspaper, cut out the footprint (length and depth) of the sofa you're considering and lay this down on the floor of the room where you plan to place it. Alternatively, you can outline the sofa's area using masking tape. Whichever method you choose, this will help you to see if you have enough space to walk around the model you're looking at, as well as check that you can open nearby doors and closets. Don't forget to check there's space around radiators, fireplaces, and other pieces of furniture, such as lamps and side tables.
Also take the time to measure and check the following:
• Height: can you still open any nearby windows? Does it obstruct any shelves?
• Depth: this rarely changes, but is important if you're buying for a small room.
• The packaged size: will the sofa fit through your door frames or a stairway? Are the legs removable? Be sure to check the access requirements, as you may need to opt for a smaller size to allow for this.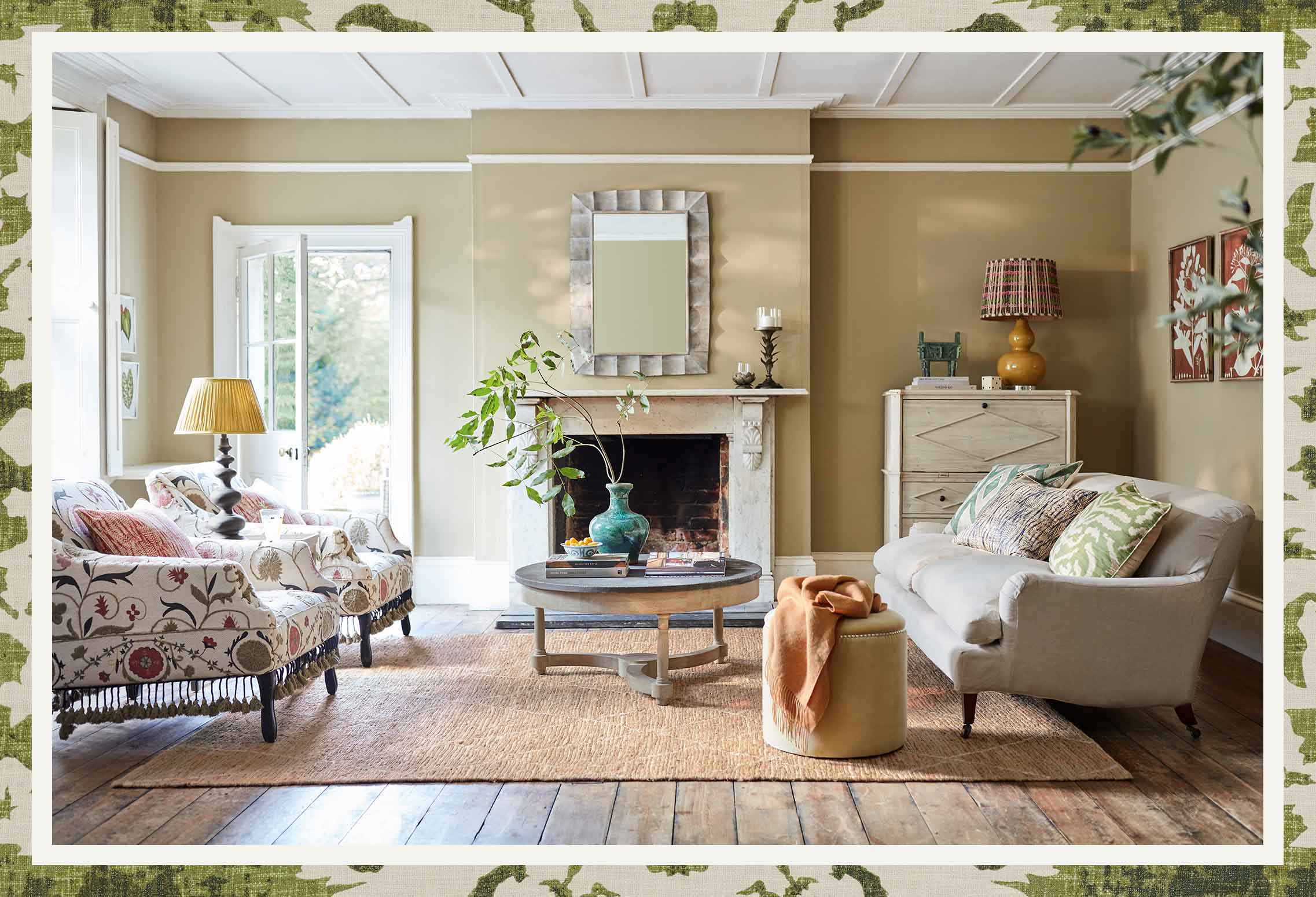 What sofa format is the best?
The two main seating designs that you'll be choosing from are modular sofas or fixed sofas.
Fixed sofas, as the name suggests, are less flexible and usually a little more formal. They do, however, tend to come in a larger range of styles, meaning they offer greater scope in terms of aesthetic. Additional pieces, such as a footstool or accent chairs, in either a coordinating style or contrasting finish, are a way to add more versatility to the look of a room that features a fixed sofa format.
Modular sofas are much more adaptable than a fixed design as you can compose any arrangement you desire: simply pick any number of armless chairs and add a corner unit (to create L-shaped seating) if required. This style tends to work better in an unusually shaped room, if you are after an unconventionally long sofa, or simply looking for a less formal style. Another added benefit of modular designs is that you can add to them over time; useful if you move house or transfer the sofa into a larger setting.
Choosing a sofa style
Classic, relaxed, formal, traditional, modern… as with all furniture and home décor, there are all manner of styles to choose from when it comes to sofas. Of course, your selection will be largely down to personal taste—as well as your existing (or planned) décor. There are, however, a few key components to look out for as a guide.
• Consider the back height. A lower back gives a more open and laid-back look, which is perfect for big, open-plan spaces, as it helps to reduce any sense of 'clutter.' Sofas with lower backs are also ideal if you plan to position yours under, or in front of, a window. A high-backed sofa tends to feel more formal, and will have a more imposing presence. If this is the look you're aiming for, sofas of this style often look their best with their back placed directly against a wall.
• Arms or no arms? Always bear in mind arm width, as this can make quite a difference to the overall size of your sofa. While scrolled arms are well-suited to period properties, they do often come with generous proportions, so if space is tight they might not be the best option. Instead, choose a style with narrow arms or none at all.
• Legs or legless? Sofas with legs generally have more tailored or fixed upholstery; these smart finishes can lend a room the impression of greater space. Sofas without legs often feature loose, or more relaxed covers, which suggest a degree of informality. Again, the look you choose really comes down to personal taste, as well as the tone you want to set in the room itself.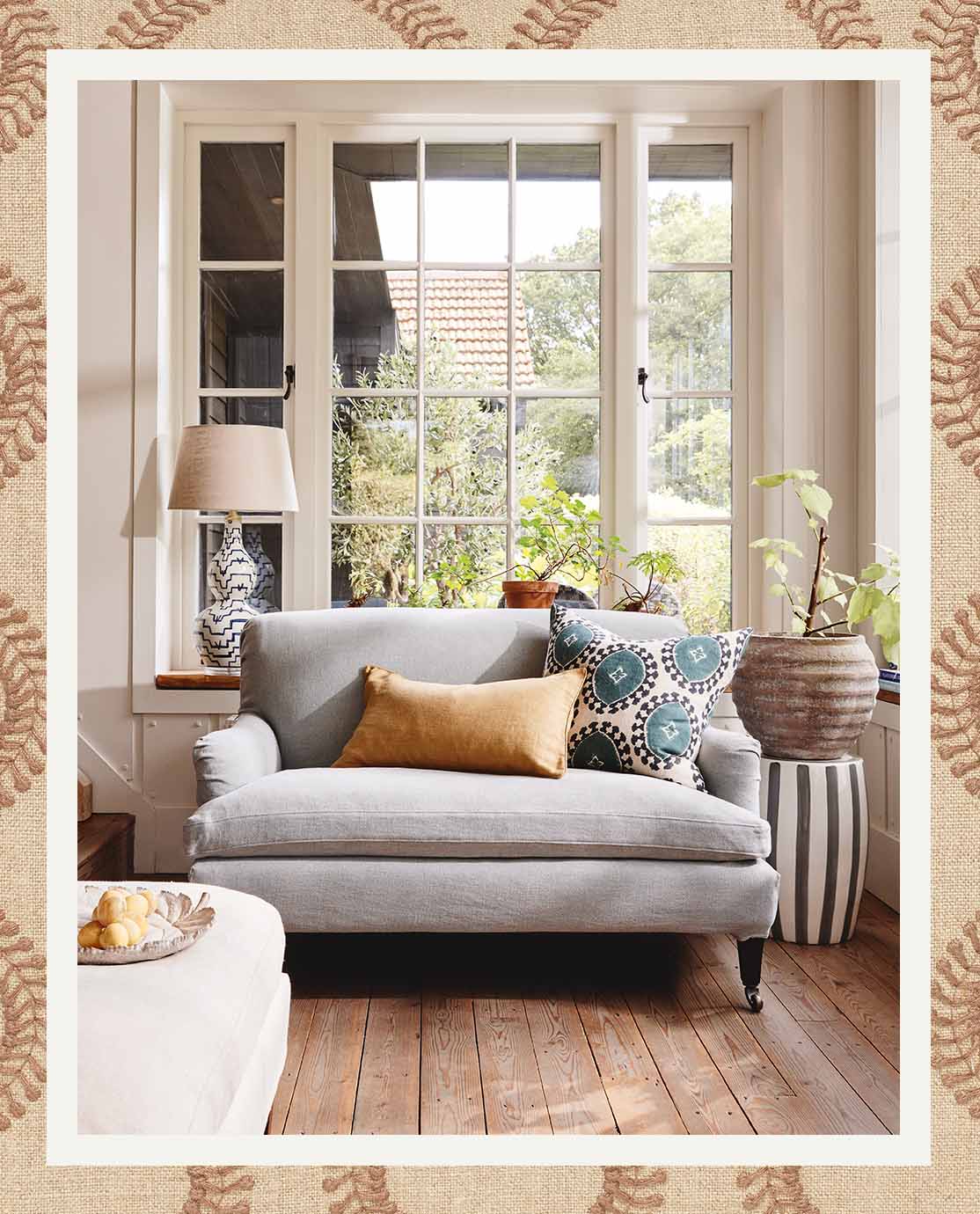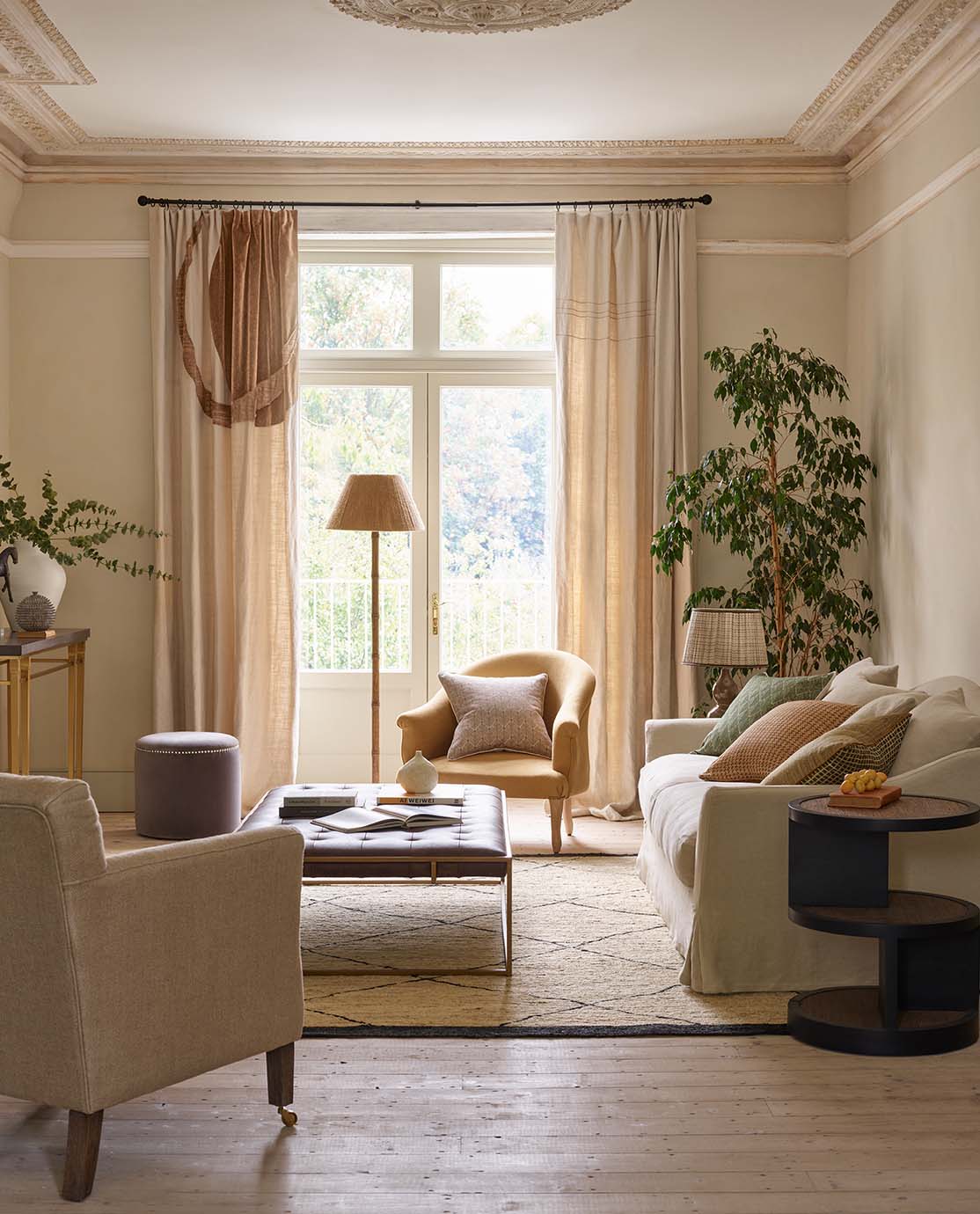 Fabric options
Who will be using your sofa? And how regularly will it be used? These are both key considerations that should inform your choice of fabric finish, as different textiles' properties stand up to different levels of wear and tear; some can be easily cleaned to maintain their look and feel, while others are less hardy.
Linen: Known for its versatility and understated elegance, this natural fabric is a firm favorite at OKA. While some people point out linen's tendency to crease, considering it a drawback, we would counter that by saying this charming textural appearance softens and fades as the fabric releases. Stonewashed linen has a distressed and more relaxed finish, whereas laundered linen is much finer. Most of our linen sofas feature loose linen covers that can be removed and cleaned—a winner for homes with pets or children.
Leather: Leather is a timeless choice that promises to get better with age. While extra care should be taken to seek out the right cleaning materials (abrasive cleaners are an absolute no-no), leather is a forgiving fabric that develops a characterful patina over time.
Velvet: While it's a contemporary and opulent choice that boasts a beautiful depth of color, there's no getting around the fact that velvet is a more fragile textile. Prone to crushing and bruising, it's a grown-up choice for a drawing or sitting room, where drinks should be consumed with extra caution.
Take the time to touch and explore how fabrics behave under different lighting in your home — you can order up to five complimentary sample swatches of our fabrics.
Loose sofa covers or upholstered?
As mentioned previously, loose covers offer peace of mind in that they can easily be whipped off and cleaned if any spillages or accidents occur. They can also be changed up as you please; purchase an alternate color for a different look, or have some made up in a fabric of your choice.
While upholstered sofas don't have this flexibility, and need professional cleaning, they do generally offer a more tailored, sophisticated profile than their loose-covered cousins. As such, they will work well anywhere, even in the smartest of drawing rooms.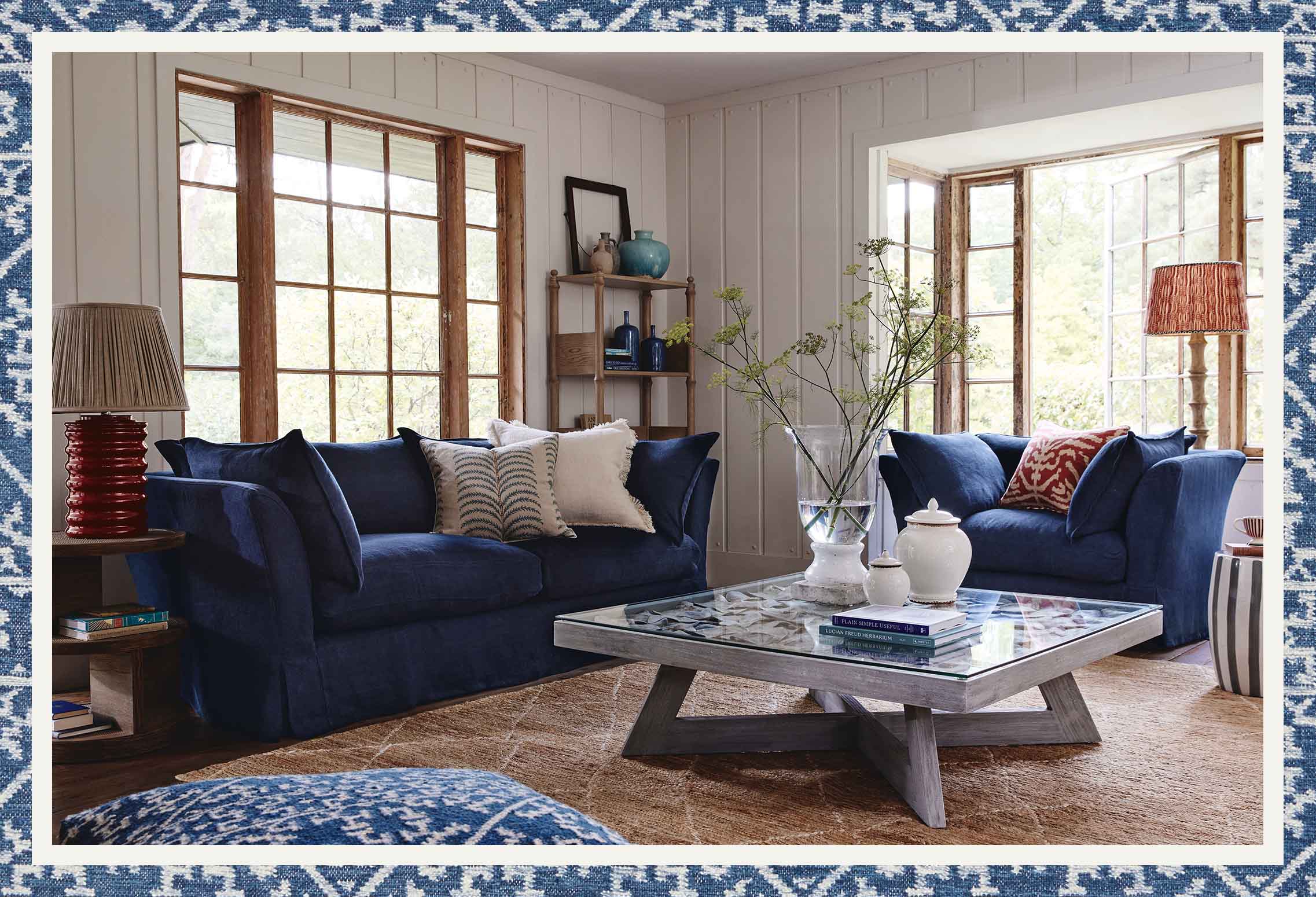 Pick a palette
When it comes to sofas, you can opt for a neutral palette—think Off-White, Ecru, and Natural (with the occasional stripe or contrast piping thrown in for good measure)—or a bolder shade, such as Tobacco Leather or Marine Blue. Neutrals are hugely adaptable and will slot into most schemes, ensuring that your sofa is useful for years to come. Whether you opt for a timeless hue or a pop of color, you're not restricted to one look forever more; we dress ours up with scatter pillows and throws, altering these as the seasons change, and as the mood takes us.
More than skin deep
While it's easy to get carried away with the aesthetics of a new sofa, you should also remember that not all are created equal. Beyond the fabric and color choice, the bones of the sofa are incredibly important; one key thing to look out for is what the seat cushions are made from. At OKA, it's generally foam with a fiber wrap, or pure fiber or feather. This all impacts shape, and your seating's ability to hold that over time.
All seat and back cushions require some plumping to look and feel their best, but those made from a thick foam core wrapped in a layer of fiber are low-maintenance. Seat covers should be rotated and redressed regularly, while plumping the cushions occasionally will help to restore air between the fibers, thus maintaining their shape.
Cushions and seat pads that are made exclusively from fiber or feather give that pleasurable sinking feeling as you sit down. They do, however, require regular plumping to prevent the cushions' inners from flattening or binding; if a sofa is used every day, read "regular" as "daily." Additionally, a vigorous weekly "beating" of each side of each cushion—using the flat of your hands—topped with a shake should keep them looking their best.