It's time to get organized. If creating clutter is your Achilles heel, allow us to offer a little help with our tips for maintaining a tidy home using storage boxes. Giving you the option to maximize the potential of your existing storage furniture or convert pieces into handy storage solutions, boxes are a useful tool to have in your decluttering arsenal. Keep reading to discover the different styles available and how they can lend a helping hand in your home.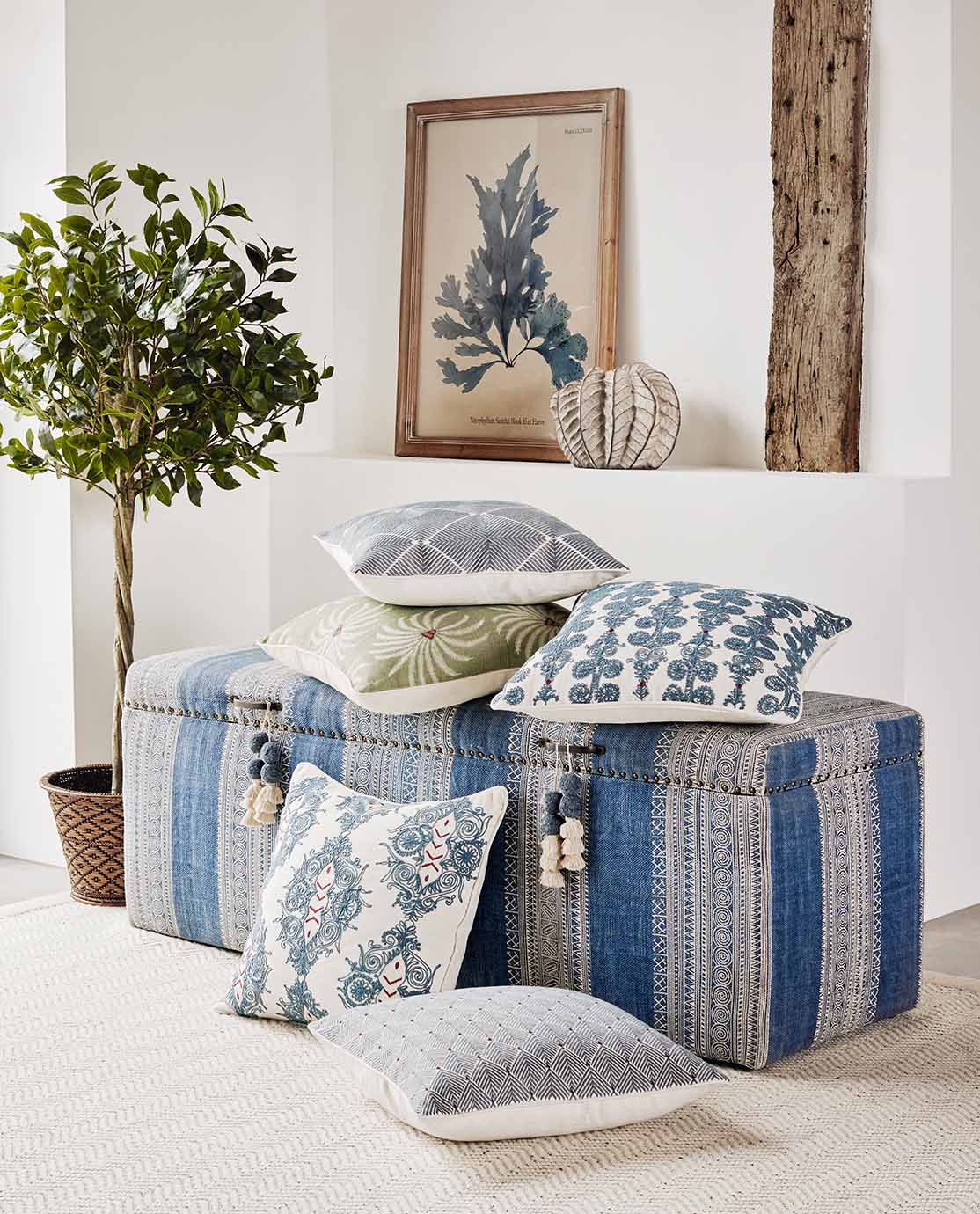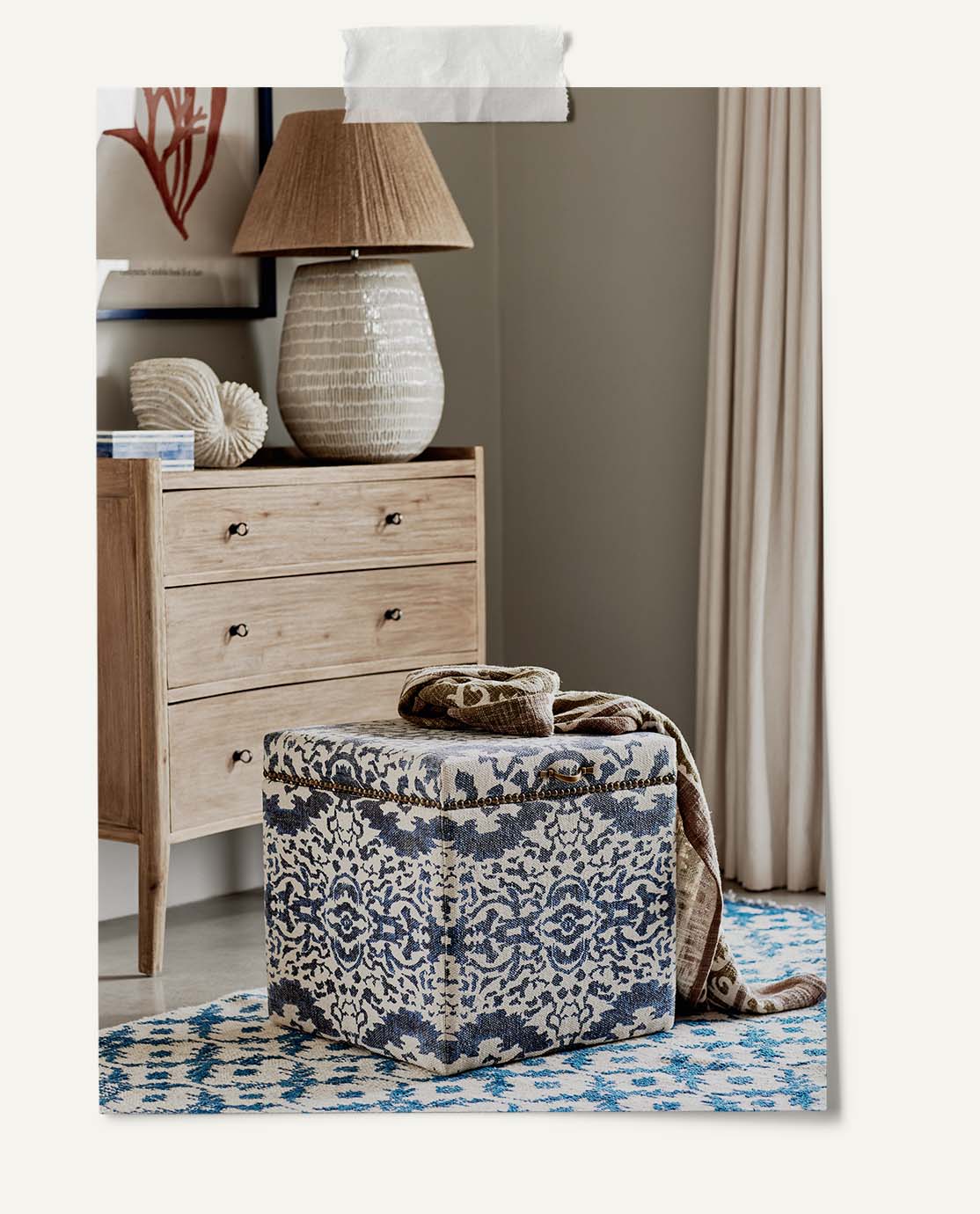 Assessing Your Storage Needs: Identifying Areas to Organize
If you're on the lookout for storage boxes, it's likely you already have a particular room or corner you're seeking a solution for, or selection of things that need a home. It's important to have this in mind when making your purchase, as this will affect the type of boxes or storage furniture you require. If you're after storage for pillows or throws in your sitting room, for example, you may want a larger, upholstered design that complements the aesthetic of your space. Alternatively, if you're on the hunt for a place to conceal paperwork in your study, you may prefer a smaller design that can be easily slipped into a bookcase or drawer. Next up, we'll break down the different types of storage boxes available to help you narrow down your decision.
Types of Storage Boxes: Exploring Options for Different Purposes
Here at OKA, we have a number of different styles that will help you on your way to achieving home organization with storage boxes. From clever designs that are tailored to maximizing your storage space to decluttering and storage solutions, these five styles can be used for a variety of purposes.
•
Trunks and Chests
Slim in shape but with plenty of depth, trunks and chests come high on the list of OKA storage furniture recommendations. These hybrid wonders are perfect as they serve as more than just a storage box. Why not place an upholstered design at the end of the bed, for example, where you can use it as both a place to keep belongings and a spot on which to perch?
•
Ottomans
Similar to a trunk but with a wider silhouette, ottomans are great for concealing textiles, games or general clutter. If maximizing storage space with storage boxes is high on your agenda, this could be a great solution as ottomans serve multiple purposes. Place them at the end of your bed, as with a trunk, or make them the focal point of your sitting room and use them in place of a coffee table—read our guide to find out more.
•
Filing Boxes
Filing boxes are ideal for tucking away paperwork or smaller odds and ends. These are great for adding extra hiding places to existing storage furniture, as they slot nicely onto bookcases, desks or shelves. Our sets come in a selection of our signature prints.
•
Storage Basket
You'll find a number of different rattan storage baskets in our collection. Available with or without lids, and most often coming complete with handles, these styles come in a variety of shapes and can be called upon for a selection of different uses. You could pile up an open basket with logs, for example, fill them with shoes and slip them into an entryway storage unit, or use them to store your office supplies—the possibilities are endless.
•

Decorative Box
As petite as they are pretty, small decorative boxes are ideal for holding jewelry, trinkets or keepsakes. Not only are they handy for storage, but they also make for an attractive addition to shelves, side tables, dressing tables and coffee tables.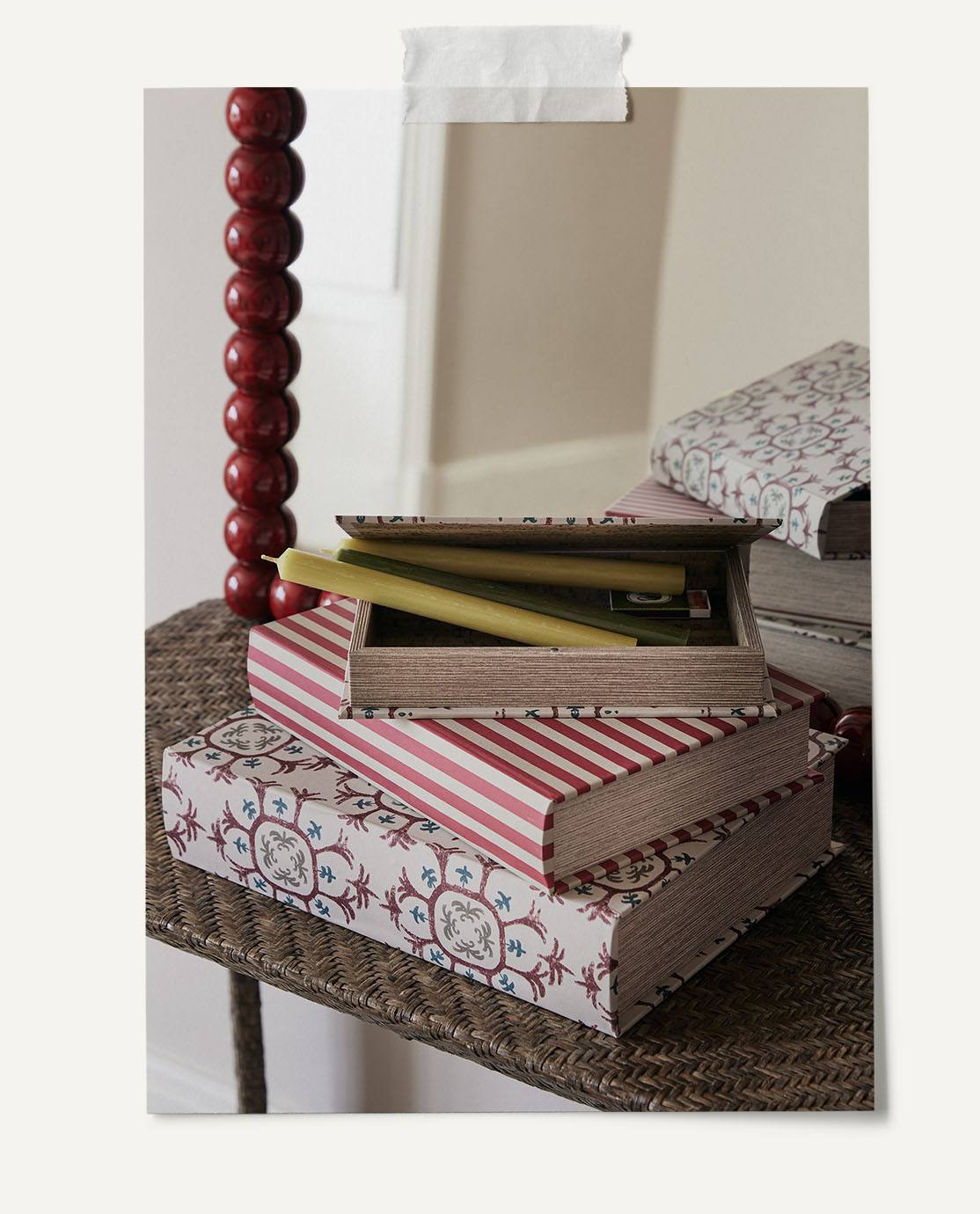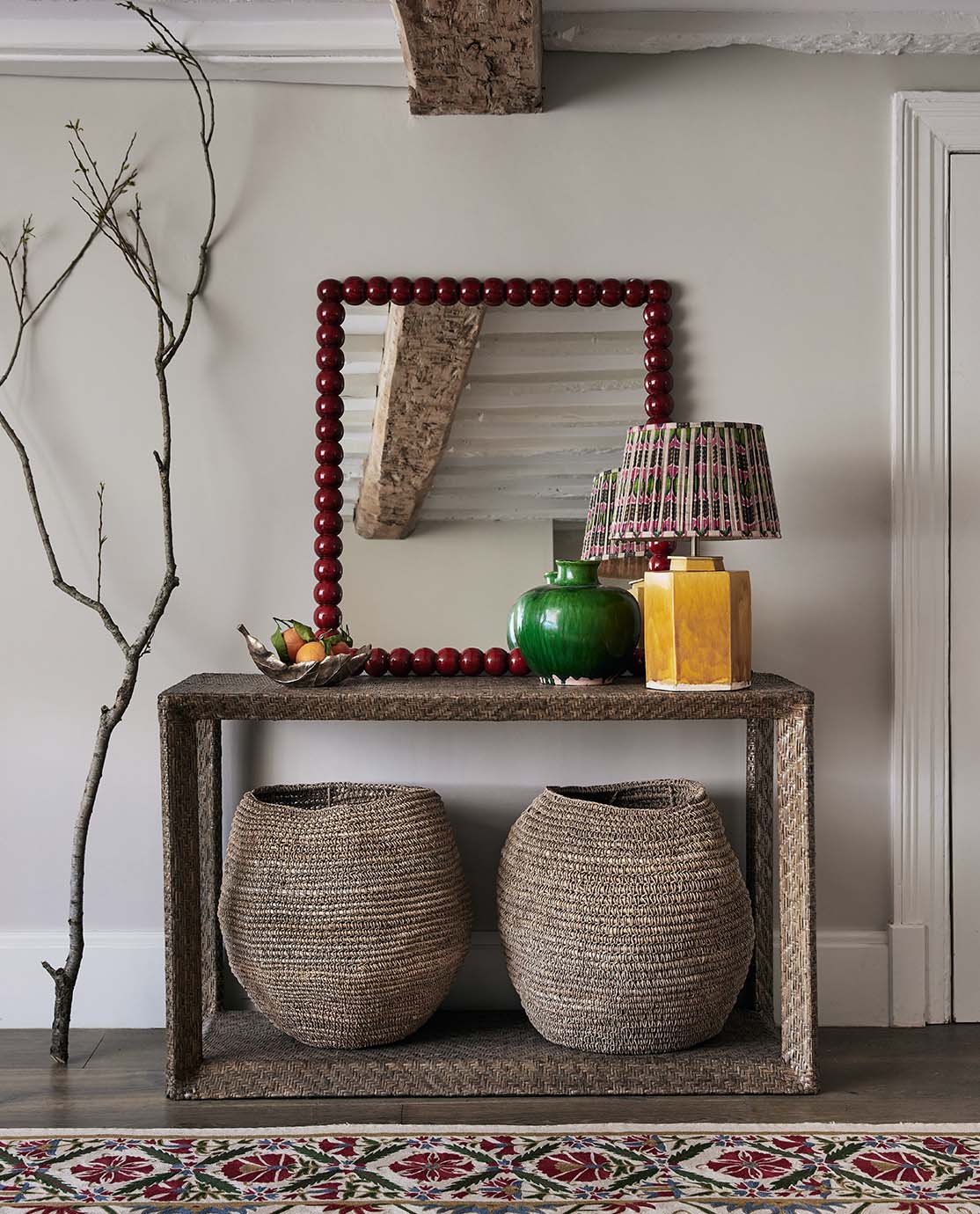 Choosing the Right Size and Style: Matching OKA Storage to Your Home
Before you make your final decision, think about what purpose your storage box will have in your home. Will it be kept on display, or play a central role in one of your rooms? If so, a design that appeals to your style as well as your storage needs should be high on your priority list. Think about what you want to store, too; if you're looking to conceal clothes or textiles, a style made from a softer material, such as an upholstered trunk or rattan basket, would work well. However, for heavier items, such as shoes or logs, you'll need a hardier material. The most important requirement of a storage box is that it is durable, so bear this mind when selecting your design.
Size and quantity should also factor in to your decision. If you have lots of large items, a bigger design, such as an ottoman or trunk, would be ideal. Alternatively, if it's odds and ends you need to find space for, a decorative box or filing box could be the best solution. Don't forget to measure the space in which you intend to keep your storage box, and compare the measurements with those of the box itself—this is particularly important if you're planning to slot them into existing storage units, such as bookcases or cupboards.
Decluttering Strategies: Sorting And Categorizing Belongings
Organizing your organization might sound a little over the top, but, if you're feeling overwhelmed by the task of decluttering, then having a clear strategy or agenda will help you to focus and make progress, even if that's in small doses. Here are some of our tips for tackling a clear-out:
• Take things one at a time. This could be a room, a piece of storage or simply a drawer. Thinking about everything you want to organize can be overwhelming, so break up the task in stages.
• If you're struggling to be ruthless when clearing out, why not just tackle half the job? If you have collectables that are gathering dust but you can't quite bring yourself to part with them, for example, why not clear out 50% of them? This strategy is useful for those hard-to-part with pieces, such as sentimental items.
• Be ruthless with belongings you haven't touched, used or even thought about for a long time. This can also be a handy strategy if you're struggling to decide whether to clear something out, too—pack it away and see how often you think about it. If you never reach for it, it's probably a good indication that you won't miss it.
• Categorizing and sorting belongings is a great way to tackle random clutter that doesn't have a specific home. Start by dividing different elements into piles—such as paperwork in one, stationery in another. Bring similar piles together—for example, receipts found in the bedroom can combine with receipts found in the kitchen. Then place neatly place the piles into storage boxes or units—said receipts could be tucked away into a box file in a study, for example.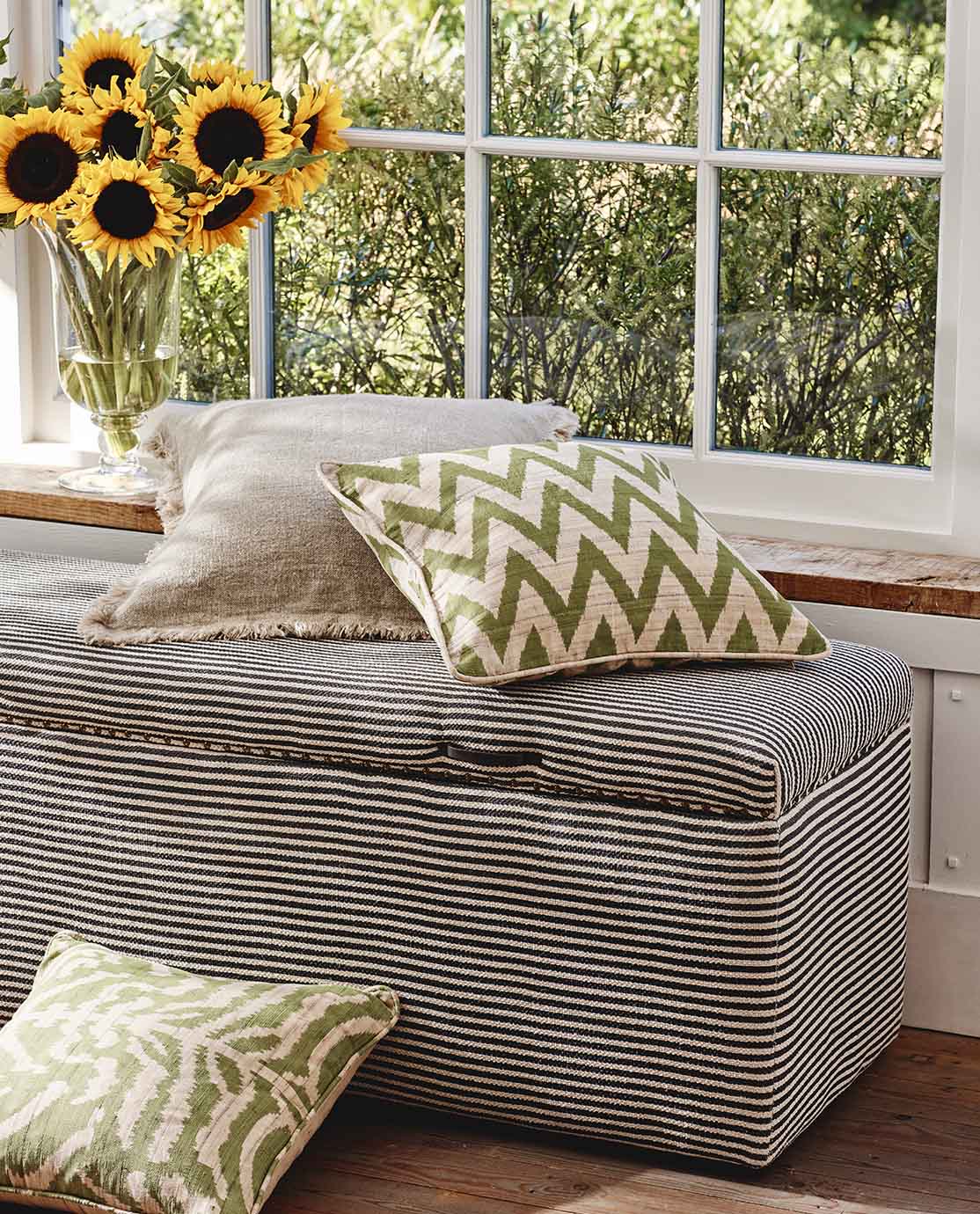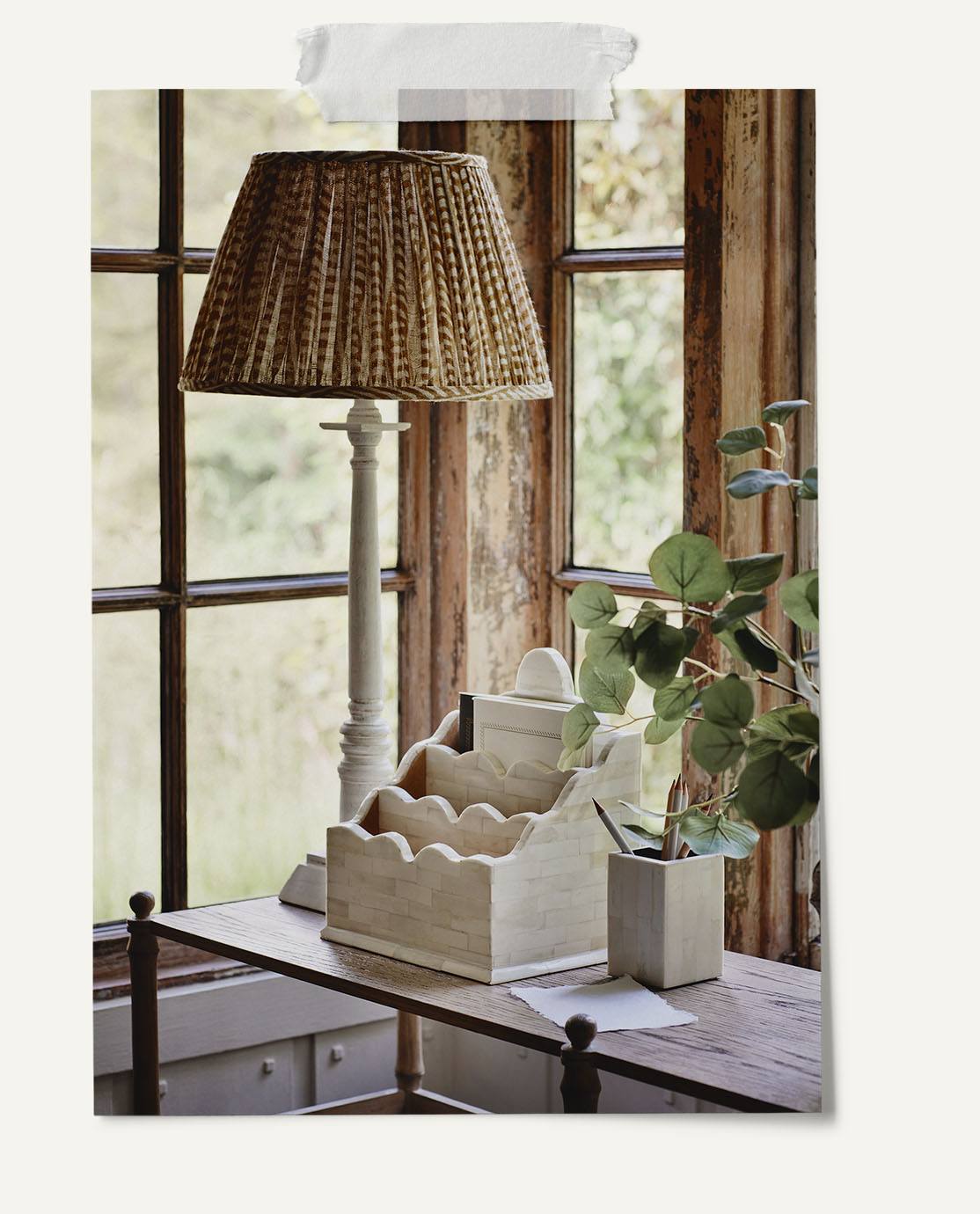 Room-By-Room Organization: Tips And Tricks For Each Area Of The Home
A complete home overhaul is a daunting task, as each room will require a different approach. To help you along the way, we've curated a list of tips for tackling different areas using storage boxes. As mentioned before, it's best to go through each room one at a time, and don't put pressure on yourself to tidy everything in one day. Why not tackle one room per weekend? Breaking it up will make the task more manageable.
Bedroom
• First things first: make the bed. This instantly makes your room look tidier, and will start you off on the right foot.
• Tackle your nightstand. Throw away or recycle any litter, and then remove anything you're no longer using—books you've read or empty glasses—and place them in a pile to be returned to their rightful homes. Items such as diaries, pens, hand creams or phone chargers are necessary but can make a surface look messy, so organizing them into specific containers will help to create a bit of structure in the space: tuck them into drawers, pots, decorative boxes or trays.
• Repeat with other surfaces in the room: the tops of chests of drawers, bureaus or dressing tables. Place jewelry and keepsakes in a decorative box, makeup brushes in holders and paperwork in box files.
• Then go through the drawers and your closet, removing clothes that you no longer wear and putting them in a pile to donate, and refolding or hanging the pieces that you want to keep. If you have clothes that you need to wash, why not place them in a rattan basket? For shoes and accessories, storage baskets are attractive and functional tools for keeping cupboards and shelves organized.
Sitting Room
• The sitting room is one of the hardest spaces to keep tidy, as it usually used daily. Start by deciding on permanent storage solutions for items that are regularly used, such as magazines, remote controls and books. Slip magazines into a dedicated rack or storage basket, place books onto shelves and tuck remote controls into decorative boxes, trays or pots.
• When it comes to items such as board games or throws, which you may not use as often, we recommend seeking more permanent solutions—concealed storage within an ottoman for example, or a storage basket that's neatly placed in a corner or tucked into existing shelving units.
• Put smaller items away in decorative boxes. If you like to regularly light candles, for example, you could use decorative boxes to conceal matches or tealights.
Entryway
• The entryway is the first thing you see when you enter your home, and being greeted by a clean and tidy space makes for a very warm welcome indeed. But, as a place where people come and go, dumping coats, shoes, bags and umbrellas in the process, it's naturally tricky to keep organized. Storage boxes are your saving grace. Use them to conceal shoes that aren't used as often, as well as other items that you need to have on hand—umbrellas, shoe horns or shopping bags, for example.
• If you have a console table or cupboard, use decorative boxes or storage trays to keep items such as keys easily accessible (for security, be careful not to keep these too close to a front door, window or letter box that can be accessed from the outside).
• If you have space for an upholstered trunk, this is a great piece to include within an entryway as it can be used to store accessories, and also offer a place to rest while putting on shoes.
You may find that keeping your home clutter-free is a constant battle, and it never quite feels perfect, but once you have a system in place with dedicated storage for each element, you will hopefully find that maintaining an organized home is much easier. Establishing sustainable habits is the best way to stay on top of messes, so give yourself reasonable tasks each week that can easily become part of your routine—consider doing a quick round up of clutter at the end of the week, for example, or placing things that belong on another floor by the stairs so that you can remember to take them with you next time. It may sound obvious, but it's these small, manageable tasks that will help you ensure your home remains clutter-free.