Too much stuff, not enough space? It's one of the most common interiors problems. Short from embracing your inner Marie Kondo and clearing your clutter, storage is the best way to tidy up your home—and add an interesting design feature to a room in the process. There's almost too much choice when it comes to the likes of boxes and bookcases, cupboards and chests, so we've put together this storage furniture buying guide, to help you narrow things down.
Often storage comes as an afterthought; you've lived somewhere for a while and accumulated more clothes and books than you'd like to admit, or have acclimatized to a space and found places to put things lacking. But what type of storage furniture you should choose is in fact an important design decision, enhancing the look and feel of a room when done well, encroaching on the aesthetic when not quite right. The correct pieces for your home are dependent on a number of factors, the most important being the size of the room, its purpose, and your personal preference. A bathroom shelving unit, for instance, has a more functional role than a sitting room cabinet, which its style and material should reflect—it's likely you'll want to simply tuck makeup and toiletries away in the former, while the latter doubles as a decorative surface, too. With all of this mind, let us guide you through how to select storage furniture for each room.
Entryway Storage Furniture
The entryway typically has two things working against it when it comes to being neat and tidy: size and location. Often it's the smallest and narrowest space in a property, but as the first port of call when you come in the door, quickly gets laden with shoes, coats, mail and everything else that doesn't have an obvious home. If you are indeed lacking square footage and need small-space storage solutions, our first piece of advice would be to choose pieces that work upwards rather than outwards. Stackable boxes are quick and easy to incorporate and can be moved around if you come to need them elsewhere. Those with labels are ideal for keeping track of specific items or making sure everyone in your household has their own storage spot. Hanging shelving units are similarly easy to install or manoeuvre.
If you'd like a more permanent feature—such as entryway cupboards—nooks and crannies might be able to be put to good use. The space under the stairs can be transformed with either custom-made cabinetry, or the perfect-sized chest of drawers—just make sure your measurements are accurate before embarking on either of these. For those with slightly wider entryways, a chest—with either cubby holes underneath for shoes or an ottoman-style with internal stowing space—is a great choice, offering a place to perch as well as storage. The entryway is subject to lots of comings and goings, so choose furniture that is durable and with a finish that is unlikely to scuff or mark easily; you can't go wrong with solid wood.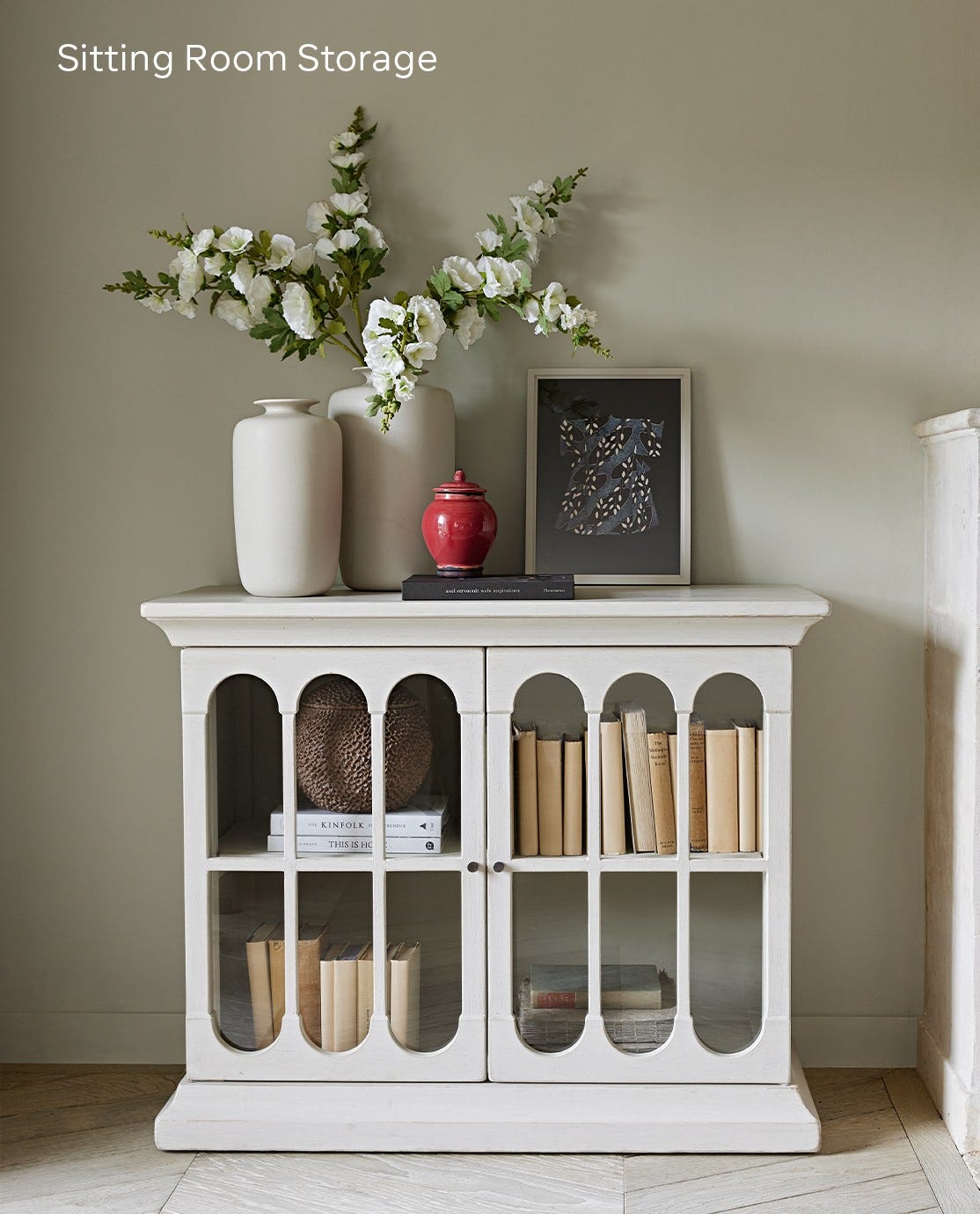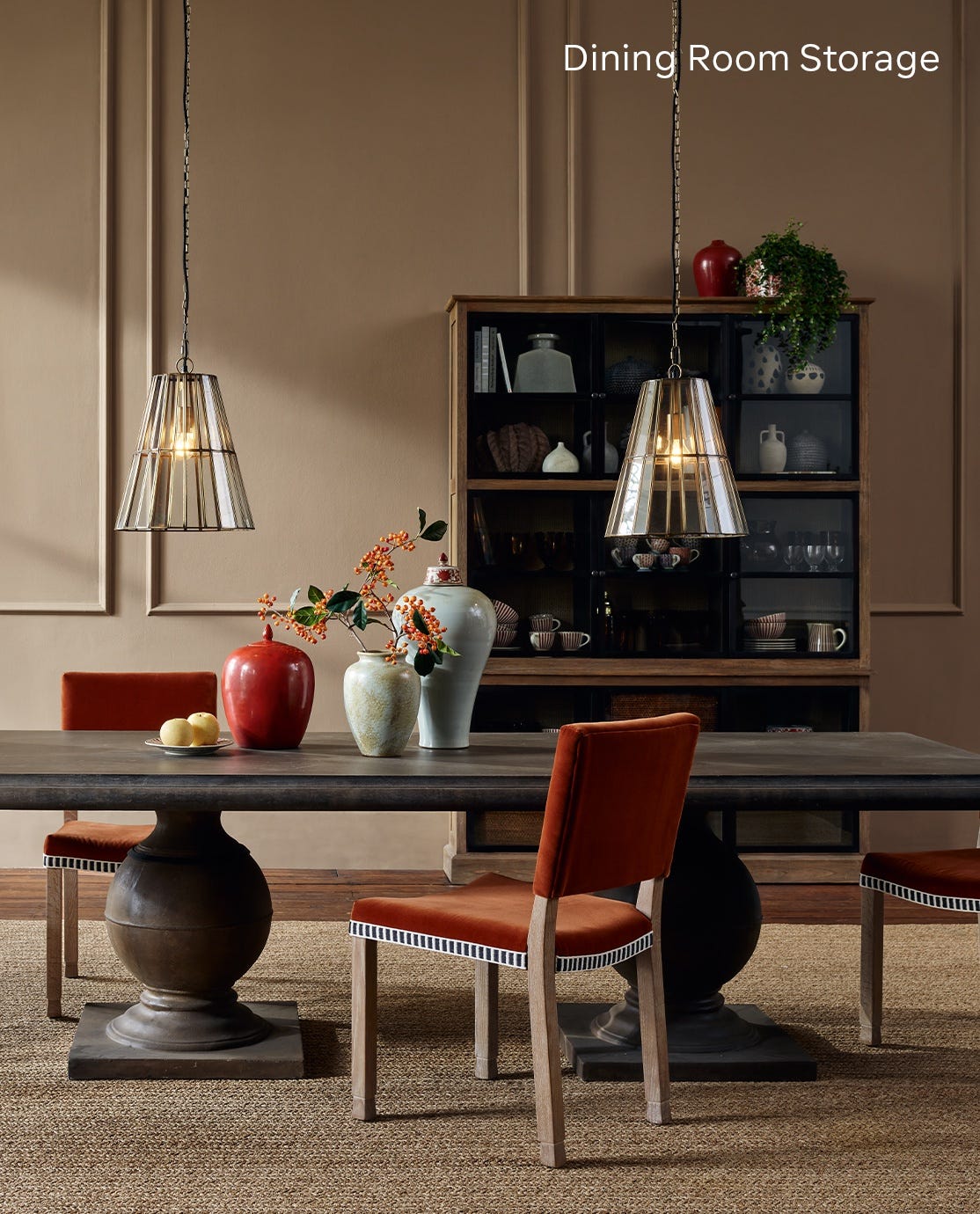 Dining Room Storage Furniture
These days, the dining room is the ultimate multipurpose space, hosting everything from family suppers to morning video calls, so it figures that your storage solutions also need to be clever.
If you have the room, you could look to wall-to-wall storage units—either bespoke or those that fit snugly together—with a mixture of open and closed storage, which allows for plenty of space to de-clutter as well as display books, photographs or decorative accessories.
Sideboards are another wise choice for the dining room for similar reasons. Not only do they come in myriad shapes, sizes, colors, styles and materials, meaning you're sure to find one to suit your taste, but they offer a fusion of storage and surface space. Look for one that has numerous drawers or internal shelves—so you can compartmentalize dining room essentials such as flatware, china and table linen—while using the top as a spot for mood lighting or adding character to the room. If you're short on space, dining benches with hidden storage in the seat are also very practical; simply buy boxes that fit within, and you can stow away anything you need to.
Sitting Room Storage Furniture
Sitting room storage is important to get right; it's the place where we relax and unwind, which is hard to do if there is clutter everywhere. No matter how much floor space you have to work with, you're likely to find a storage coffee table or ottoman that fits your sitting room. There are so many possibilities when it comes to this kind of storage: those with lift-top lids that are ideal for stowing away blankets and books, options with shelves and drawers underneath the surface, so you can hide away or display as you choose, and myriad combinations of the two. Ottoman-styles can be a good choice if you small children; as well as having plenty of room to hide away toys, they're often upholstered so have softer corners (for more information on how to choose a coffee table, read our buying guide). Other useful options for extra storage include bookcases, multi-drawer side tables, chests of drawers and sideboards, depending on the size and shape of your space.
If your TV is not mounted on the wall, another key piece of sitting room storage furniture is the cabinet on which it sits. The first question often asked is "how big does my TV unit need to be?" and this of course depends on a) the size of your TV and b) the size of your space. You should always choose a TV stand that is wider than your TV, for both aesthetic and safety reasons—if the stand is too small, you run the risk of the setup not only looking, but being, unbalanced. As a rule of thumb, your TV stand should be at least five to six inches wider than your screen (make sure to measure the width of your TV, as generally they are measured diagonally, so won't account for the frame). If in doubt, go larger rather than smaller, as long as your sitting room can accommodate it. In terms of height, you want the center of your TV to be at about eye level. To work this out, sit in your favorite spot on the sofa and measure the distance from the floor to your eye—within about two inches of this marks the ideal height.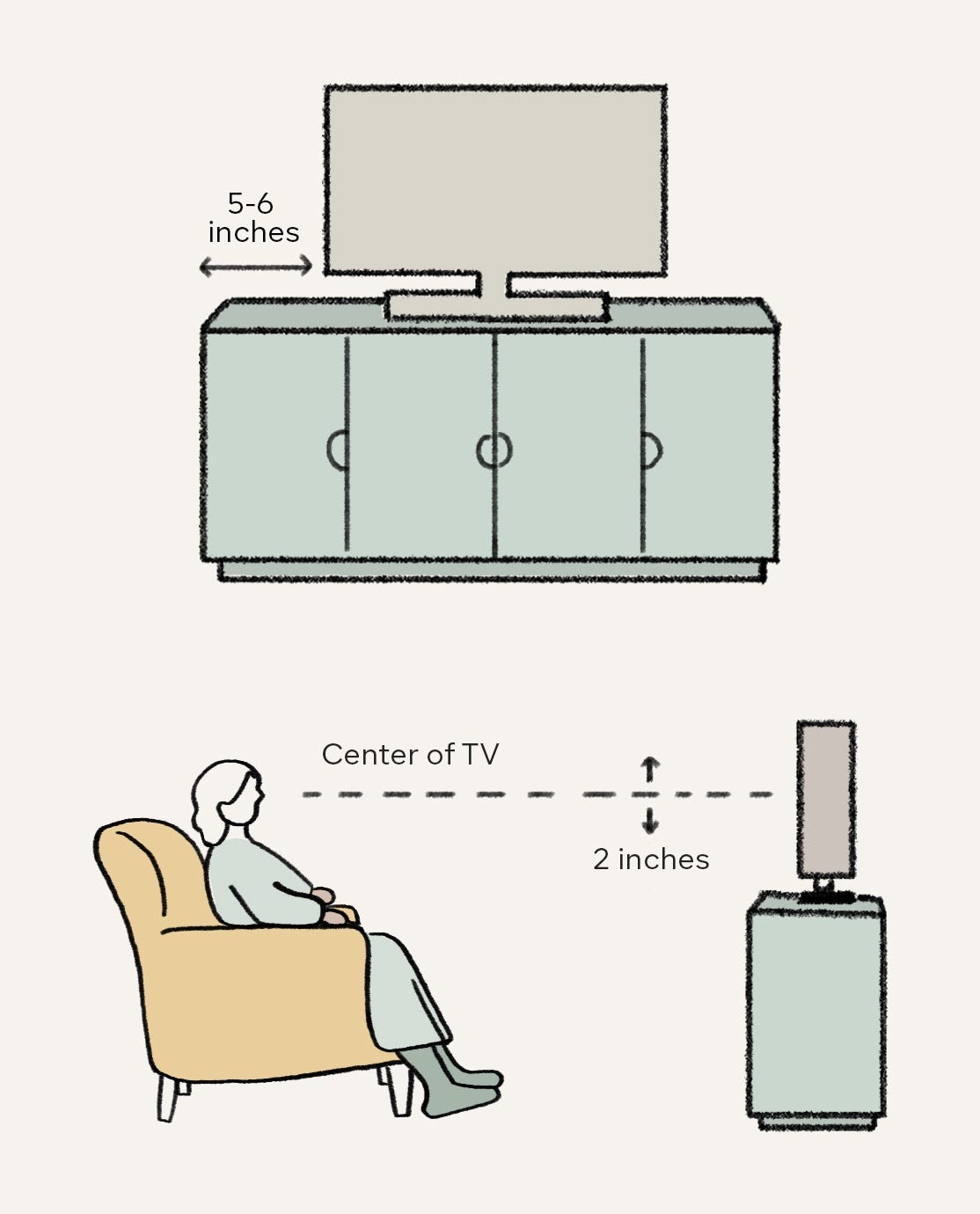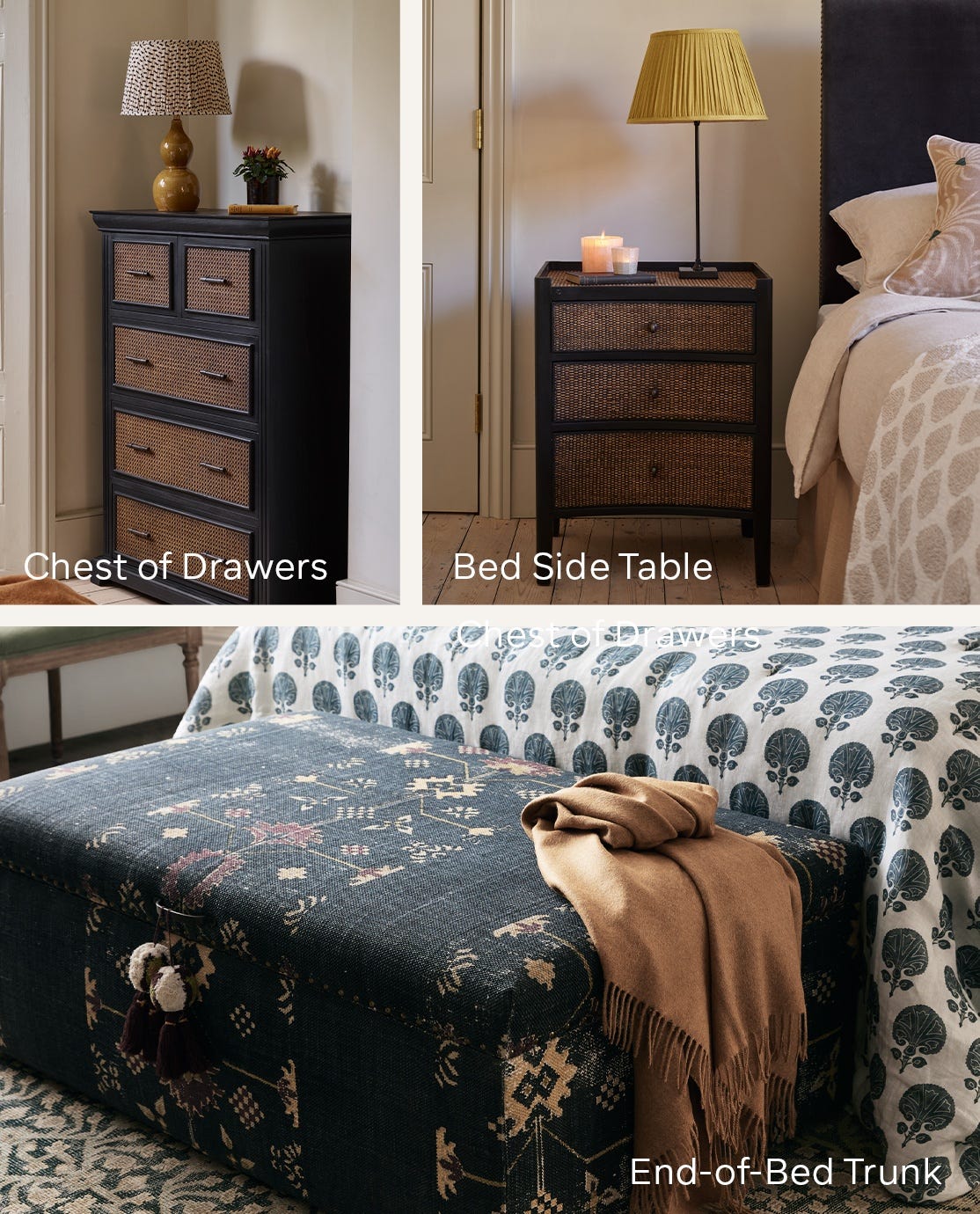 Bedroom Storage Furniture
The bedroom has a lot of storage demands on it, and similarly to the sitting room, it's a space that you want to be as uncluttered as possible. For space-efficiency, built-in storage is the most practical choice, allowing you to fully tailor your cupboards and shelves to your unique space and storage needs. If these aren't an option for you, not to worry, there are plenty of other solutions; it might just be a case of getting a little creative—think floating shelves, multiple bedside tables, and tall cabinets.
The bed likely takes up the most floor space in the bedroom. Rather than taking this as a no-go storage zone, instead view it as an opportunity. Whether that's investing in a divan bed, with drawers underneath, a bed with a lift-up top and internal storage, or simply containers that fit underneath your bed frame, it's a furniture item that offers plenty of hiding places for clutter, in all its forms—if you're not sure what type will best suit you and your space, take a look at our bed buying guide. An end-of-bed chest or trunk is also an excellent multipurpose choice if you have the room, offering storage, a place to perch and a spot for laying clothes out, as well as adding personality.
Bathroom Storage Furniture
The biggest decision you'll face with storage in the bathroom is what material to choose as it will need to be water and damp resistant. Whether you opt for custom-made vanity units or freestanding designs, the most popular choices for this space are plywood or MDF with a laminate coating on top; both materials are non-porous, and water can be wiped off easily without damaging the surface. While solid wood looks beautiful and is very durable in most cases, it's not ideal for the bathroom as it can distort over time due to humidity, or even mold or rot in some cases.
If you have a small bathroom, look to walls and doors for extra storage opportunities. Wall-mounted units come in all shapes and sizes (even useful corner versions) and tend to have mirrored options—which are not only practical, but can make a small space feel bigger as they reflect light—and there are countless hanging caddies that can be attached to doors.
Ready to find your perfect piece of storage furniture?