You don't need us Brits to tell you how to celebrate Thanksgiving; from roast turkey to stuffing and pumpkin pie, we know you've got the festivities (and the delicious food) covered. But as your thoughts turn to preparations and Thanksgiving décor, what we at OKA can certainly offer is a little in the way of interior design inspiration. If you're hosting this year and want to impress, there's no better way than with a beautiful tablescape—setting the perfect stage for your feast and elevating the occasion in the process. As our Co-Founder Sue Jones says, "When your tabletop looks lovely, you're halfway to having a good time." Follow her lead with these Thanksgiving table décor ideas.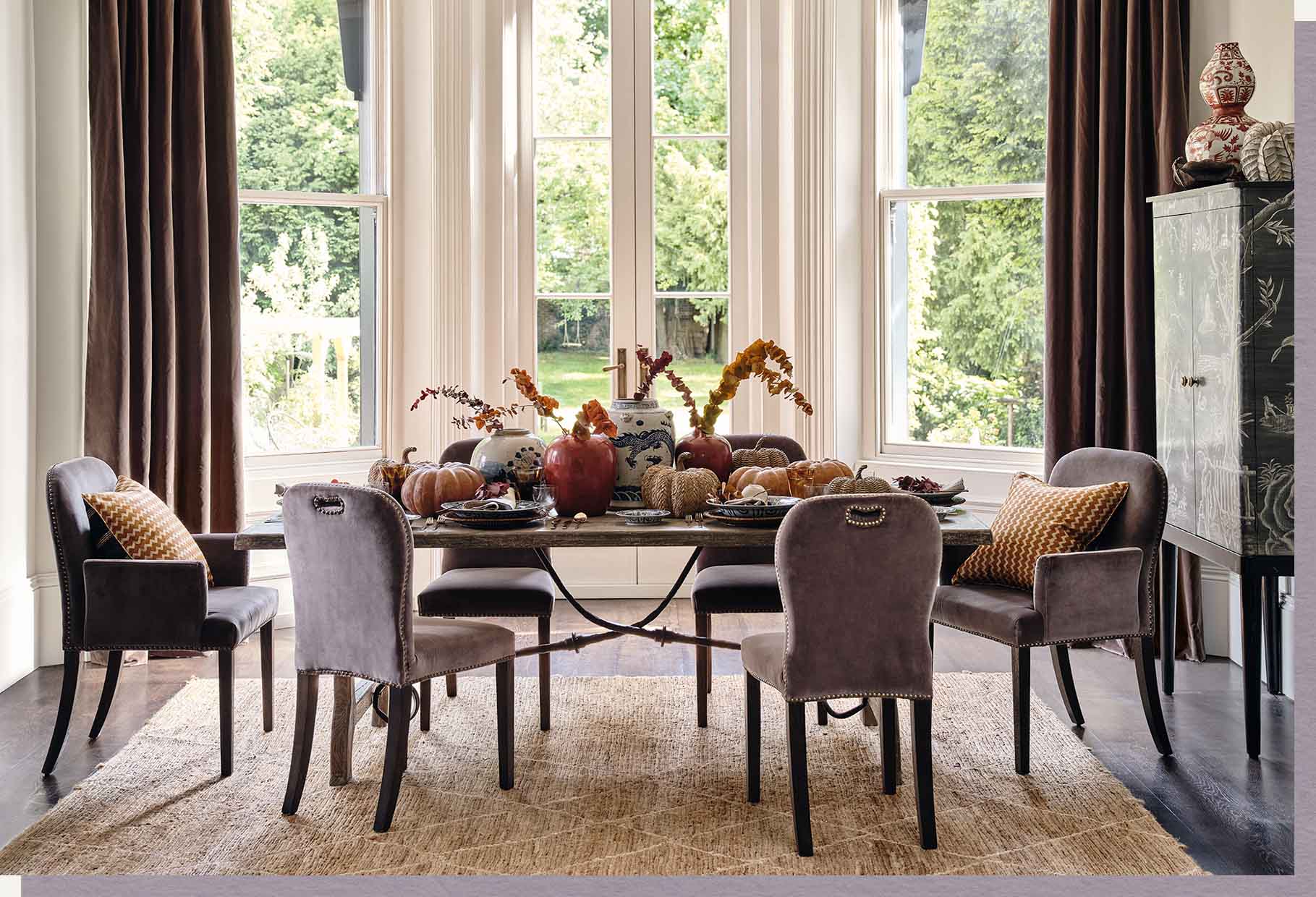 Start with the Essentials
Before you turn your attention to making your table pretty, you might want to consider how to make it practical. Your display doesn't need to be busy to be impactful, so start with the essentials and build it from there. Will you require side plates, wine glasses, pitchers, or dessert spoons, for example? Will you be plating up your feast in the kitchen, or laying it out on the dining table for people to help themselves? The latter is particularly important to consider, as you'll need to incorporate platters and large dishes into your display. It might be a good idea to give your tablescape a trial run a few days before the main event, so you have time to rework it if your vision isn't quite realized the first time around. Nobody wants to be fussing with flatware moments before their guests are due to arrive.
Layer Up
Once you've got the logistical side mastered, it's time for the fun part: the decorating. The trick to tablescaping is all in the layering; mixing different pieces, textures and tones is more visually appealing and will give your display depth and interest. If you want to set your dinnerware, glassware and flatware according to place setting etiquette, then check out our handy guide on how to set a dining table for the official formalities. Otherwise, the rule of three is a good guide to follow; layer an underplate, dinner plate and side plate on top of one another, and pair them with a water glass, white wine glass and red wine glass. Don't be afraid to mix and match your dinnerware and glassware sets; this will give your display an eclectic feel—and allow you to showcase your finest pieces at once. Creating a sense of scale will also help to set your tablescape apart from the everyday, so be sure to use pieces of different heights.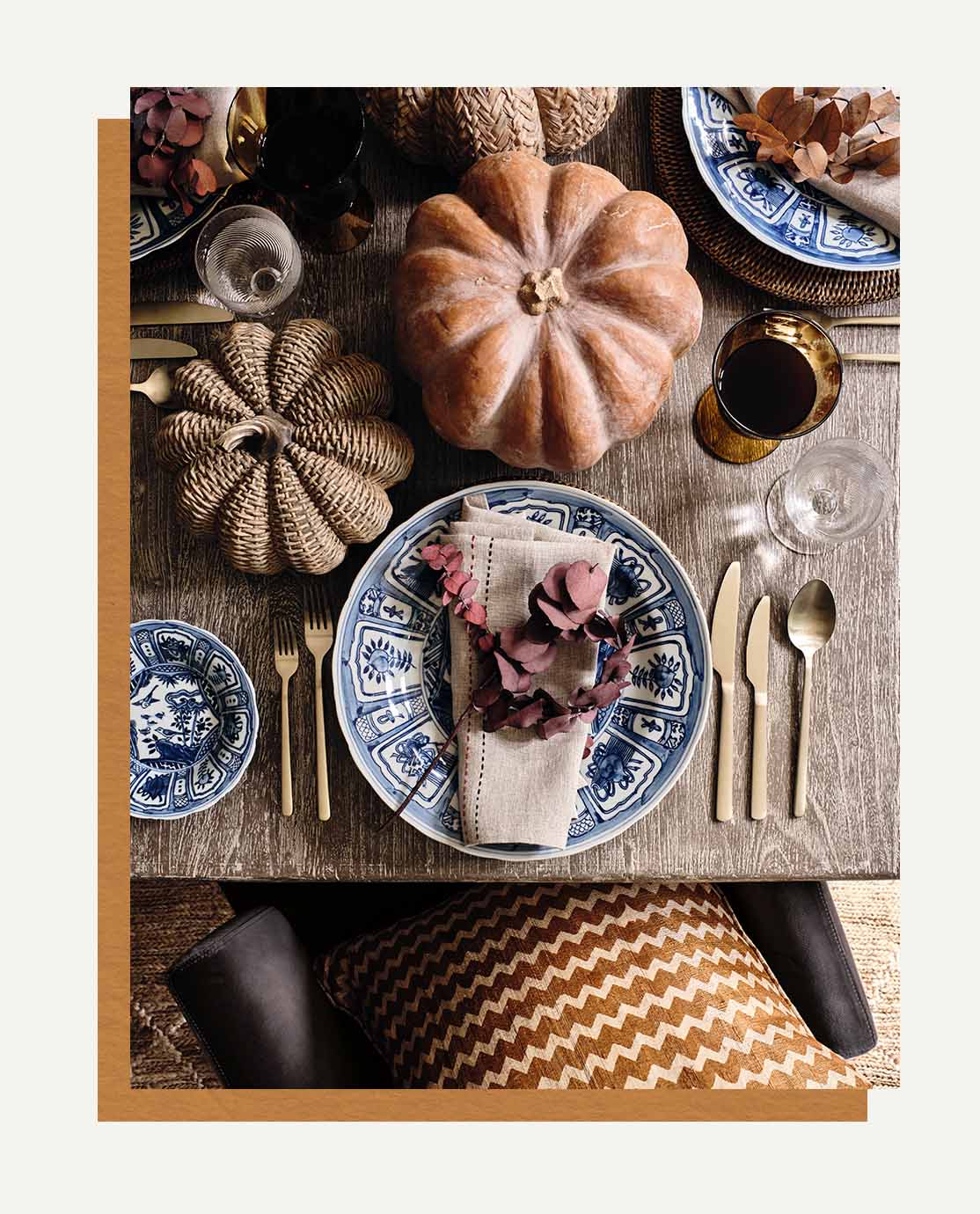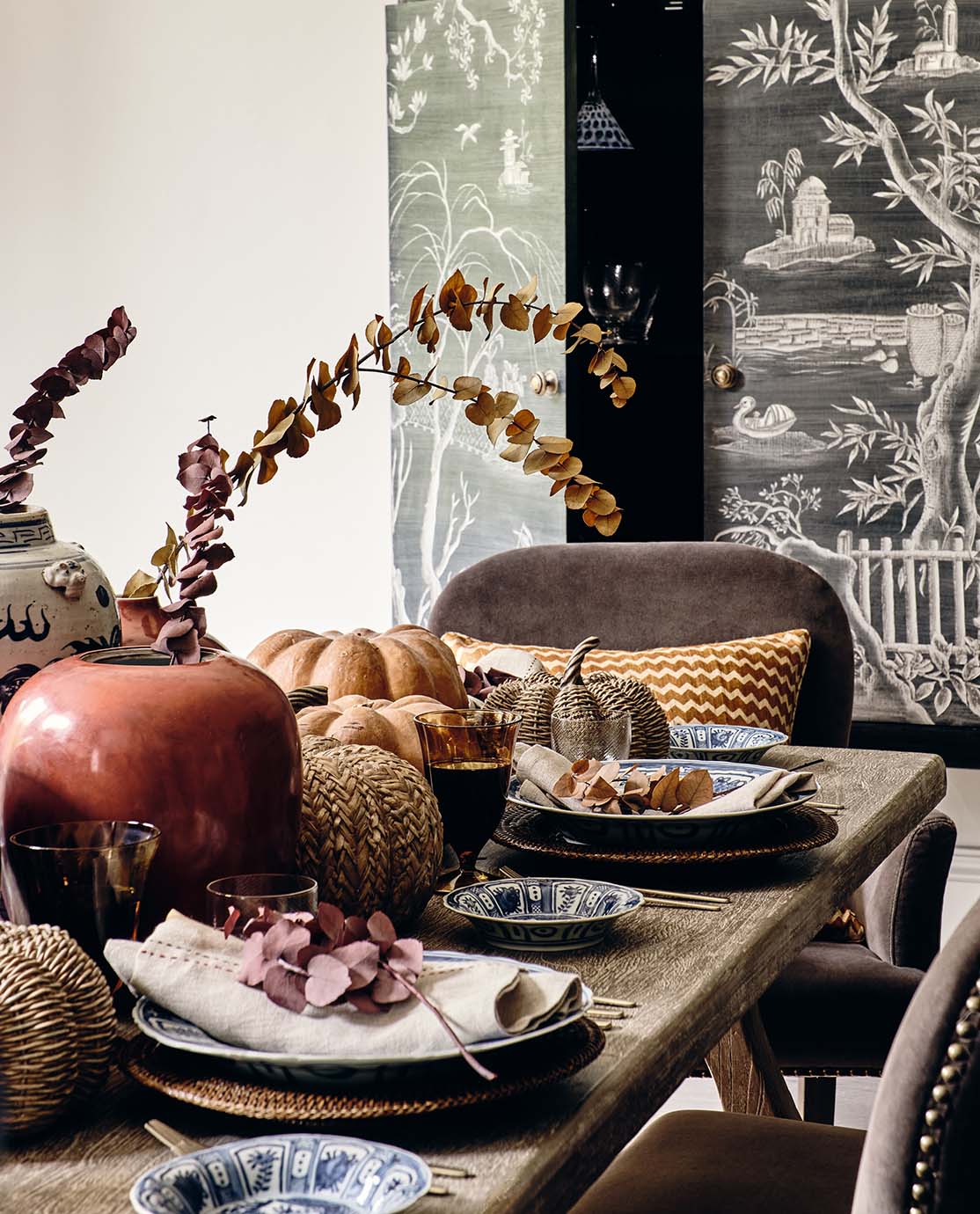 Take Cues from Nature's Palette
As nature transitions, why not echo its changes through your table décor? Burnt orange, fiery yellow and cozy brown are all shades that instantly recall the fall season, and they're easy to replicate with your table setting. The best way to do so is by mixing your textures; think rattan underplates, tortoiseshell glassware and faux stems to bring a touch of the outside in—we love the autumnal shades of our Faux Hawthorn, Rowanberry and Eucalyptus Stems. Balance out this rustic effect with a touch of glamour—gold detailing, in the form of flatware, napkin rings or candle holders, will keep the occasion elevated.
Experiment with Pattern
If you're not one for tradition, why not consider a more modern Thanksgiving table setting? Mismatched prints, when done right, can look really striking on a tabletop display. The key is to incorporate a mix of small- and large-scale patterns, and keep the color palette consistent—this will create a unified look and stop it from feeling too cluttered. If your dinnerware features a bold, graphic print such as a stripe, for example, balance it out with floral tablecloth in a similar color story.
Create a Showstopping Centerpiece
Naturally, there's no better Thanksgiving table centerpiece than a delicious turkey, fresh from the oven and ready to be carved. But until that moment arrives, there's the opportunity to create something really special with a few choice Thanksgiving decorations. It wouldn't be fall without pumpkins, so why not make them the focus of your Thanksgiving table setting? If you're likely to repurpose them in a pie or soup later on, opt for the real deal; we recommend mixing in a few gourds in different sizes too, to create a lovely fall palette. If you prefer to go faux, look for pumpkin décor in alternative colors—white pumpkins, for example, are a great way of incorporating traditional Thanksgiving decorations into more minimalist looks. For those who favor a more rustic aesthetic, we've given our pumpkin décor pieces a herringbone effect that brings a subtle dose of texture to the table. Weave them in between a faux garland or surround them with candles to create a striking holiday centerpiece.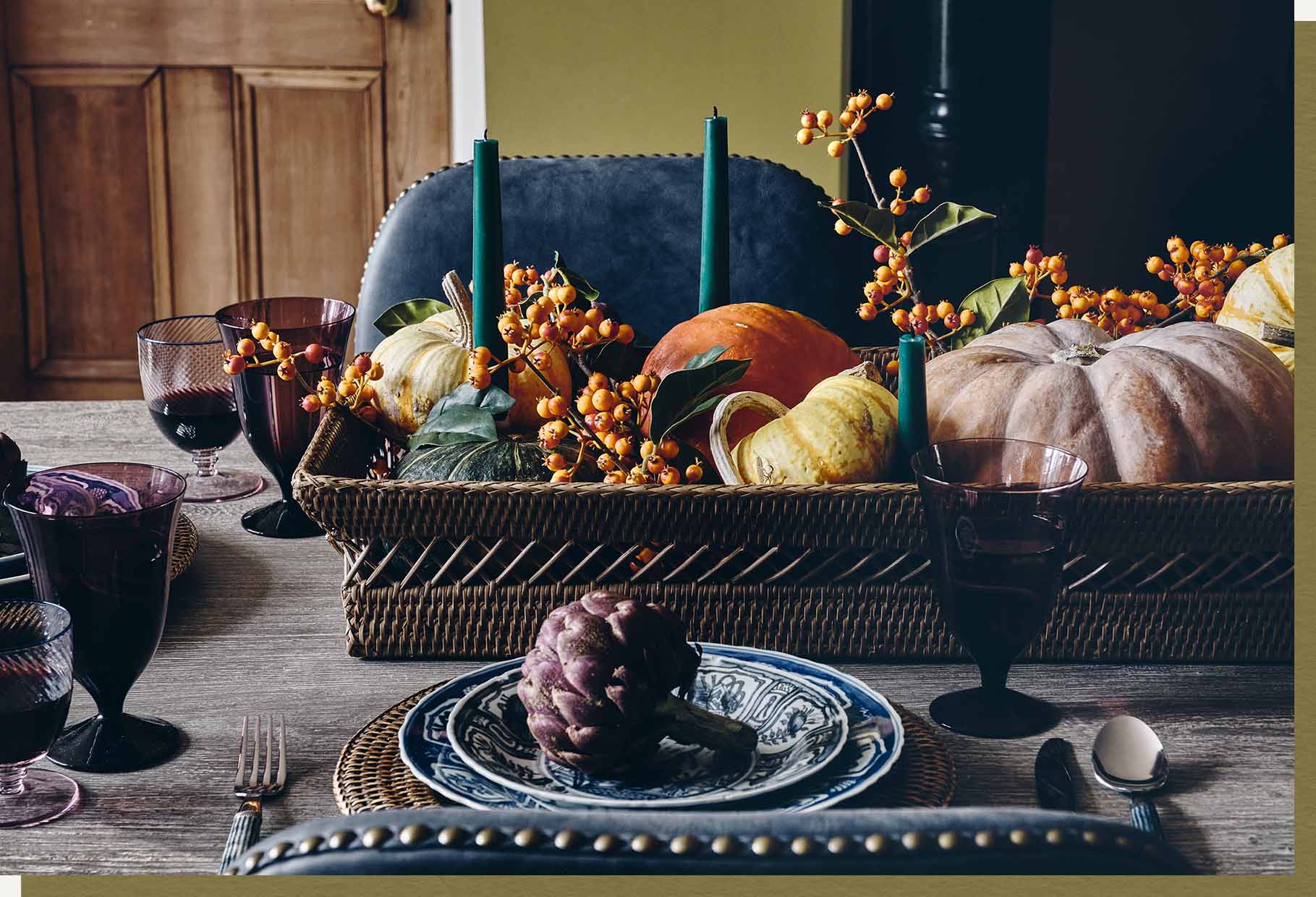 Be Bold with Florals
Flowers aren't just for summer; the autumn season brings with it a host of new flora and fauna that offer a wealth of decorating ideas for Thanksgiving. The trick is to be mindful of height and scale; anything too tall or wide will overwhelm the table and block your guests' views. To get it right, first think about the shape of your table; round pieces will benefit from a small, central display, while larger, rectangular designs are better suited to a linear centerpiece. If you're tempted by a bouquet, keep it on the smaller side to ensure a sociable set-up. You could also create your own garland with a few faux stems, berries or an autumnal wreath; arrange pillar candles in between them for a cozy and inviting look.
Add Detail with Décor
While details such as place cards or napkin rings aren't essential, it's these effortless pieces that will help elevate both your tabletop and Thanksgiving dinner to new heights. Perhaps you can get creative and design your own name cards or create handwritten menu cards for a personal touch—they'll show your guests how much effort you've put into making their day special, and could even serve as a souvenir for everyone to take home.
Bring on the Feast
What's a Thanksgiving table without food and loved ones? With your display setting the perfect stage for a celebration, all that's left to do is gather your nearest and dearest, serve up a feast to remember and enjoy the festivities. There's no better reason to be thankful than that.