When Martina Mondadori moved from Italy to England in 2012, she felt at once homesick for her native Milan and inspired by her new surroundings in London. The love of eclecticism, heritage and craftsmanship she had found in her home country suddenly had a new source of inspiration: the innate imperfection, and nonchalance, of English decorating. She began creating mood boards, mixing the designs of her favorite Italian and English interiors to create spaces filled with color, pattern and charm. The worlds she designed became Cabana Magazine, a biannual publication now renowned as an interior design and decorating authority.
Martina's passion for anything and everything bold is one that's shared with our Co-Founder and Creative Director Sue Jones, who infuses a maximalist sensibility into each of our designs—so it was only natural that when these two visionaries met, creativity would prosper. Over tea in London, they conceived OKA X Cabana, an eclectic new lighting collection that celebrates their favored aesthetic. "Sue and I share a real passion for pattern, print and just being bold," Martina says. "To me, there's no point in keeping everything monochromatic; I like to mix, and so does Sue. That's our common ground."
Comprising a table lamp and three styles of lampshade in a choice of prints and colors, the collection is created with longevity in mind, using classic silhouettes that can be passed down through generations. "I'm firmly convinced that you don't have to reinvent the wheel all of the time with interior design," Martina says. "I think it should be like buying a pair of jeans and then changing blouses; once you've got the base, you can change the lampshades with the seasons." Fittingly, the collection is made to be mixed and matched, with a carefully composed palette woven throughout, creating a sense of cohesion while allowing each piece to shine individually. "We're putting the choice in our customer's hands, as we like to do," says Sue.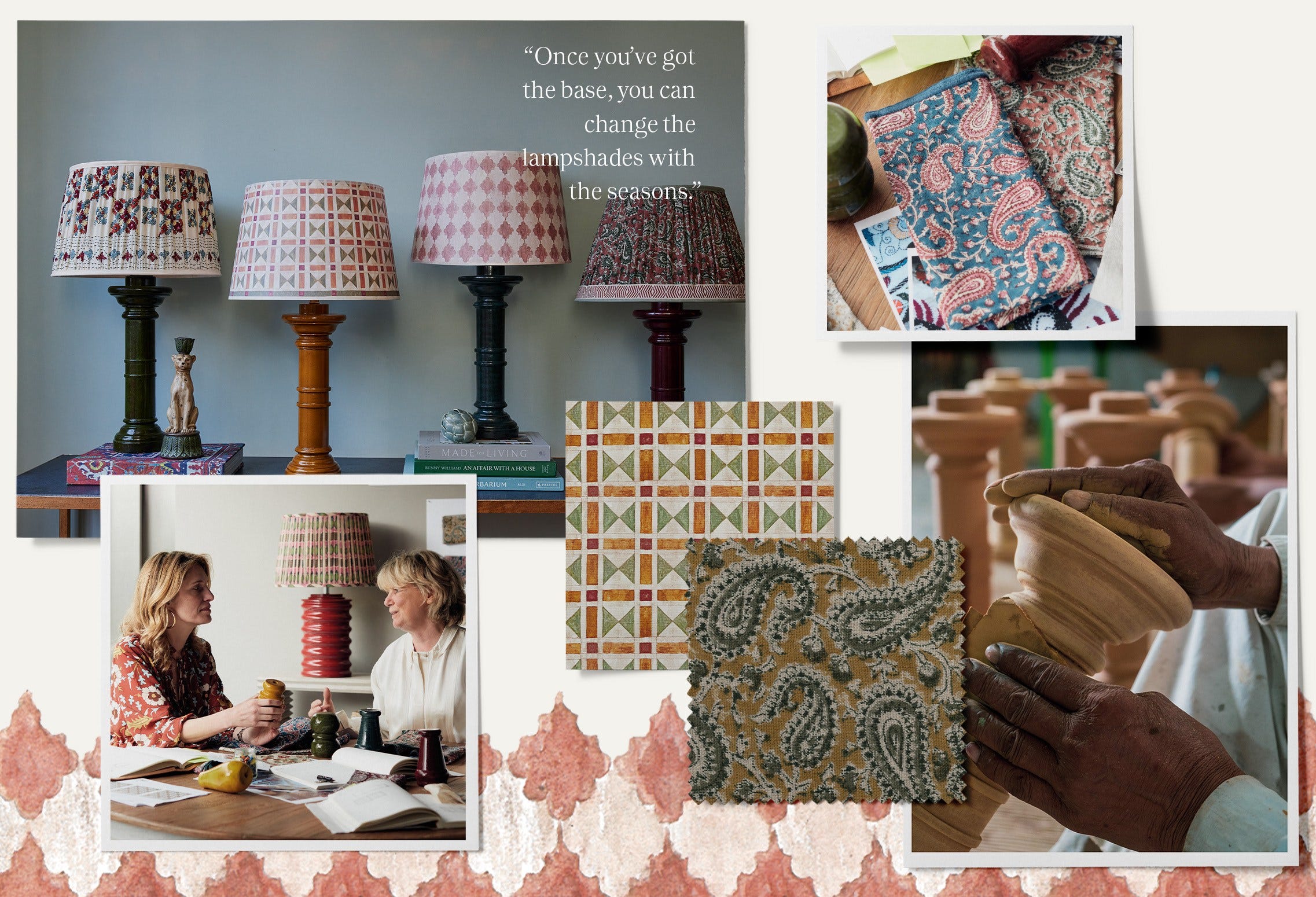 Among the new pieces is the Arabesque Lampshade—an intricate design that began with an embroidered fabric Sue found in a market in India, which was then reimagined with Moroccan influences by Martina. Crafted by OKA artisans in Delhi, the tussar silk piece is hand embroidered in a herringbone-style stitch inspired by traditional phulkari embroidery, a process that originates in Punjab and takes up to four craftspeople 12 days to complete.
The Veneto printed card shades, meanwhile, are an ode to Italy, with three prints—Viccolo, Cosima and Collato—inspired by Venetian wall frescoes and the subtle colors of Renaissance powder pigments. Handmade in north London, they are a beautiful fusion of their Italian heritage and British craftsmanship. A dainty scalloped edge on the Cosima adds a further flourish to the blooming, geometric motifs of its print.
The final lampshade, Ambi, is rooted in Cabana and OKA's shared, and constant, calling card: travel. Inspired by a traditional paisley pattern, which has roots in the Persian Empire and has been influenced over the centuries by India, Scotland and England, the swirling design is hand block-printed by artisans in Jaipur onto natural linen. There are three colorways, each finished with contrasting linings and trims.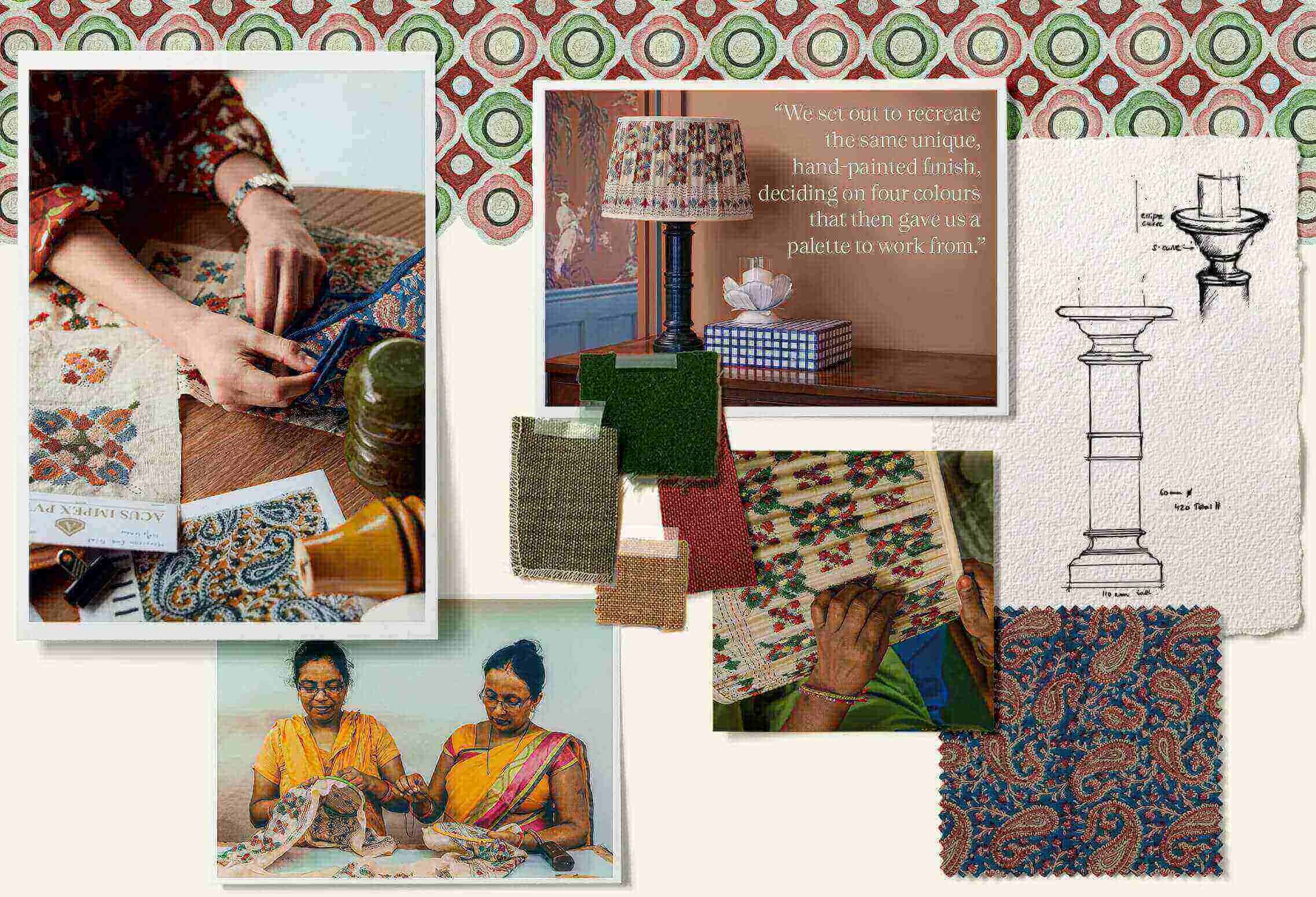 Completing the collection is the hand-turned wooden Pilastro Table Lamp, which was inspired by a design belonging to Martina's late mother. Each base is hand painted with multiple coats of color to achieve the depth of tone and antique patina that made the original so special. "From the very beginning, we said we couldn't create the collection without a lamp base," Sue says. "This design meant a lot to Martina, and so I really considered which of our skilled artisans could replicate it. We set out to recreate the same unique, hand-painted finish, deciding on four colors that then gave us a palette to work from."
While the collection's striking colors and prints are what catch the eye, it's the quality craftsmanship that elevates each piece, says Martina, who was impressed to see her ideas come to life in the very first samples. "That happens when the person you're collaborating with truly understands your style and your vision, and that is certainly the case with Sue," she explains. "She has incredible experience with craftsmanship, and that was just a dream come true for me."
"What a joy of a collaboration this has been," Sue adds. "It's been my pleasure to be able to help Martina bring her thoughts and designs to life. From the start it felt like the perfect meeting of minds; it's been an honor to showcase Cabana's unique vibrancy and love of color in a collection that feels innately OKA."