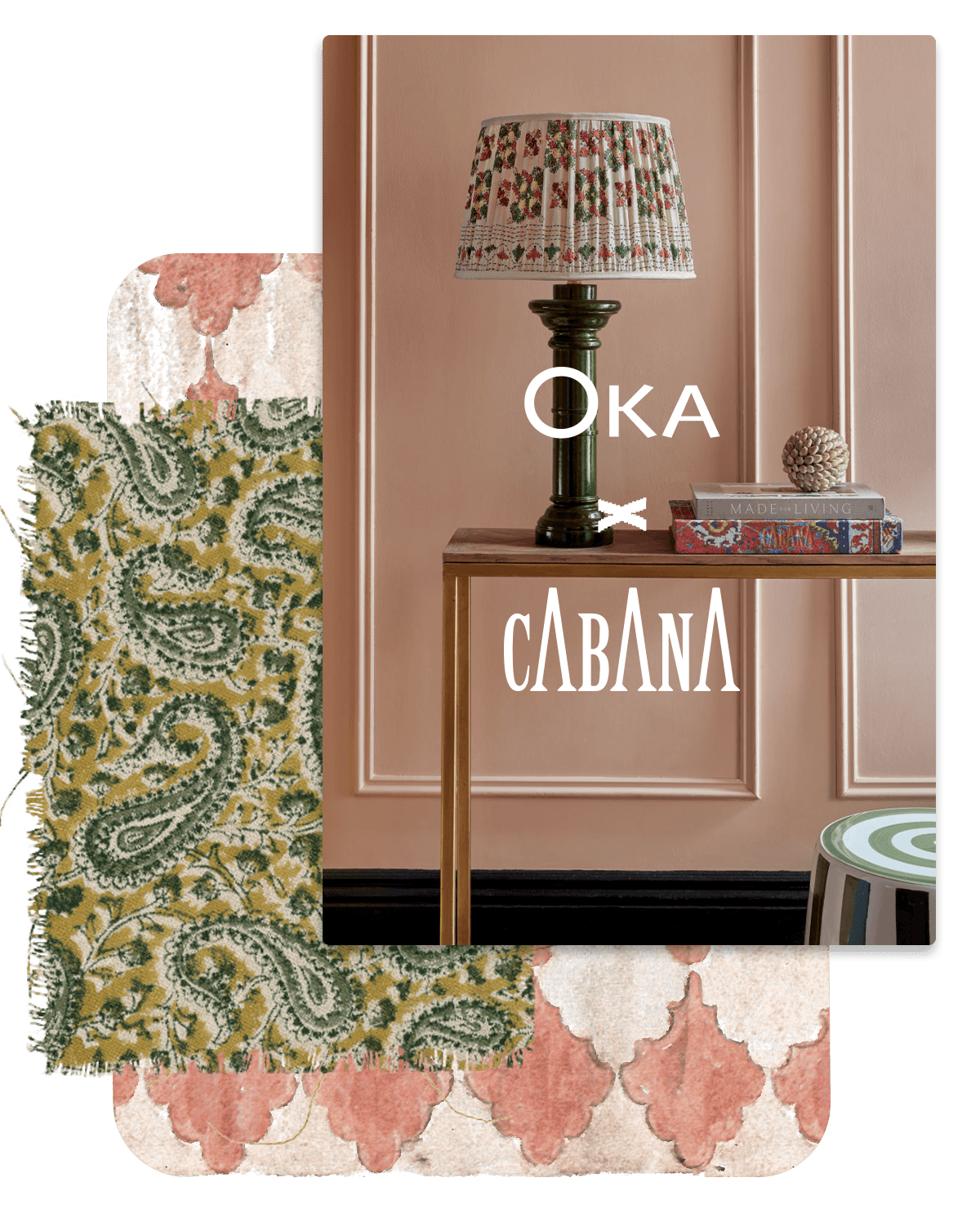 OKA X Cabana
In a meeting of minds, Cabana Magazine Founder and Editor-in-Chief Martina Mondadori and our Co-Founder and Creative Director Sue Jones have created a collection that unites their shared passions for colour, pattern and travel. Calling on OKA and Cabana's maximalist aesthetics, the selection of lamps and shades has been designed to be mixed and matched, with a cohesive colour palette woven throughout.
The collection comprises a handcrafted wooden lamp base and three styles of lampshade in a choice of prints and colours. The designs are made by OKA artisans in London and India in a display of global craftsmanship. Each piece showcases artisanal skill and prowess, from intricate embroidered detailing to hand-turned wood and block-printed patterns.
THE COLLECTION
Ambi Shade
Available in: Paprika/Moss| Raspberry/Moss | Ochre/Dune Green
The Ambi Lampshade was inspired by a traditional paisley design, which dates back to the Persian Empire and has been influenced over centuries by India, Scotland and England. The swirling pattern has been hand block printed onto natural linen and finished with a contrasting lining and trim.
• Handmade in Jaipur
Arabesque Shade
Available in: Paprika/Moss | Blue/Red
The Arabesque was born from an antique fabric Sue found in a market in India, which was then reimagined with Moroccan influences by Martina. A true display of expert craftsmanship, this elegant design is hand embroidered onto tussar silk using a herringbone stich inspired by traditional phulkari embroidery. Each piece is crafted by as many as four artisans in an intricate process that takes up to 12 days to complete.
• Hand-embroidered tussar silk
Veneto Shade
Available in: Vicolo| Cosima| Collato
The Veneto printed card shades are an ode to Italy, with three patterns – Vicolo, Cosima and Collato – inspired by Venetian wall frescoes and the subtle colours of Renaissance powder pigments. Handmade in north London, they blend Italian design with British craftsmanship. The Cosima is finished with a dainty scalloped edge.
• Handmade in London
• Inspired by Venetian frescoes
Pilastro Table Lamp
Available in: Blue | Burgundy | Ochre | Olive
Inspired by an antique table lamp owned by Martina's late mother, the Pilastro completes the collection. Each base is crafted from hand-turned wood, before being hand painted with multiple coats to achieve the depth of tone and antique patina that made the original so special. Four colours have been carefully chosen to complement each OKA X Cabana lampshade.
• Hand-turned wood