They say necessity is the mother of invention, and that certainly rings true for one of our signature designs. When our Co-Founder Lady Annabel Astor couldn't find the perfect dining chair for her country house, she picked up a sketch pad and started designing one herself. With a passion for hosting at home, Annabel was eager to create a seat that was slim enough for plenty of people to gather around a table, comfortable enough to use for hours on end, and, of course, timeless enough to be enjoyed for many generations to come. The result was the Stafford, one of our most popular designs, which has evolved over time to encompass an entire collection of beautiful dining chairs, counter stools, benches and swivel chairs that seamlessly blend function with form.
"When I entertain, my guests' comfort is as important as the food and wine," Annabel says. "A dining chair should not only be incredibly stylish, but comfortable enough so that one can enjoy food and conversation, without wanting to rush through it to leave the table."
The design of the Stafford chair was carefully considered, with Annabel adding a back pull for easy use and a brass studded border for an extra slice of style. "The back of the chair is often overlooked, but it should be well designed," she explains. Available in a selection of fabric options, from rich velvets to tactile linens, in a rainbow of colors, the design is finished with sturdy-yet-sleek oak legs, completing a timeless silhouette that will endure in both style and substance.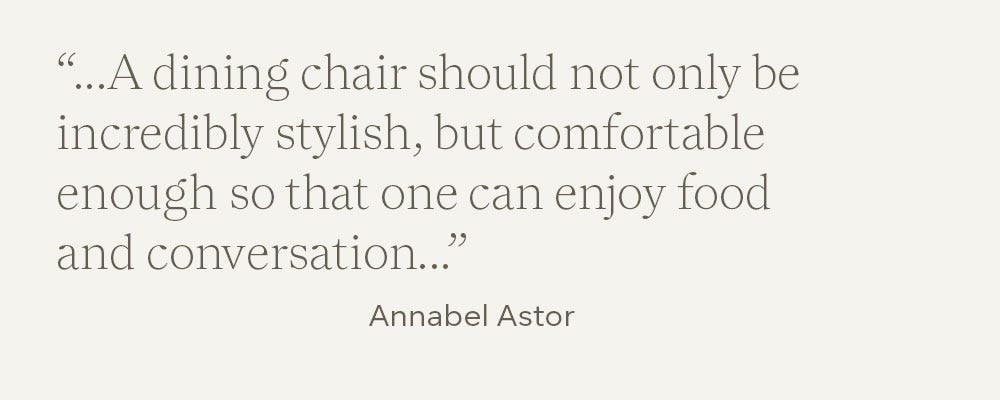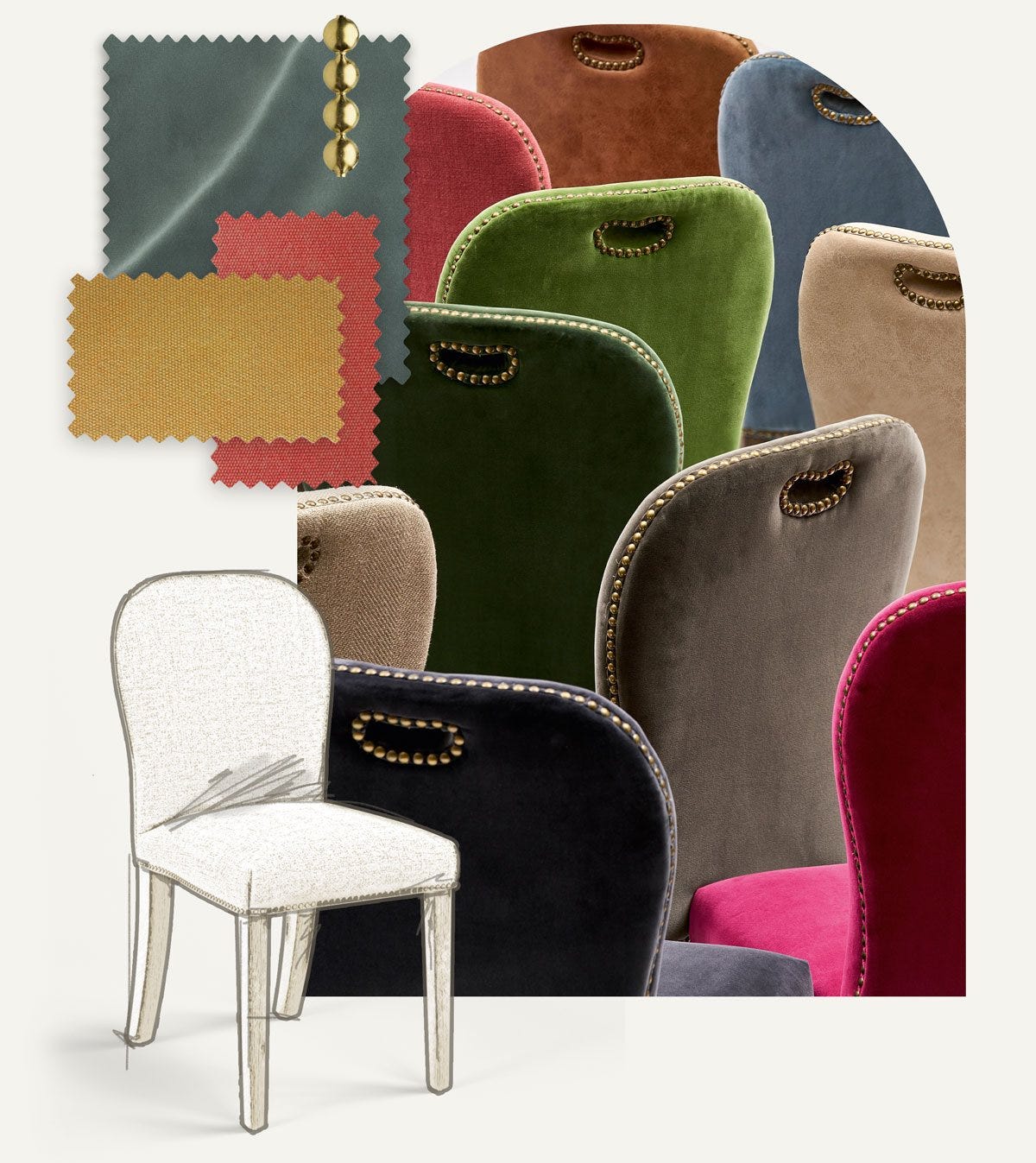 Since its launch, the Stafford has become a signature feature in our collection of OKA dining chairs, and continues to prove popular among our community. But you needn't just take our word for it—the Stafford Dining Chair reviews speak for themselves. Take Sarah Vanrenen, friend of OKA and founder of the eponymous British interior design studio, who loves the color and charm her Stafford Dining Chairs bring to her home. "Annabel gave me eight of them in Moss Green Velvet for my wedding present," she says, "and they look wonderful in my dining room in London." It's little wonder they were voted "Best Velvet Dining Chair" by HouseandGarden.co.uk, with editors noting that the style would "look fantastic around a round dining table or in a formal room."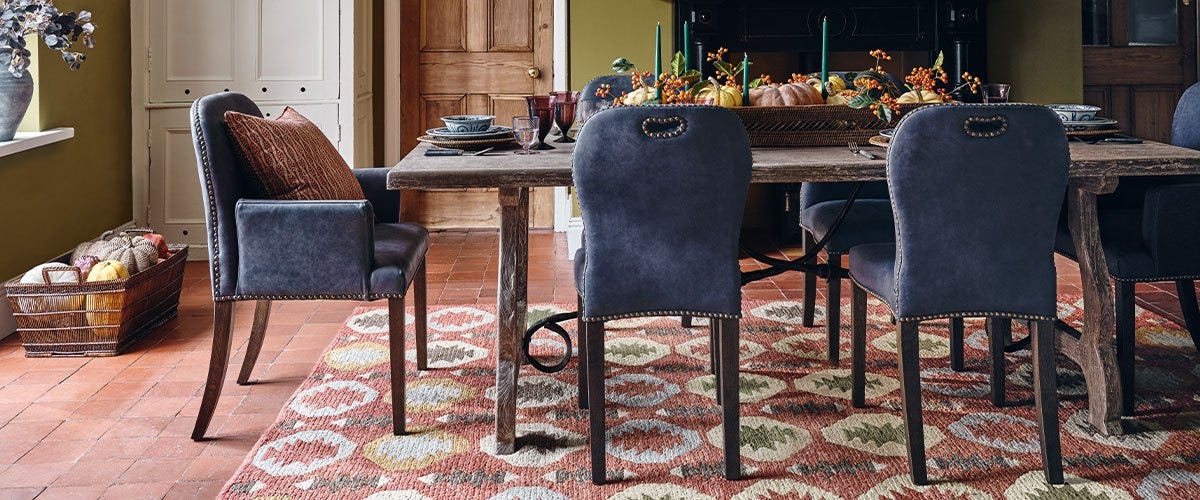 Likewise, British interior designer Emma Farquharson has used several different Staffords in her projects, selecting the design for its slim silhouette, comfortable seat and interesting design features. "I wanted to have a fully upholstered chair because I personally think if you're sitting at a table you want your guests to stay for quite a while, so you want to be comfortable, and those are extremely comfortable chairs," the designer explains. "Because they don't have arms, they don't take up too much room so you can get a sensible number of chairs around the table."
With the dining chair having been so well received, the natural next step was to expand the collection to encompass further seating options. We've since introduced a counter stool, which was voted "Best Luxe Bar Stool" by British online newspaper The Independent, who said "if you're looking for classic design and ultimate comfort, OKA's Stafford stool should be on your list." We've also created a dining bench that can seat up to four people, as well as a dining chair with arms. The latter is a particular favorite of Benjamin Johnston's, founder and creative director of the award-winning and internationally published design firm Benjamin Johnston Design. "The Stafford immediately caught my eye," he says. "Cushioned seats with ample support invite you to relax comfortably from the first course to dessert."
Not just for the dining space, the Stafford fits seamlessly into home offices and dressing rooms alike, so it made sense to expand the offering accordingly. For our Fall Collection, we've unveiled the Stafford Swivel Chair, so you can enjoy true comfort while perched at your desk. With the inviting silhouette of the Stafford Dining Chair with Arms, upholstered in a supple Hazelnut Brown leather and complete with a 360° swiveling base, it brings a new meaning to smart style.
A multi-talented piece, it's the Stafford's adaptability that has made it so popular. From simple sketch to much-loved collection, the style may have evolved far beyond Annabel's original design, but, with every iteration, its unique qualities have remained the same: stylish, timeless and versatile to boot.