For those not gifted with the specialist skills required of a specific craft, turning raw materials into a finished product can sometimes seem an impossible task. How, for example, does one transform simple thread and cotton into a dress worthy of a red carpet? How do charcoal and canvas turn into a masterpiece, or wood and fabric become a treasured piece of furniture? As an interior design company, it's the latter in particular that we find joy in, a process that requires many levels of expertise. For our custom-made furniture collection, Tailored by OKA, we wanted to find the best talents in this field, seeking furniture makers who could realize our vision for a design-led collection of custom sofas, armchairs and footstools, handmade here in the US.
Enter Chaddock: founded 65 years ago by Guy Chaddock, the company produces made-to-order furniture from its Morganton workshop. Ninety percent of its creations start and end here, with more than 200 talented craftspeople working to bring their customers' designs to life. Furniture made in North Carolina is held in particularly high esteem thanks to the state's long-standing connection with the craft, so it's little wonder that many of the team at Chaddock are third- and fourth-generation makers, who showcase artisanal skills that have been honed over decades.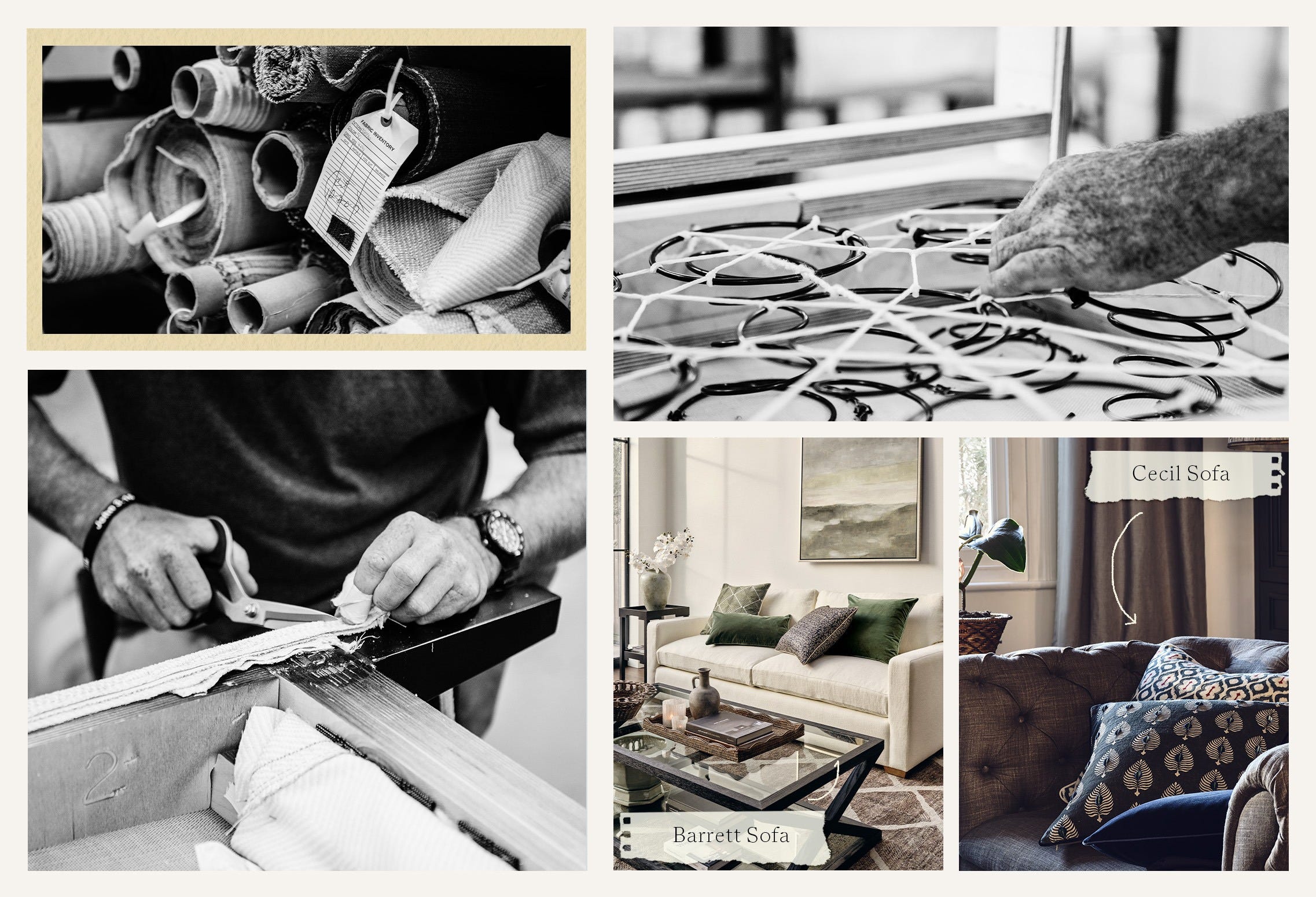 The fruits of their labor can be seen in Tailored by OKA, our custom collection that allows you to design your own furniture. The selection of sofa, armchair and footstool shapes offers a combination of classic and contemporary styles, from the boxy silhouette of the Barrett to the button-backed Cecil, our take on traditional Chesterfield furniture.
So, just how is a sofa made? For the Chaddock team, it's a two-part story, beginning with the couch construction. The process starts with birch wood certified by the Forest Stewardship Council, an international non-profit organization that promotes responsible forest management. This is kiln-dried to reduce the moisture content and thus create a more stable structure. Expert joinery is what underpins all high-quality furniture, so this process is administered with care and skill to produce a solid silhouette that will endure over time. Generous padding enhances the sofa frame, while the seats are crafted from Italian webbing and a generous foam core topped with Dacron-wrapped fiber filling for extra comfort.
Chapter two in the sofa-making story focuses on the aesthetics, which is where you come in. The beauty of custom-made couches is that they can be tailored to suit your style, and each of our Tailored by OKA designs is available in a wide range of custom upholstery options. Take your pick from wools, velvets, linens, leathers and luxury blends, which are offered in a variety of colors, from a neutral oyster hue to a rich charcoal. If you need help narrowing down your decision, you can order up to five complimentary swatches. Once your armchair, footstool or couch frame has been made, Chaddock's team takes your fabric and color of choice and upholsters your selected design with expert precision and care.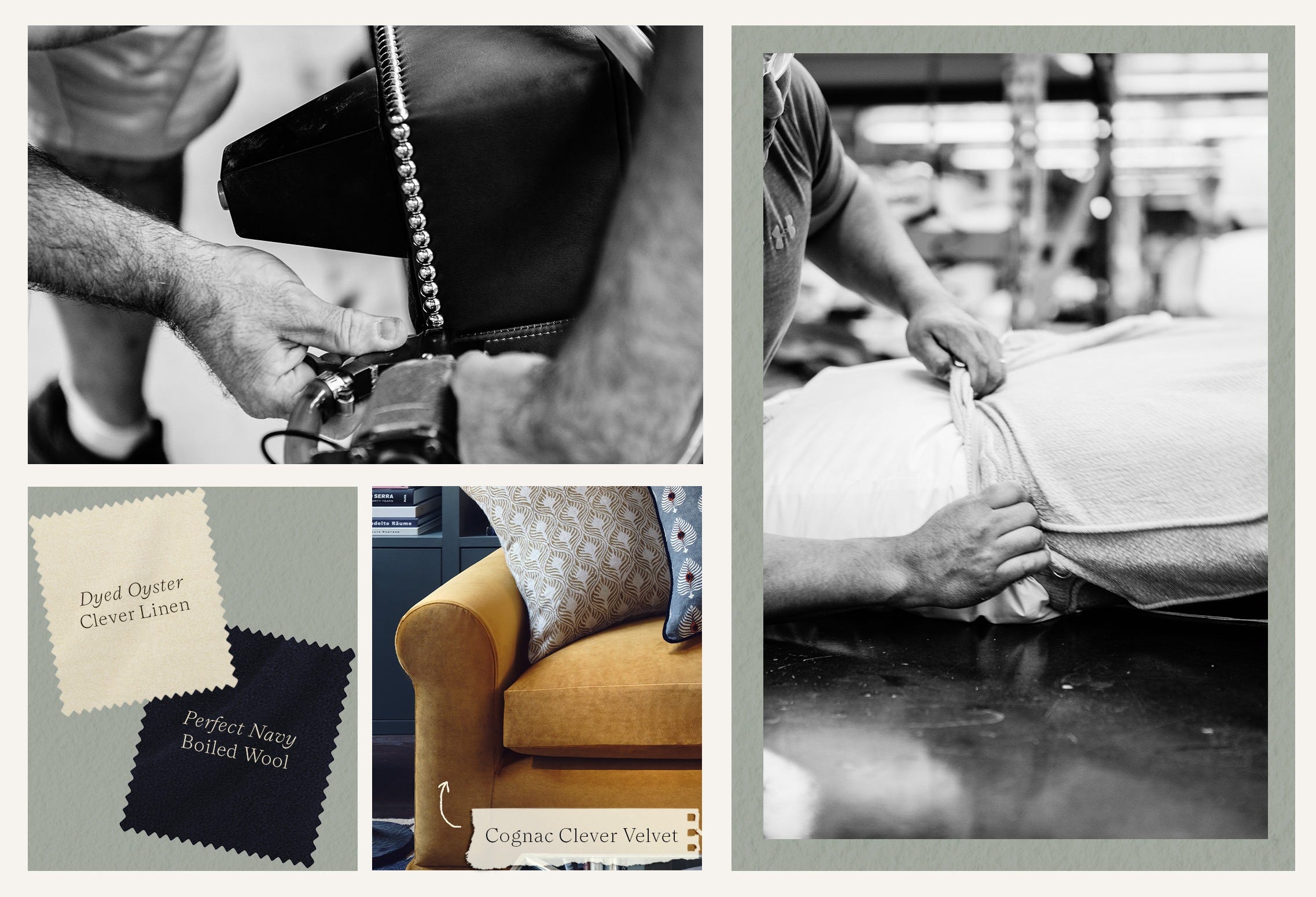 Whether it's an armchair for one or a sofa for the whole family you have in mind, you're bound to find the perfect fit with Tailored. Visit us in-store to test drive the collection, or jump right in with our online tool. Once your order has been confirmed, our makers will get to work—you can simply sit back, relax and know that your dream design is in expertly safe hands.