We love designing new collections, bringing our ideas to life from initial sketch to finished product, and sharing our latest pieces with you, but nothing brings us more joy than seeing our designs thriving in their new homes. It's inspiring to see how a customer has decorated one of our patterned chairs with a vintage pillow, or paired one of our lamps and shades in a way we'd never imagined. We created the hashtag #MyOKAHome for this very reason, affording us a peek at our favorite pieces in real homes across the world. To offer you a little interior inspiration, we caught up with three friends of OKA who are living in very different settings to explore how they have brought their unique style to their homes. Read on to discover their design stories, plus a few pearls of wisdom on where to start when decorating your own home.
A Victorian Townhouse in North East England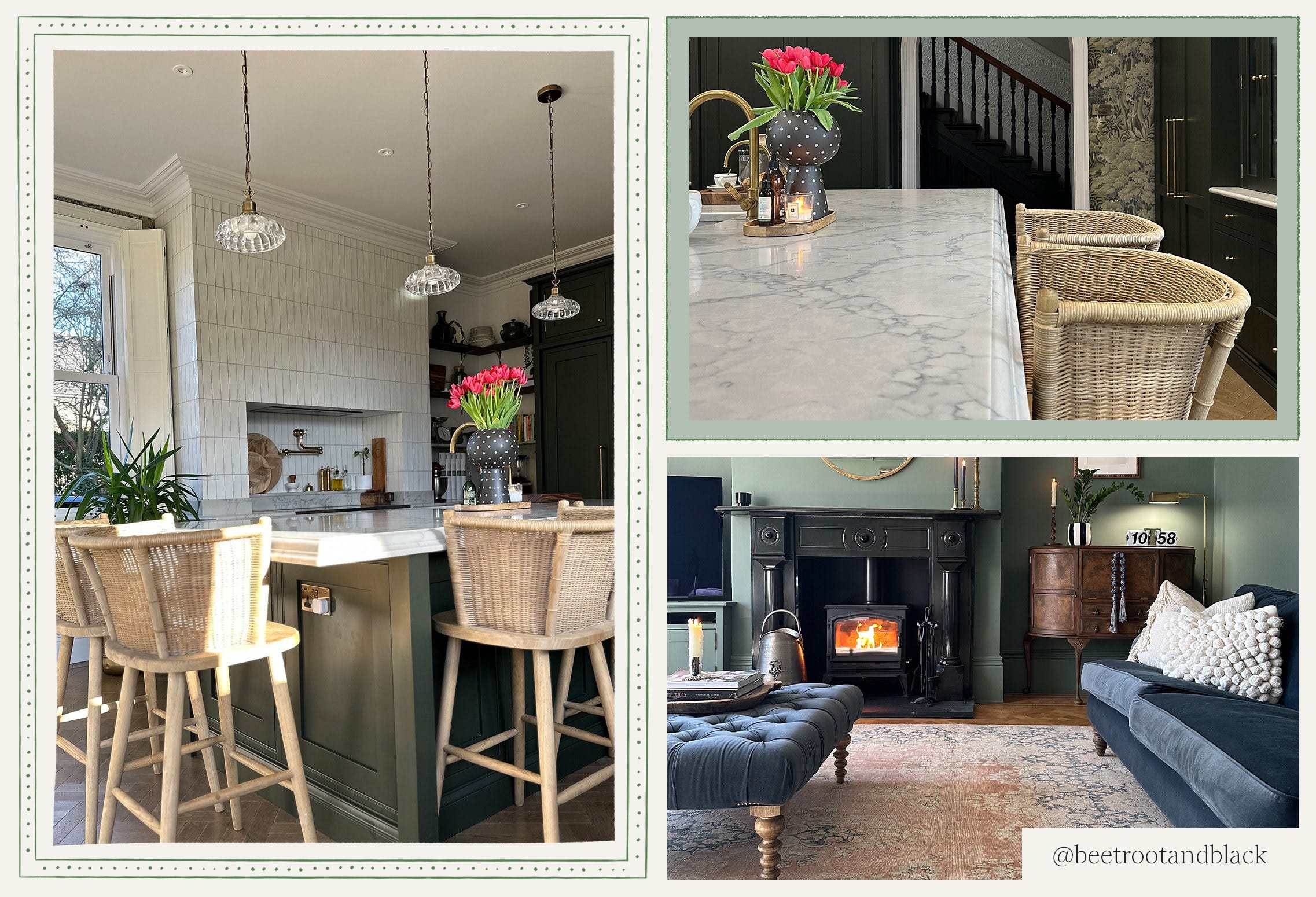 We fell for the verdant walls of this period property, which has been expertly renovated by owner Rachael and documented on her Instagram account, @beetrootandblack. Dating back to 1896, the building benefits from high ceilings, large rooms and original parquet flooring and coving, providing the perfect base for Rachael's vision of a classic townhouse with a modern twist. "I would describe my style as traditional but edgy," she explains. "I like to keep the overall look traditional and do the period property justice, but I like to add interest with bold colors on the walls and décor that stands out and draws your eye when you walk into the room." Concerned that the large space might feel bare, she introduced lots of texture alongside the deep paint shades; the result is a cozy and inviting aesthetic.
Her favorite room in the house, the kitchen, is the perfect example of this. The olive-green cabinets and gold hardware provide a warm and welcoming effect, while botanical wallpaper, a striped sofa and our very own Taino Bar Stools add a triple dose of character. "I feel like it's the heart of the house," Rachael says of the space. "Everyone gathers there for food, work and play. The Taino Bar Stools sit around our kitchen island, which is quite sleek and traditional in style, with a double-beveled edge, so I felt it needed something slightly more rustic to balance it out."
Having confidence in her style is what has helped Rachael create her dream home, and she encourages others to have the same gumption when looking for home décor ideas for their own spaces. "Never follow trends, always stick to colors you love and never be afraid to try out a new look," she advises. "Most of my favorite rooms are the ones I took a risk on."
To discover more of Rachael's world, follow her on Instagram @beetrootandblack
A Contemporary Apartment in New York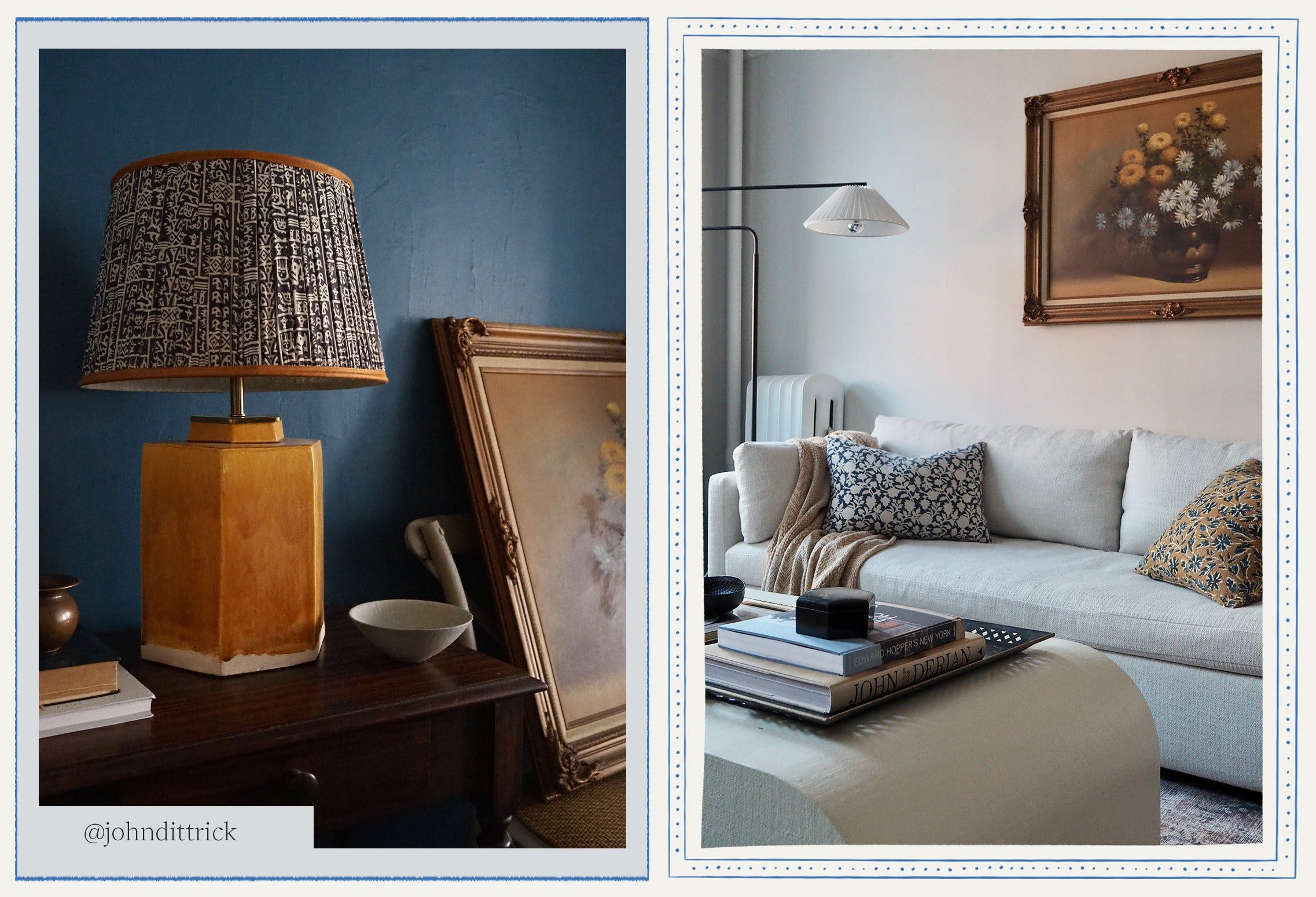 When interiors stylist John moved into his "first "grown-up apartment" in Brooklyn, New York, he wanted it to be "a place where I can feel comfortable and guests feel welcome." "After years bouncing around different cities with different roommates, I am happy to be building my own home in earnest and investing in my space," he says. "I wanted a home that would honor both my past and where I came from as well as where I am in the present—that would be a reflection of who I am and that will continue to evolve as I do."
A background in acting has given John a "love of people and their relationships with their surroundings and belongings," and it's this that informs the storytelling both behind his work and within the design of his own home, which he shares with the world via his Instagram account @johndittrick. While the stylist finds himself drawn to a French Provincial aesthetic, and admits he likes "a home with a point of view," in his own space he prefers to stray from design rules, contrasting the classic and contemporary to create a home that feels "eclectic and lived in."
"My style is all about balance," he says. "I try to balance old with new, comfort with elegance, and find just the right mix of shapes and textures." He often begins with a neutral palette and layers in bold gestures of pattern and color, citing yellows and blues as his personal favorites. A case in point is his ochre-colored Miyanoura Lamp, which he deftly paired with another of our designs, the Indigo Grassetto Symbols Lampshade. "My dining area is painted a deep blue, and I wanted to accentuate that while bringing in the yellow accent that appears elsewhere in my home," he explains. "I have a couple of other pleated lampshades from OKA that I love for how they add sophistication and texture to the space."
For budding decorators, he has a simple piece of advice: get cozy. "Add lots of lamps and blankets," he says. "Beyond that, simply go for what makes you happy and strive to love every piece you own."
To discover more of John's world, follow him on Instagram @johndittrick
Two Period Properties in the Cotswolds and Dorset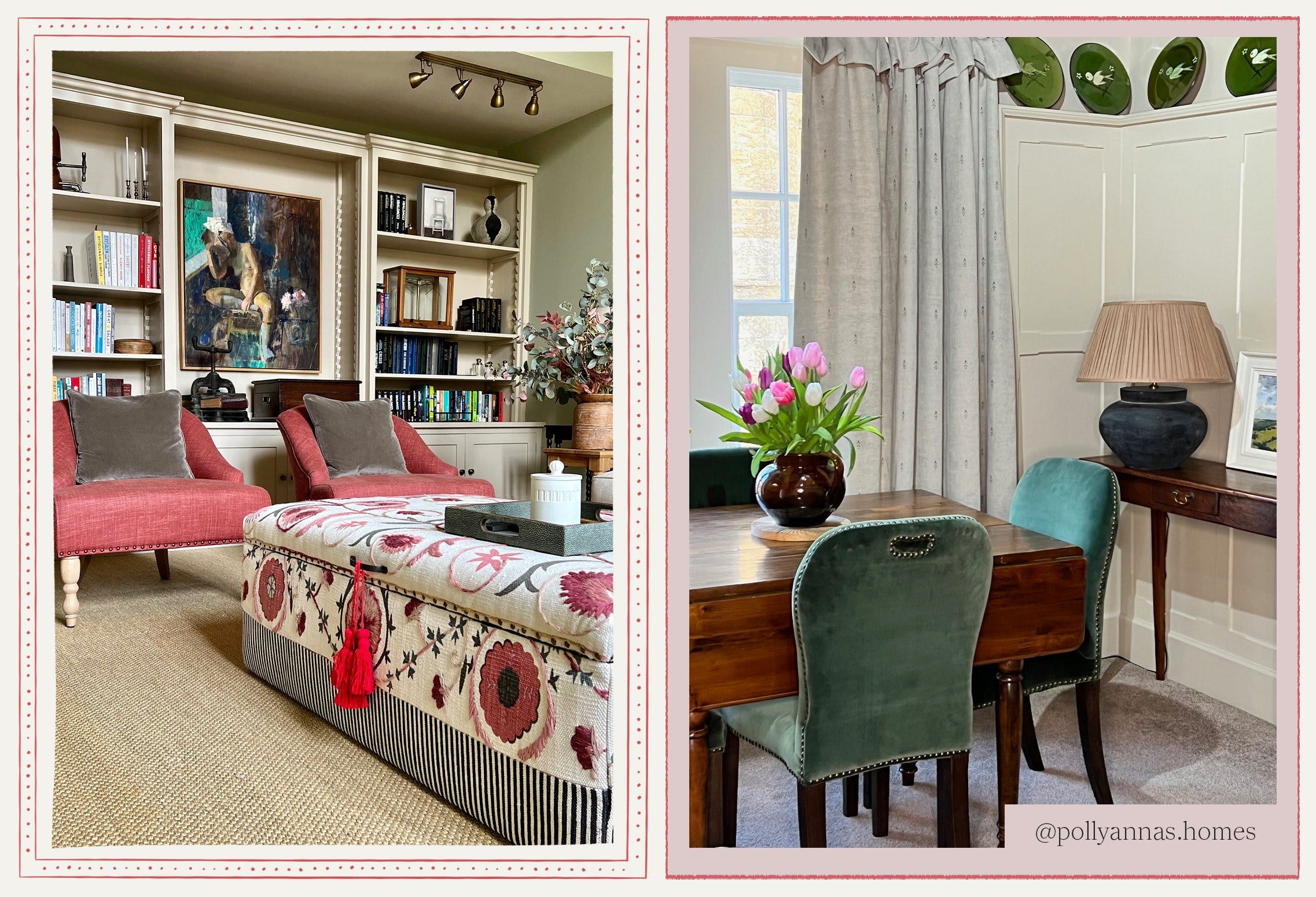 The opportunity to give a historical property a new lease on life is an interior design lover's dream, which is why we've been following the renovations of these two period homes with fervor. Owner Pollyanna, who shares updates on her Instagram account @pollyannas.homes, has had the joy of putting her stamp on a former schoolhouse that dates back to 1855, as well as refreshing a Grade I listed cottage on the Dorset coast, that dates back to 1500. For both, she sought to bring her own brand of coziness to the space.
"The Old School House was a very harsh-looking, blue-brick solid property and I set about softening it with roses, and inside warmer colors and textiles to make it a home," she says. "When we purchased Pilgrims Cottage, it was all about embracing the coziness and letting the features shine. It had patterned tiles, tartan carpet and green paneling, so it was important to calm the look down and let the amazing beams and fireplace take center stage."
In both her homes, she has designed thoughtfully to accentuate the period elements, adding in playful accents with a mix of antique and new furniture pieces and putting comfort at the heart of each space. She cites her favorite OKA designs as "the star of the rooms"—look out for our Sheki Upholstered Ottoman in the Cotswolds sitting room, bringing "that pop of uniqueness I adore" as well as our Stafford Dining Chairs in Dorset, adding "the touch of understated luxury the cottage needed." "OKA brings the quality and uniqueness I crave in a home," Pollyanna says. "Its carefully curated, unique pieces don't follow trends but stand alone, whether you want a huge statement or just a quality item to complement your home."
Indeed, it's this vision of personal style that Pollyanna champions throughout her properties and one she encourages those embarking on similar projects to take in stride. "My advice to others is to only buy what you love," she says. "Be influenced and guided by others, but not bullied into trends and fads, and invest in quality pieces that will stand the test of time."
To discover more of Pollyanna's world, follow her on Instagram @pollyannas.homes