No one goes quite as all-in on Christmas as the Brits. With festive activities such as light displays, Christmas markets, pantomime shows and mince pie-eating kicking into high gear in November, the lead-up to the holiday makes for a truly magical time in Britain. When it comes to the day itself, you'll probably recognize many aspects of the festivities—quite a few American Christmas traditions likely filtered down through older British ones (and possibly vice versa)—but trust us, there are plenty of uniquely British institutions to discover. Some of them are so charming you'll want to incorporate them into your own celebration, while others may prove a bit mysterious (Christmas pudding, we're looking at you). Here, OKA insiders share their family's takes on a quintessentially British Christmas, from "the night before" to the food coma at the end of the day. Whether you take or leave these traditions, we hope your Christmas will be very merry indeed.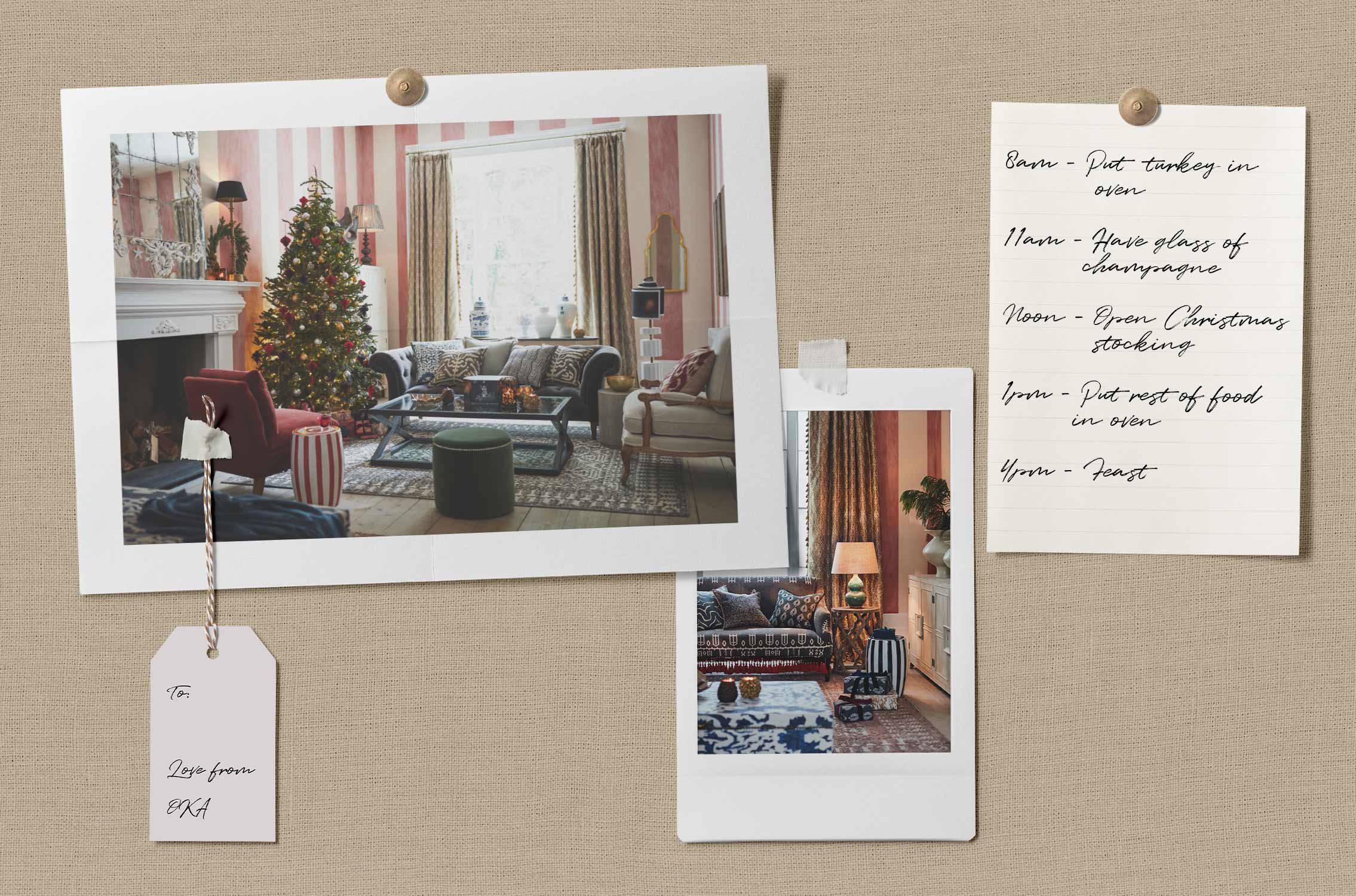 Christmas Eve
The festivities begin with the anticipation of Santa Claus' overnight arrival—except here, he goes by the name of Father Christmas. Now is the time to hang up stockings. "If there are lots of adults," says OKA Co-Founder and Creative Director Sue Jones, "each person is responsible for filling someone else's stocking." True to form, Sue makes sure to include the dogs—"They get stockings with their names on them, filled with treats and furry toys. I hang them up the night before and the dogs definitely know they're there." Popular stocking stuffers for humans include clementines, seasonal Quality Street candies, Terry's Chocolate Orange (which is exactly what it sounds like), chocolate coins and other small gifts.
While some families attend midnight mass, many get a head start on presents by allowing children to choose one in the evening. Others are already preparing for the next day's meal and reckoning with "classic" equipment—Global Head of Customer and Marketing Charlotte Nicholson says "I remember Daddy getting up in the middle of the night to put the turkey in. I never understood why he did this—apparently we had an old AGA oven for which you couldn't change the temperature setting." Belinda White's family is equally strategic. Our Creative Brand Director reveals that "Everyone gifts someone else a new set of pajamas. We put them on straightaway and wear them until Christmas morning." Importantly, she adds, "They tend to go back on again at the earliest possible opportunity on Christmas Day—after 20 roast potatoes, the elastic waistband is king."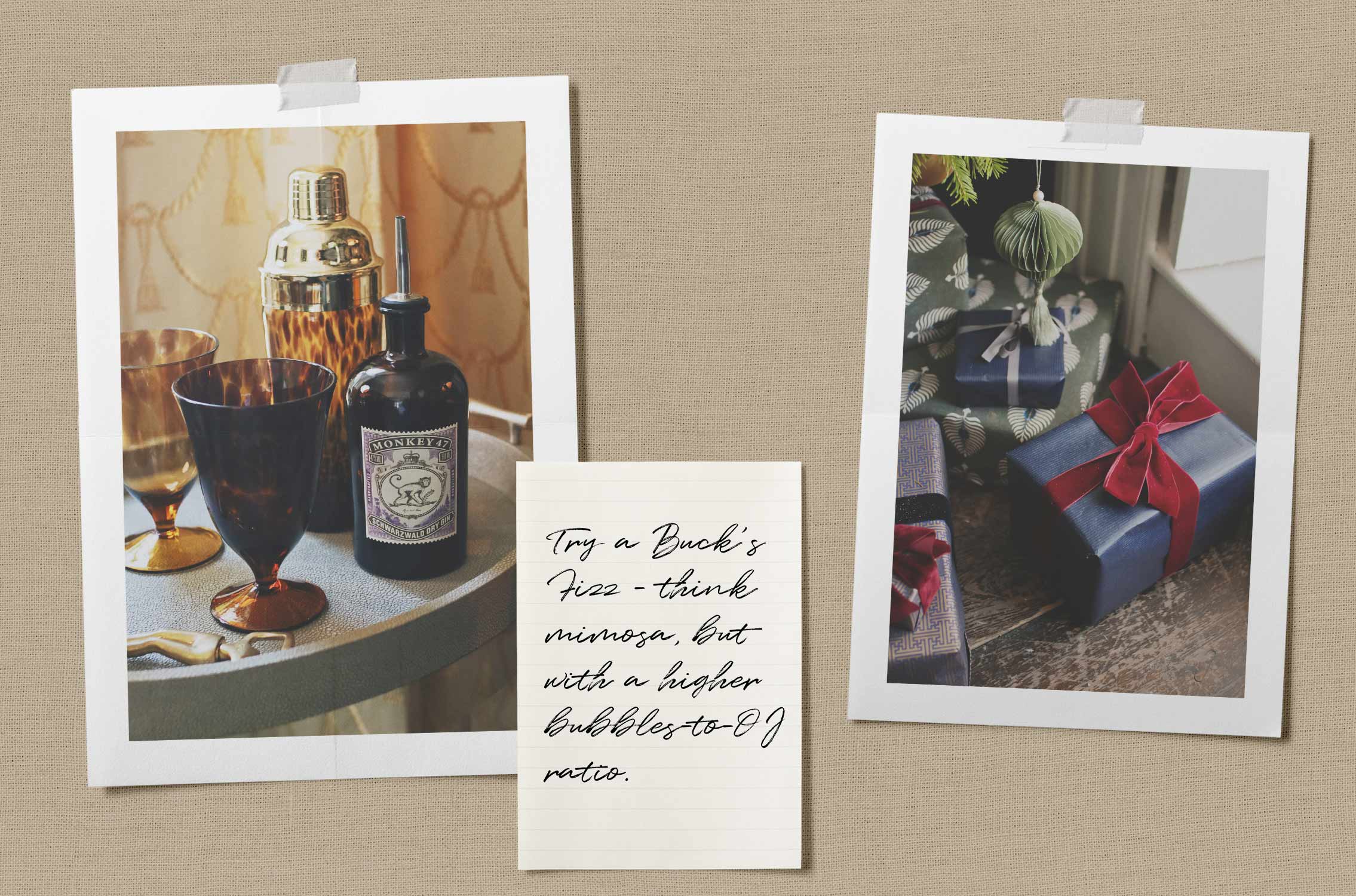 Christmas Morning
It's time to fortify yourself for a day of strenuous celebrating. "For breakfast it's smoked salmon and scrambled eggs or a full English," says White. The choice likely depends on what time of day a family will be eating Christmas lunch, which is typically served between 2:00 and 4:00pm. With a longer gap between breakfast and the big meal, a full English, which consists of two to three sausages, back bacon, eggs, seared tomatoes, mushrooms, fried bread and baked beans, more than does the job. It is often accompanied by a Buck's Fizz—think mimosa, but with a higher bubbles-to-OJ ratio. "Like most social occasions in Britain," quips White, "Christmas Day is centered around drink." While merriment ensues, says Sue, "It's always a game to make the children wait as long as possible to open presents." Some families might go for a walk, "preferably to a pub" adds White.
Afternoon
Around 1:00pm, those who have been patient open presents. "It's a cliché," says Sue, "but I much prefer giving presents to getting them, so for me, lunch at 2:30 is the real focus of the day." Sue is the cook on this occasion, and she makes sure to prepare whatever she can beforehand. "No one wants to spend the whole day working away in the kitchen," she says. While some family members get dressed up in their Sunday best before the meal, others are pitching in—when Nicholson was growing up, "Daddy made two types of stuffing every year, and Granddad peeled the sprouts, which took all day." In many households the telly will be on in the background, waiting for the Queen's annual Christmas Message at 3:00pm.
When revelers sit down to lunch, they'll each find a Christmas cracker at their place. These cardboard tubes wrapped in colorful paper contain jokes, party favors or paper crowns to wear throughout the meal. When the ends are pulled, the favors pop out with a loud crack—hence the name. Beautiful crackers can be bought ready-made, but Sue enjoys making her own. "For the girls last year, I found these enormous, cheap 'diamond' rings, and had watches for the men. It was fun for everyone to have a bit of bling."
Like breakfast, a British Christmas lunch is no small feat—often included in the meal are roast turkey with chestnut stuffing, pigs in blankets, (here the blankets are bacon rather than pastry dough), the aforementioned brussels sprouts, roast potatoes and parsnips, and according to White, "vats of gravy are a must." Accompanying the meal you might find cranberry sauce or red currant jelly, as well as an impressive array of beverages including red wine, sherry and more champagne. If all this seems a bit familiar, don't worry, we've come to dessert—traditionally it's Christmas pudding, a boiled, aged fruitcake with a sixpence hidden inside for good luck. It's doused in brandy and set aflame before dramatically making its appearance at the table, though in Nicholson's experience, "… it would always go out before it arrived."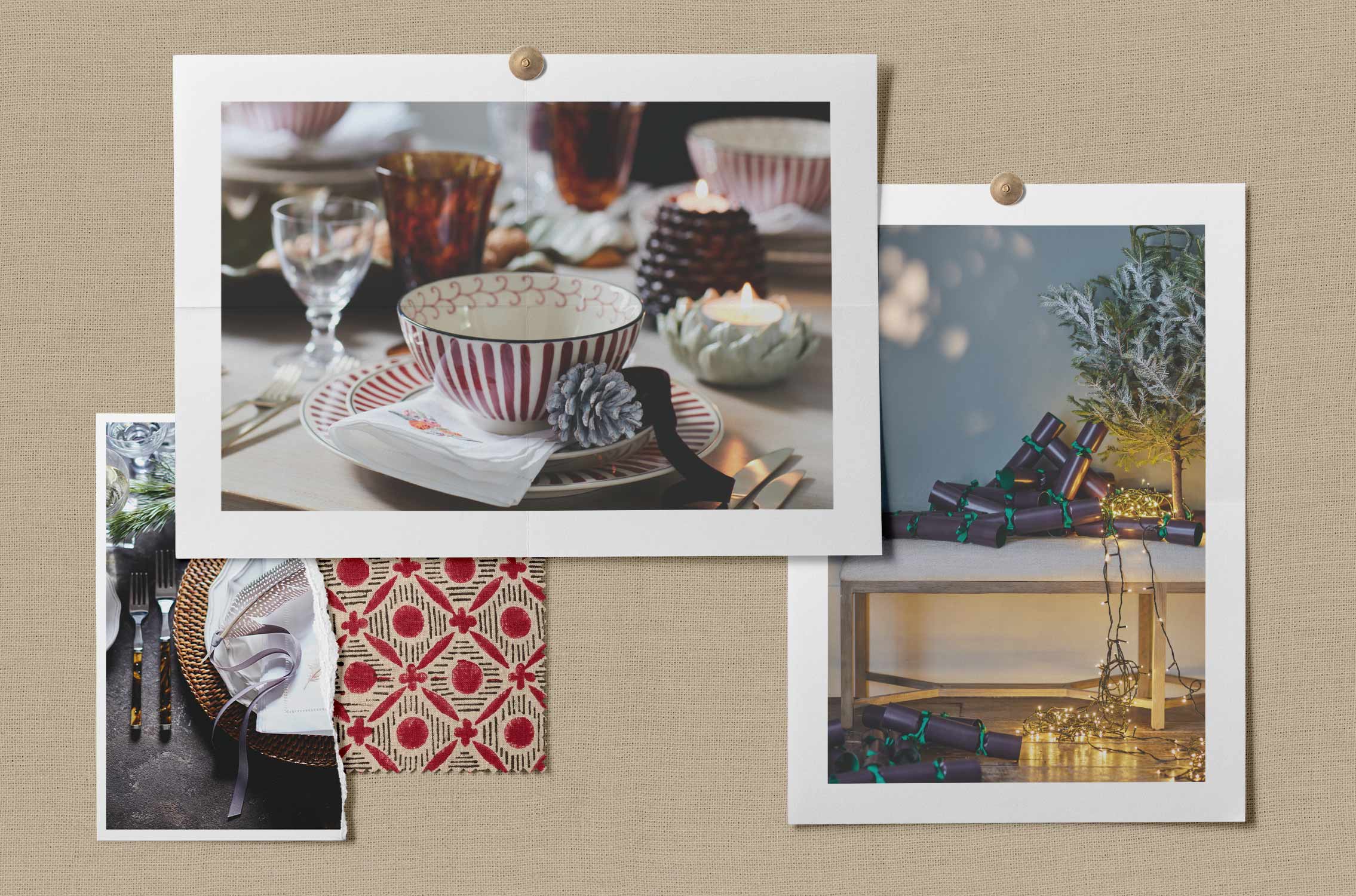 Evening
After sunset, strains of beloved Christmas songs might be heard throughout the house. While many American classics come from 1950s crooners or '90s pop stars, British favorites tend towards the 1970s and '80s, like Wizzard's 'I Wish It Could Be Christmas Everyday' or Wham!'s 'Last Christmas.' In Sue's family, "the hardcore will watch a film. We're never organized enough to go out for drinks with other people." Others might play boardgames or charades or take an overstimulated dog out for fresh air and a stroll. A few hours in and stomachs beginning to grumble, it's time for Christmas "tea." "We always have a treat in the evening," says Sue. "Caviar or fois gras—though not too much." In White's family, you might encounter a ham roasted in Coca Cola ("à la Nigella Lawson"), cheesy crackers, chutneys and pickles, sandwiches made with leftovers from lunch, and a brandy-soaked fruitcake covered in marzipan and icing. You might also find a ubiquitous mince pie or two still about, waiting to be noshed. In her words, "cue the food coma."
Now that you know the ins and outs of how the Brits do Christmas Day, discover their perspective on throwing a festive party in our new film, featuring Downton Abbey actress Laura Haddock. View the film here.