BP2 Interior Design is a full-service boutique interior design firm and collaboration between partners Barbara Page-Glatt and Bimla Picot, with offices in Southampton and New York City. Friends for over 20 years, they fuse their talents and decades of design experience to create high-end residential interiors which are known for being elegant yet liveable spaces, gracing picturesque locales from the Hamptons to Palm Beach.
The pair made the perfect partners for OKA in the triumphant 2021 Hampton Designer Showhouse, which benefitted the Stony Brook Southampton Hospital and opened for tours from September 19th through October 31st. BP2's contribution, the showhouse's study, offers a glimpse into what we value in our homes-cum-workspaces now more than ever—an intersection of comfort, function and personality.
Here, Page-Glatt offers her expert insights into this year's showhouse, discussing her design influences, challenges faced and how the past year and a half has changed what we expect from our homes.
What are your style takeaways from the Hampton Designer Showhouse this year?
Texture. Particularly in wallcoverings. I've used a woven jute paper to outline three walls of the study, which adds a beautiful tactile layer. In other areas of the showhouse, you'll see walls adorned in what appears to be marquetry but is actually wallpaper made of extremely thin and pliable wood veneer. Color is also everywhere this year, creating a very happy house, which lifts your mood considering how much time we are spending indoors these days.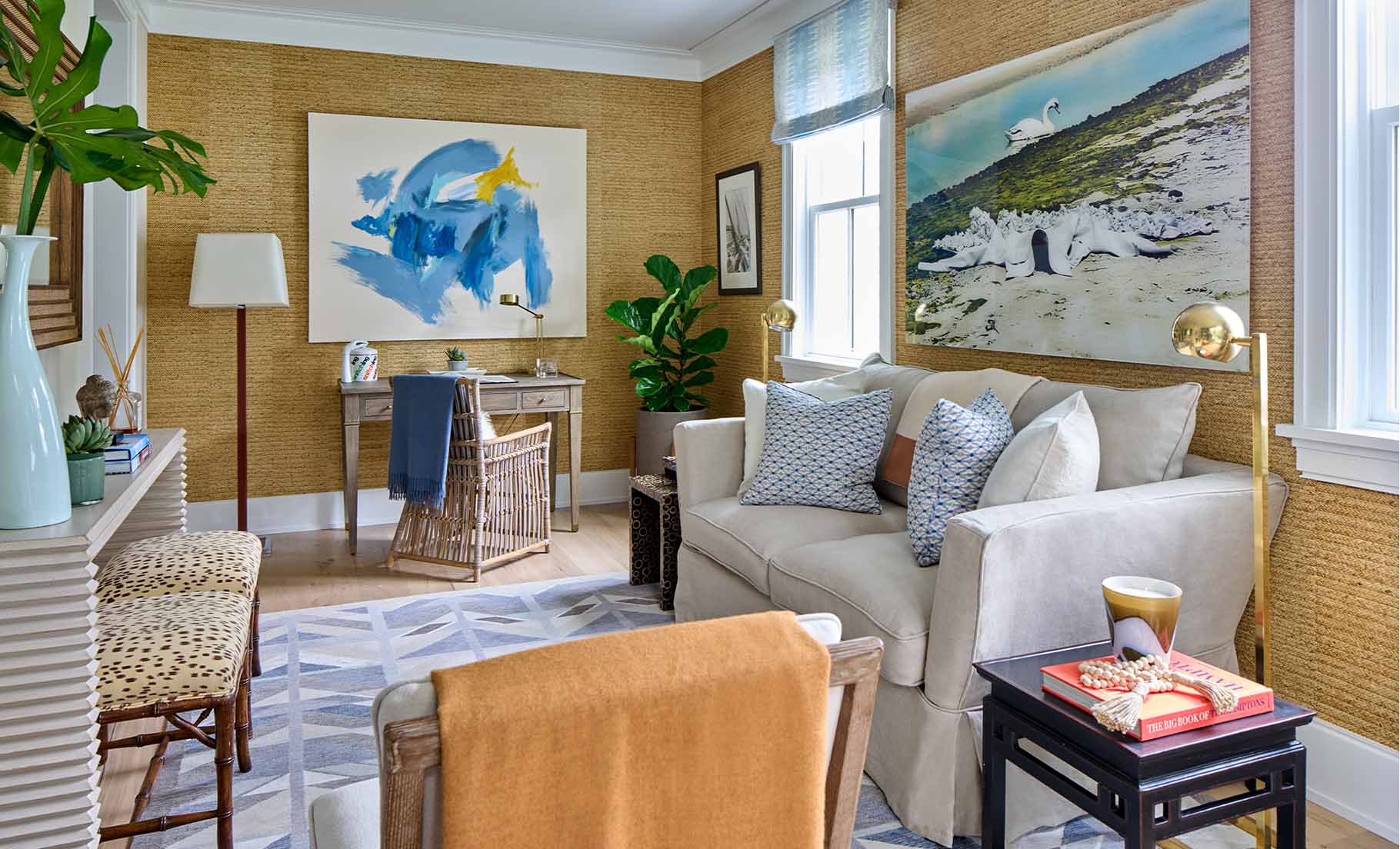 Tell us a bit about the study you've created.
Working from home has become a necessity for so many of us, and the study is the new must-have room in every home. We wanted to create a functional and beautiful version where you could take a business meeting but also unwind at the end of the workday. The age of teleconferencing is here to stay and it's essential to have a work area that is both attractive and functional. I'm sure when we're on Zoom we're all interested to see what other people have going on in the background… so, we created a room that will take you from the workday to the evening in style.
Which OKA piece in the room is your favorite and why?
When I saw the Dalu Faux Shagreen Sideboard I knew immediately I wanted to use it—it's the perfect size, and it's a very elegant piece that everyone is drawn to. I love the richness of the faux shagreen outlined in brass accents, and it works perfectly as a bar. It's the ideal place to make a drink after a long day at work in the other areas of the study. And everyone loves the Maplehurst Desk—the pull-outs would make it a great, multifunctional piece for a New York apartment, too.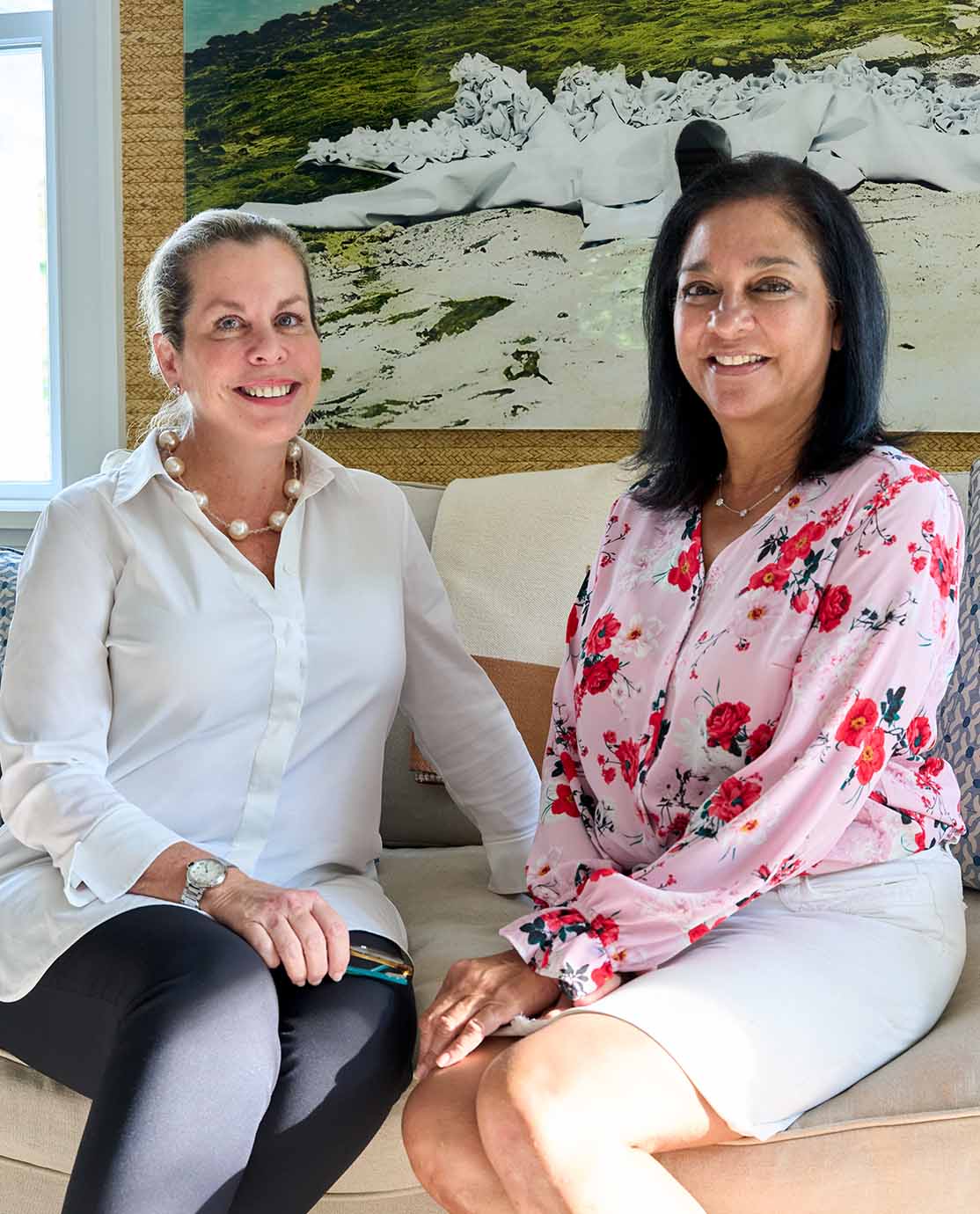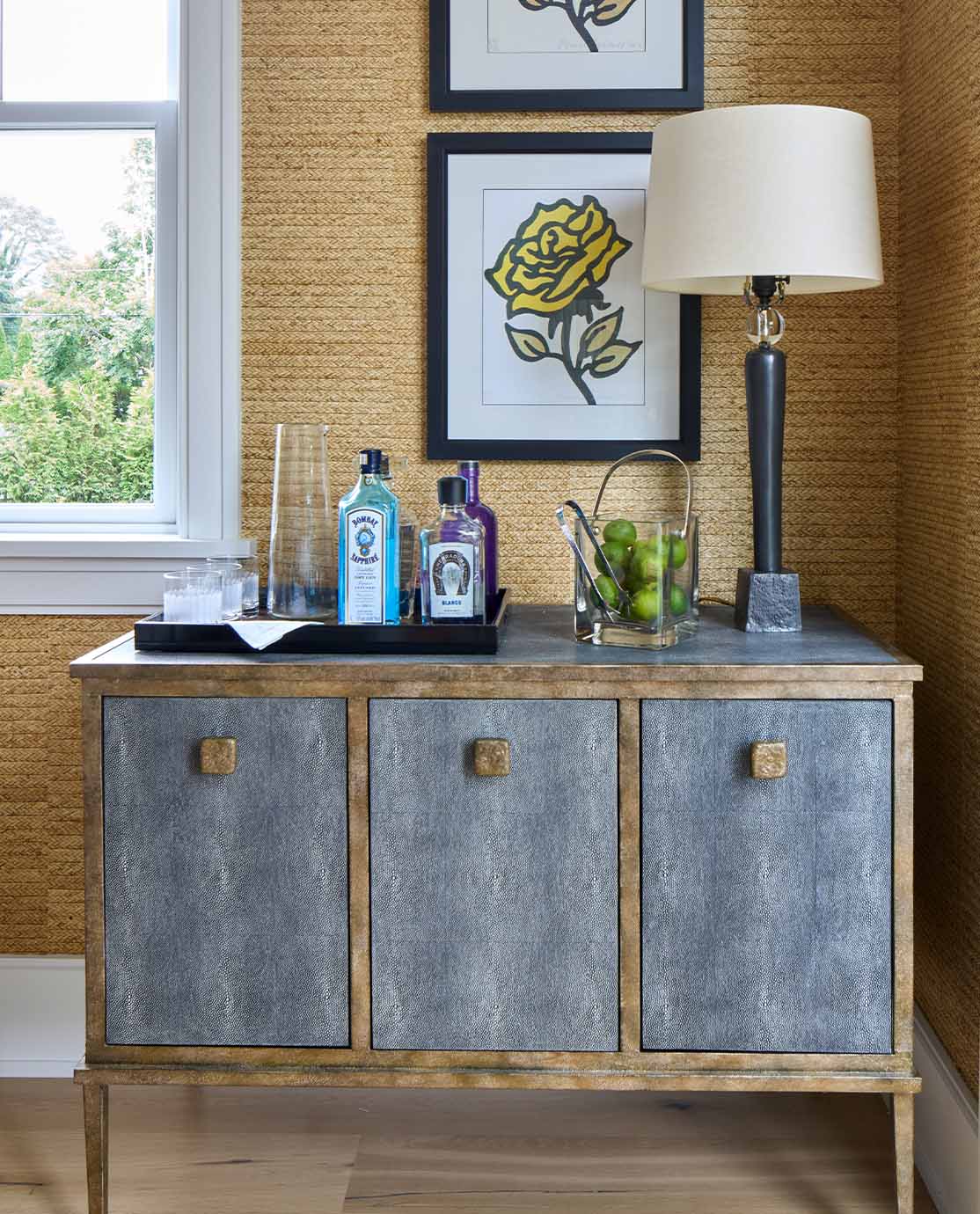 What does every home need? Have you incorporated it into the study?
Every home needs a pet, and for me that's a dog—or two! The rattan Mattaban Dog Bed in the corner of the room is the perfect resting spot for your pooch and a great addition to the space. What's better than seeing someone's dog lounge about in the background when you're on a Zoom call? I also feel that art is an absolute necessity for your home. Hang something that you love and that speaks to you. It really does bring in personality and joy.
How did you conceptualize the room?
I wanted it to have a unique sense of character, and of having evolved over time, reflecting a well-traveled and well-lived life. The faux shagreen sideboard and jute wallcovering were the two design elements I started with; they pair beautifully and start to create the depth and personality that makes the room unique. Next, I added the rug, which has a mid-century style and gives the room a more modern feeling. The space has a playful balance of masculine and feminine elements which give it a broad appeal, and the addition of modern art—local artist Joe Rudick's blue and yellow abstract painting and Tani Keller's photograph 'Arthur'—brings an eclectic energy.
Where do you find inspiration for your designs? How do your surroundings in New York City and the Hamptons influence you?
I love to travel and am always bringing home inspiration from my trips. Whether it's a vibrant tile from Morocco or a gentle blue found in Greece, these colors and textures find their way into my designs. I lived in New York for most of my life, where space is at a premium, so you really need to be thoughtful when designing for yourself and for your clients. There's also often not a lot of natural light available, so art is a way to brighten a room. In the Hamptons, we're surrounded by these beautiful sea glass tones in the water, and lush greens in the landscape—plus, the natural light has a special quality out here which you don't find anywhere else, so it's important to reflect that in my interiors.
How can we bring a bit of Hamptons style into our homes?
I would characterize today's Hamptons style as casually elegant. Distinguished by vaulted foyers, wood beams and paneled woodwork, these spaces favor hues in every shade of white and soft blue, paired with modern lighting and contemporary artwork. You can bring this look into your home with the introduction of a soft white and blue color palette, driftwood-stained wood floors and clean silhouettes for your furniture plan. We also love indoor/outdoor living in the Hamptons, where our interior great room might blend seamlessly with an outdoor living space—I like to be able to look out onto a little greenery.
What do you think OKA Westport (coming spring 2022) will bring to the local design community?
A breath of fresh air! OKA's stylish British vibe will bring a new perspective to the design scene—it has a wide appeal and gives design-lovers a lot of great options. The reception has been amazing here in the Hamptons too, with so many people connecting with the wonderful design and craftsmanship.
Intrigued? Take a look at BP2 Interiors' portfolio and discover more about the Hampton Designer Showhouse.