Since 1973, supporters of the Kips Bay Boys & Girls Club have brought together leading interior designers in a celebration of the best of the industry, known as the Kips Bay Decorator Show House. Each year, to raise funds for the local chapter of the well-known volunteer organization which provides after school enrichment programs to young people, a luxury Manhattan home is transformed room-by-room into an exhibition of fine art and furnishings. In the years since, the show house has become a must-experience event for designers and design enthusiasts the world over, inspiring the hottest trends and drawing tens of thousands of people each year. In 2017, the brand expanded to Palm Beach, where it continues to thrive; in fall 2020 it had its virtual debut in Dallas, Texas.
Now, the Dallas show house is back for in-person tours, occupying a neo-Georgian mansion in Old Preston Hollow (as well as a virtual tour) through October 24th. It features a dizzying array of spectacular spaces; one such is an Art Deco-style den, study and screened porch by A-list design impresario Ken Fulk, which proves more celestial than earthly, named "A Study in Optimism"; another is "The Wise and the Wicked," the home's upper loft conceived by Seattle and Dallas-based Pulp Design Studios, which showcases the dualistic nature of pandemic life (one side is a bright, inspiring home office, connected by a hidden doorway to the other, a dark and sumptuous "sinner's den"). All in all, 26 designers and firms have brought their creative energy and expertise.
Ahead of the opening of our Dallas store, we're honored to be counted among the sponsors of this year's show house. According to OKA Senior Vice President of Sales and Marketing Krista Stelling, this iteration displays a level of continuity between its separately designed spaces that didn't exist to the same degree in previous years. "Throughout the house, we're seeing trends that fit together, from bringing nature inside with organic ornamentation to building color and comfort." Read on for more insights into this year's trends, as well as glimpses of the incredible work produced by some of the talented designers involved.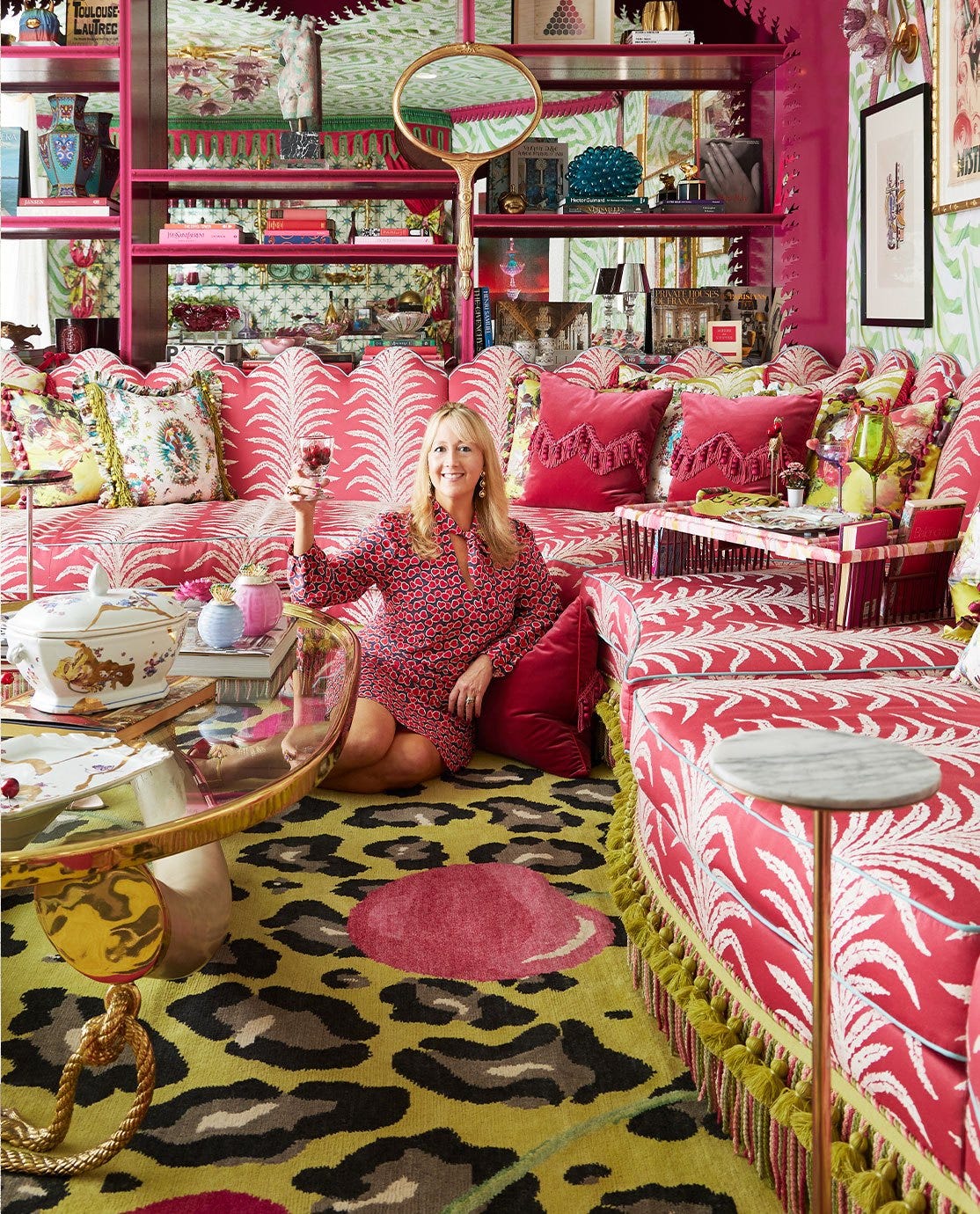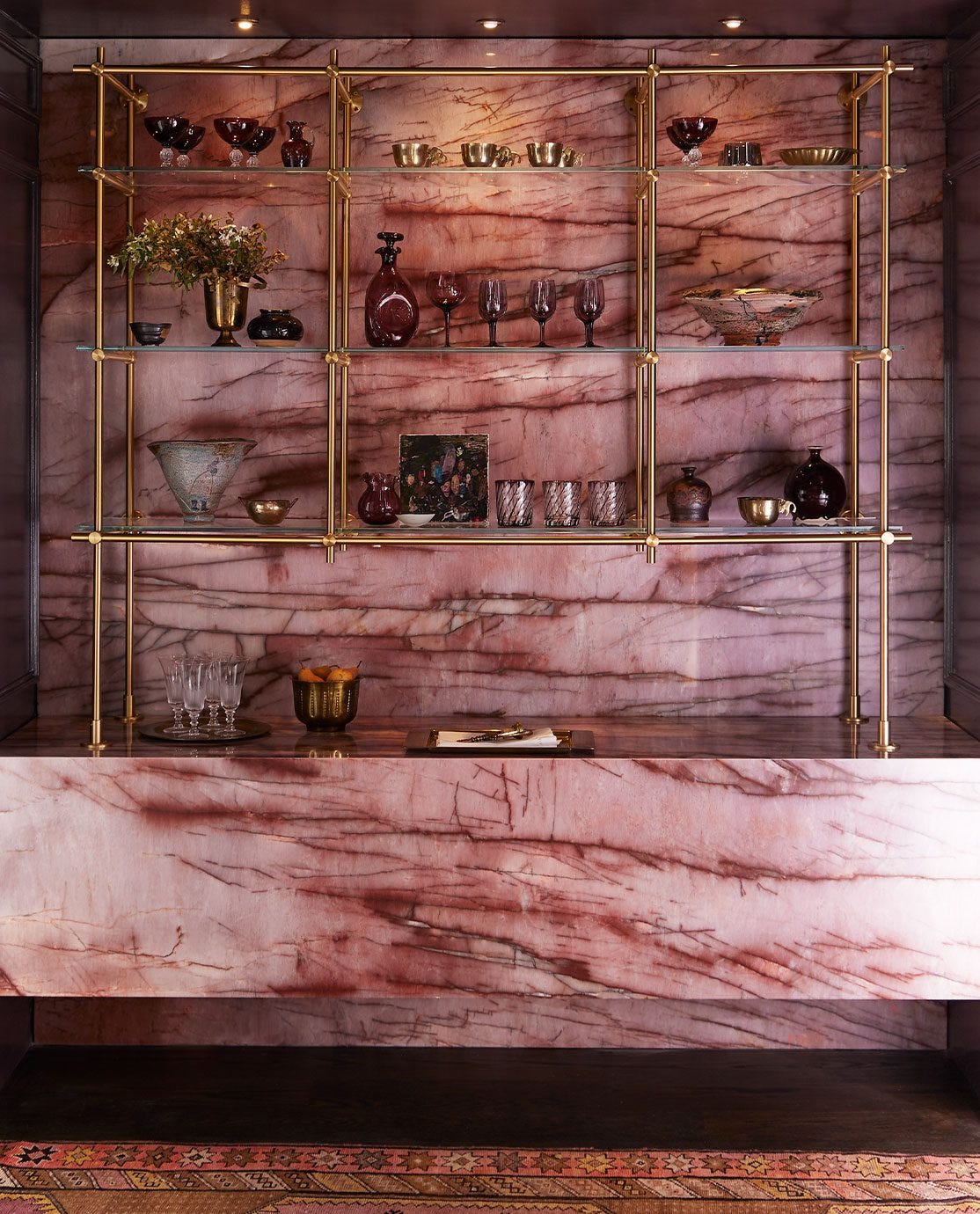 Maximal Color
Visitors to the house will notice a distinct burst of color, layer upon layer of pattern, and a no-holds-barred approach to the use of wall treatments, upholstery detail, decorative accessories, and artwork. Speculating that this is a reaction to daily life in recent years, Stelling says, "People are tired of beige—they want color right now, and the pandemic has created a situation where people want to be surrounded by things they love; to feel good at home." Nowhere is this more apparent than in Creative Tonic Design's "Moulin Rouge Media Lounge," a home theater inspired by a combination of the real Paris cabaret and Baz Luhrmann's 2001 film. The space is covered top to bottom with patterned wall treatments, lush drapery and passementerie frills, complete with a show-stopping champagne bar and oversized, fern-print-covered sectional sofa, where it's easy to imagine yourself reclining during an extravagant evening in.
In Alexa Hampton's "La Chambre Rouge," the home's primary bedroom, bold red makes a striking and rebellious appearance; for a slightly more pared-back approach to color that still makes an impression, look no further than the eggplant-hued wine cellar by Austin-based designer Liz MacPhail, titled "A Lounge of Her Own". In this basement space devoid of natural light, the designer says, "we decided to lean into the dark, moody cavern feel and used highly reflective surfaces, high gloss paint, vintage mirrors, brass and glass to bounce light and play into the drama." The layers of color work together to soothe anyone who steps into the space.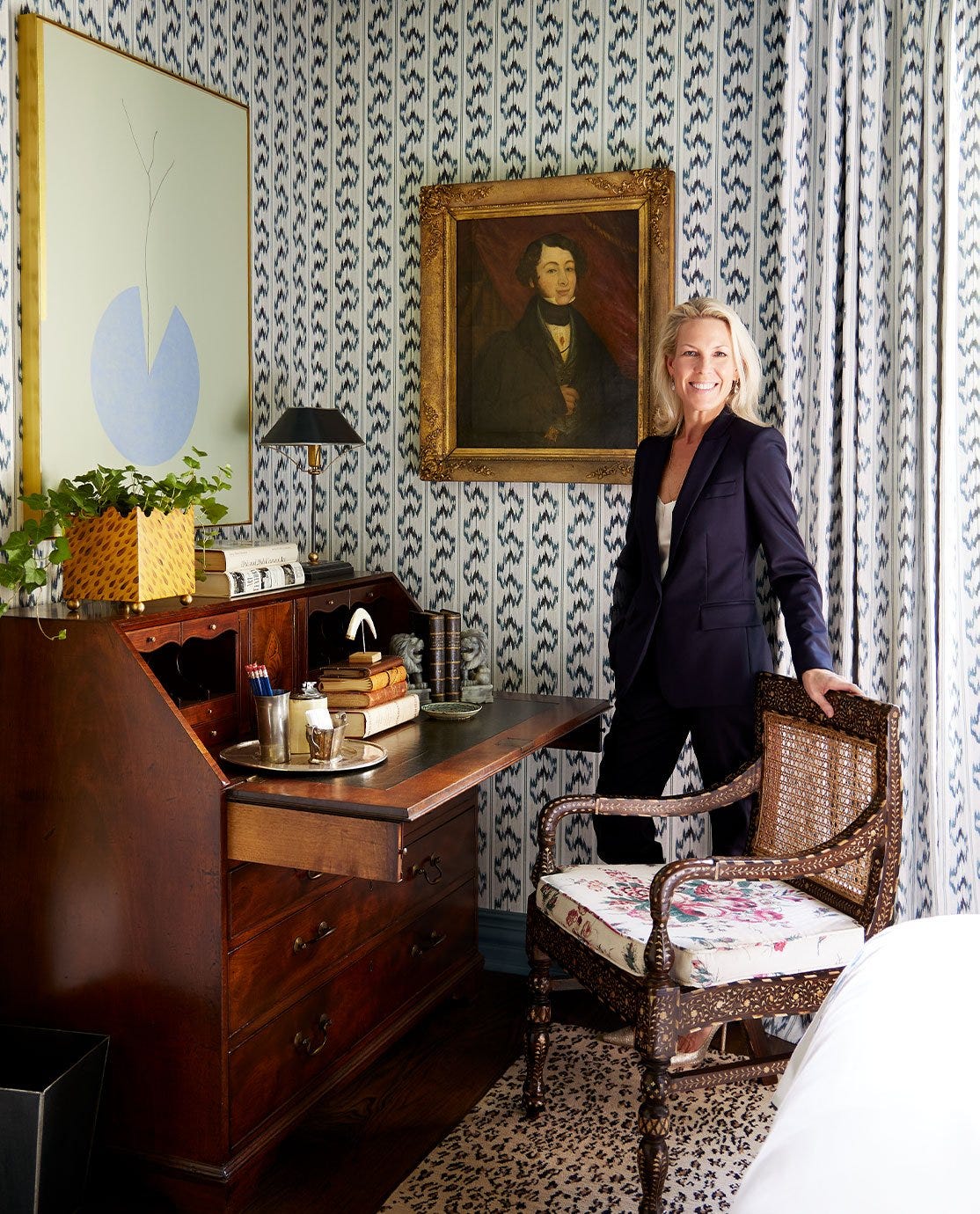 Layers of History
The house is full of layers of incredible finishes and storytelling. Gone are austere, minimalist vignettes with only a stem in a vase for adornment—these spaces all gracefully embrace depth. "The Admiral's Chamber," a secondary bedroom suite by Dallas-based designer Meredith Ellis, seamlessly blends heritage antiques with contemporary touches for a distinctly 18th-century American effect; the fresh blues and greens Ellis chose were inspired by a family trip to Mount Vernon. According to Stelling, what's most appealing about the suite is "… the combination of abstract pattern and antiques, and her amazing ability to layer pattern for an incredibly classic look." Describing the bathroom, she says, "She's created a whole fantasy—when you stand in that space you really feel like you're standing on the seashore, and you've gone back in time."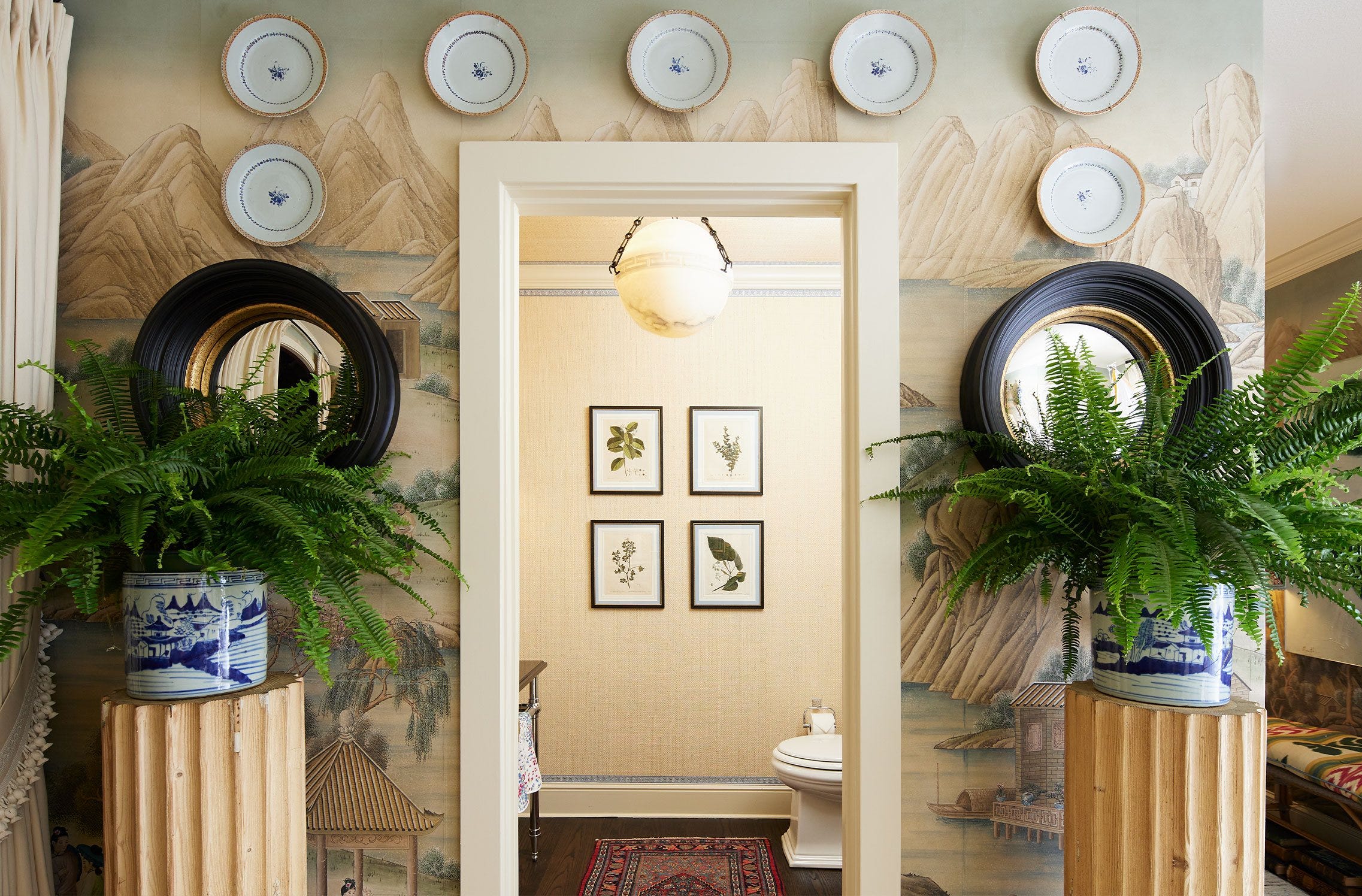 Caroline Gidiere's basement hallway and powder room, "Le Chemin au Jonchet," was inspired by Hubert de Givenchy and Philippe Venet's French country house, "and the casual luxury and elegance that defined Givenchy's homes." It indulges in historical shapes and color combinations, notably the blue and white of Chinese export porcelain, which is reflected not only in the ceramics but also in ancient scenes on the walls. Her choices also travel beyond ancient China: "I used two round mirrors as perfect comple¬ments to antique carved Doric columns flanking the entrance to the powder bath. The mirrors are significant without being precious, modern with a distinctly antique vibe."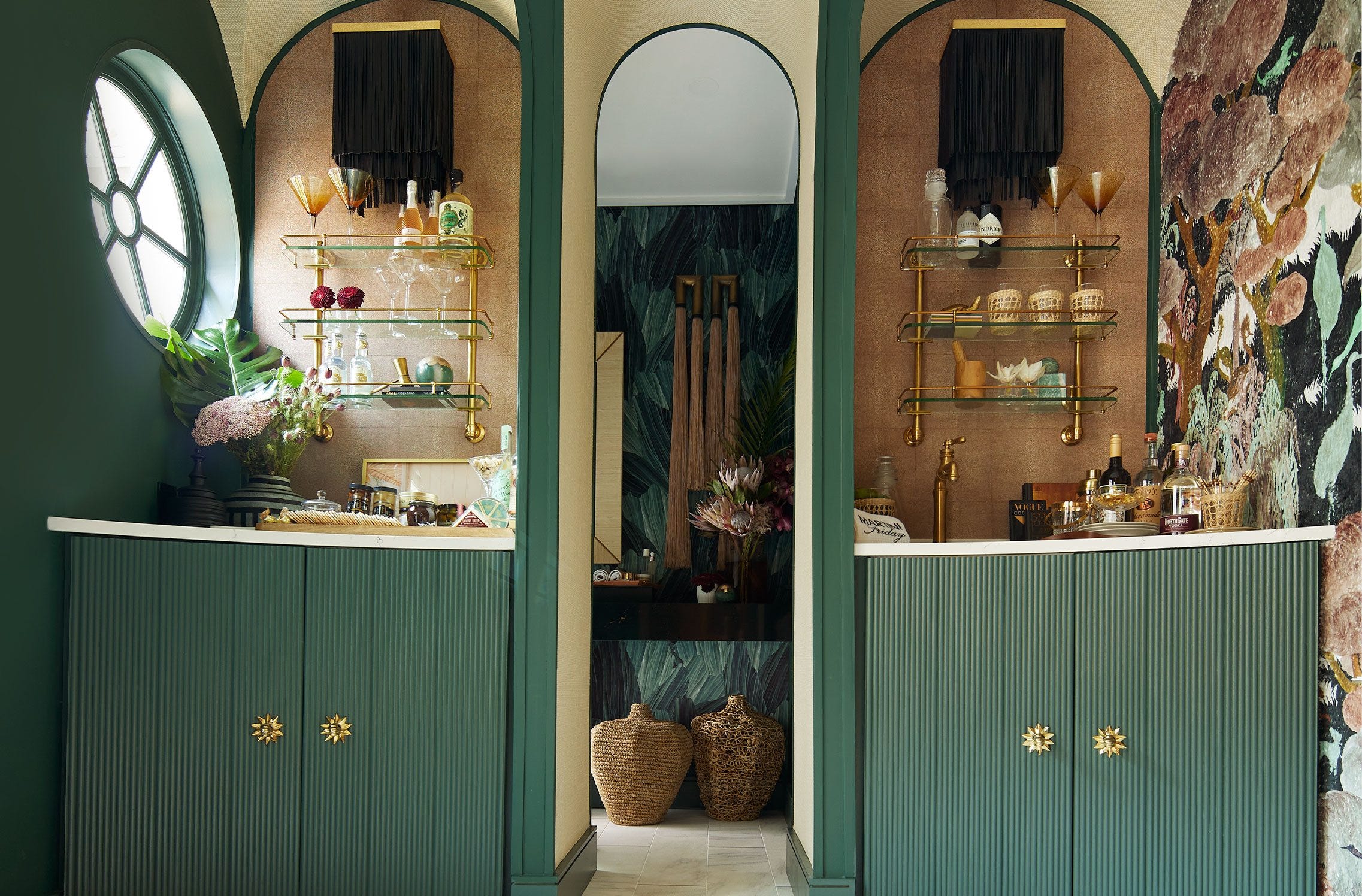 Outside In
In another possible nod to our quarantine-fueled longings, the house is noticeably filled with reminders of the natural world. As Stelling puts it, "Everywhere there are florals and butterflies used in joyful ways, in hand-painted wall treatments that give you this sense of wanting to just sit contentedly in each room." Upon first entering the home through a hall designed by John Bobbitt, one of the first marvels to be encountered is an 18x18 foot floating floral chandelier by Larry Whiteley. But this tendency doesn't stop at flowers—in Pulp Design Studio's "The Wise and the Wicked," you can't help but be taken in by the serpents which curl captivatingly around sconces on stunning wallcoverings by Fromental, but there are also furniture and accents made from organic materials such as seagrass, jute and rattan placed in room after room (see Traci Connell's "Martini Muse," pictured above). Finally, it's impossible to ignore the pervasive use of cheetah and leopard prints—"Leopard was everywhere. Everybody had it, and everybody wanted it," muses Stelling, noting that animal prints even made their way onto the dresses of stylish preview party attendees.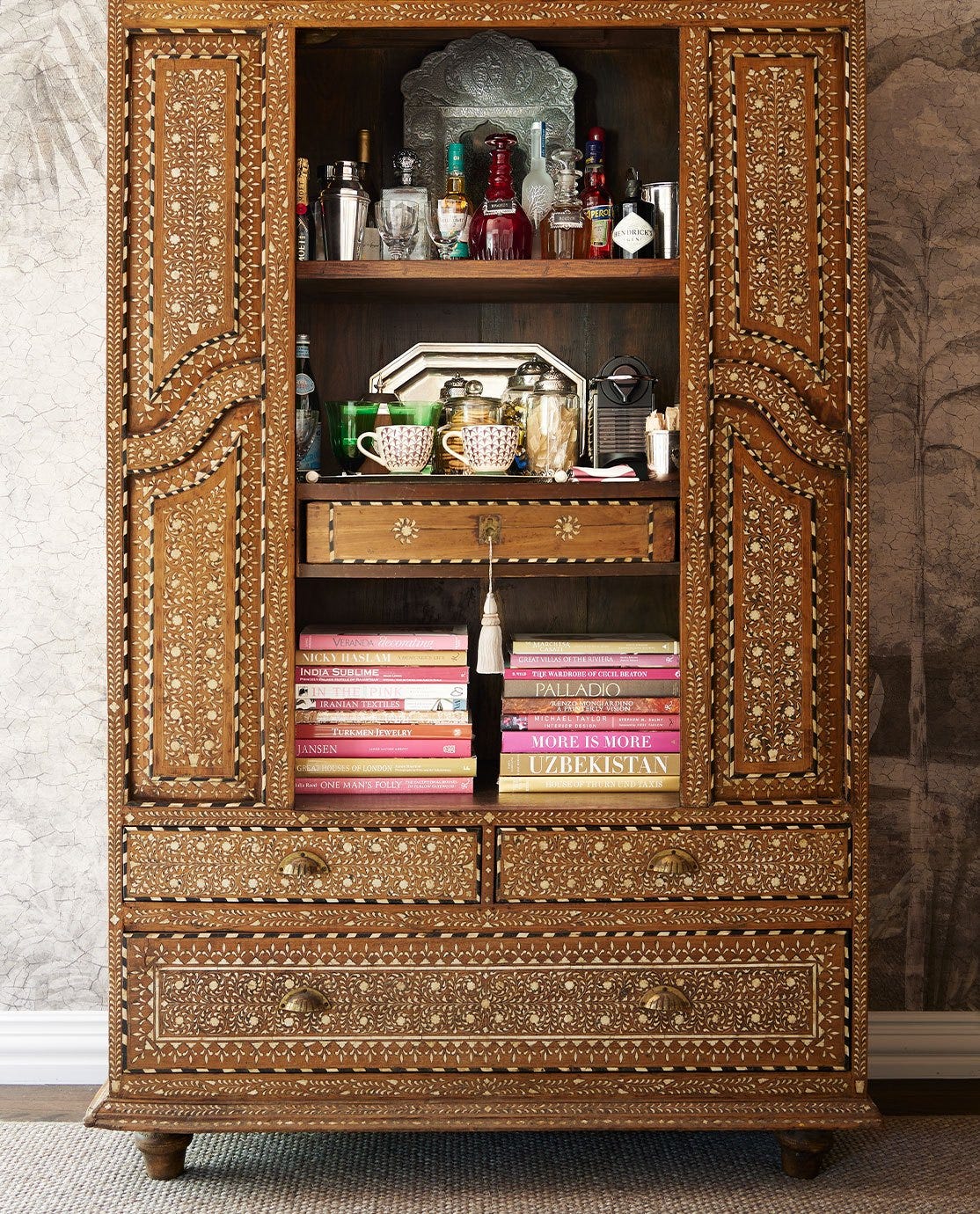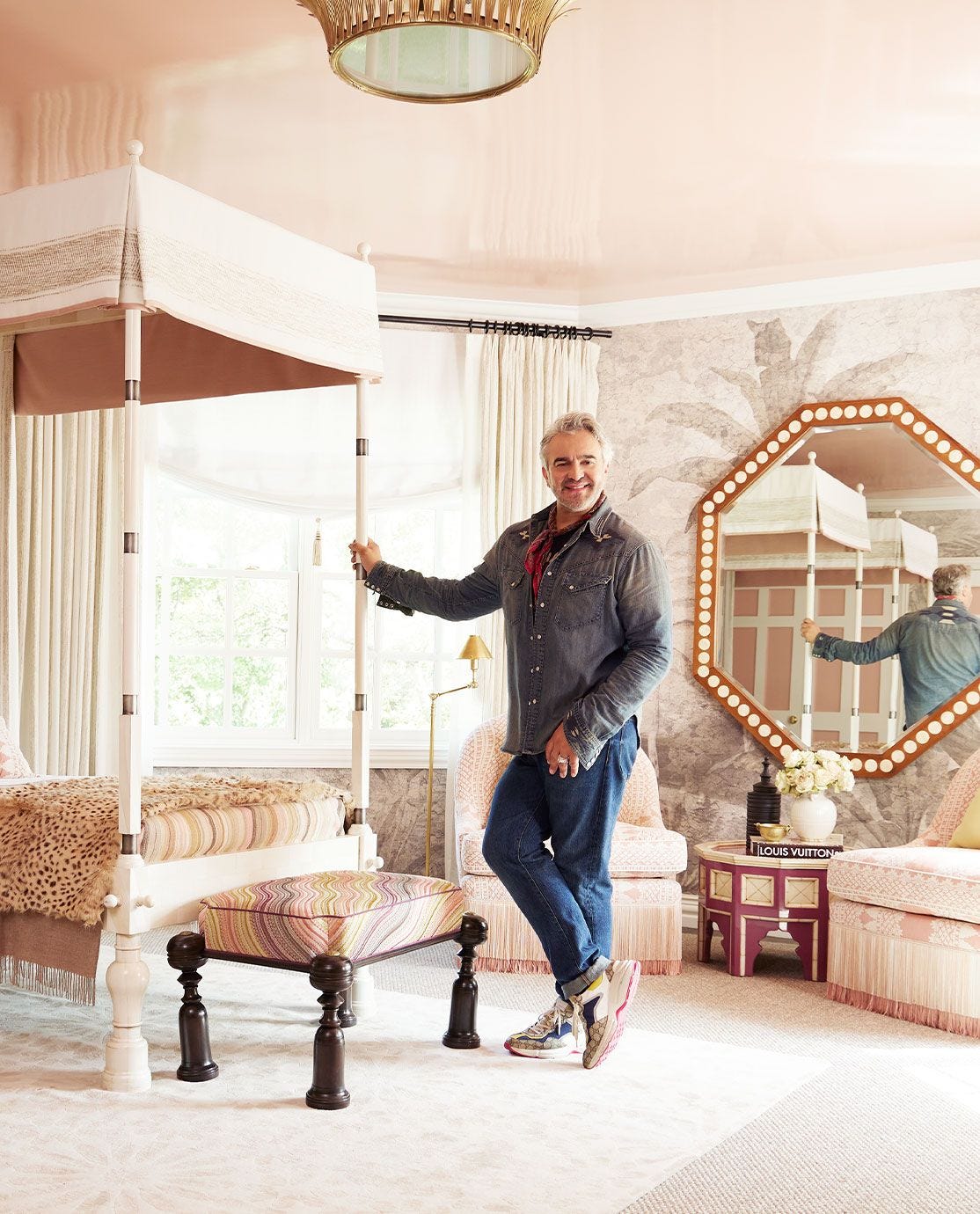 And Relax...
If the obvious grandeur of the home overwhelms, rest assured that there are moments of blissful escape to be found throughout. Step into a softer world in "The Jaipur Room," a guest bedroom suite created by celebrated English-born designer Martyn Lawrence Bullard. Of the space, Bullard says "As so many of us have been unable to travel over the last two years, my room captures a well-traveled experience, with its Indian twin beds, Moroccan-inspired carpet, Indonesian fantasy forest wallpaper and Parisian hotel-style bathroom, thus allowing a feeling of escapism and travel within the home." The serene, dusty pink and yellow bedroom indeed feels like a journey to a more tranquil, tropical place. It contains thoughtful touches like a canopy and hangings for privacy from the designer's collection for The Shade Store, layers of soft, warm throws, flexible reading lights and, best of all, a spectacular Indian bar cabinet complete with the necessary accoutrements for tea, coffee or a tipple.
Camaraderie
The final trend on our list is one you can't see as much as feel if you're lucky enough to tour the house. "There's this amazing bond between the designers," Stelling insists. "Everybody is so excited to be there and to help each other… the veteran designers and the up-and-comers and the vendors, and that tone is so exciting to see. That's the energy." Liz MacPhail agrees: "I was intrigued by the platform to not only give back to the community and be a part of an incredible event, but the chance to showcase our work as a design firm to a larger audience. What I didn't anticipate was the incredible camaraderie among the vendor partners and designers—it's been a wonderful experience to see the industry come together for Kips Bay and the Boys & Girls Club."