There's something about a sunny day that sparks a desire to gather together. When the weekend arrives and the weather's on our side, there's nothing more joyful than being with family and friends. For Jemima Jones and Lucy Carr-Ellison, Co-Founders of British catering company Tart London, the warmer season is the perfect excuse to host an outdoor celebration at home. "It's so amazing when you can get great people around a table," Jemima tells us when we visit her home in Somerset for a summer feast. "Just having that energy of people together, coupled with delicious food—there are so many points to what makes a great dinner party."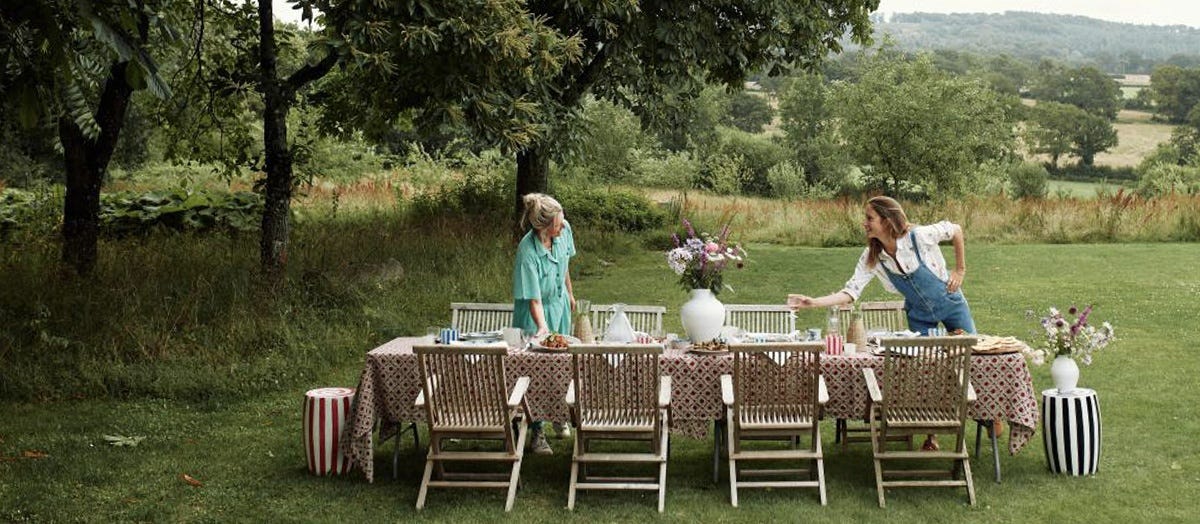 Having spent the past 12 years bringing people together to enjoy veg-focused dishes that look as beautiful as they are delicious, the friends have the dinner party formula down to a T. They began their business catering for fashion shoots, cooking on site with seasonal produce that could be tailored to different dietary requirements with ease—a given in today's culinary world, but something of an enigma in 2011. A successful pop-up restaurant sparked an idea for a permanent space, and in 2019 they opened Wild by Tart in London, a restaurant, private bar and event space that brought their cooking and hosting expertise together.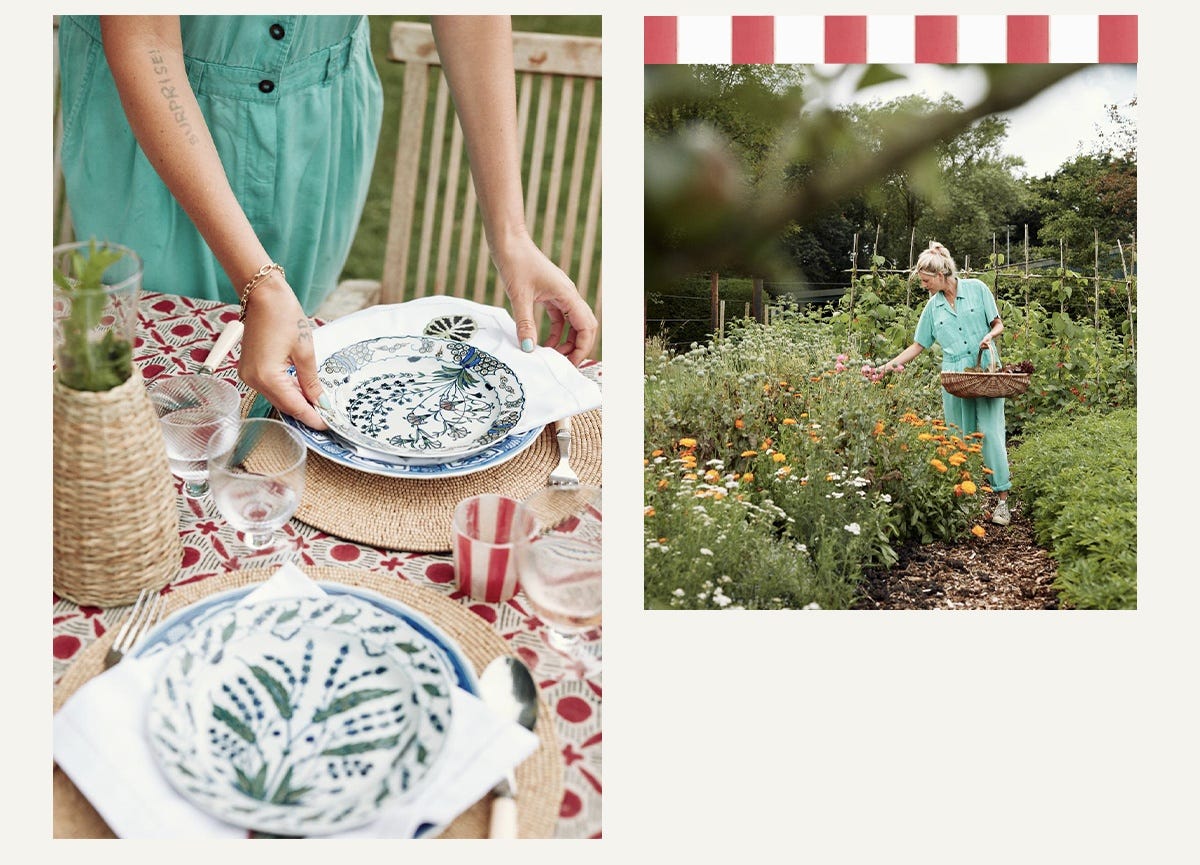 When we arrive at Jemima's Somerset home for lunch, the pair have already been busy picking ingredients from the vegetable garden and turning them into vibrant summer salads that look (almost) too good to eat. There are ribbons of zucchini sitting pretty on a cooling goat's curd, with a crunchy chili oil drizzled over the top to "sing to all your senses;" barbecued artichokes served with a tangy preserved lemon salsa verde; and a hearty bean, olive and tomato salad. "Summer is the most exciting time of year to get inspired by cooking," our host says. "All of the fresh herbs are so inspiring; basil, mint, tarragon, it's so amazing getting those wonderful smells that are so evocative of summer."
Zucchini too, is a favorite to cook with during the warmer months, as well as artichokes—"They're so difficult to prep with," muses Jemima, "so it feels extra exciting to be able to eat those." In addition to the vegetables that grow in abundance during the summer, the friends revel in making the most of the produce that have short seasons in the UK—among them gooseberries, peas, asparagus, mulberries and elderflower. They make a point of pickling and preserving what they can't eat so they can continue to savor them during the fall.
For now, though, there's plenty to enjoy—the grand finale of our feast is a beautiful celebration cake topped with summer berries, elderflower cream and bunches of meadowsweet for decoration, handpicked by Jones' daughter from the neighboring wildflower field. Sat atop our Kraak Giant Charger, it's a striking finishing touch to a meal that is as pretty as it is delicious. "Our dishes are all about the visual experience as well," says Jemima. "There's that lovely feeling of escapism that you can get through ceramics and beautiful tablecloths, so this has felt like such a wonderful coming together of Tart and OKA."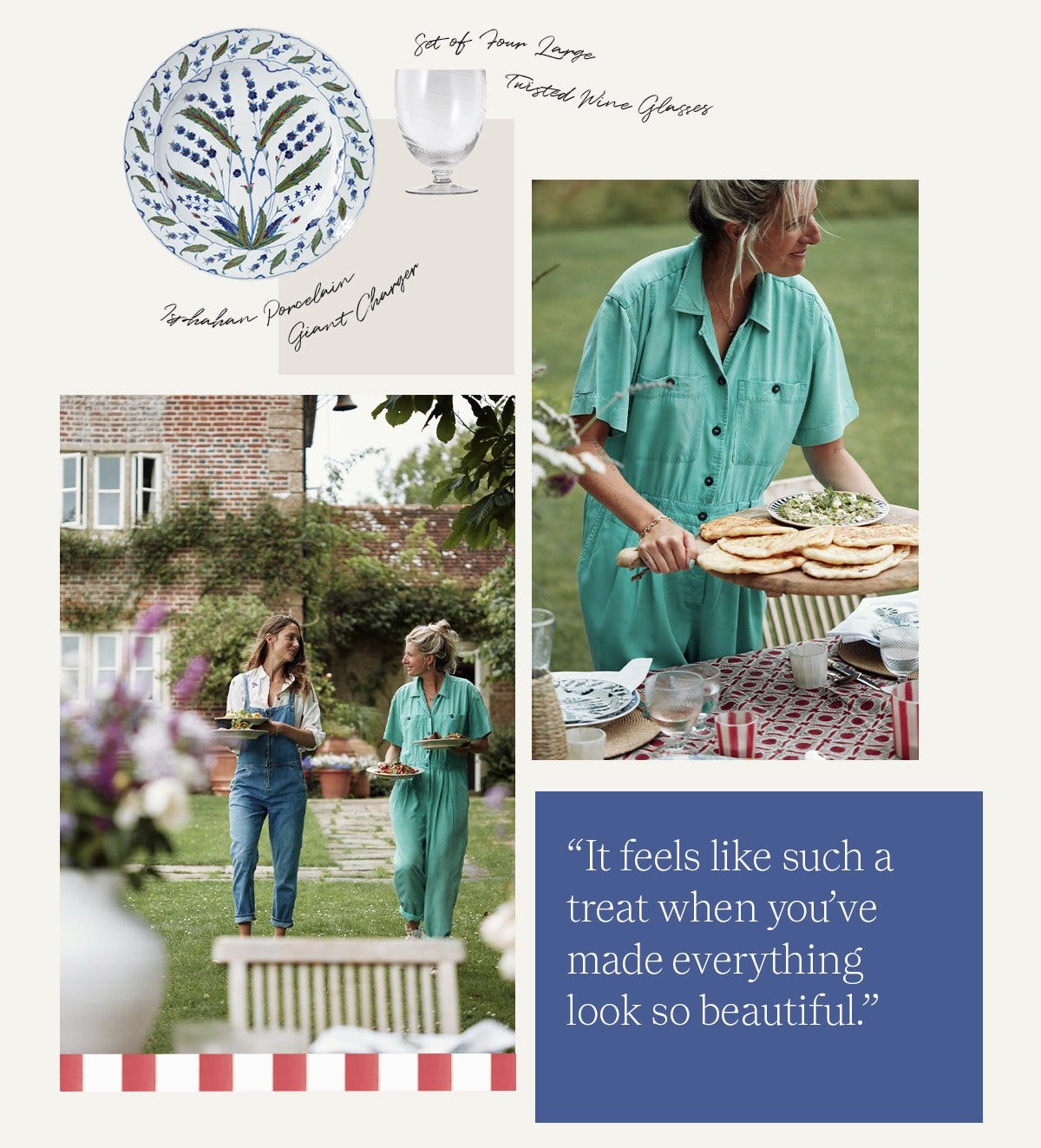 Indeed, both at Tart London events and when the friends are hosting in their respective homes, the table plays a central role, with the duo putting as much thought into the decoration as the dishes they serve. "The difference between having your casual supper and elevating it to a special, celebratory summer evening is the effort you put in to laying a table," Lucy says. "It does have that wow factor, when somebody has really thought about the design." A patterned tablecloth, an eclectic mix of ceramics, and hand-picked flowers displayed in vases of different heights are key. Something as simple as handing guests a drink on arrival, too, can help to take the occasion to new heights. "I love having a little home bar that looks amazing with all of the bottles, ice and glassware," she adds. "It feels like such a treat when you've made everything look so beautiful."
A great event is all about atmosphere, too, of course, and hosting outdoors comes into its own during the summer months. If you have space for a fire pit, they're perfect for getting everyone gathered together as the day turns to night. "It's so great to come outdoors and see a beautiful scene that looks amazing—a big fire pit, a beautifully set table, music playing, candles flickering and children running around," Jemima says. "All of that feels really bohemian and magical; it's such a lovely feeling in the summertime."
To discover more of Tart London's world, follow the company's Instagram or visit the website