Coupons and promo codes
From time to time, we use promotional codes (also called offer discount or voucher codes) to offer things like money off purchases or free delivery. You may find these codes in the OKA magazine or in emails you receive from us for use on our website and sometimes in-store.
Looking for current OKA coupons?
Use code OKA10 to earn 10% off your first OKA order.
Offer applies to full priced items and cannot be used in conjunction with any other offer. Cabana collaboration product excluded.

How to use promo codes
Using a code on oka.com couldn't be simpler. When you've added your items to your basket and arrive at the checkout, enter the code in the Promo Code field and click APPLY CODE.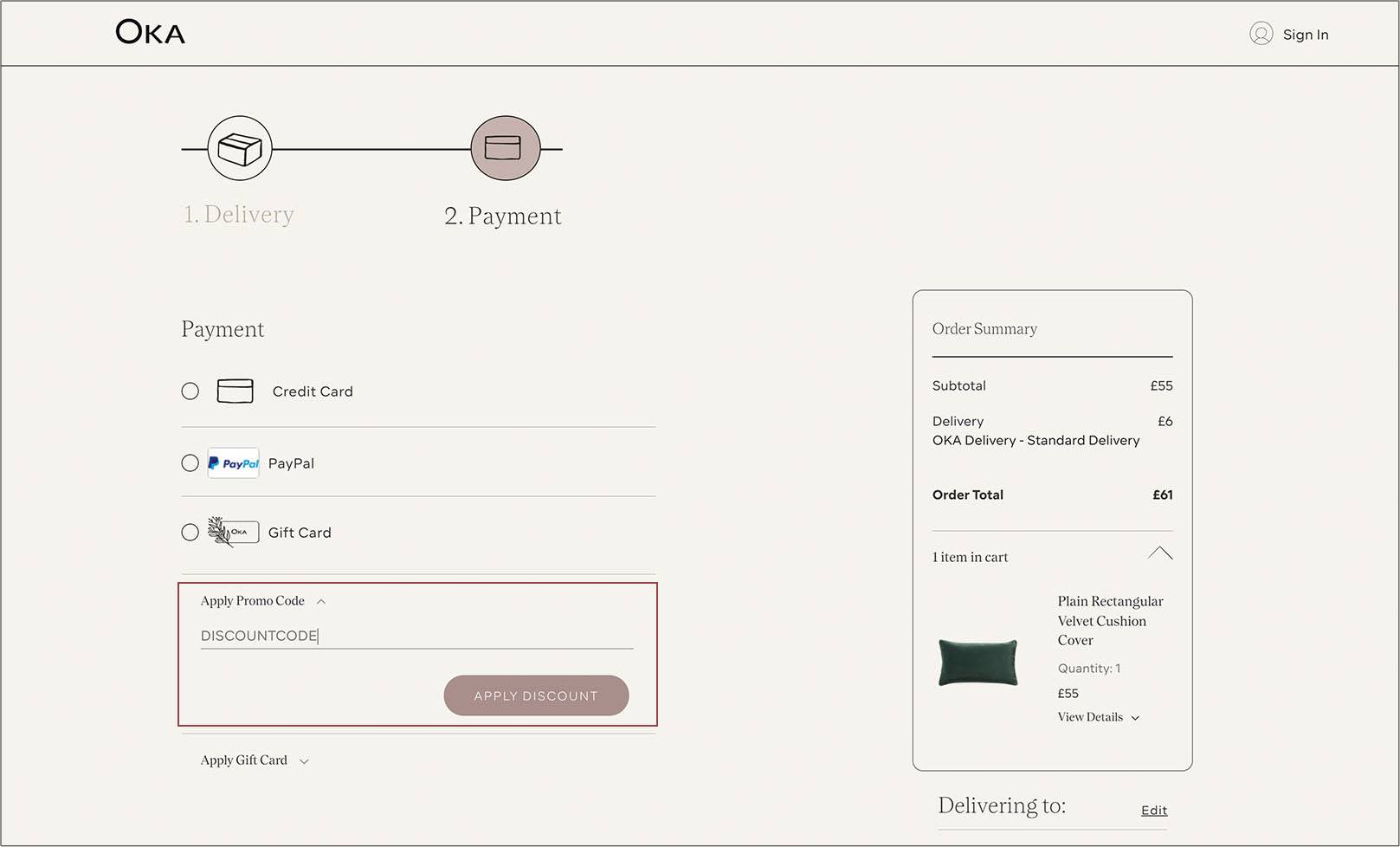 Promo code FAQ
Can I use a voucher code in an OKA store?
Most promo codes are intended to be used on oka.com, but some offers are open to our store visitors as well. If a promotion is available in-store, we'll make that clear.

Can I 'stack' offers at OKA?
Offer 'stacking' refers to using more than one promotion or discount code at once to achieve a bigger saving. Individual OKA codes do not to work with any other offer or promotion.
You can however use a gift card as a payment method when using a promo code.

Why isn't my code working?
If you try to use a code that isn't valid, we'll always try to let you know why. Common reasons are because certain criteria haven't been met, you have items in your basket which are excluded from the promotion, or the code has expired. If you're not sure why your code doesn't work, get in touch and we'll do our best to assist.

Can I use a promo code on sale items?
Most of our codes work on full priced items only. Check any associated terms and conditions to be sure.

What's the difference between a gift card and a discount code?
Gift cards are a payment method rather than a reduction in an item's price. For example, a $100 item bought with a 10% discount code will cost you $90. If you were to buy the same item part-paying with a $10 gift card, the item's price is still $100. Promo codes can't be used to purchase OKA gift cards.