When British architect Sir Christopher Wren left his mark on London with St. Paul's Cathedral, at one point the tallest building in the world, little did he know its spot on the skyline would later be joined by modern monoliths, as sleeker silhouettes—and markedly sillier nicknames—came into vogue: the Gherkin, the Cheesegrater and the Walkie Talkie among them. In the city's burgeoning financial district, this contrast of old and new feels particularly prevalent, but you'll find a similar juxtaposition of styles across the UK capital, as designers pay respect to heritage and at the same time strive for innovation. In a place so rooted in history and yet always on the cusp of change, it's hard not to feel inspired. Indeed, it's this contrast of past and present that we sought to recreate in our latest look, a perfect balance of old and new at Old Sessions House in Clerkenwell. The former courthouse set the stage for our Spring Collection, allowing us to take cues from the building's artfully distressed walls and soaring ceilings to curate a look that feels as classic as it does contemporary. To help you achieve this fine balance at home, we asked our in-house interior design expert Sarina Hawkins to share her tips for mastering the art of old and new.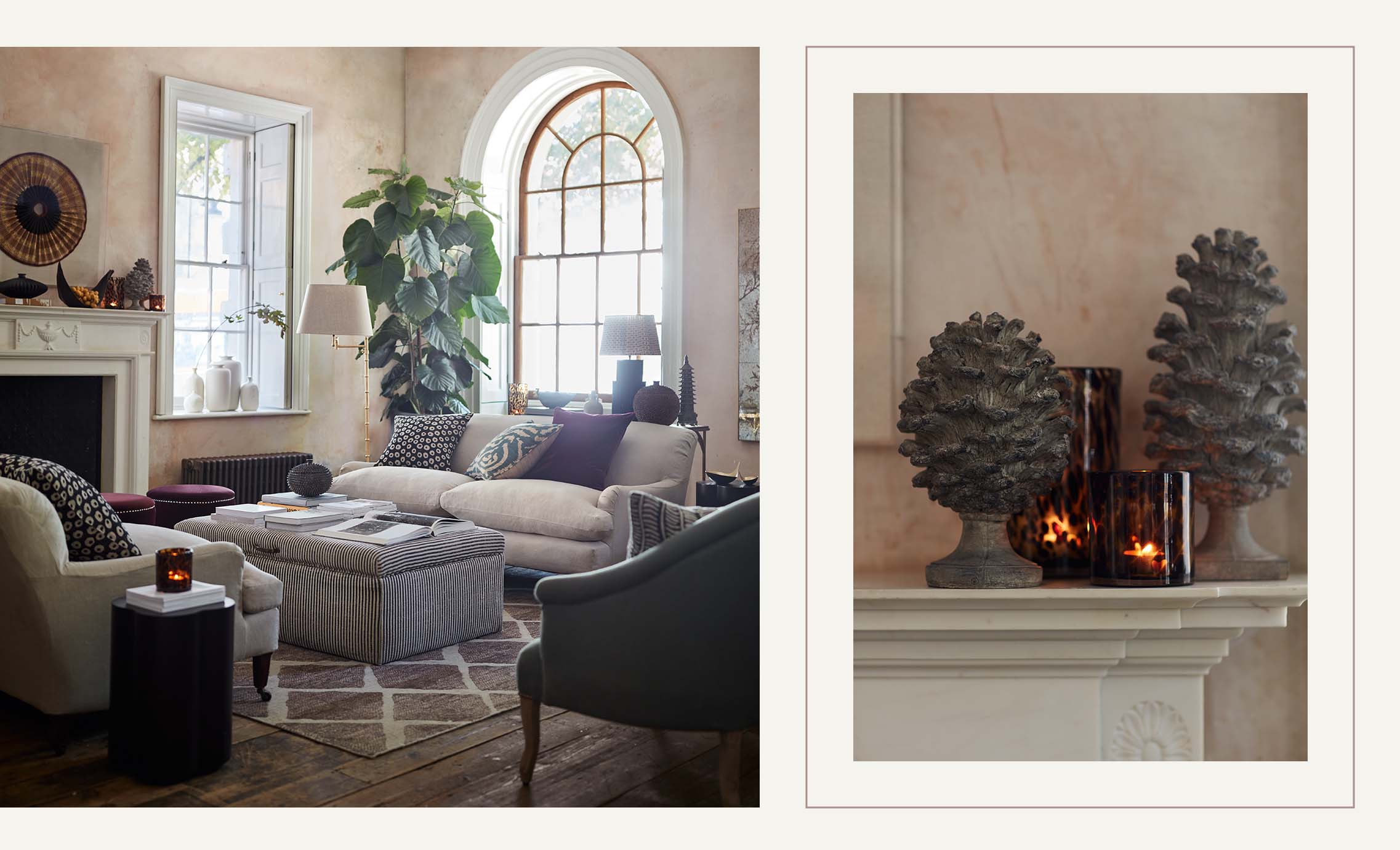 Embrace the Building's History
From Victorian townhouses to heritage country estates, period features are a quintessential part of British homes—but as treasured as they are, they also pose a challenge: how to incorporate practical and modern features when the room itself speaks so clearly to the past? Hawkins offers a simple solution: embrace the quirks. She notes how, at Old Sessions House, we took inspiration from the patina of the walls and the "beautiful mosaic-tiled flooring" when curating our Spring Collection look. "Our pieces seem like they belong there because they fit so perfectly," she says. "Each item stands out on its own and sings, and yet at the same time feels like it's supposed to be there."
If your home has historical features, follow our lead and use them as inspiration for the rest of your design. Pull out patterns, textures and colors and mirror them through your textiles, rugs and artwork. "This will enable you to put your own spin on the space," says Hawkins, "while maintaining the principle and beauty of the home."
Revive Old-Fashioned Features
If your home's period elements still aren't working for you, don't be afraid to give them a new lease on life. A fresh coat of paint or contemporary décor can transform antiquated accents into characterful design features. For homes with wooden beams, for example, Hawkins recommends "a good lime wash" to instantly brighten the space. Similarly, "if you want to jazz up a heritage house that's got beautiful molding, paint the woodwork and door frames in one color and your walls in another". If you're lucky enough to have antique cornicing in your home, you can revitalize it with bright, modern shades. "Just really hone-in on those small details," she says.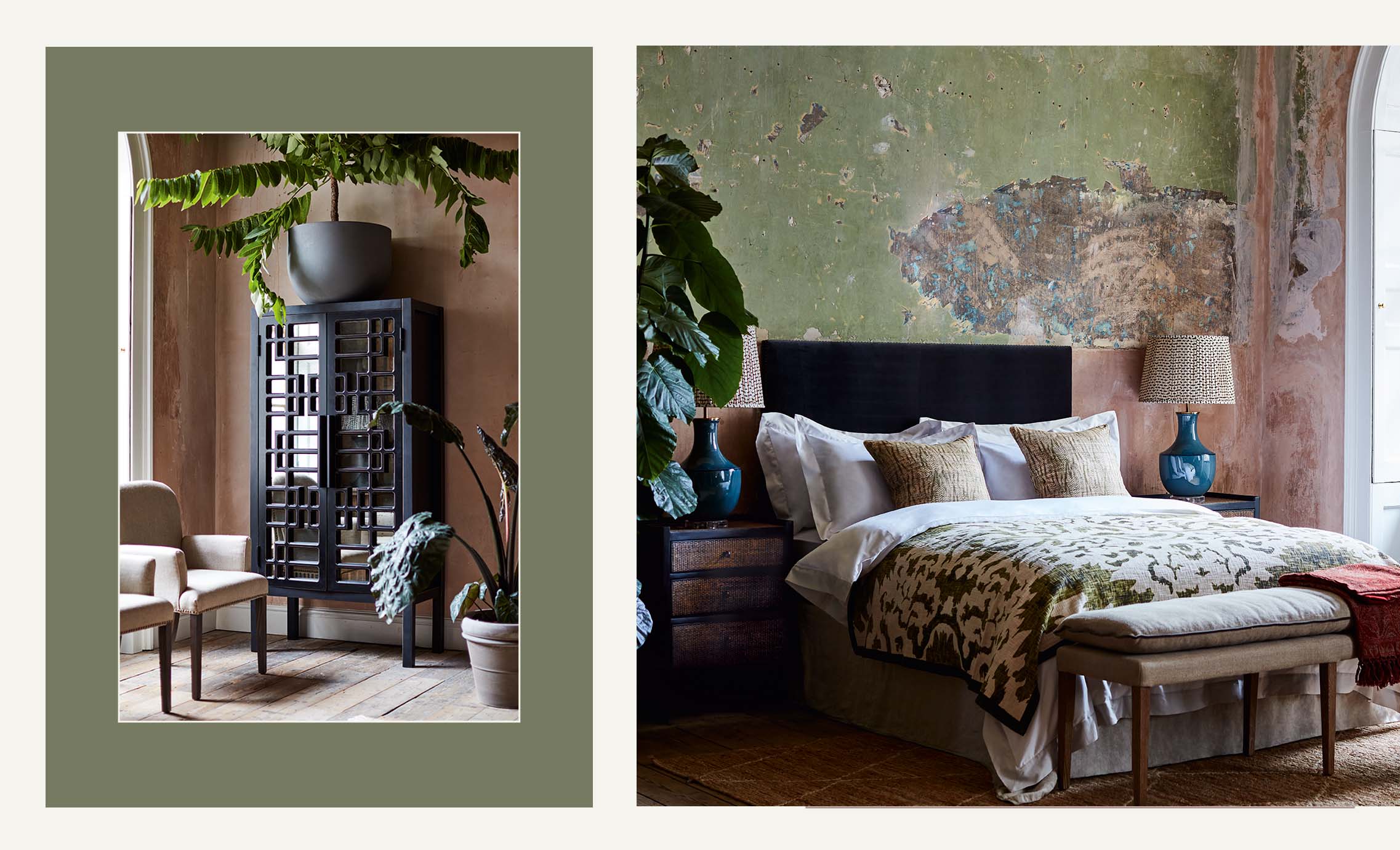 Add Character to Contemporary Homes
If your home is modern in style, antique furniture, artwork and décor can add character to an otherwise simple aesthetic. The key to incorporating them is to seek pieces that will create "juxtaposition"—"with contemporary homes, you want to add impact," says Hawkins. If you've got a beautiful antique dining table, for example, add contrast with some new dining chairs. "It's about finding the right balance," says Hawkins, whose modern interior design ideas are refreshingly simple—think contemporary ornaments or an easy color palette switch-up. "I'd recommend trying to add a bit of vibrancy with décor in bright colors; look for shades that will contrast against a dark wood, for example, or a heritage pattern."
Update Antiques with Fresh Décor
Family heirlooms and treasured antiques can bring character and charm to a space, but they can also feel awkward when surrounded by more modern pieces. To ensure they slot seamlessly into your home, look for décor that masks or distracts from these old-fashioned features. "If something isn't working, make it work," says Hawkins. "If you've got a dining table, cover it with beautiful table linen. If your console table feels really out of place, decorate it with a sculptural lighting feature, ornaments and books. Faux flowers are your best friends for these kinds of things, because they draw the eye." The trick is to use pieces that will distract; switch up the color scheme with pillows or artwork and consider reupholstering ottomans and sofas in contemporary fabrics. "Furniture is the same as fashion; the classics will always come back around, so you don't need to get rid of anything or change it too much," says Hawkins. "You just need to find a way to give it a new life."
Don't Be Afraid to Go All Out
The worst thing you can do when mixing old and new design is hesitate. An entirely modern room with just one piece of antique furniture, or vice versa, will look like "an accident," says Hawkins. "People are often wary of going out of their comfort zone, but you shouldn't hold back. You need to mix and match your whole home, so there's a nice cohesion throughout." This is a rule the designer applies to any interior's conundrum—be it styling the perfect sitting room, implementing a bold color palette or simply adding color with pillows—but with old and new design it feels particularly poignant, as the juxtaposition of styles is so prominent. Put simply, "it's just a confidence game." The only thing stopping you is yourself.