In her debut cookbook For the Table, food writer, stylist and former Epicurious editor Anna Stockwell encourages people to come together and dine. Though she took up her pen during the throes of the pandemic, when dinner parties were thoroughly off the menu, she felt inspired to write recipes that would feed a crowd. As we approach the entertaining season and thoughts turn to hosting and dinner party ideas, such recipes have never been better timed. Among them is the ultimate steakhouse dinner, which is simple to execute and even easier to devour. Before you begin, Stockwell has one essential tip to take note of: "You're going to need a lot of red wine to go with this meal."


New York Strip Roast, Serves 10–12
"It's steakhouse night, but you're staying home, and you can make everything almost entirely in advance. Searing individual steaks for each guest is just not a fun thing to do for a crowd, so instead I roast a whole New York strip roast. I season it with only salt and pepper and cook it to medium rare, exactly how I like my steak. Then each guest gets a slice topped with kelp butter, which is a fun way to season each steak with extra rich, salty-umami flavour."
New York Strip Roast is more commonly found in the US; it's also known as strip loin roast, top loin roast and simply strip roast. We recommend asking your butcher for the closest cut.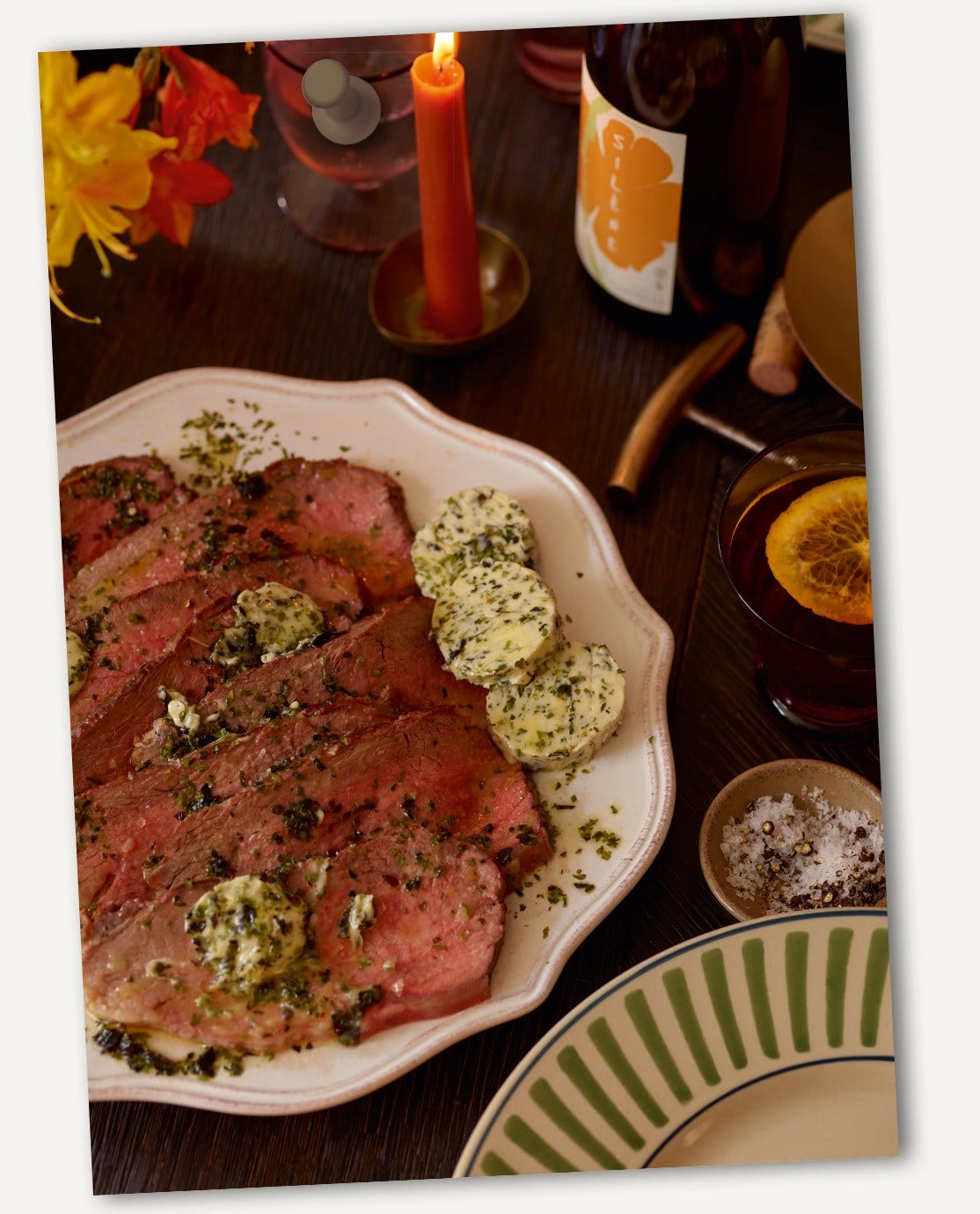 Ingredients
For the kelp butter:
55g best quality salted butter, at room temperature
1 tablespoon kelp flakes
For the roast:
2kg boneless steak
5 teaspoons flaky sea salt
5 teaspoons freshly ground black pepper
Method
Kelp Butter
1. Place the softened butter and kelp flakes in a medium-sized bowl. Stir and mash with a wooden spoon until the kelp is thoroughly incorporated into the butter.
2. Transfer the butter mixture to a piece of parchment paper, patting it into a sort of log shape towards one long end of the parchment. Pull the parchment up and over the butter to secure the log, then roll it tightly into a uniform cylinder about 4cm wide, twisting the parchment around each end like an old-fashioned candy wrapper to secure.
3. Chill until firm (at least 6 hours and up to 1 week).


Roast
1. Pat the meat dry and season on all sides with the salt and pepper. Let it sit for 15 to 30 minutes while the oven heats to 175°C.
2. In a roasting tin, cook the meat fat side up. If you have an instant-read/probe thermometer, this is a good time to use one; insert it into the centre of the oven until it registers 52°C for medium rare, then put the meat in for 65 to 85 minutes.
3. Remove from the oven and let it stand for at least 15 minutes and up to 1 hour.
4. Before serving, grill the meat with the fat side facing up for 5 to 10 minutes, until crispy and re-warmed.
5. Slice and serve with the kelp butter. And don't worry, you don't have to let it rest again after reverse-searing (step four); you already gave it a nice, good rest for the juices to redistribute.
Butternut Squash, Potato and Kale Gratin, Serves 10–12
"There's no creamed spinach or a separate potato side at my home steakhouse, but there is one big, gloriously creamy potato, kale, and butternut squash gratin, which can be made almost entirely a day in advance, and then rewarmed with cheese on top just before serving."
Ingredients
2 tablespoons olive oil, plus more for baking dish
2 bunches curly kale, torn into small pieces
Flaky sea salt
720ml double cream
3 cloves garlic, crushed
3 sprigs thyme
1/2 teaspoon freshly ground nutmeg
Freshly ground black pepper
2kg Maris Piper potatoes, peeled and very thinly sliced
2 butternut squash necks (910kg), peeled and very thinly sliced
115g Gruyère, finely grated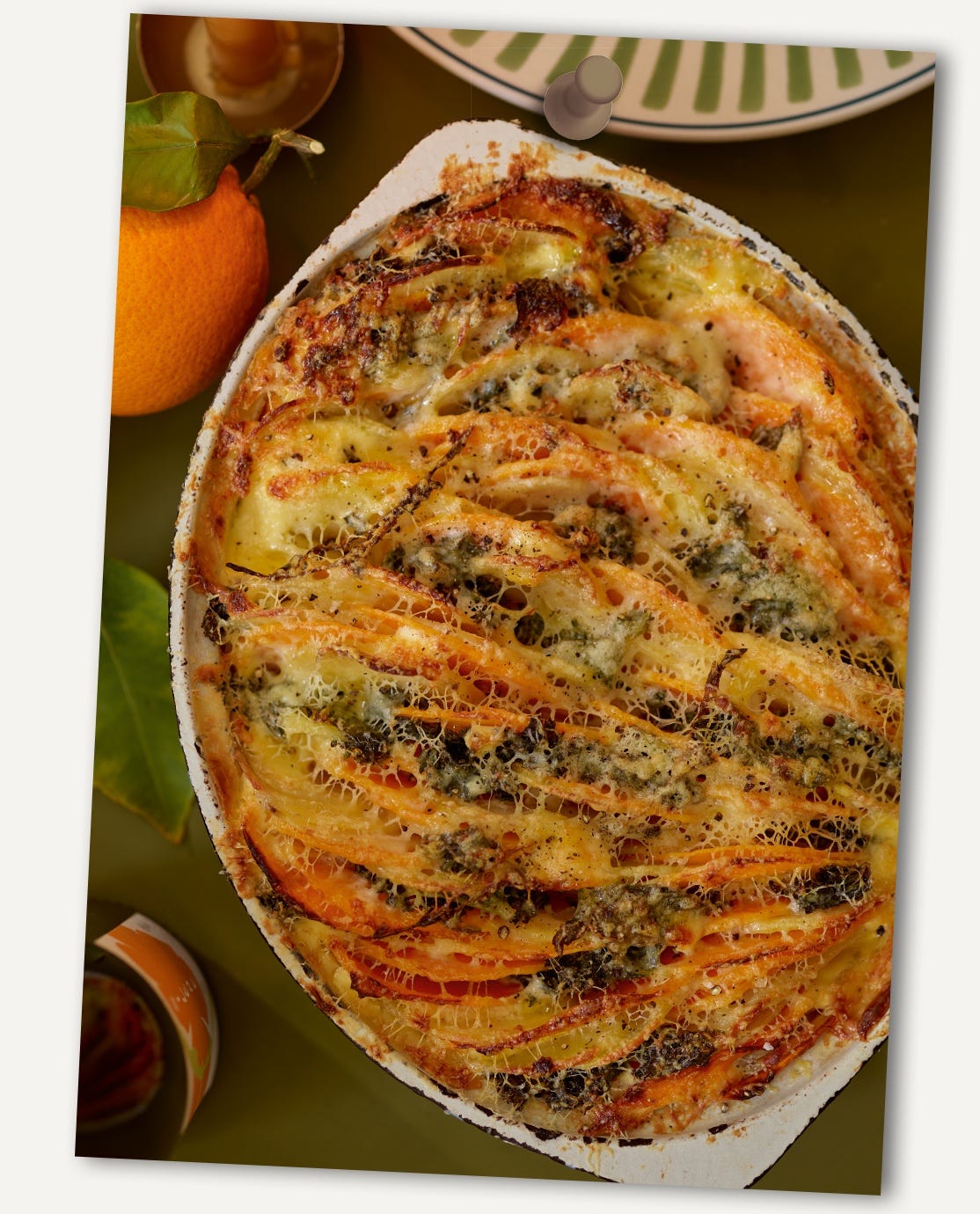 Method
1. In a large deep pan or pot, heat the oil, add the kale, and cook for about 3 minutes, stirring often, until fully wilted. Season with 1 teaspoon of salt and let cool.
2. In a medium pot, heat the cream, garlic, thyme, nutmeg, 1 teaspoon pepper, and 1 tablespoon salt just until boiling, then lower the heat and simmer for 10 minutes. Remove from the heat.
3. Heat the oven to 175°C.
4. Arrange the sliced potatoes, kale, and squash in a 30cm casserole dish by making towers of the potatoes and squash with your hands, then laying each tower on its side in the casserole dish and stuffing kale in between the cracks throughout.
5. Pour the cream mixture over the vegetables. Cover tightly with foil and bake until tender, for 60 to 70 minutes. Let cool. At this point, you can chill the gratin overnight.
6. Before serving, top the gratin with the cheese and grill for 5 to 10 minutes, until bubbling and golden brown.