Acclaimed chef and cookbook author, Sabrina Ghayour, shares a selection of delicious recipes from her latest release, Simply: Easy Everyday Dishes.

It's not Middle Eastern, it's not Eastern, it's not Western – it is Simply Sabrina, because that is the easiest way to explain my food.
Sabrina Ghayour
Lamb & Mint Kofte
These simple yet delicious little kofte are based on something I tasted in a restaurant in Antakya (the Ancient Roman city of Antioch in southern Turkey), and use dried mint – a wonderfully versatile ingredient. These kofte really are pleasingly straightforward and a recipe that I've made many times since coming back from that trip.
Ingredients (to make about 20)
- 500g minced lamb
- 1 onion, minced in a food processor and drained of any liquid, or very finely choppe
- 2 tablespoons dried mint
- 2 eggs
- Vegetable oil, for frying
- Generous amount of Maldon sea salt flakes and freshly ground black pepper
- Greek or natural yogurt chopped fresh mint leaves, to serve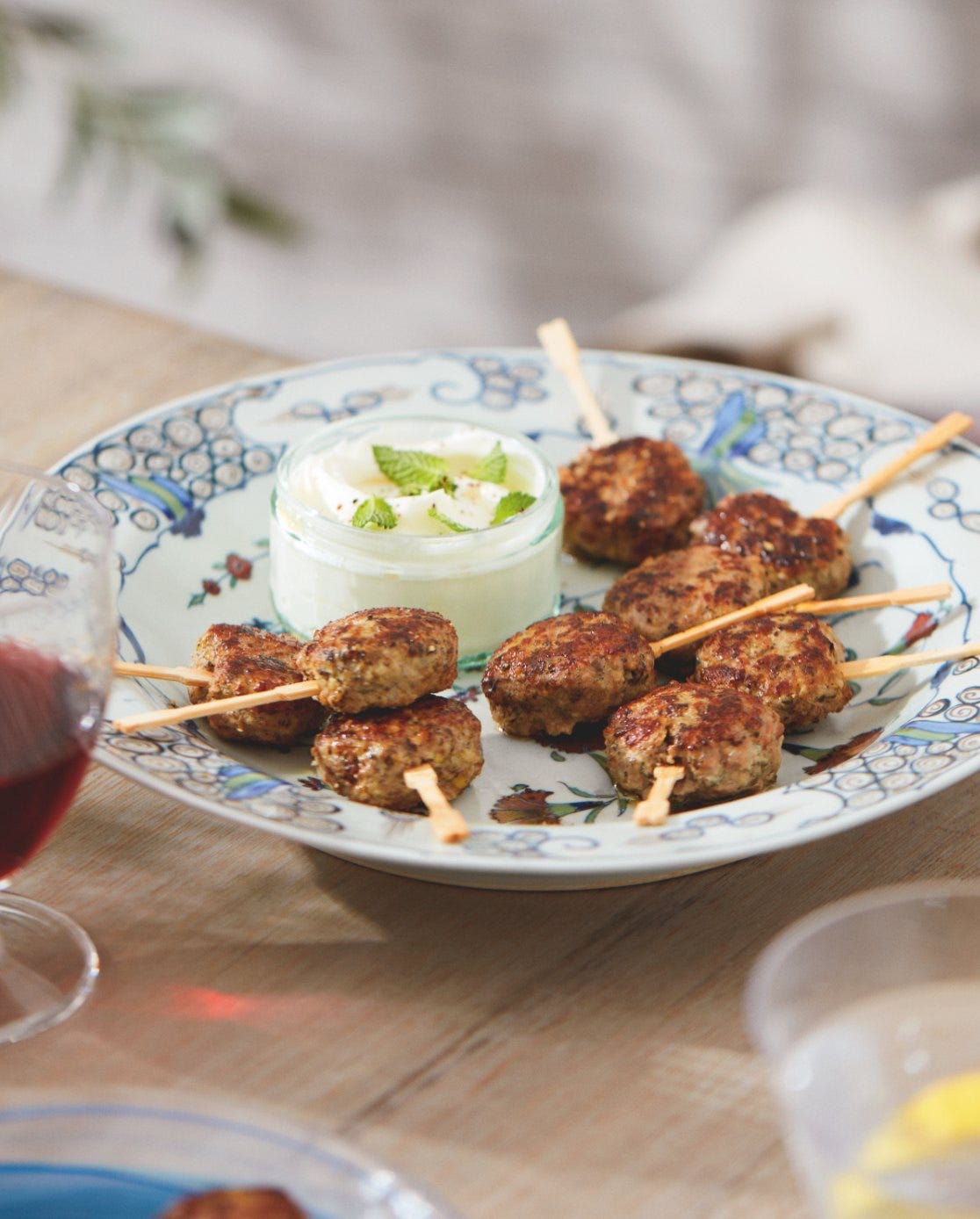 Method
1. Put all the main ingredients, except the vegetable oil, into a large mixing bowl and, using your hands, work them together really well, pummelling the meat mixture for several minutes into a smooth, even paste.
2. Take golf-ball-sized amounts of the mixture and shape into round patties, about 20 in total.
3. Heat a large frying pan over a medium-high heat. Once hot, drizzle in a little vegetable oil and cook the patties in batches for 3–4 minutes on each side until browned on both sides and cooked through. Thread each patty on to a little wooden skewer and serve with a bowl of Greek or natural yogurt scattered with some chopped fresh mint for dipping.
Maast-o-esfenaj - Spinach & Yoghurt with Walnuts
This is a much-loved staple of Persian cuisine. Traditionally, we don't add garlic or sumac, and walnuts may be used to garnish the top, but I like to add them to the dish for texture. This is the one dish that always surprises my students at my Persian cookery class, as yogurt is always thought of as a dip in the West, while the Persians treat it as a main event but also as a condiment that goes with or over everything, or it can be simply enjoyed on its own.
Ingredients (to serve 6 – 8)
- 250g spinach leaves
- 500g thick Greek yogurt
- 1 large garlic clove, minced
- 2 generous handfuls of walnut halves, roughly chopped
- 2 teaspoons sumac, plus extra to garnish
- Olive oil, for drizzling
- Maldon sea salt flakes and freshly ground black pepper
- Flatbread, to serve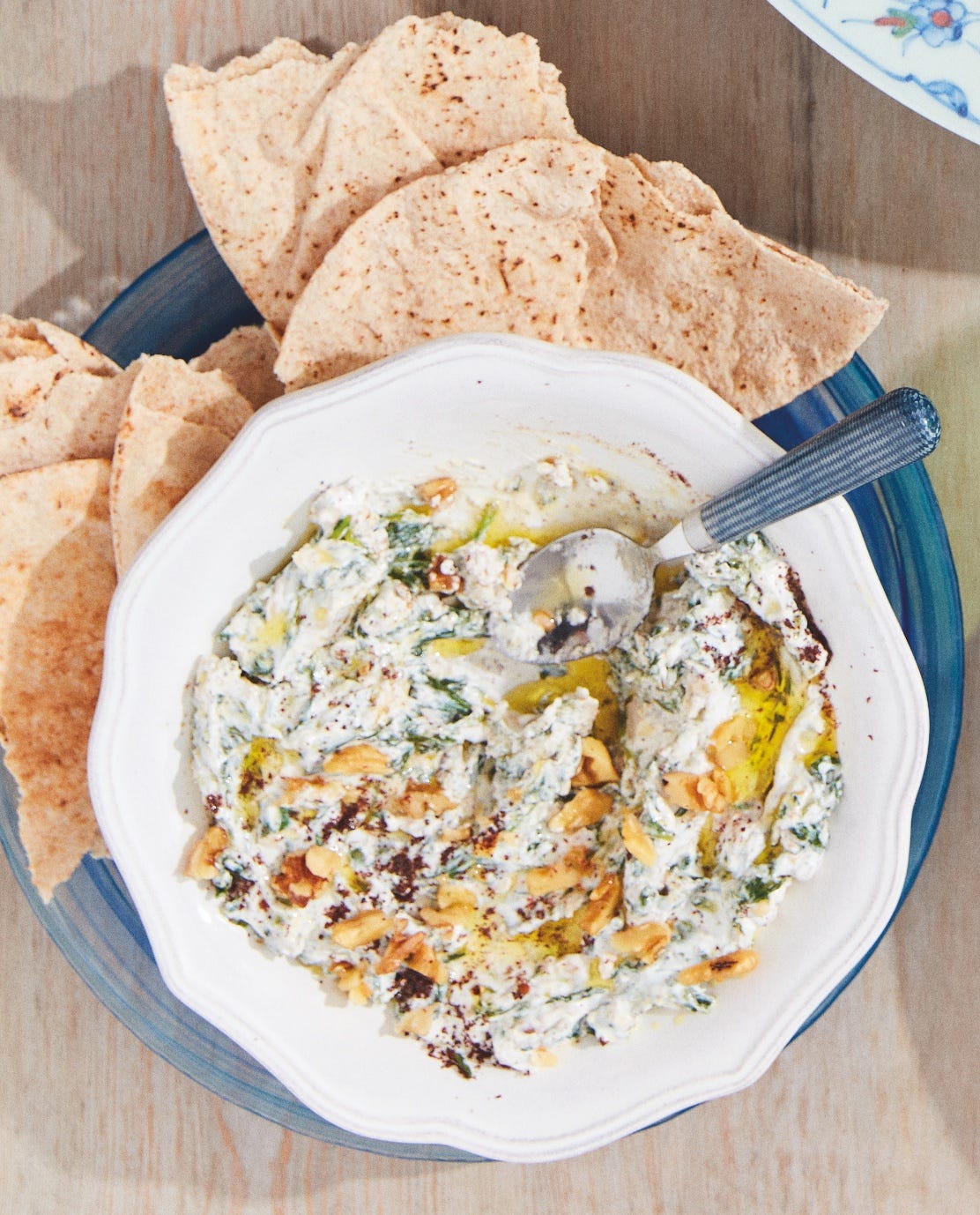 Method
1. Bring a saucepan of water to the boil, add the spinach and simmer for 2–3 minutes until wilted, then drain and plunge into a bowl of iced water to stop it from cooking further. Once cooled, drain well and finely chop.
2. Put the spinach into a mixing bowl with the yogurt, garlic, walnuts (reserving some for garnish), sumac, a little drizzle of olive oil and a generous amount of salt and pepper. Mix together well.
3. Spread the mixture out on a flat plate, then drizzle with olive oil and sprinkle with extra sumac and the reserved walnuts before serving.
Fish, Okra & Tamarind Stew
I dedicate this recipe to my dear friend Bryan Koh, who I first met in Singapore and who took me to some of the best places in town for local cuisine, including fish head curry. Sadly, it isn't something we get to eat very often back home in England, so I came up with a version that we make at home and enjoy while thinking of Bryan.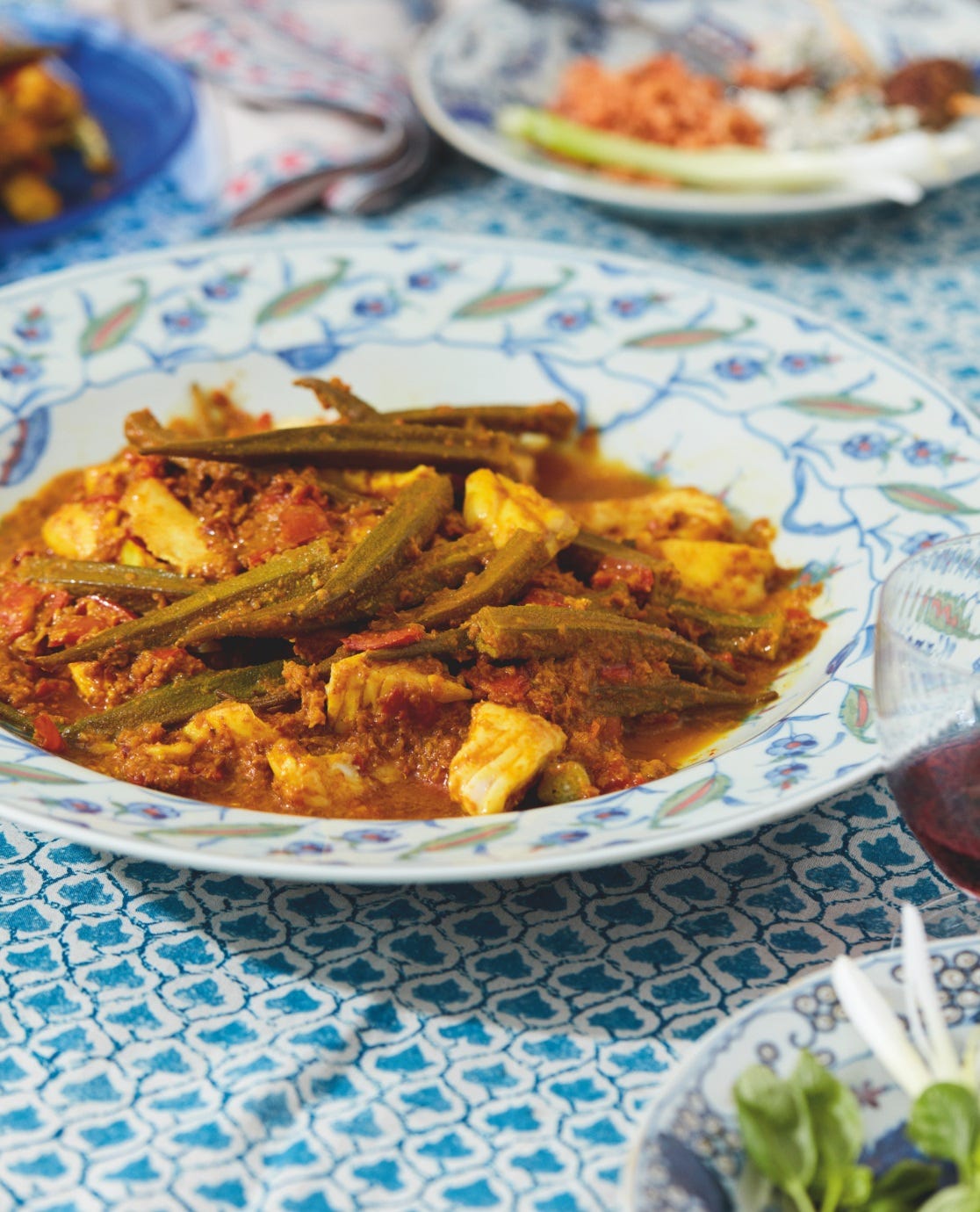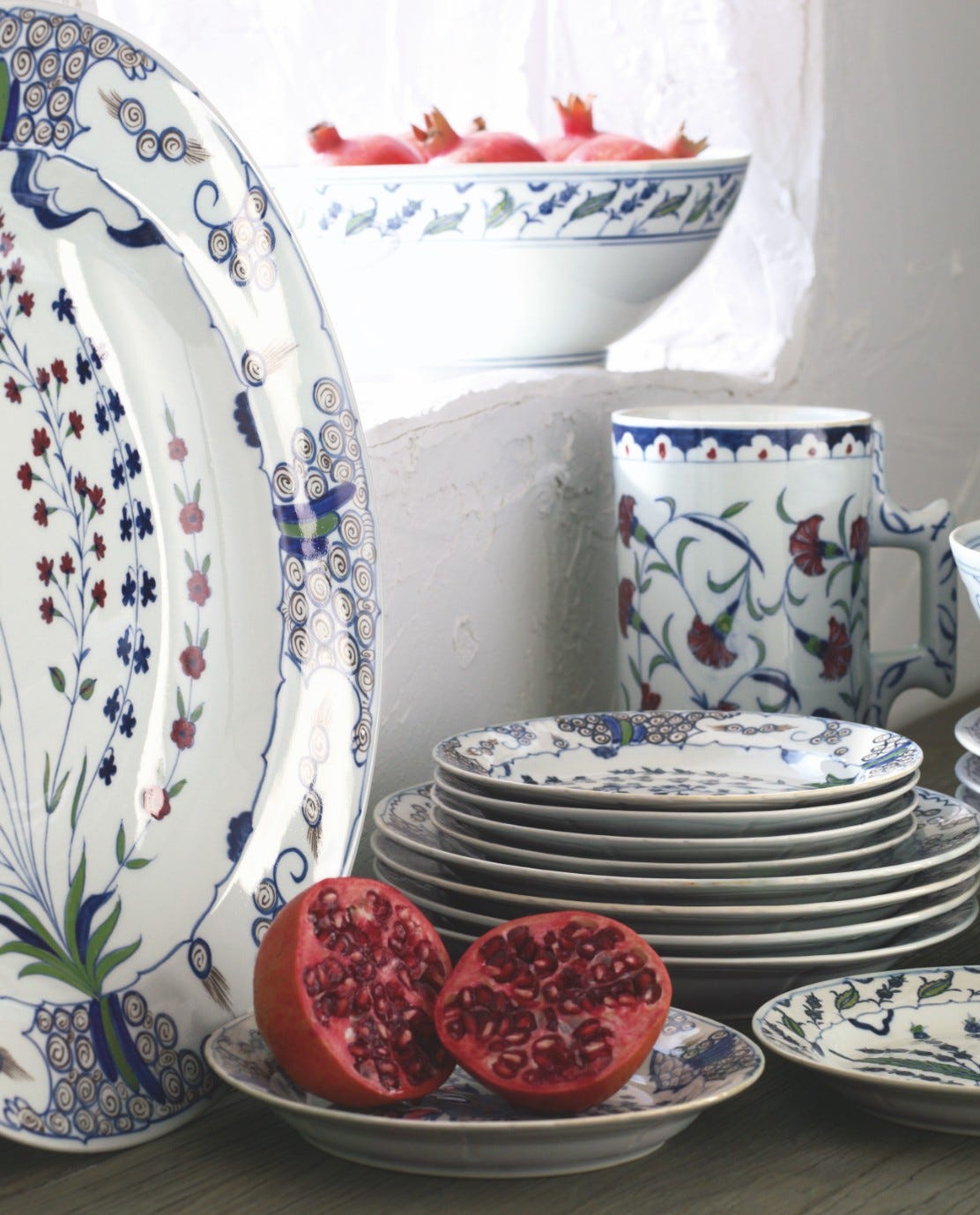 Ingredients (to serve 4 – 6)
- 100g fresh root ginger, peeled / - 25g fresh turmeric, unpeeled and scrubbed
- 1 onion, cut into rough chunks / - 4 garlic cloves, peeled
- Vegetable oil, for frying / - 3 cardamom pods, bashed
- 1 teaspoon cumin seeds / - 1 teaspoon fennel seeds
- 1 teaspoon chilli flakes / - 1 teaspoon ground coriander
- 1 teaspoon ground turmeric / - 300g fresh okra (or use frozen whole okra, defrosted)
- 3 tomatoes, roughly diced / - 1 tablespoon unsweetened tamarind paste
- 500g skinless chunky white fish fillet, such as cod, hake or haddock, cut into 4cm chunks
- Maldon sea salt flakes and generous amount of freshly ground black pepper

Method
1. Put the ginger, fresh turmeric, onion and garlic into a mini food processor and blitz to as fine a paste as you can achieve.
2. Place a saucepan over a medium heat, drizzle in a little vegetable oil and add the paste. Cook for 8–10 minutes until all the moisture has evaporated and the paste has mixed with the oil, ensuring it doesn't catch.
3. Add the dry spices and salt and pepper and stir. Add the okra and stir to coat it in the mixture, then stir in the tomatoes and tamarind paste. Pour in just enough water to cover the ingredients, cover the pan with a lid and leave to simmer over a gentle heat for 30 minutes until the sauce thickens, stirring occasionally to prevent sticking. If you have a lot of liquid left in the pan, remove the lid and cook over a slightly higher heat for a few minutes until it has reduced.
4. Place the fish chunks on top of the stew, cover the pan with the lid and cook for 5 minutes. Remove the lid, spoon the okra and sauce over the fish and cook for a further 5 minutes. Serve with rice.
Pistachio, Lemon & Rosemary Cake
The pistachio is the king of Persian nuts, and using naturally bright green Persian pistachio slivers helps create the electric green colour of this cake. Fragrant with lemon zest and aromatic rosemary, it's also gluten free.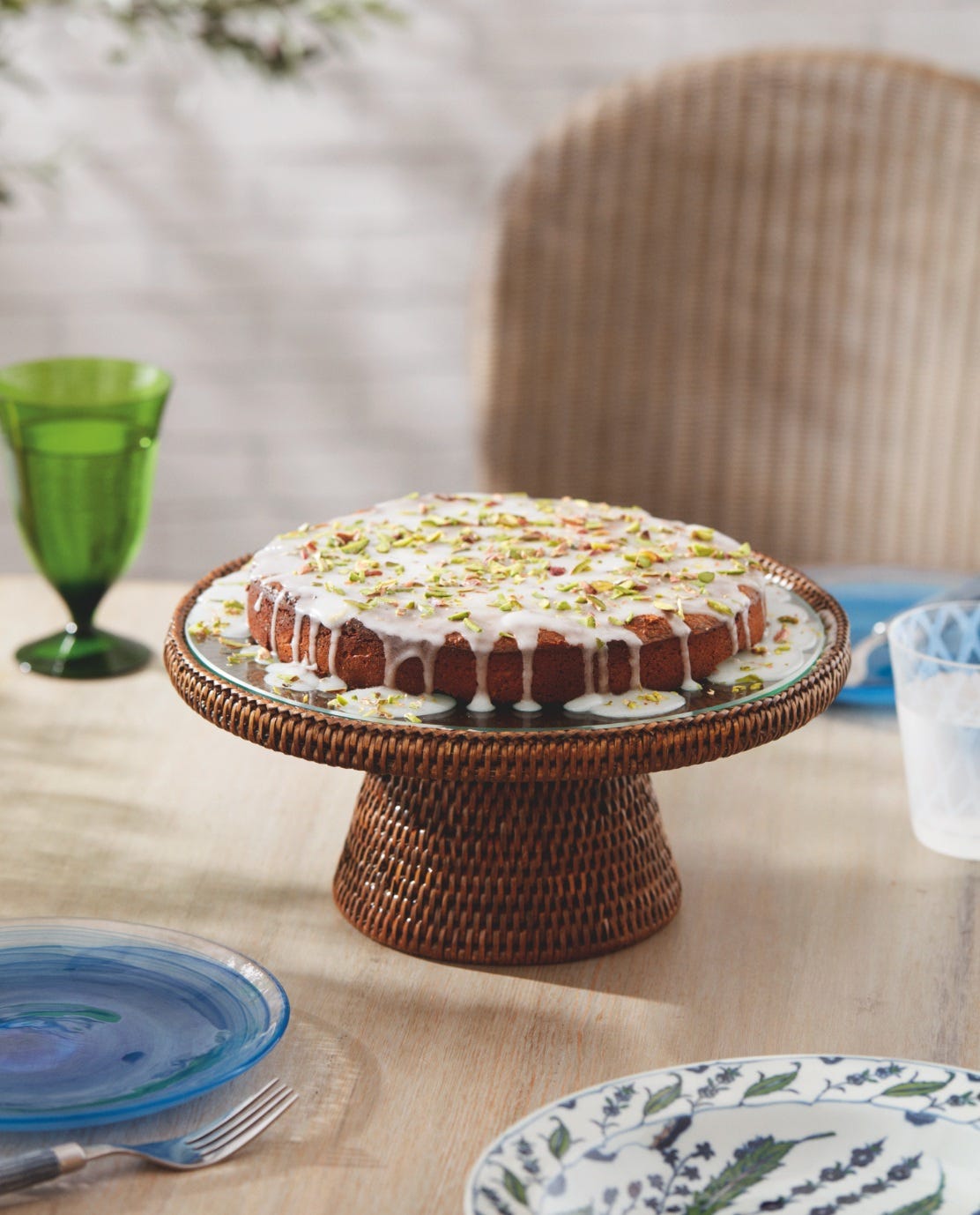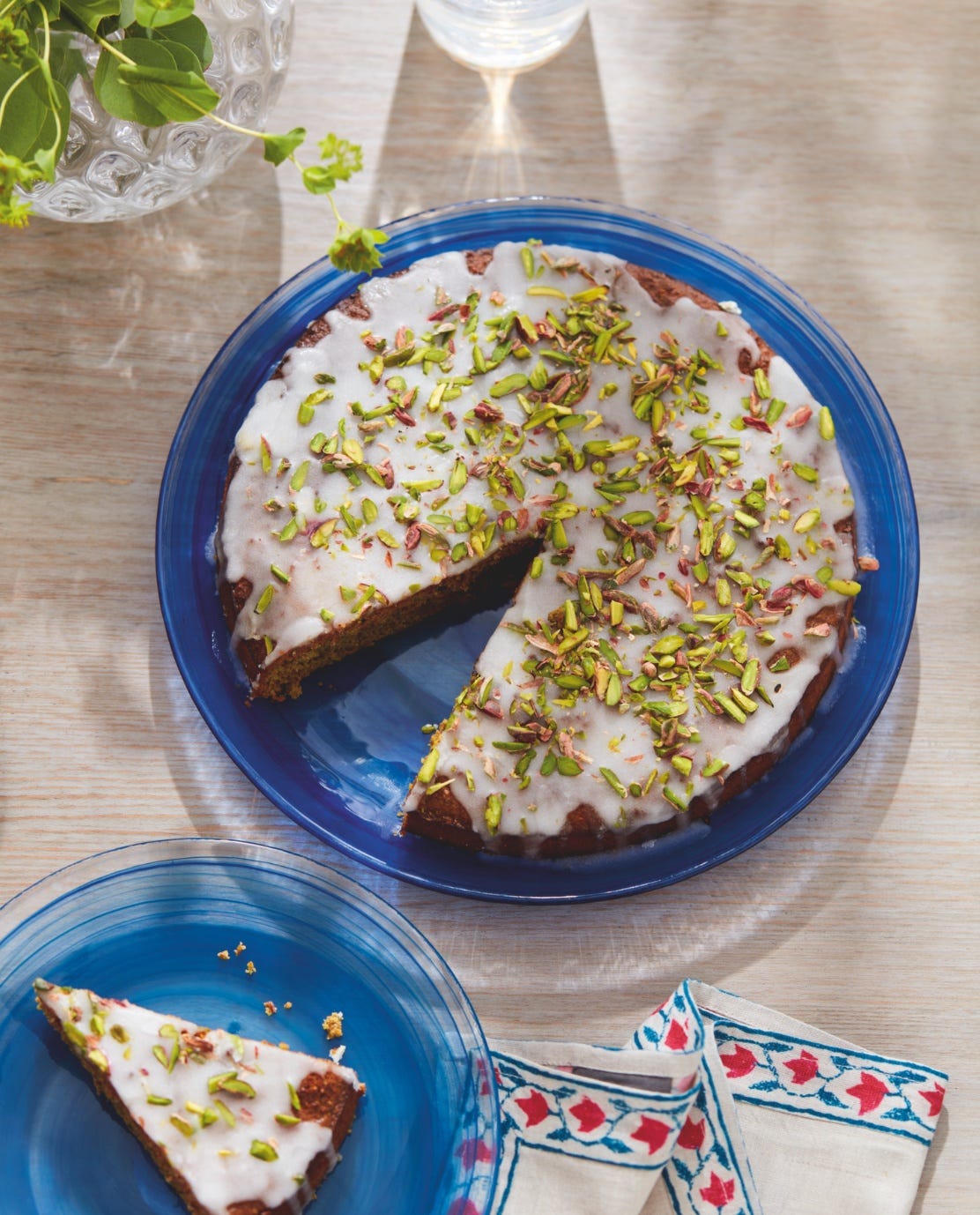 Ingredients (to serve 8–10)
- 150g unsalted butter / - 4 x 10cm sprigs of rosemary, leaves very finely chopped
- 3 eggs / - 100g golden caster sugar
- 1 teaspoon vanilla extract / - 1 teaspoon lemon extract (alcohol-free)
- 2 heaped tablespoons Greek yogurt / - Finely grated zest of 3 large unwaxed lemons
- 100g ground almonds / - 300g pistachio slivers (or whole nuts), very finely blitzed in a food processor, plus extra to decorate

For the icing
- 150g icing sugar / - 25ml freshly squeezed lemon juice
Method
1. Preheat the oven to 180°C (160°C fan), Gas Mark 4. Take a large square of baking paper, scrunch it up, then smooth it out and use to line a 22–24cm round cake tin or ovenproof dish.
2. Warm the butter in a saucepan over a gentle heat until just melted, then remove from the heat, stir in the rosemary and leave to infuse.
3. Put the eggs, caster sugar and vanilla and lemon extracts into a mixing bowl and beat together until well combined. Mix in the yogurt, followed by most of the lemon zest (reserving a little for decorating the cake), the ground almonds and pistachios. Pour in the infused melted butter and mix again until evenly combined.
4. Pour the batter into the prepared cake tin or ovenproof dish and shake to level the surface, then bake for about 45 minutes until golden brown on top and springy to touch. Remove from the oven and leave the cake to cool completely in the tin or dish.
5. Mix the icing ingredients together in a small bowl until smooth.
6. Carefully remove the cake from the tin or dish and set it on a serving plate. Pour the icing on top and leave to set, then scatter with the pistachios and reserved lemon zest before serving.
Simply: Easy Everyday Dishes by Sabrina Ghayour, the best-selling author of Persiana: Recipes from the Middle East & beyond (Mitchell Beazley, £26) is out now.