Introducing our new Autumn Collection: full of statement pieces that are rich in interesting details. We spoke to our Head of Creative Product Design, Jessica Summer, to find out more about the furniture she designs in collaboration with our Co-Founder and Creative Director, Sue Jones. We let you in on everything from the conception of pieces – often starting with drawings in Summer's sketchbook – to the end result, as well as the naming inspiration and careful craftsmanship that helped to bring them to life.
Huxley Side Table

What's fun about bobbins is that they're a very elemental shape, so I changed the circle to a block. As I was agonising over the size of the blocks, I took my son Huxley's building blocks and stacked them up…"
With this piece, Summer started off trying to make a fun statement piece that was colourful and unusual. She began sketching and the result was this geometric, sculptural side table, finials and all. It's a play on the traditional bobbin furniture that's very popular at the moment, just with a square twist. Its shelves offer the perfect perch for odds and ends, while the punchy colour options pop against more muted interiors and sing with similarly bold schemes. The richness of the colour is highlighted by using a rubbed finish that brings out the darker tonal variations, resulting in something more sophisticated than a flat finish would. Thank you, Huxley – our youngest designer yet – for inspiring this winning creation and kindly lending us your name.
Turnus Sideboard

The plinth is the detail that binds our Turnus Range together; I've matched it with other architectural details, such as the recessed panelling on the sideboard, and on the bookcase, the architrave-style edging."
Stately in style and name – 'Turnus' being a legendary leader and warrior from Roman myth, most notably in Virgil's Aeneid – every detail on this sideboard has been thoroughly thought through. The plinth detail is carried across the whole collection, giving it a sense of presence. This skirting at the bottom is matched by a cornice on the top, and between these sits recessed square panelling. These inset squares are typical of the Arts and Crafts design style; originally known as shaker panels, they were crafted with thought for function, form and proportion, perfectly befitting the Turnus design. To offset its straight lines, unusual circular brass hinges – also inspired by traditional furniture – were chosen.
Audrick Armchair

Belgian design is characterised by a very minimal and relaxed look – it's quite distinctive."
Summer used typical Belgian roll arms and a natural linen in a neutral tone for the Audrick. The gently sloping back gives the chair quiet individuality – it doesn't shout, but stands out for reasons you can't quite put your finger on. The name 'Audrick', incidentally, is a Belgian name, meaning 'noble friend'. Audrick works very well as a standalone piece among different styles, in contrast to some of our other armchairs that are designed to be paired. This allows you to create an interior scheme that isn't too "matchy matchy", as Sue puts it.

You can kind of picture these rooms in Edwardian times with huge palms and lots of greenery, where people sat drinking tea all day… There is something very charming about the shape of this piece."
On first sight the Albertine may seem simply to be a pretty and quaint rattan writing desk, but its design has a long line of interesting and overlapping influences that enrich its appeal. It was initially based upon the rattan and willow furniture featured in the Ladies Tea Room in New York's Prince George Hotel; a building designed by architect Howard Greenley in 1904. The hotel had a grand but cosy interior, influenced by the Beaux-Arts movement, which in turn took influences from Parisian, Neo-Classical, Renaissance and Baroque styles. At this time, rattan was extremely fashionable, as Eastern influences started hitting mainstream design and a taste for the exotic infiltrated the decorative arts. All of these influences are at play in the Albertine's name, which has French, Dutch and Swiss origins and a jazzy and pleasingly old-fashioned feel. To match the Albertine's writing capabilities, it's also named after a character from Proust's allegorical novel of the same decade À la Recherche du Temps Perdu. Its crosshatch weave, plaited edge and gentle curves add to its dainty charm, with the woven detail continuing onto the finials. These elegant specifics are achieved through skilled hand-weaving techniques and take incredible craftsmanship due to their difficulty level.
Pentomino Display Cabinet

---
It felt like a good balance between contemporary and traditional."
Get ready for a deep dive into geometry: the Pentomino Display Cabinet is so named for its 18 display sections and structured, rectangular shape – Pentominoes are polygons and there are 18 variations of them. Its Crittall-style bronze-framed windows reveals all of its secrets, so it was important to consider the panelling on the back of the cabinet: using the material from our classic Balabac Range, this cabinet has a rattan-lined back that adds texture and interest. This in turn softens the square shape, preventing it from appearing sharp, and resulting in a nicely balanced piece that works well in modern settings. And of course, it's designed to be deep enough for our beautiful charger plates to fit inside.
Abbey Dining Chair

The little hoof element on the foot is a charming detail that turns quite a simple chair into something a little different."
Mixing modern and regal style, the Abbey Dining Chair is based upon a rare piece designed for the coronation of King George VI in 1937. The originals were made for the Peers to sit and observe the ceremony in Westminster Abbey. Our interpretation is a celebration of the success and evolution of British design, with our own special OKA touch: the striped taping on the Dirty Orange version replaces the braiding of the original, adding interest and a contemporary look to the square silhouette.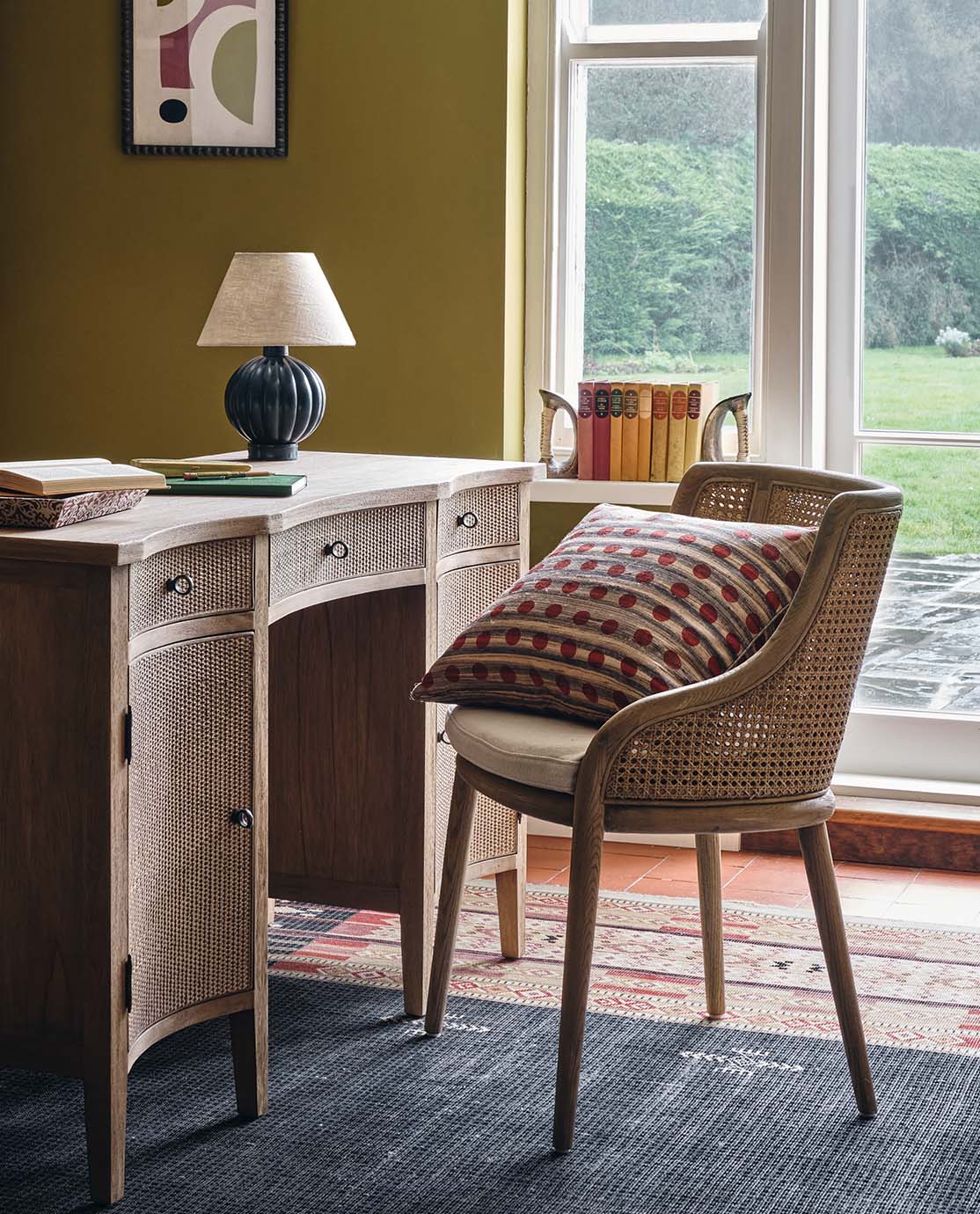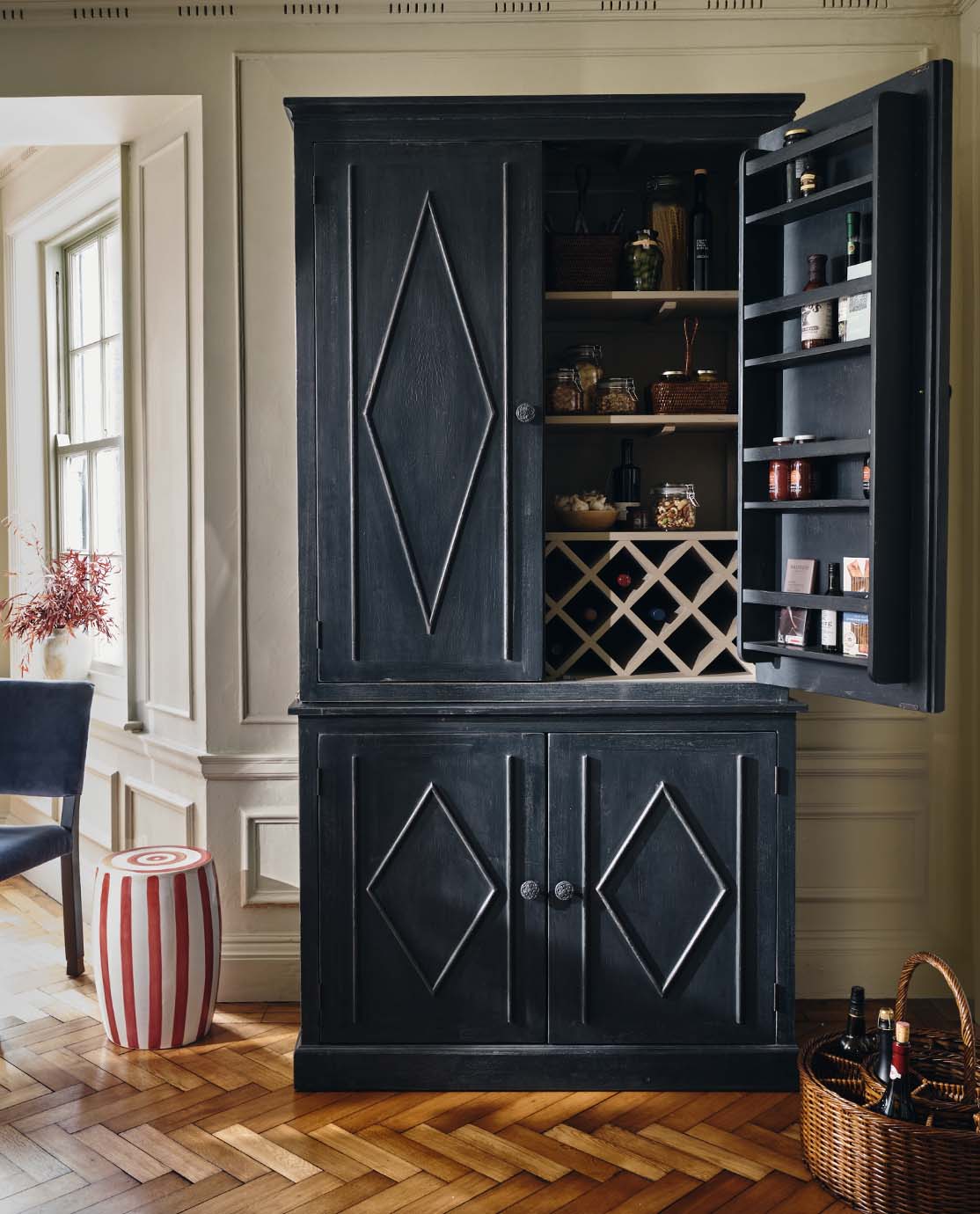 We do a lot with rattan and cane; it's a very nice way of introducing texture to upholstery and to smooth wood, while keeping a lightweight appearance."
As Sue says, this is "the Rolls-Royce of dining chairs", with its smooth-to-the-touch rounded wooden frame and cane weaving. The Carlos Cane chair is named after a lineage of top racing drivers, perfectly matched to its timeless appeal and top-quality standards. A leather seat pad hearkens to the interiors of classic cars. With the air of a fortuitous find that you might stumble across in an off-the-beaten track antique shop, the Carlos is also built to last with its double-caned back for added strength.
Briolette Cabinet

The diamond motif is something Sue found on an old antique, which we've taken across a range of products. It's a great transferrable pattern that works on furniture of different scales."
Our Briolette Range is a real gem, named for a particular cut of diamond to match its raised diamond design, which was inspired by classic French antiques that Sue came across in a market. We have since used the motif on a variety of furniture pieces, from our sideboards to this expansive cabinet, which has endless storage for wine, spices and other kitchen condiments in its many purpose-built shelves and racks, making it as practical as it is pretty. The rubbed indigo has a dynamic finish that can look both rustic and glamorous depending on its setting, while the detailed knob handles complete the piece beautifully.