Buying a new home always comes with a certain level of risk, but Georgie and Alex took a bigger punt than most when they set their sights on this Georgian townhouse. In their mid-20s and living in central London at the time, they had no plans to move back to the quaint Surrey village Alex had grown up in. However, when the house of their dreams hit the market, they jumped at the chance to buy the "once-in-a-lifetime" property, putting in an offer before they'd even had the opportunity to view it.
With the property came lots of "peach, pale green and woodchip wallpaper"; they have spent the past six years updating the space to create an inviting family home for themselves and their three-year-old daughter. Conscious of the building's heritage, but keen to put a younger stamp on the place, they struck a careful balance between classic and contemporary, the latter coming through in their adventurous colour choices – think red in the kitchen, pink in the downstairs bathroom and blue in the boot room. By the time they came to the dual-aspect occasion room, however, they had run out of steam.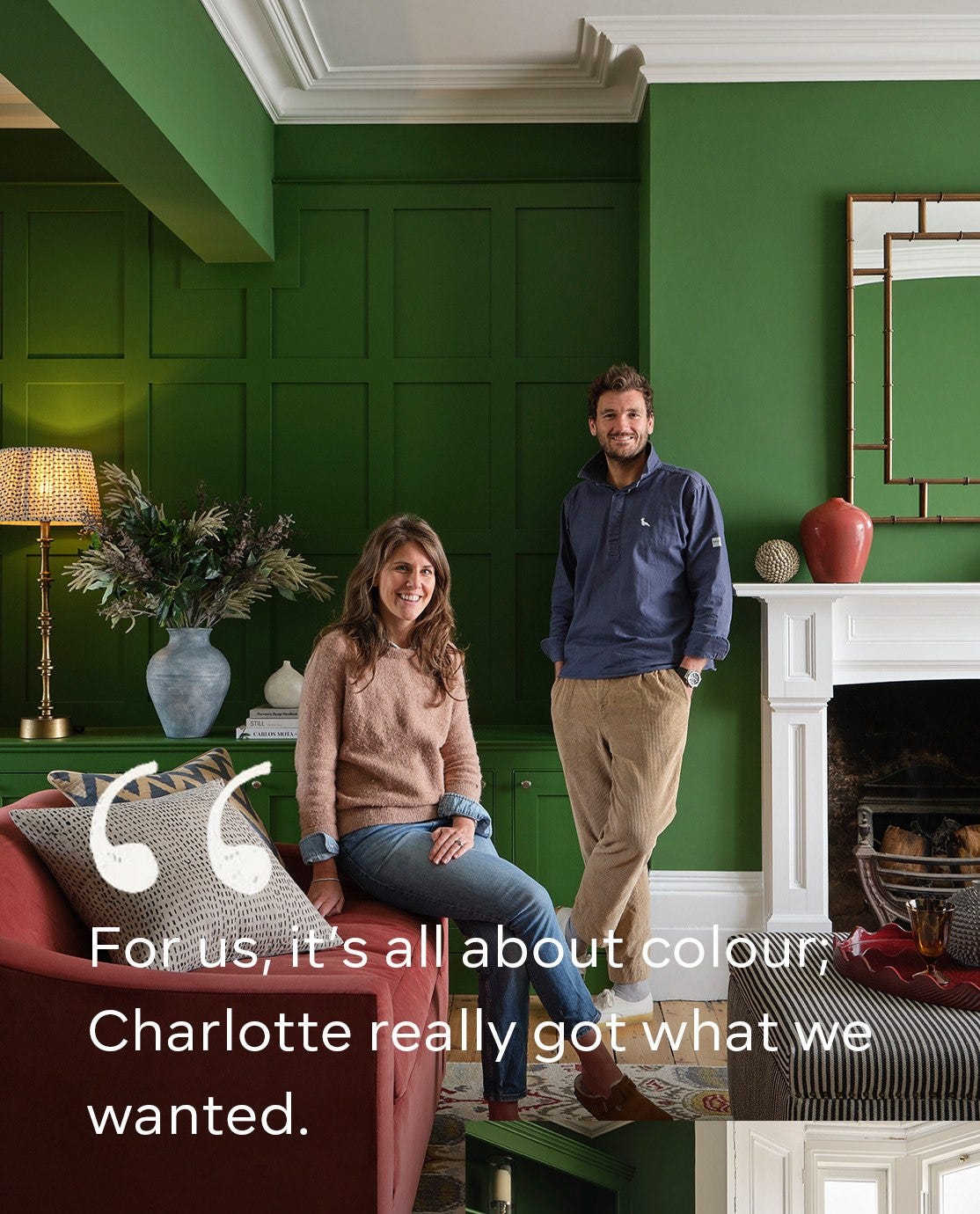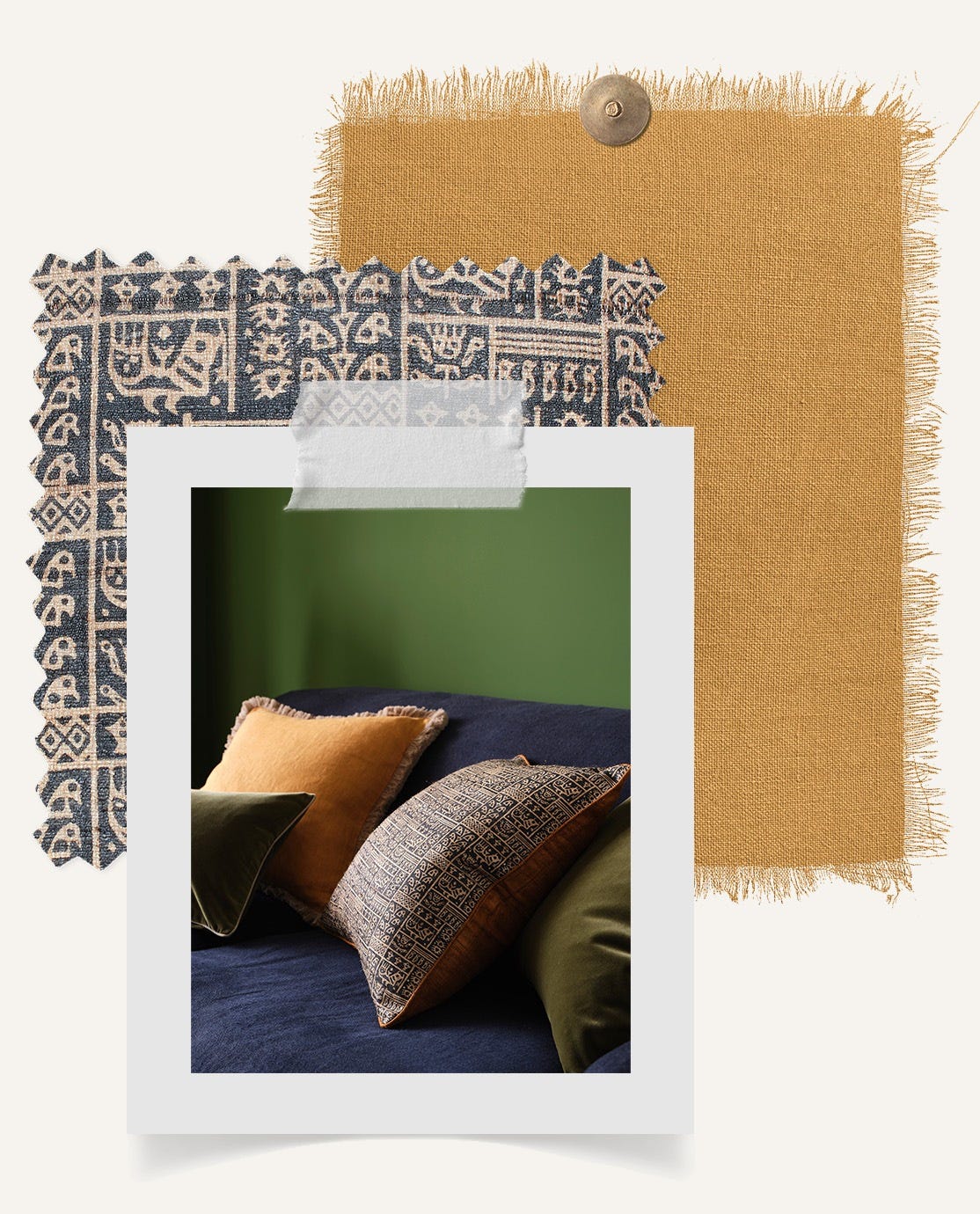 "I just lost my vision for what that room could be," Georgie says. "I knew I wanted a specific shade of green, but I'd bought loads of samples that kept coming out quite khaki. I wanted it to be really vibrant."
Having spent many an evening scouring Instagram and Pinterest for inspiration, Alex found that they "kept coming back to the same things, and they were all OKA". A quick email later and they'd arranged for Charlotte Saunders, one of the experts behind our Interior Design Service, to pop round for a complimentary consultation. "I took loads of fabrics with me, which I always do, because it helps me to get a sense of how adventurous a person is, what patterns they like and what kind of palette they immediately gravitate towards," Charlotte says. "Georgie picked out so many different fabrics, and Alex immediately loved them as well, so I knew that their style was quite colourful and that they liked pattern."
Charlotte selected Hopper by Little Greene for the walls and cabinetry, adding brass handles to the cupboards for a warming touch. During the initial consultation, the couple had shared how much they loved our George Cheetah Club Chair, so Charlotte was keen to incorporate that into the scheme, too.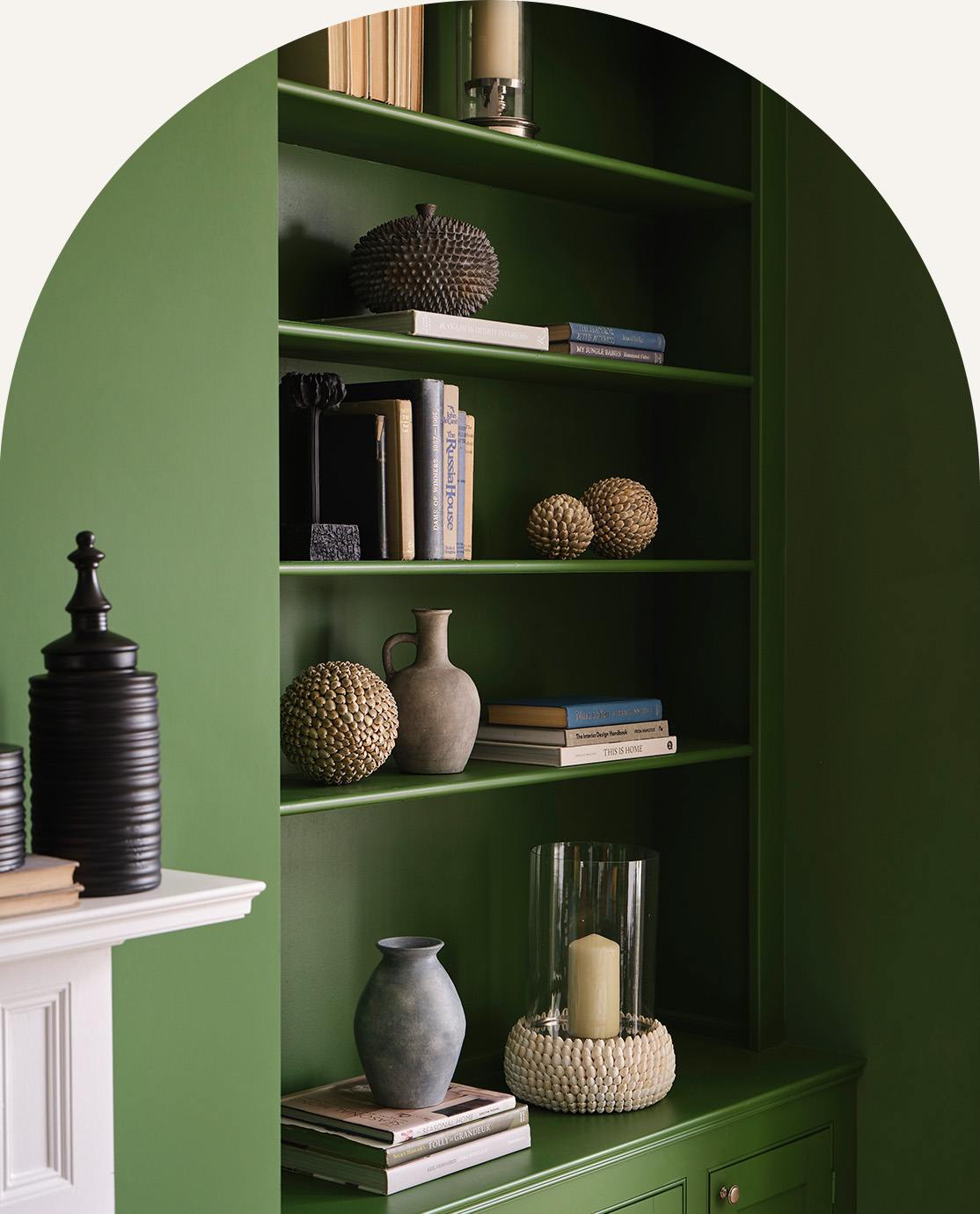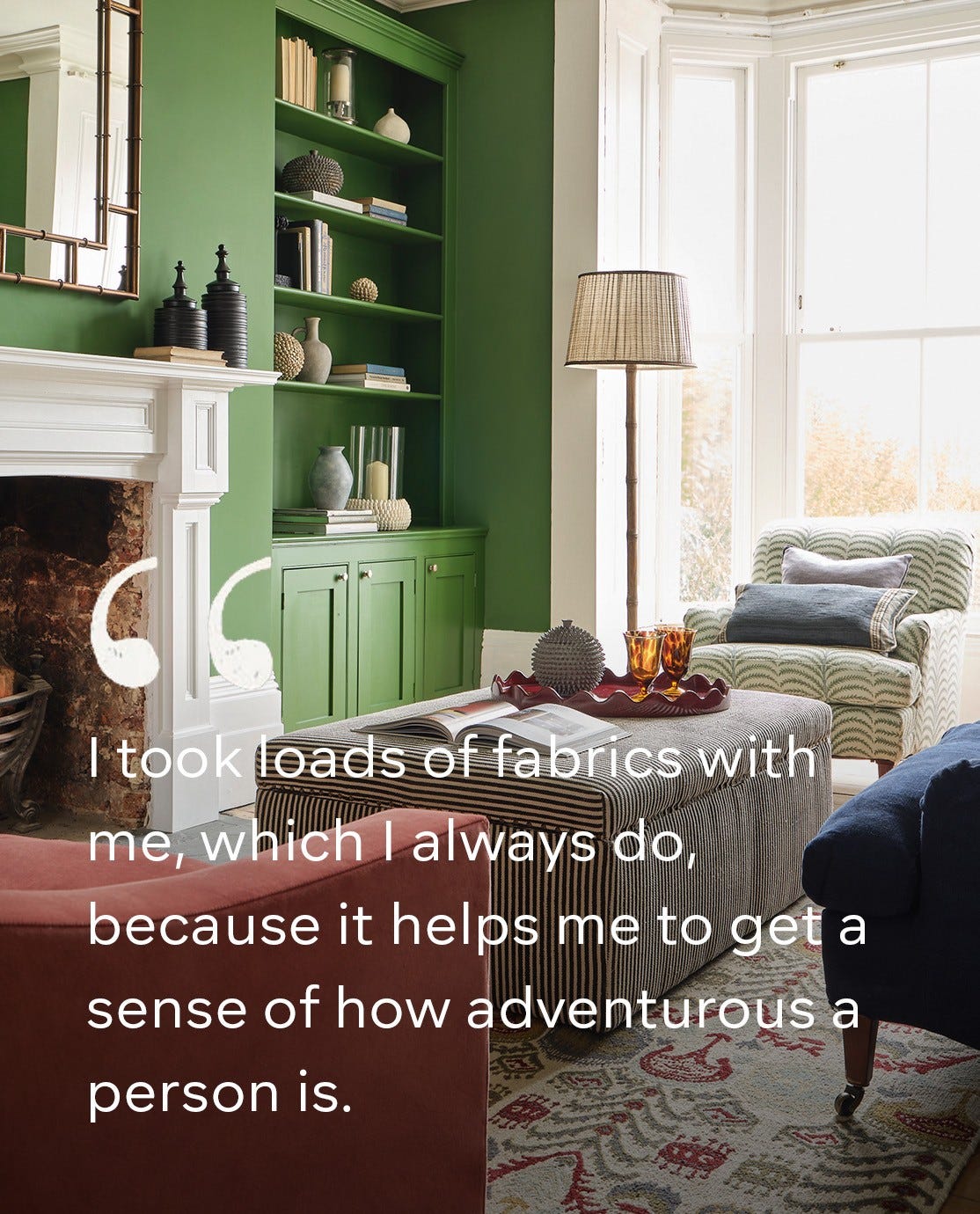 With the couple's support, the designer brought an eclectic palette of bold colors and patterns to the space. There's our Coleridge Sofa and Armchair; the former stands strong in navy blue, while the latter brings a dose of joy with our signature Areca palm print. Tucked neatly into the bay window, it perfectly complements not only the verdant color on the walls but also the local park that the house overlooks. The striped Crusoe Ottoman, meanwhile, takes center stage, contrasting happily with the rainbow print of our Izmir Rug, which grounds the space and pulls the look together. "There's probably every color in that room," Charlotte says, "but I've zoned it to make certain areas a bit more blue or green, and others gold and red."
Representing red is our Tailored by OKA Egerton Loveseat, whose welcoming Paprika "clever" velvet upholstery offers an invitation to sit. This smart synthetic fabric is both stylish and practical—it offers the look and feel of traditional cotton velvet, but doesn't mark, stain or fade, making it the perfect choice for a young family who don't want to have to worry about wear and tear. "It's a lived-in house," Georgie agrees. "We're not bothered about people taking their shoes off; we want people to feel at home here."
In the other half of the room, where the much-loved George proudly sits, a custom footstool steals the spotlight. The piece itself is the Fanshawe, part of our Tailored by OKA collection, but the fabric is Lewis & Wood's Kimono ikat print in a vibrant Cayenne Blue colourway. A perk of using our Interior Design Service is that you can choose any material you like, from any fabric house, for our custom-made pieces – a dream scenario for a couple who aren't afraid to be bold. "We're very happy with clashing patterns; we're not people who want to have a mostly neutral home," says Georgie. "For us, it's all about colour; Charlotte really got what we wanted."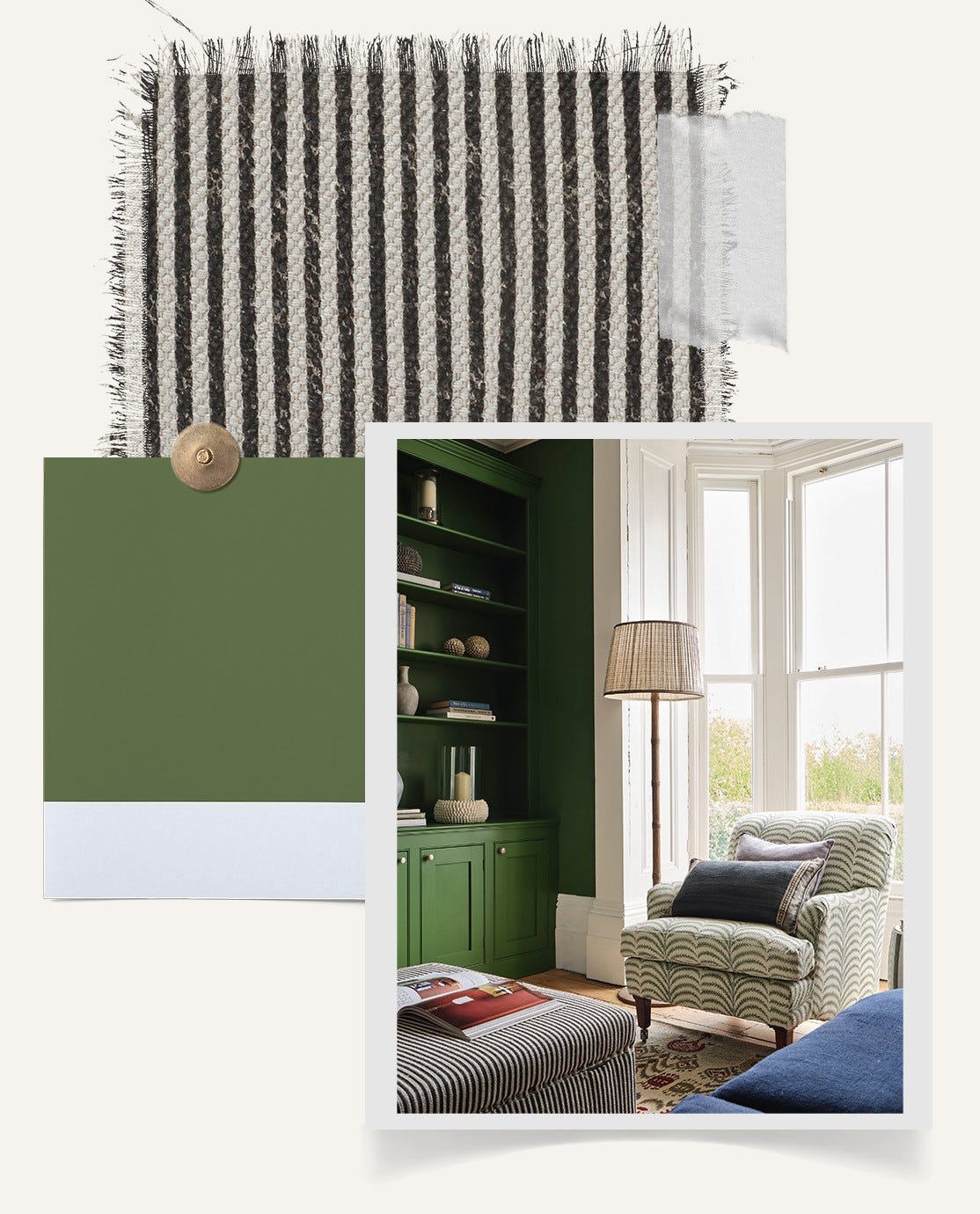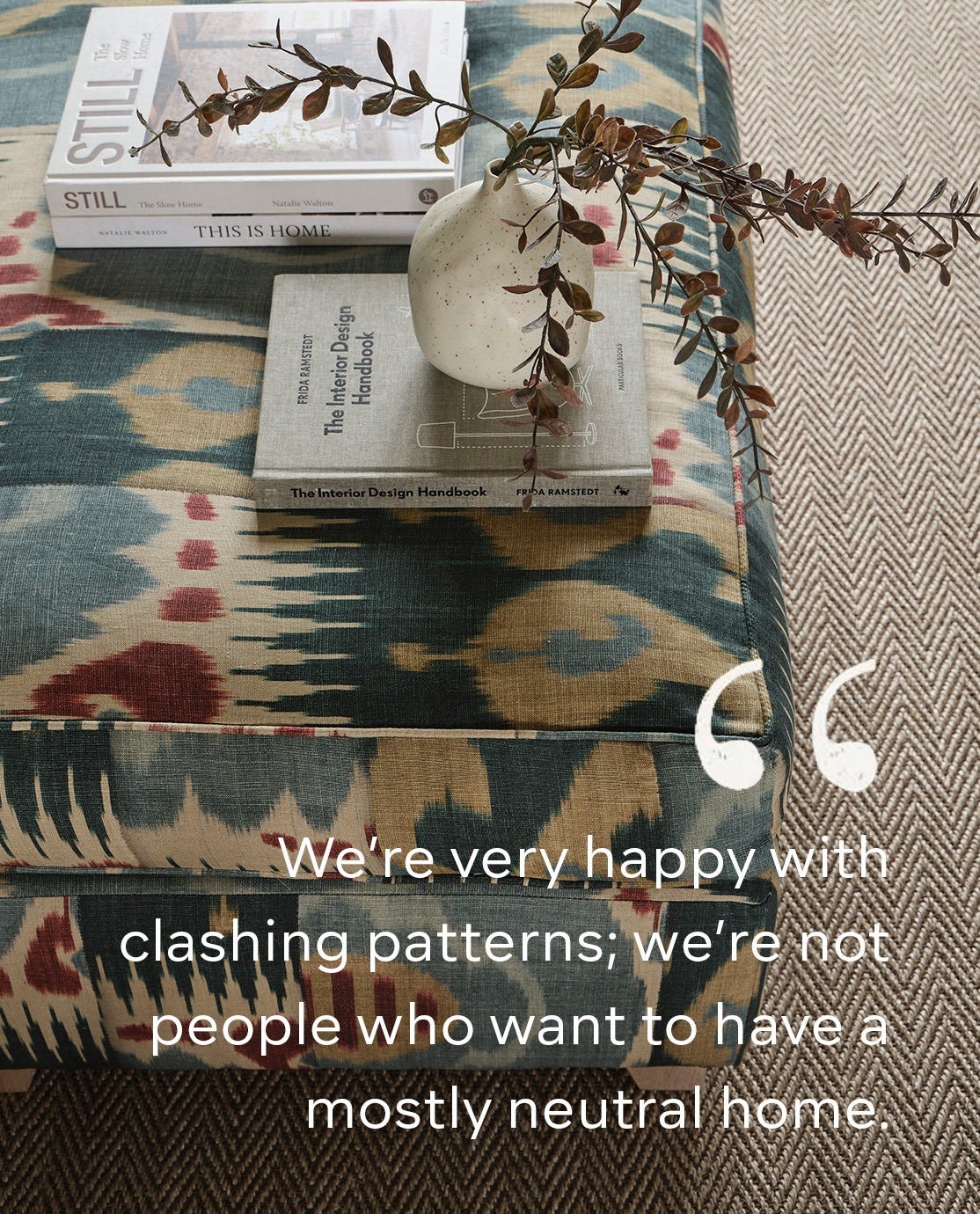 Indeed, it's not just the occasion room for which the designer has lent her expertise; working closely with the pair, she found the perfect floral fabric to make a new set of blinds for the kitchen, and has also helped them to source a charming bow-print wallpaper for their daughter's bedroom. Next up is finding a sunny shade of yellow for the hallway. "We really want Charlotte to do our entire house now," laughs Georgie. "I always like to get more of her ideas when she's here."
As for the occasion room, its new décor is already paying off; the couple have enjoyed using the space to celebrate their daughter's birthday. Looking ahead they hope to have many more moments together in the room, with visions of playing Monopoly on a Sunday or hosting movie nights for friends (plans to install a projector are in the works). With a young family and busy careers, they were pleased at how simple it was to use the service, and have already recommended it to others. "I don't feel like we've had to do anything; it's very easy for busy people," says Alex. "The problem is, the bar has been set now, and we have a few rooms left…"