Knowing how to choose garden furniture goes beyond simple sun loungers, relaxed bean bags and a weathered-looking table. These are all very well if you don't plan to share your garden, but if you're looking to entertain – and let's face it, in summer your garden becomes an extra room where you can relax, dine or host friends and family – you'll need to do a bit better with your garden furniture. Just as your home has a character of its own, so does your garden. Whether it's a city balcony, a walled terrace or a sprawling country garden, it's important to pick pieces that suit the available space; even the smallest outdoor oasis is worthy of stylish furnishings. Join us on a garden tour, and discover inspiration for your own outdoor space by taking a look at a range of British homes and the garden furniture that's been selected to enhance their alfresco style.
What garden furniture will fit on a balcony?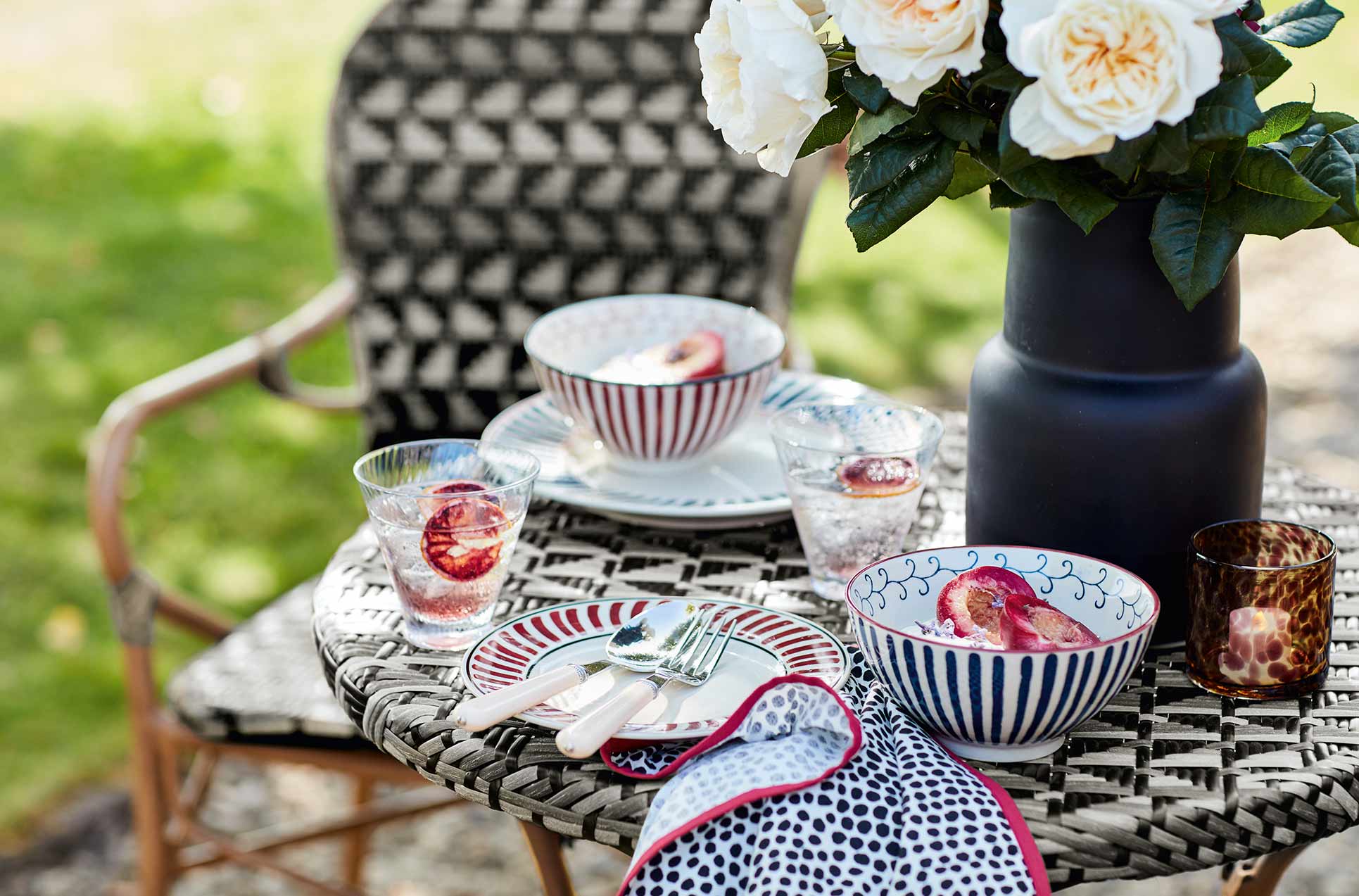 Living in the city centre, while packed with perks, often means compromising on your outdoor space. If you are lucky enough to live in flat with a balcony or terrace, however, it's important to make the most of it. Stackable or foldable garden furniture is a clever solution for your spatial shortcomings: a metal table and chair set for two will fit even the most petite of balconies, while an outdoor dining set – where the chairs can be nested underneath the table – is a good investment for a larger roof terrace.
If there's no space for a dining table and chairs, then a comfortable armchair (or two) paired with a side table, is a must. With smaller balconies or roof terraces, it's the accessories that take it to another level.
How can I furnish a small terrace garden?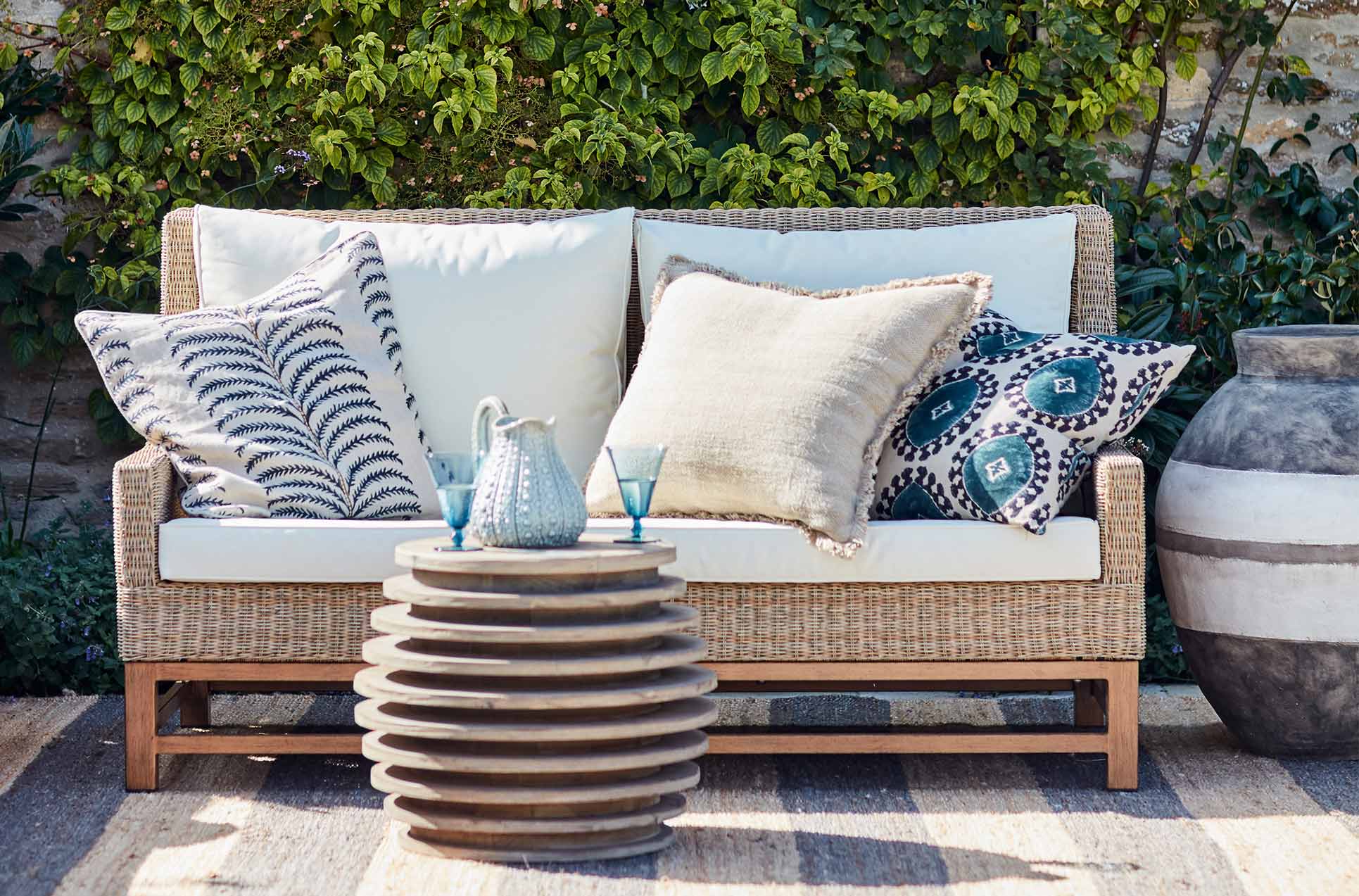 Victorian terraced houses are full of character but, unfortunately, the same can't be said for their gardens, which often feature a gloomy, neglected narrow side alley that runs alongside the house and a modest backyard – frequently paved, lacking greenery and overlooked by neighbouring buildings. All this adds up to a lot of potential, though: terraced houses have gardens that are simply crying out for the right furniture and accessories to transform them. All you need is a little imagination.
The side alley, for example, shouldn't be written off; it might be in shadow for most of the day, but add a dining table and a couple of dining benches, and you've created a cool, shaded space to enjoy alfresco meals out of the midday sun. In the garden itself, modular outdoor furniture is great for making sure every inch of space is used efficiently. An L-shaped sofa in the corner of the garden offers plenty of comfortable seating for guests to relax in the sun. Add to that a combination of side tables, coffee tables and ottomans for extra surfaces and storage, and you have the perfect set-up for entertaining a small gathering.
To maintain a sense of privacy and incorporate some much-needed greenery, why not add a pergola or arch to your back garden? Adorned with climbing plants, it will make a lush-looking focal point that helps make the space feel more welcoming. You could even consider using artificial foliage if you're not a fan of gardening: it looks realistic and requires no watering. On a smaller scale, outdoor planters are great for housing a small tree or a bush – you could even plant a little herb garden in one, and bring a touch of the garden-to-table lifestyle to your meals.
How to style a suburban semi-detached garden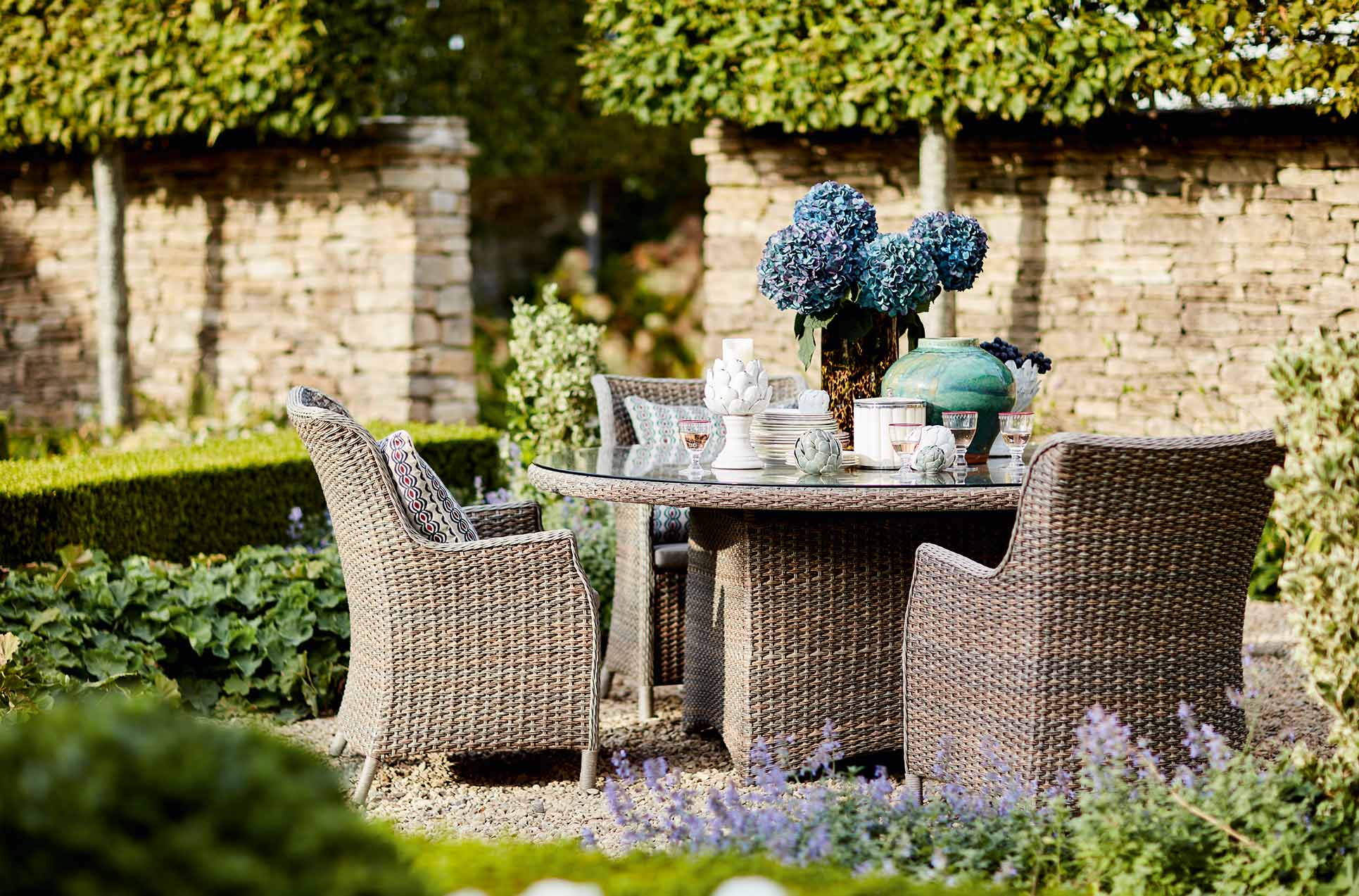 Head out of town into the suburbs and you'll find street after street of semi-detached houses, where manicured lawns and straight paths work in harmony with modern, angular furniture design. While these feature back gardens that may afford you marginally more space outside than an urban terrace (and possibly a garden in front of your house, too), furniture choices still need to be carefully considered and difficult decisions need to be made. Specifically, do you use your space to create an alfresco living or dining area?
A corner sofa paired with a coffee table (plus iced drinks and cake, of course) creates a welcoming outdoor sitting room. Somewhere to store cushions or throws is also very useful – an outdoor trunk, which can also double up as a side table, comes into its own here. Should you decide to choose dining over lounging, a simple long wooden trestle table with benches is a classic look for any style of garden. To create a more intimate dining setting, a small square table and four chairs has a minimal footprint and can be easily covered up during the winter months when not in use. If you want the best of both worlds, a height adjustable coffee/dining table offers the flexibility you're looking for.
What type of garden furniture works best for a country cottage?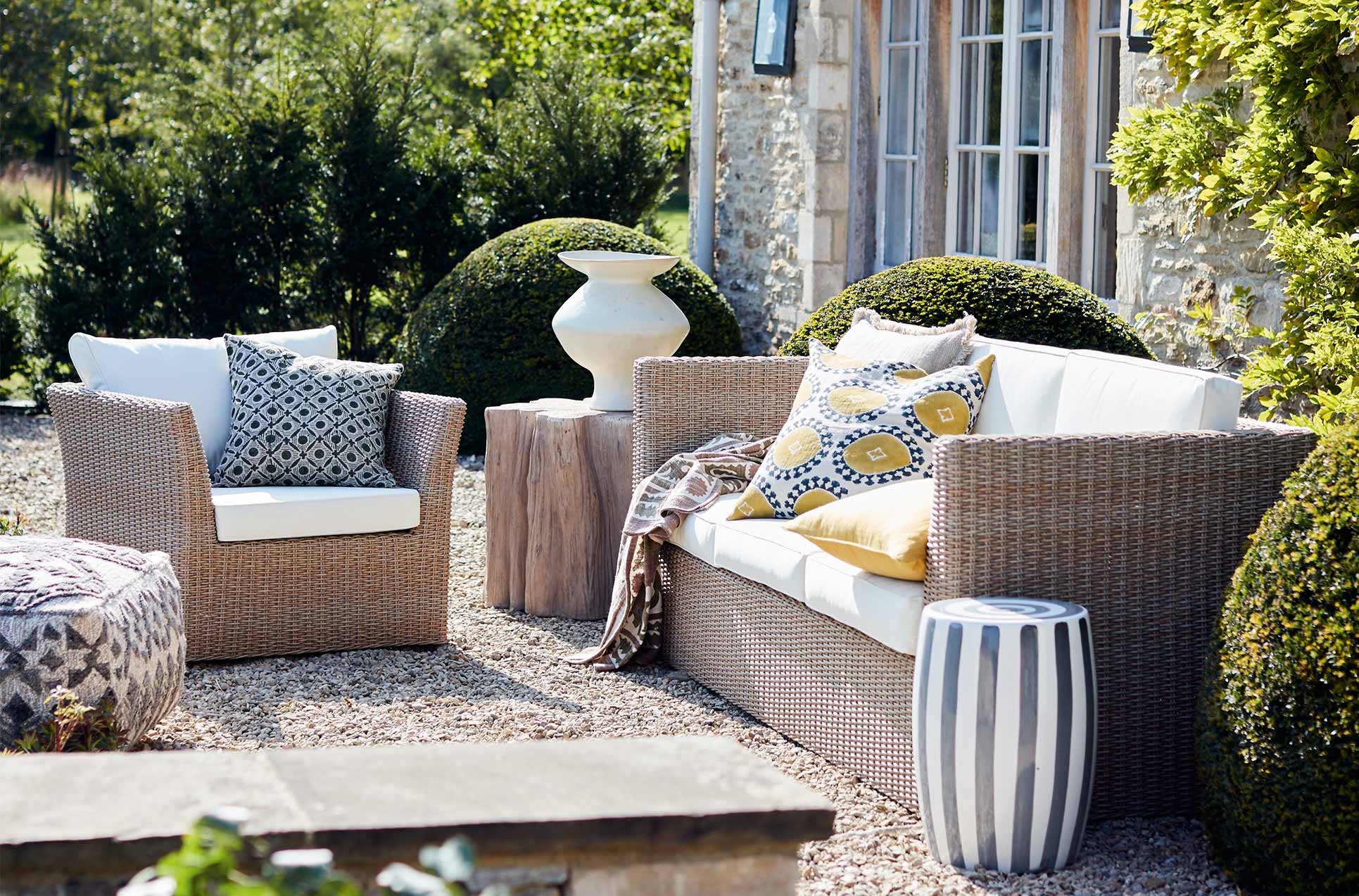 Close your eyes and imagine a typical British garden. Do you immediately picture a chocolate-box cottage with a white picket fence or crumbling stone wall surrounding it, the overgrown garden filled with colourful wildflowers that create a haven for wildlife? Romantic, poetic and whimsical, a classic country cottage garden requires furniture that complements, rather than competes with, the surroundings – the garden itself is the star, we are the audience.
In these kinds of surroundings, garden furniture crafted from natural materials – such as stone or wood – will blend into the landscape. The beauty of these pieces is that they look better as they age. Nestled under a weeping willow tree or inside a garden arch, a metal garden bench with a weathered patina provides a picturesque spot for quiet contemplation or losing yourself in a good book (just add a couple of cushions for extra comfort).
Choosing furniture for a manor house garden
A bigger house often means a bigger garden to furnish. Here, understanding scale and proportion are everything – you don't want the furniture you choose to get lost in vast surroundings. Like open-plan living, larger gardens do well when 'zoned' for different purposes. These areas each require different furniture.
For a patio beside the house, a large outdoor dining table with comfortable dining chairs is essential. (Sometimes we even put two tables end to end, creating an even larger tabletop that we can fit more guests around!) For large expanses of lawn, you'll need an outdoor sofa, coffee table and some armchairs for relaxing. Aim to include a few lightweight outdoor chairs that can be easily moved into the shade should it get too hot. And speaking of hot, if your garden comes with a swimming pool, you're definitely going to need some sunbeds and parasols. Another great place to position a really comfortable sofa is underneath a tall, leafy tree – you'll definitely want to spend lots of time here, either seeking the shade on a hot day, or sheltering from the rain that frequents British summertimes.
The one rule that underpins your choice of garden furniture, regardless of space is this: well-designed and high-quality garden furniture is an investment, so choose pieces that will defy the trends, stand up to all kinds of weather and continue to deliver comfort season after season.