Floor cushions are the chameleons of the interior design world, adapting to their habitat as quickly and easily as the notorious lizard might change its colour. Being easily movable, multifunctionality is at their core: extra seat, coffee table, footrest, decorative item… with a floor cushion, the choice is yours. If you're considering incorporating floor cushions into your home décor, let our expert tips offer some advice; in this useful guide, we cover everything from placement to care.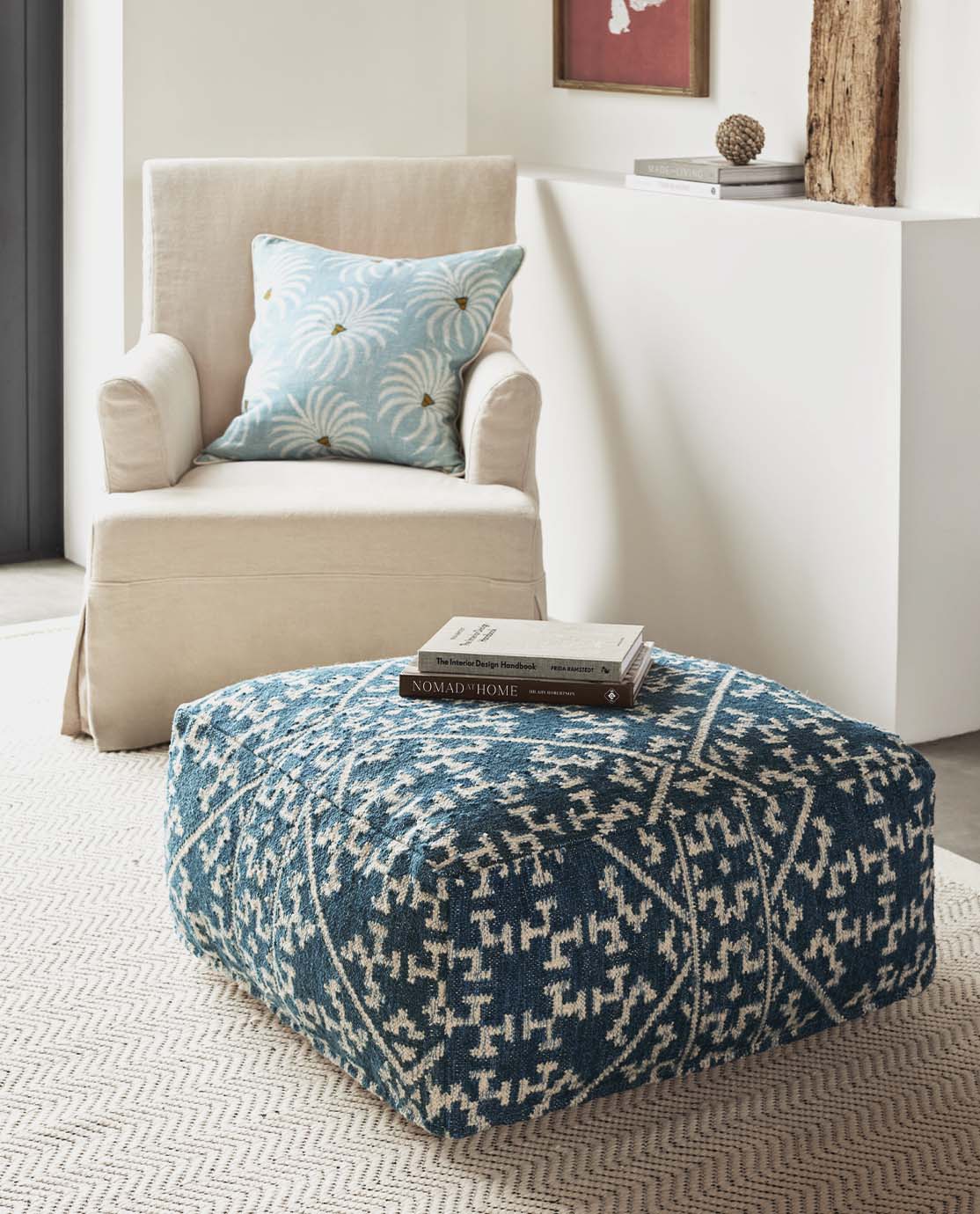 Firstly, think about the room you want to add a floor cushion to and the purpose of both the cushion and the space. Are you looking to add a flexible extra seat to the sitting room or create a reading area in your study, for example? The former might call for a smaller piece that can be easily tucked away in a corner when not in use; the latter demand a large one that is also a day-to-day design element. In either case, it's important to consider the proportions of the room, which leads us on to what size and shape floor cushions to choose.
What Shape Floor Cushion Should I Choose?
The most common shapes of floor cushion you'll encounter are square, rectangular and round – although if you're decorating a child's room, there are some quirkier forms to be found – and a quick Google will show you that they come in an abundance of sizes. Again, this is when you need to consider function, but simply put, the larger the room, the larger the floor cushion can be.
Square
Square or cube-shaped designs can be useful placed next to sofas or armchairs, acting as extra surfaces to rest books or blankets, or accessorising a room complete with a tray and ornaments on top. These types of cushions are also easy to stack up if you come to need more floor space; equally they can live in a tidy pile and then be easily brought out for extra seating options.
Rectangular
Rectangular floor cushions tend to be the larger of the choices, and can be perfect if you're looking for something to anchor a space as well as provide seating. A rectangular design could make a good makeshift coffee table in, say, a snug, as the surface area is bigger and therefore more stable. Then, come film night, they can easily be shuffled around to accommodate extra people.
Round
Depending on their height, rounded floor cushions can either be used as versatile low seats and footstools, or like an actual stool – ideal pulled up to a dressing table in a bedroom, for example. If you opt for a small, low version, these could also double up as extra cushions on a dining bench or chair as well. Whichever height you opt for, round designs are easy to tuck into small spaces and store due to their lack of corners.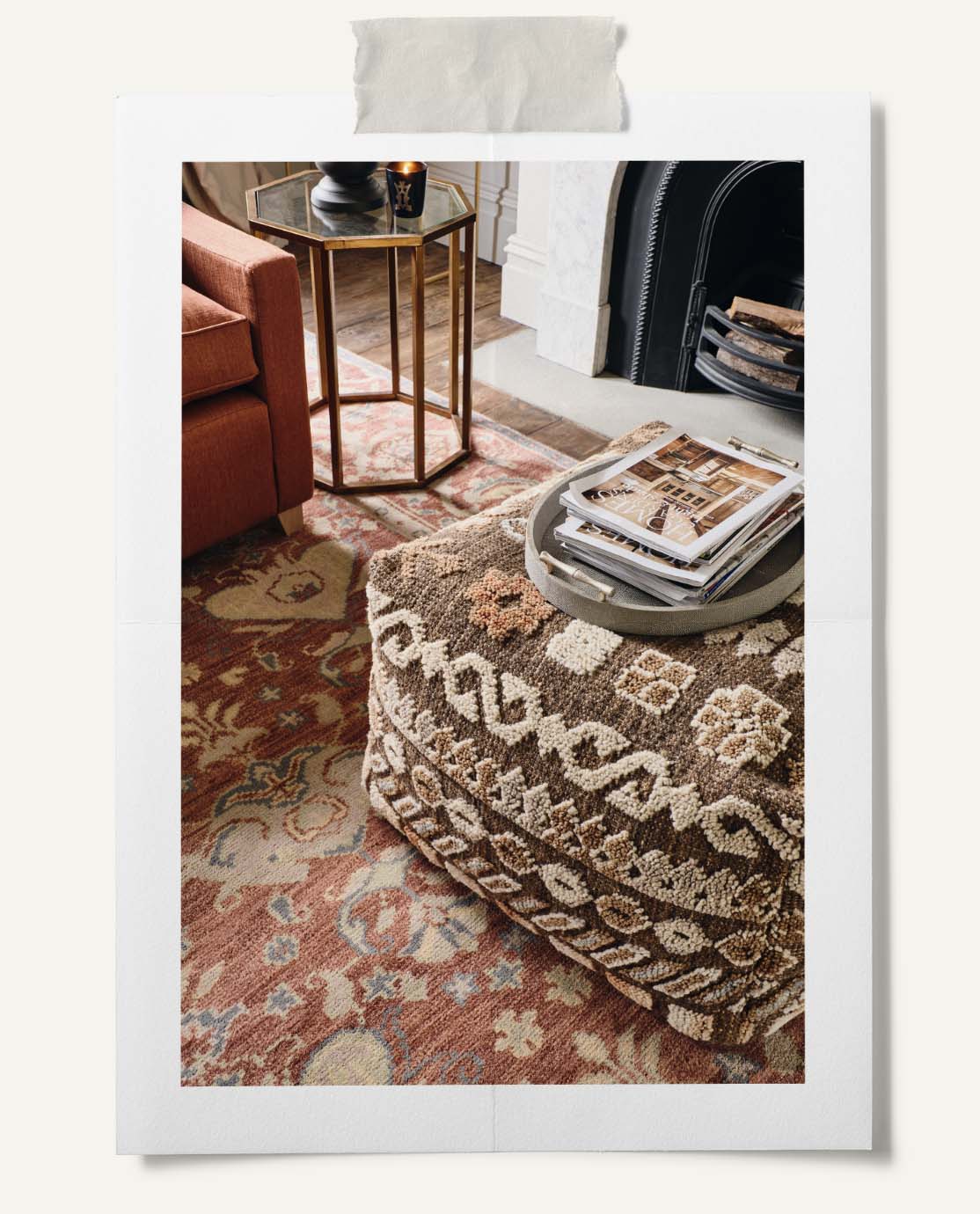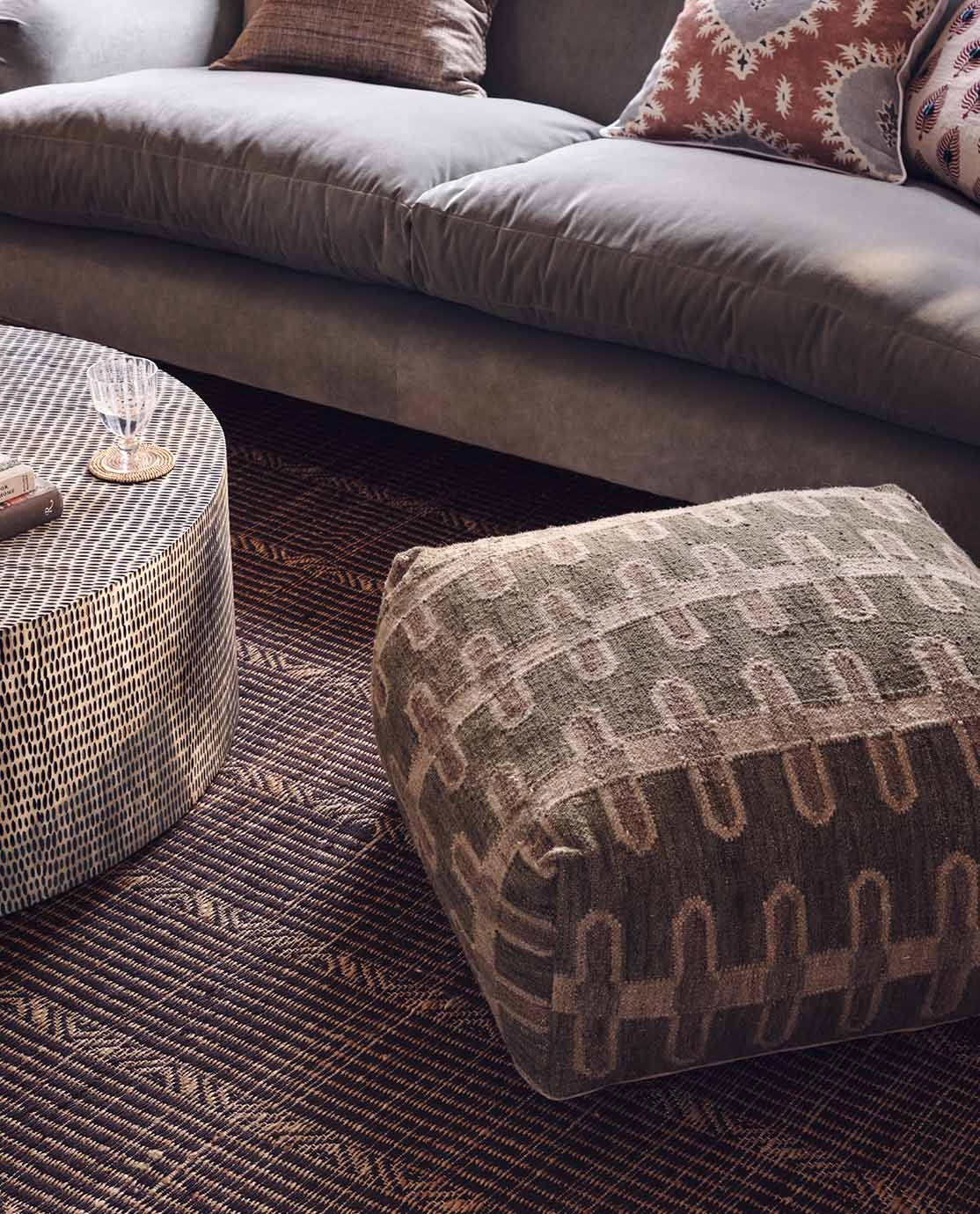 What materials should I choose for my floor cushions?
As floor cushions tend to be moved around a lot – or can even be the site of children's play areas – durability is important. Commonly used materials include wool, cotton, linen, leather and polyester, each of which are hardwearing but will also play into aesthetics. Filling, too, is something to consider, as different fillings will provide different levels of support and comfort.
Wool and Cotton
If natural, textured materials are your thing, why deviate from them? These organic fabrics are inherently durable so are more than up to the many tasks of the floor cushion, and their soft pile lends a relaxed look to a room. You'll often find cotton and wool decorating Morrocan-style floor cushions or poufs, the style of which help to create an informal feeling.
Leather
Inherently smart and stylish, leather floor cushions are perfect used in more grown-up spaces. While good quality leather will wear gently, only looking better and feeling softer with age, it also succumbs to marks and spills easily; if this is something you'd worry about, it's best to keep them out of busy living areas.
Polyester
Polyester floor cushions tend to be stain-resistant and very easy to clean, making them practical choices for a nursery or child's room. If it's outdoor floor cushions you're after, this is the material for you; not only will the outside look better for longer, but the weatherproof nature will also keep the filling inside in good condition come showers or damp spells.
Fillings
Different fillings have different lifespans and create varying levels of firmness. For a floor cushion that will be mainly used as a stool, you're best off choosing one with a beanbag-style filling – most are made from small polystyrene balls – that will hold the shape of the cushion while also being comfortable. Although less common, you can also find floor cushions that have foam fillings; these will have more give, so are useful if you're looking to create a very relaxed area to lounge on the floor.
What style of floor cushion should I choose?
Most floor cushions are at heart functional, but that doesn't mean that their style shouldn't be carefully considered – you want everything in your home to feel cohesive. Fortunately, the options out there span everything from classic Persian-style patterns to contemporary geometric designs, and all the colours of the rainbow.
Patterned floor cushions
If you're thinking about introducing more pattern to your interiors, floor cushions can be a great place to start. For one, you can shimmy them around a room (or multiple rooms) with ease until you find a spot where the print sits happily, as opposed to bulkier furniture pieces that usually have a designated home. As furniture goes, floor cushions are fun; often synonymous with hosting and gathering loved ones together, so choosing a playful design can also speak to their function nicely.
Plain floor cushions
Name your colour palette, there's sure to be a floor cushion in a shade that complements it. If you're planning on using yours in a sitting room or snug, it's likely some spillages will occur at some point – a Monopoly Deal win, we're looking at you – so darker colours are a sensible choice.
How should I care for my floor cushions?
It depends on the material you choose, but as a rule, you should hoover your floor cushions regularly to avoid dust building up and to keep them looking their best. Some pieces have removable covers that you can pop in the wash, but always make sure to check the label for the temperature requirements before you do this. If you can remove the cover, make sure to shake out the filling from time to time as well to maintain its shape and prevent it from clumping.