Whether you have a room specifically intended for working or you want to create a study space within a kitchen or sitting room, the right desk can help to designate your work-from-home area. Many of us were thrown into the WFH lifestyle before we were able to prepare and invest in proper equipment. For some of us, the trend continues (and long may it), so it's important to enhance our spaces so that they become healthy work environments. This is where a desk comes in handy. But it needn't be plain and boring, you can find a desk style that fits in with your tastes to make your work setting that bit more enjoyable. For tips on selecting the best desk for your home office, read on.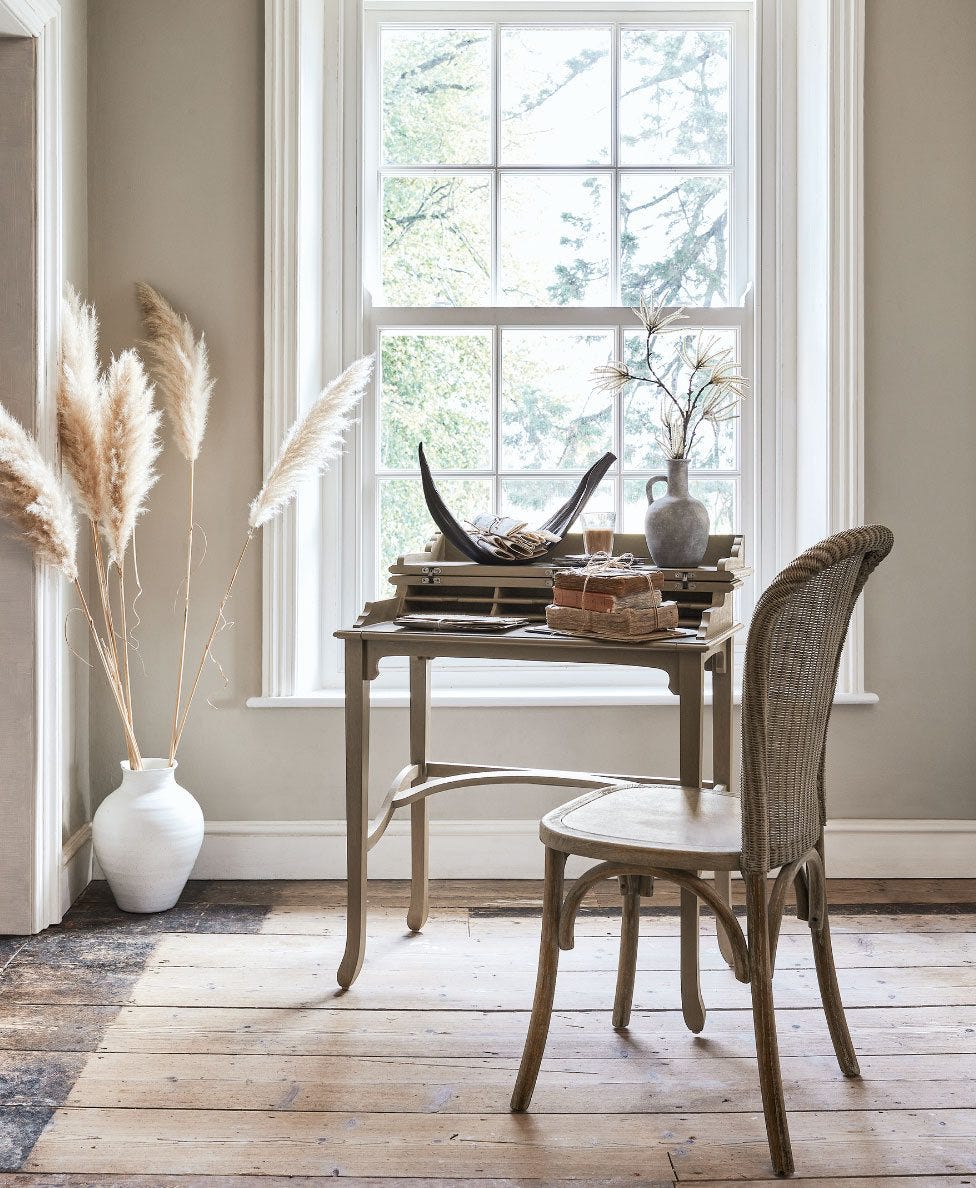 Space and Size
The first thing to do is to determine your needs and think about the space where your desk will reside. Most of your desk decisions will come down to the layout of your room. There are all sorts of sizes to choose from, and the configuration of your room should play a part in narrowing down your options. Will your desk stand against a wall? Or will it be a central feature so that your walls become the backdrop to those incessant virtual meetings? If the latter, consider decorating your walls with art and display shelving to add personality.
To avoid any unwanted mishaps, make sure to measure your space before you step out on your desk-buying endeavour. Keep in mind, it's not only the amount of space you have for your desk that you need to consider but also the amount of space you need on your desk. We would encourage you to go for the largest desk that fits into your selected space. The more room you have, the wider your desk can be, enabling you to spread out and have a place for all those reports, notebooks, box files and other important stationary pieces. If you're squeezing into a nook, you may want to opt for a narrow, compact option; to make the most of your small space, look to desks designed for corners – helpful if you're dealing with an awkwardly shaped room – and options that double up as storage. Remember, just because you're going small in size, you don't have to go small on style…
Ergonomics
It may sound obvious, but one of the most important characteristics of a desk is that you can get your knees under it comfortably. So many of us make do with a cobbled together setup involving a sofa and a coffee table, or a dining chair and a dressing table, and if you're working with a screen, this can result in physical complaints such as back pain or eye strain. Your surface and your chair must work together in harmony so that you can protect your spine. The average at-home study desk height is 73-76cm high, however depending on your height, you may want to test out anything from 69cm up to 76cm.
Consider the chair that you are pairing with your desk, as this can make a huge difference. A chair with adjustable height will make just about any desk appropriate for your comfort levels as you will be able to set it to the right height for optimum productivity. However, if you're using a dining chair – a good option if you don't want your home to look too 'officey' – then think about how the height of your desk will correspond with that. Your setup should promote a healthy posture, as you'll generally be spending hours at a time sat here. The NHS suggest that you make sure your back is properly supported, with your knees slightly lower than your hips and your wrists and forearms level with the floor. They also advise that your screen be an arm's length in front of you, with the top of it level with your eyes.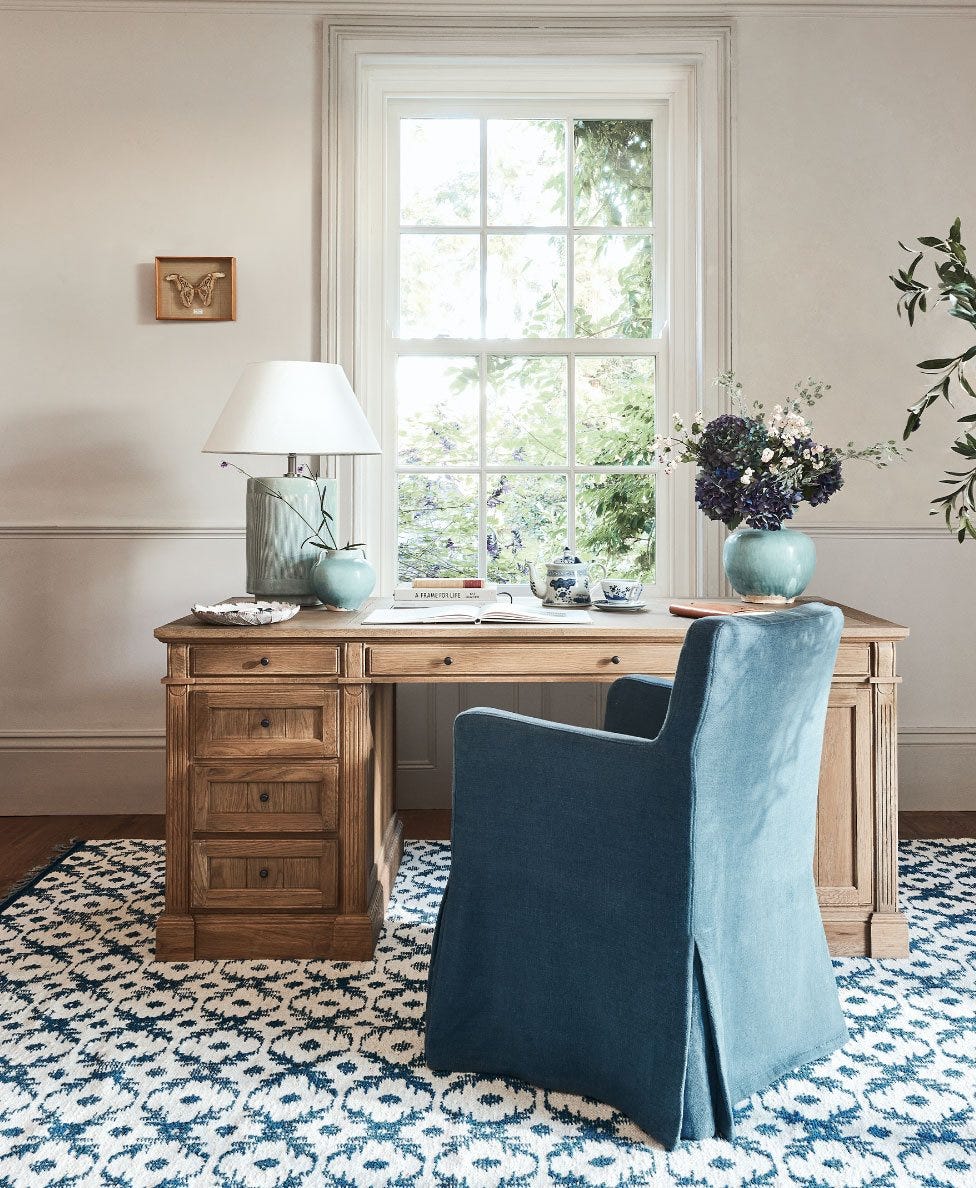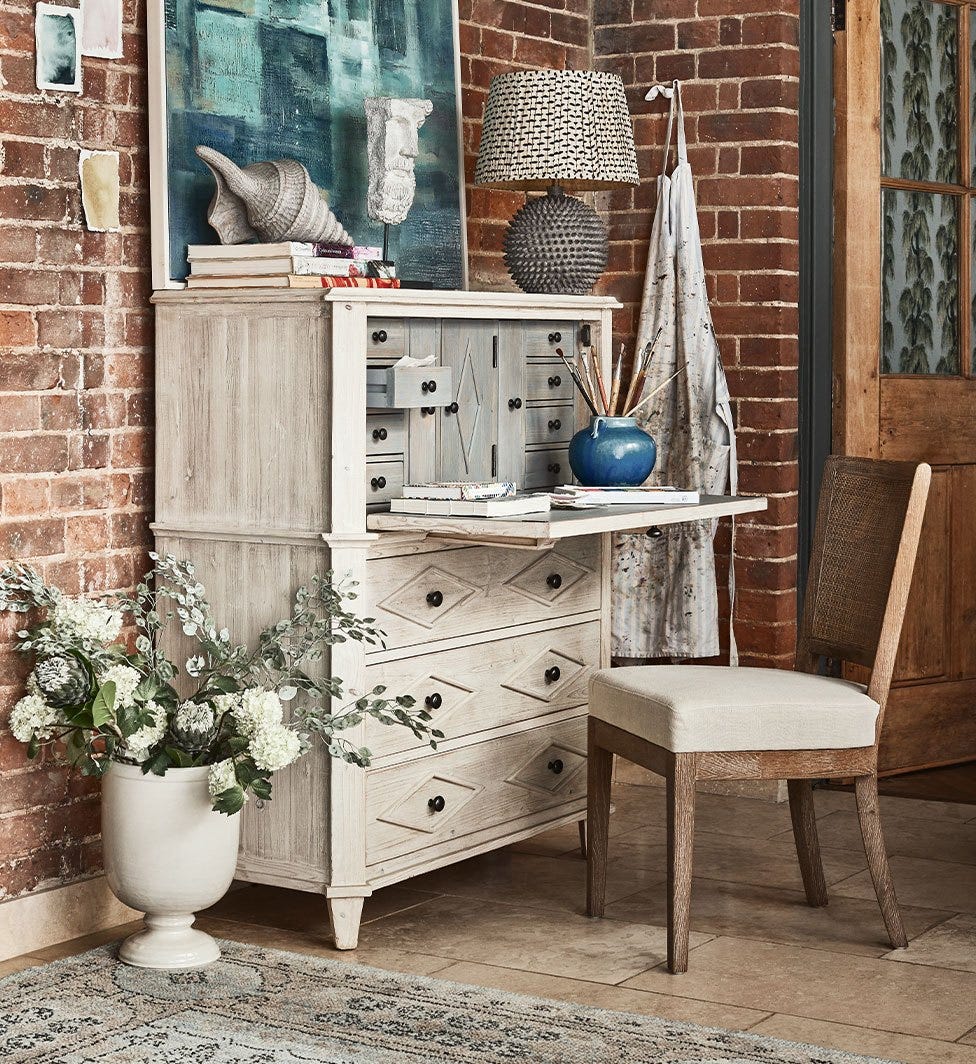 Functionality and Features
Do you want to be able to fold away your work at the end of the day? One consideration might be a bureau, or lidded desk. Perhaps a drawer or cupboard is enough for you to hide away your laptop when you've completed your tasks. Some of our desks also come with carefully thought-out wire holes at the back, so that you can keep your electrics neat. Don't underestimate the value of a tidy workspace when it comes to productivity; if your surface is clutter-free, so will your brain be.
You may also want to consider the weight of your desk. If you're inclined to move your furniture around, a lighter desk, or a desk that can be taken apart and reassembled, would make this a lot easier.
Style
Last but not least: the fun part. At home, you're not limited to office style and other people's opinions. You might, however, be regulated by your existing interior style: does your desk need to blend in seamlessly? Or will your desk be the starting point of your room's design? If so, you could start with the particular design aesthetic (minimalist, traditional, modern…), or the materials, which will often denote its design style: wood is great for a more rustic appearance, while metal is a durable option with a more contemporary aesthetic. Glass and mirrored options may be considered the most modern of the lot, their surfaces give the impression of taking up less room due to their transparency and reflective natures. Also, consider the colour (painted white or black or left natural…) and the legs (straight, carved, turned or embellished with metal details…). There are a host of different elements to select from to make your study space the best it can be.