"It's very exciting for us, as it's the first time we're putting the design in the customer's hands," explains OKA Co-Founder Sue Jones when asked about OKA's first made-to-order seating collection, Tailored by OKA. At launch, the collection comprised four classic styles, one footstool, and three fabric options, but it has since expanded to include two new "clever" fabrics and our much-loved Stafford Dining Chair. With 34 colours to choose from, no two pieces ever need look the same.
"We've always been known for creating modern heirlooms, so it was important that the collection be exceptionally well-made so they could be loved and passed down for generations," explains Sue. "Of course, the key to longevity is quality; they really needed to be as good on the inside as they look on the outside."
As simple as the brief sounds, it took many years to find the perfect maker to help bring the initial vision to life.

We really wanted the sofas to be made by hand, using traditional methods. And since OKA started out as a small English brand, with a love for beautifully made pieces, we wanted to collaborate with a company with the same background and ethos.
Sue Jones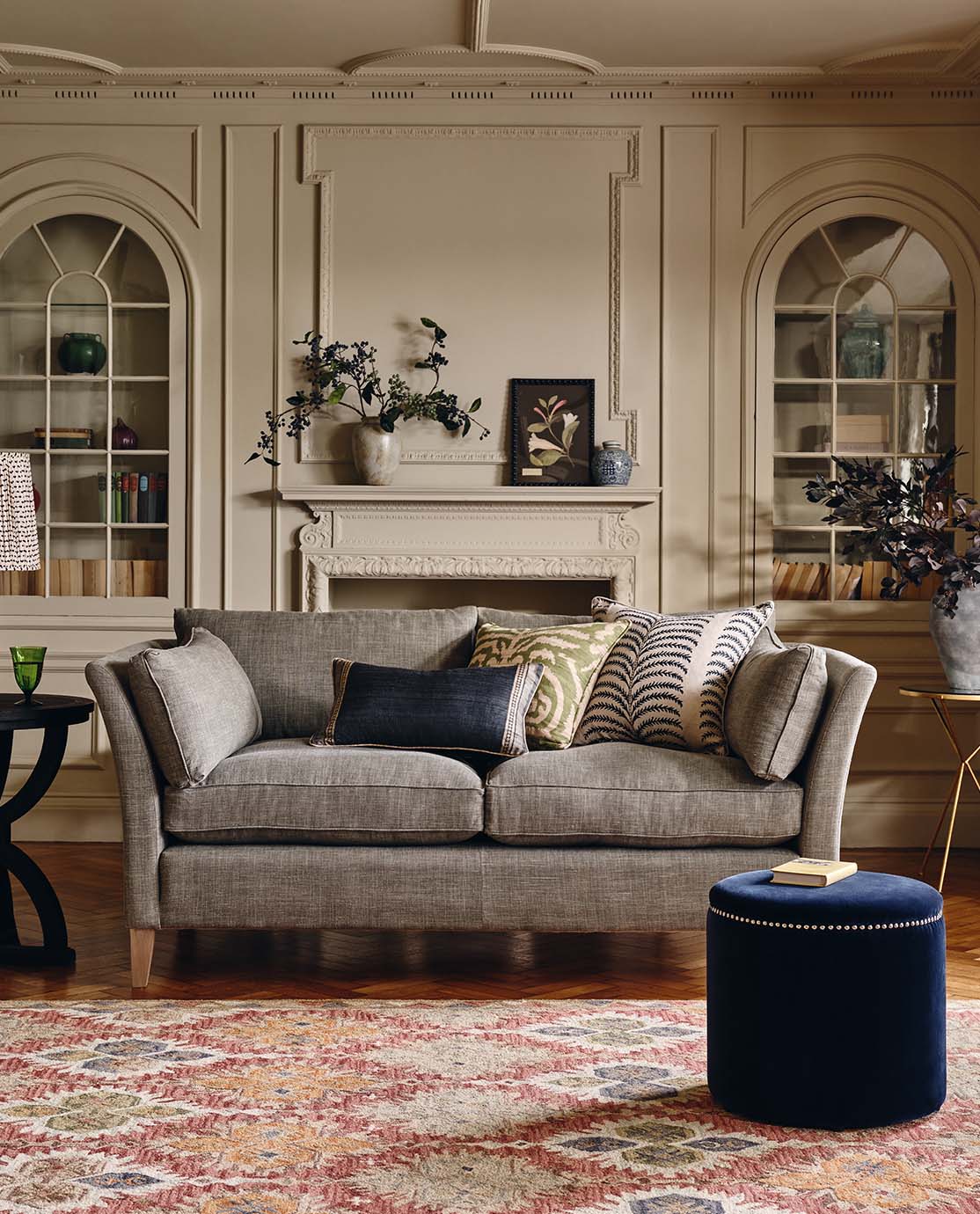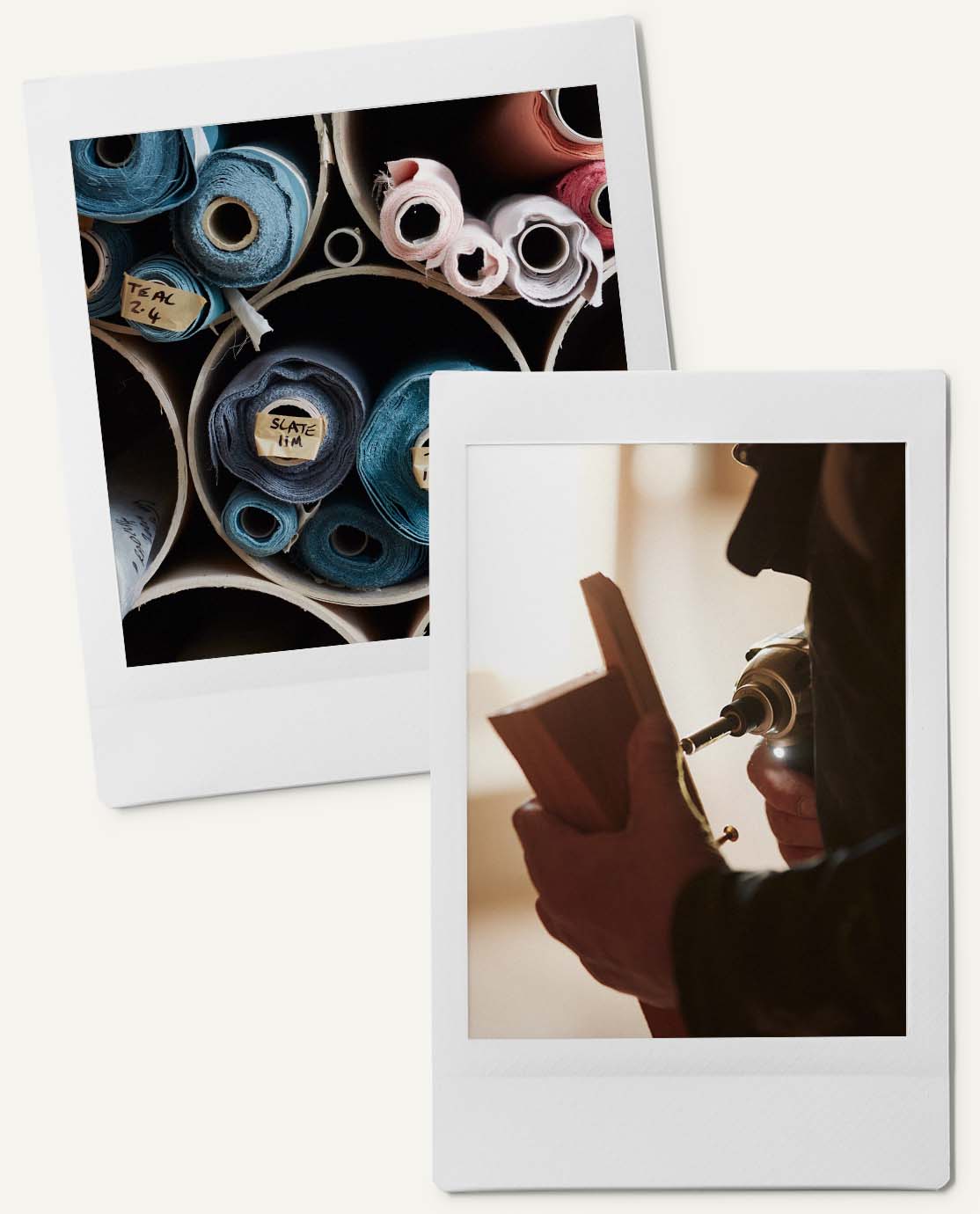 The family-run business eventually chosen is staffed by some of the most passionate and skilled craftsmen in the business, who have been hand-making sofas for years. Every step of the process happens in the father-son duo's workshop, a creative hub nestled in the English countryside; a light, open space, with tools, benches and vast windows that let the scent of freshly cut wood mingle with country air.
To ensure quality and ownership, a sole maker – with in-depth knowledge of everything from furniture construction to fabric upholstery – is responsible for making an entire sofa, a process known in the industry as "frame to finish".
Our new made-to-order Stafford Dining Chair, meanwhile, is hand-finished in the UK by a specialist team of expert upholsterers, who carefully apply the chosen fabric and the seat's signature studded border by hand.
When the collection was initially designed, the main goal was to keep things simple; to create pieces that could truly fit into anyone's home, regardless of size or style. "Each of the four sofas is very different to the other, but what they do have in common is that they are so beautifully uncomplicated and extremely comfortable," Sue says of the original line-up. "You can find embellishment and print in our core sofa range, but with Tailored we really wanted craftsmanship and comfort to take centre stage, through the shapes, structure and even the stitching."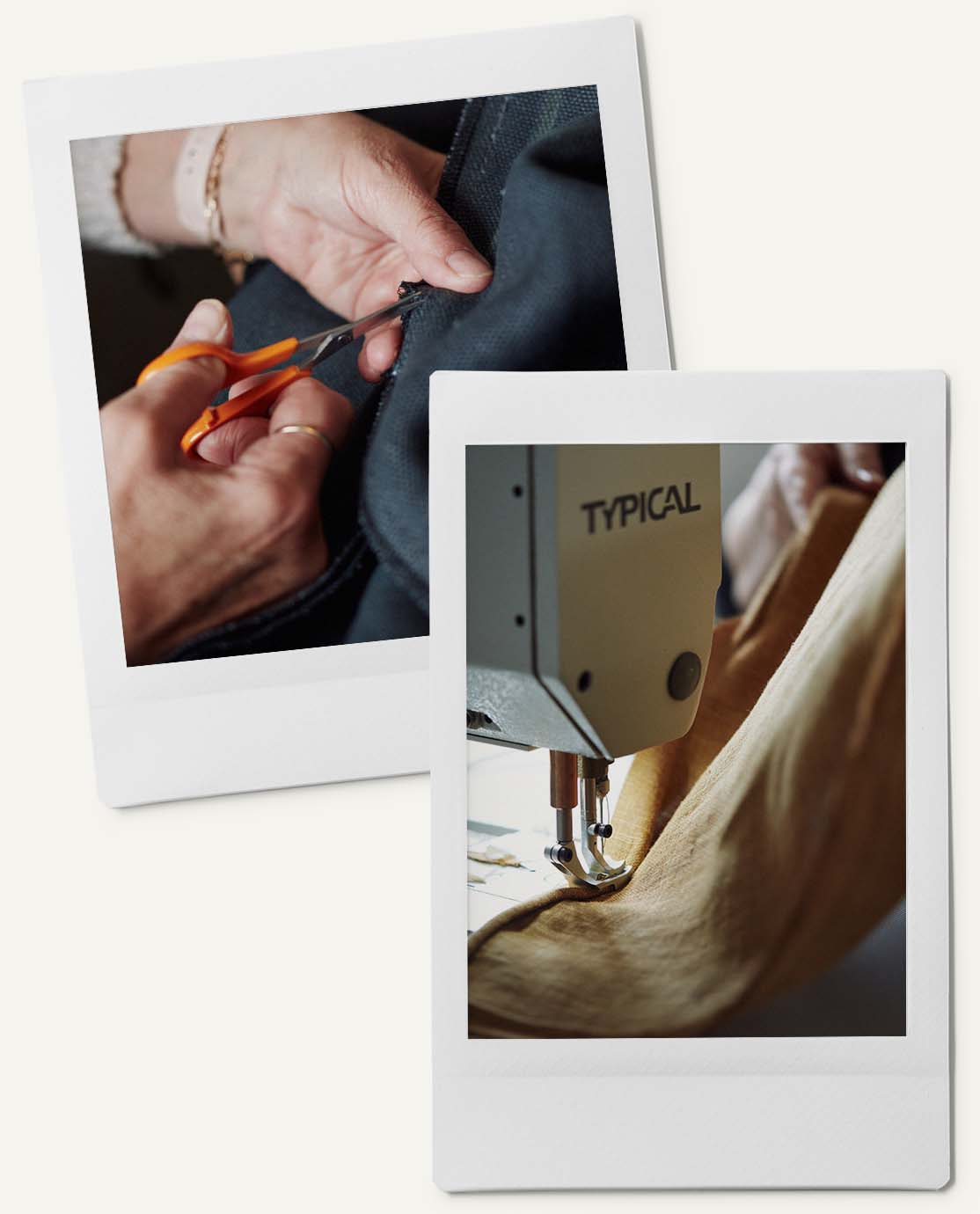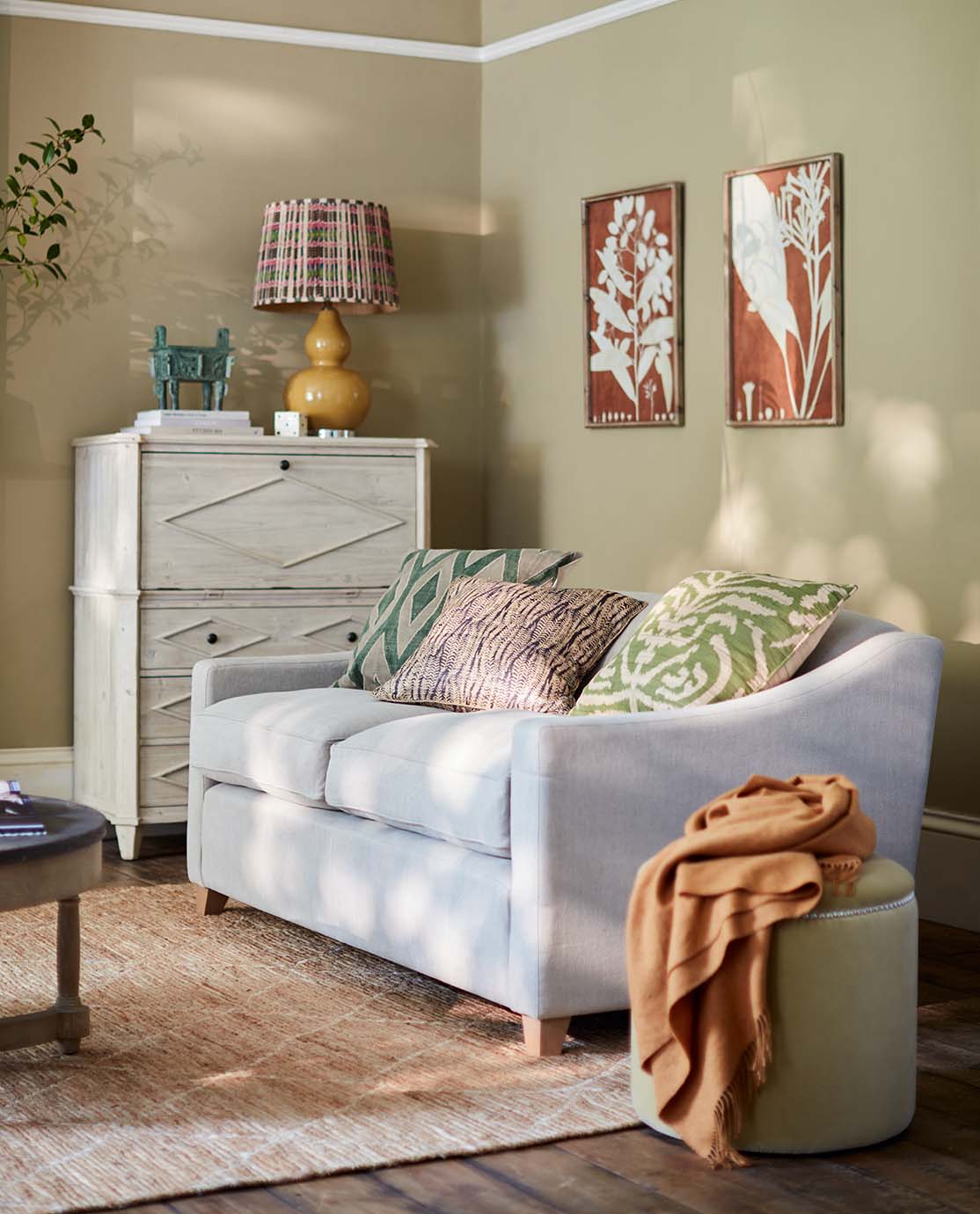 The four sofa styles are a combination of classic and contemporary styles, with the construction varying to give each its signature look. The Beale's short, tapered, oak legs, square arms and low sitting frame give it a modern, clean-cut aesthetic. The Highmore, on the other hand, has rounded arms and a classic curvaceous silhouette. If it's versatility you're after, meet the Egerton, which features gently sloping arms and sumptuous seat cushions. Last, but not least, is the Radcliffe, the embodiment of minimalism, with simple lines and flared arms. Completing the collection is the Fanshawe Footstool, a simple, elegant all-rounder, whose two shapes can also be made to match.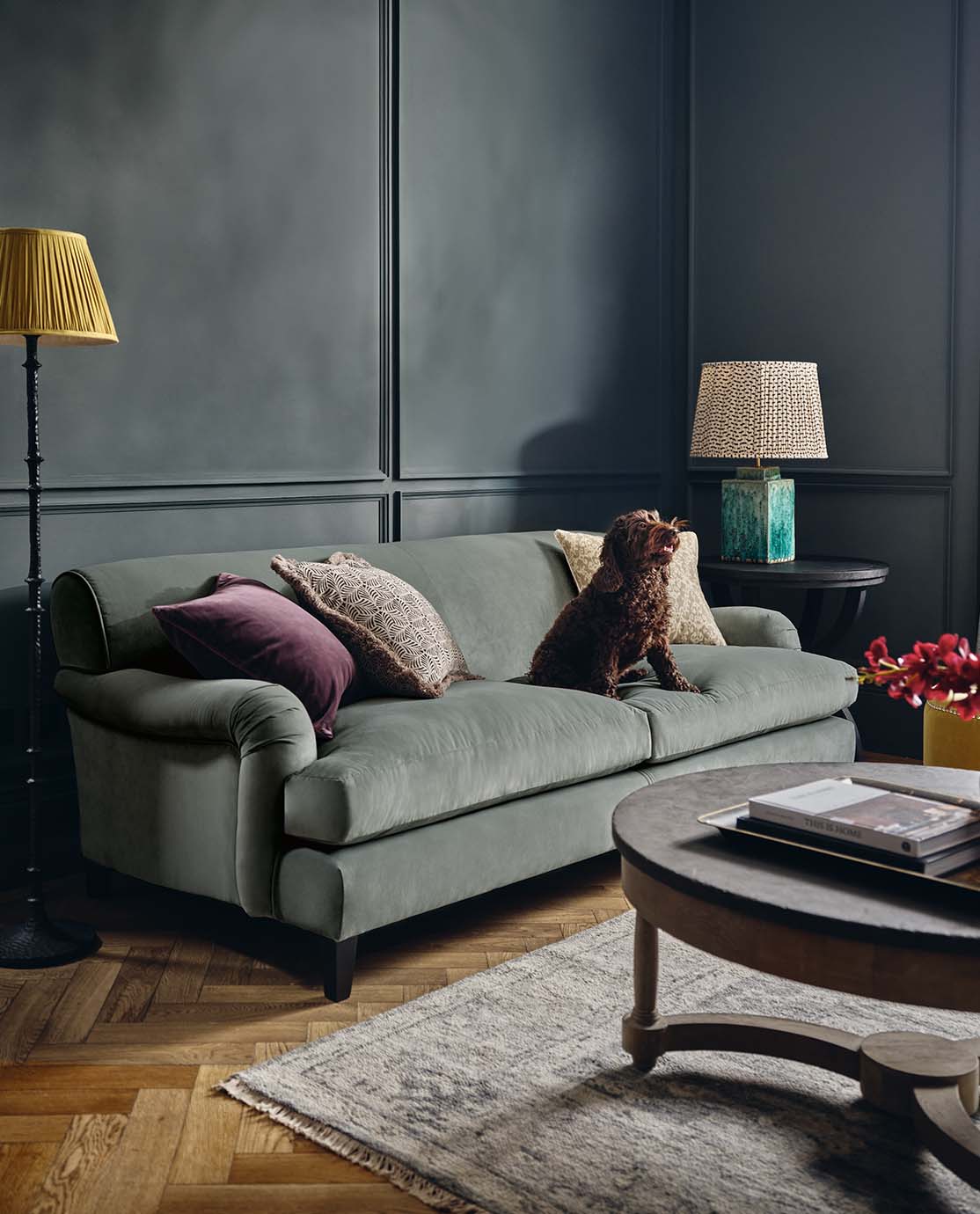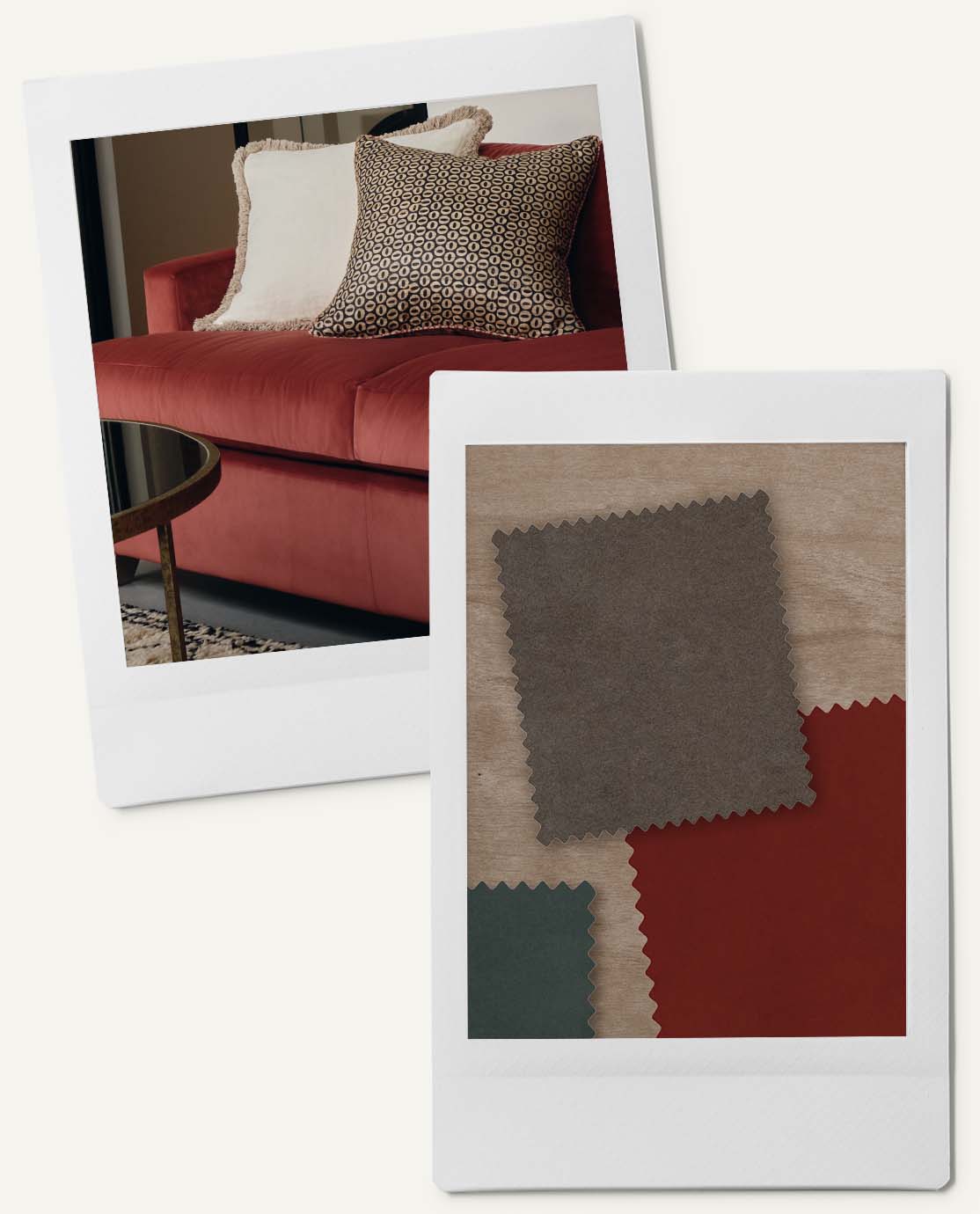 All styles are available in five fabrics: Belgian linen (stonewashed or laundered), OKA's exclusive range of sumptuous cotton velvet, and our innovative "clever" velvet and "clever" linen. The latter are our latest launches, which have been created to retain the look and feel of the original fabrics but with increased durability. Clever velvet has been designed by a UK-based family business to be invitingly soft and at the same time incredibly resilient; it's water-resistant and doesn't fade, mark or stain, yet has the same luxurious look and feel of traditional velvet. It's available in 10 colours, seven of which are new and designed to complement OKA's signature colour palette and furniture ranges. Clever linen, meanwhile, has been carefully crafted by a specialist weaving mill in Belgium to retain the organic-yet-refined look of natural linen, but with increased durability, colourfastness and moisture-wicking properties. It's available in six colours, three of which are new to the Tailored by OKA range.
In total, our Tailored by OKA fabrics are offered in 34 shades, ranging from neutral Oyster-hued linen to a dense Charcoal velvet, and a whole spectrum of bold hues in between. You're bound to find a colour that perfectly complements whatever interior scheme you're planning.

I couldn't be happier with how the collection has turned out and I've loved seeing how these pieces have lent a personal touch to homes all over the country. The combinations that have been brought to life so far are just so inspiring.
Sue Jones
You can view the Tailored by OKA collection online, where you can also order up to five complimentary fabric swatches. If you want to take a closer look you can pop into most of our 13 stores to see the samples, but please note that our Tunbridge Wells, South Godstone and Didcot showrooms are not home to any Tailored pieces at present.