Vincent Darré is famed in the world's most stylish circles as much for his high-voltage, unapologetically eccentric and opulent designs – which grace the most enviable addresses – as his flamboyant and dandyish personal style.
For any design genealogists curious to track the origins of the brilliantly madcap Vincent Darré "look", perhaps it will come as no surprise to learn that it all began on the dancefloor of seminal 1980s nightclub Le Palace. An underage Darré would sneak into the club – known as Europe's answer to Studio 54 and described by Vogue as the "ne plus ultra of discotheque" – to soak up the glamour and ready himself for the first act of his life story: a dizzyingly impressive fashion career spanning two decades.

I have been fascinated since childhood by Surrealism and Dadaism, by freedom of thought – something that I apply in my work. I work like the Surrealists. My mind is full of ideas, references and memories, and then I start drawing on a blank white sheet of paper...
Vincent Darré
It is perhaps easier to list the storied houses that didn't employ Darré's creativity during that era than those that did. Stints at Yves Saint Laurent, Claude Montana, Prada, Chloé and Fendi (where he worked alongside Karl Lagerfeld) preceded his 2001 appointment as head designer at Moschino, where his signature tongue-in-cheek style found a natural home. But it was a visit to a Centre Pompidou exhibition on the Dada movement that reignited his childhood interest in decoration and prompted a move into interiors.
The influence of Dadaism and Surrealism are as evident today in his body of work for his design studio Maison Darré as ever, both in its overall mood and in the specific details of the rooms he designs.
Vincent Darré's eclectic and whimsical designs are inspired by the Surrealist and Dada art movements.

For me, OKA represents the somewhat bohemian English style, in the tradition of the Bloomsbury Group. I designed my pieces with this in mind – they're the kind of thing that could be found in an English country garden.
Vincent Darré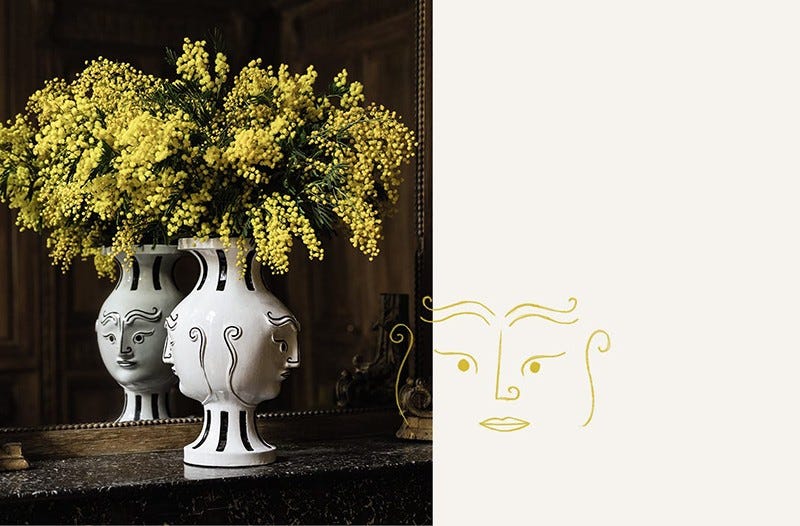 There's nothing two-faced about Vincent Darré X OKA's Gemini vase. The quirky design riffs on illusory techniques made popular by Surrealist artists.
His bold and colourful furniture collections have drawn inspiration from skeletons, Cubism, the paintings of Dalí, and the Surrealist parlour game "Exquisite Corpse", to name but a few off-the-wall reference points. He describes the spaces he creates as "laboratories of extravagant creativity", and a celebration of the decorative arts and crafts. One thing is certain: once seen, they are firmly committed to memory. Along the way, Darré has attracted a multitude of admirers, among them OKA Co-Founder and Creative Director, Sue Jones, who describes him as "a truly creative soul".
It's this shared appreciation of colour, pattern and detail that led to the pair collaborating on a collection of furniture and accessories, which is what brings a touch of Parisian magic to our collection.

Everything Vincent touches has a sense of drama and beauty, and he is a master at mixing styles.
Sue Jones, Co-Founder and Creative Director of OKA
Wanting to capture the spirit of the past and present, elegantly and timelessly, Darré drew references from the Neoclassical era and ruins of the romantic gardens of the 18th century. Starting each design with a sketch, he imagined the pieces as "archaeological finds designed in a more contemporary, dreamlike way."
The four flamboyant pieces – the Lyric Console Table, XIV Mirror, Spiral Lamp and Gemini Vase – are a striking balance between old and new, with classical design elements crafted from marble, brass, wood and ceramic presented in a contemporary monochrome colour palette.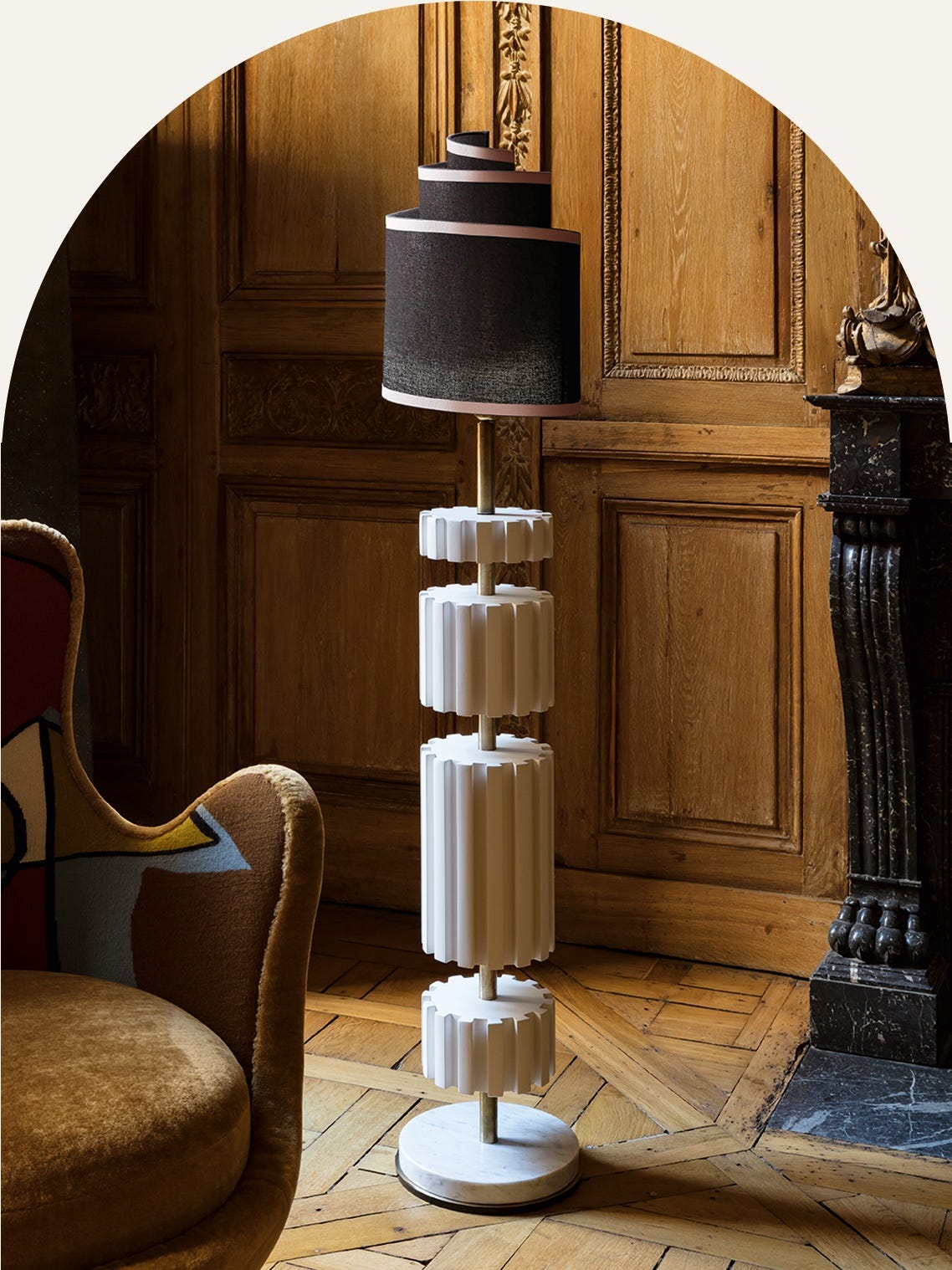 Lighting with a twist, the Vincent DarréX OKASpiral Lamp is evocativeof an ionic columnwhich, in the designer'ssignature Surrealist-inspired style, has been sliced into four

A new adventure begins at the start of a project. I work like a director – I imagine a scenario, a story to tell.
Vincent Darré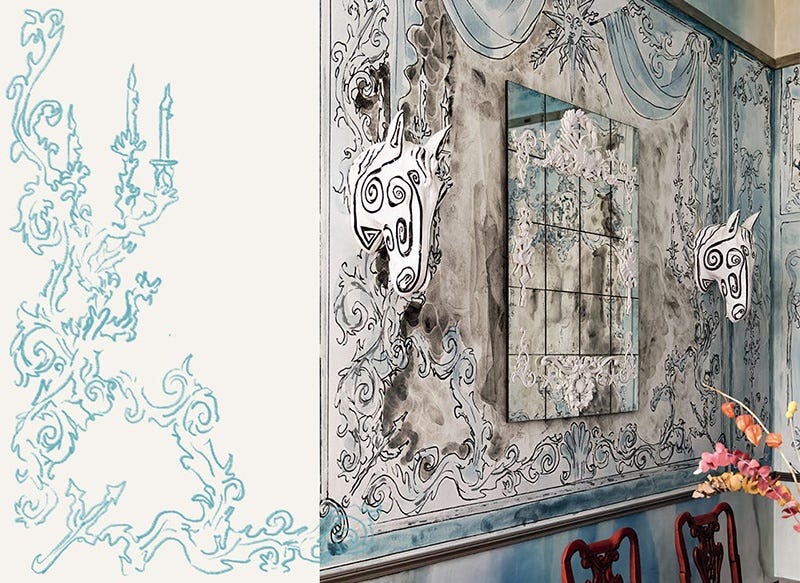 As eccentric as it is palatial, the XVI Mirror is adorned with ornate violins, seashells and foliage carved from beech wood.
The Vincent Darré X OKA Collection is available to buy online and in our Chelsea and Guildford stores.