When Sabina and her husband Rory, who both work in tech, first set eyes on this townhouse in East Sussex, they knew it was their dream home, and it's easy to see how they fell in love with it. Thoughtfully extended by the previous owners, who work in the design industry, the property boasts a rare combination of historical features – such as cornicing and stained-glass windows in the sitting rooms, and original quarry tiles in the kitchen – alongside more modern, practical elements; take the new addition of the light-filled garden room. In short, the perfect excuse to leave their flat in London for pastures new.
Sabina had plenty of interior design inspiration, and very much her own sense of style, but with such lovely architectural details at play, she wanted to make sure she was doing the house justice. This is where our Interior Design Service came in: "I enlisted OKA as I love the furniture, but I'd also never worked with this scale before, so what I really needed help with was the layout. With the rooms' large proportions and high ceilings, I wanted to make sure I was choosing the right pieces and arranging them all correctly," she explains. Enter Charlotte Saunders, one of our expert interior designers, whose vision was to "make it really special, while also making sure that our client and her family [the couple have a young daughter] could really live in it."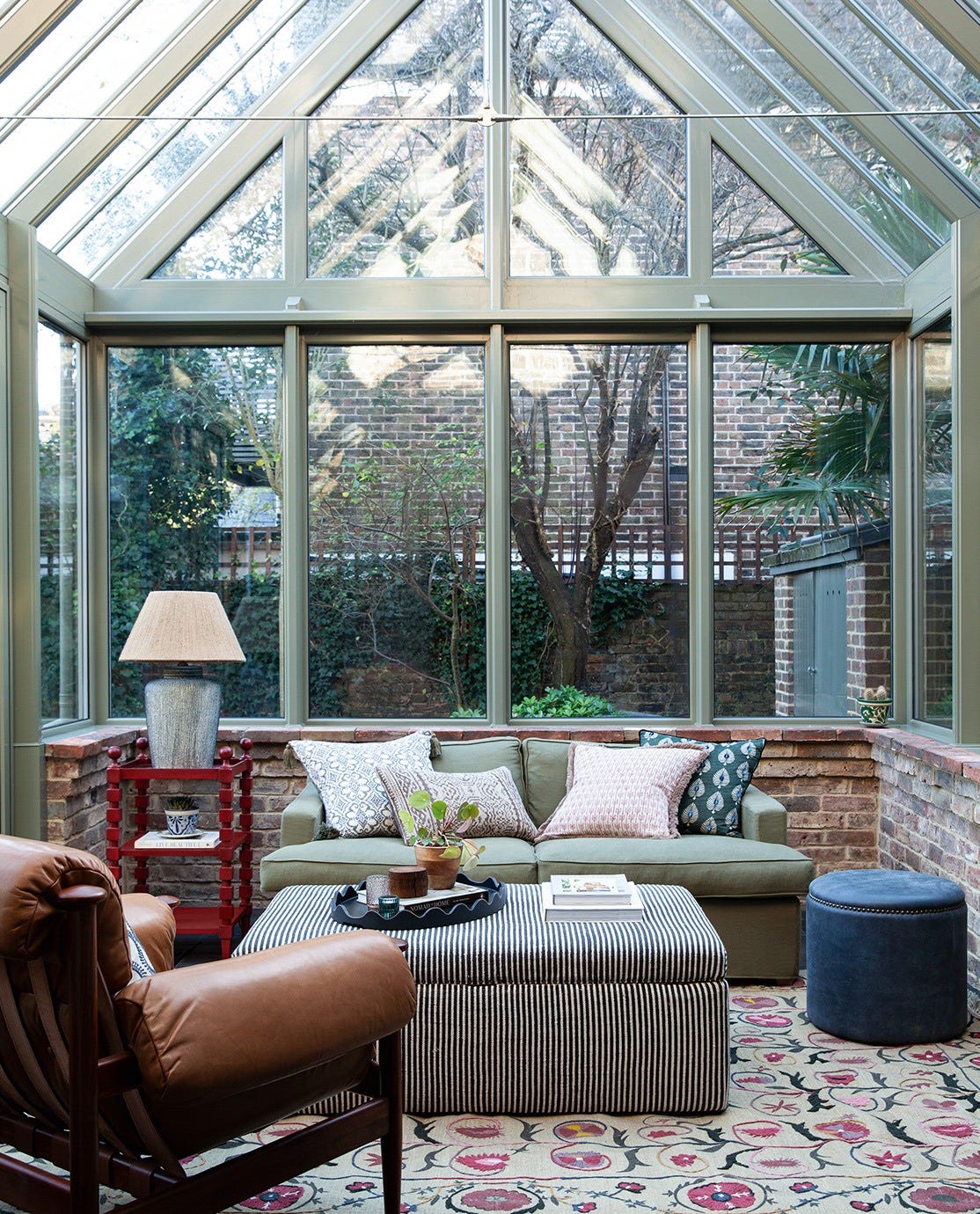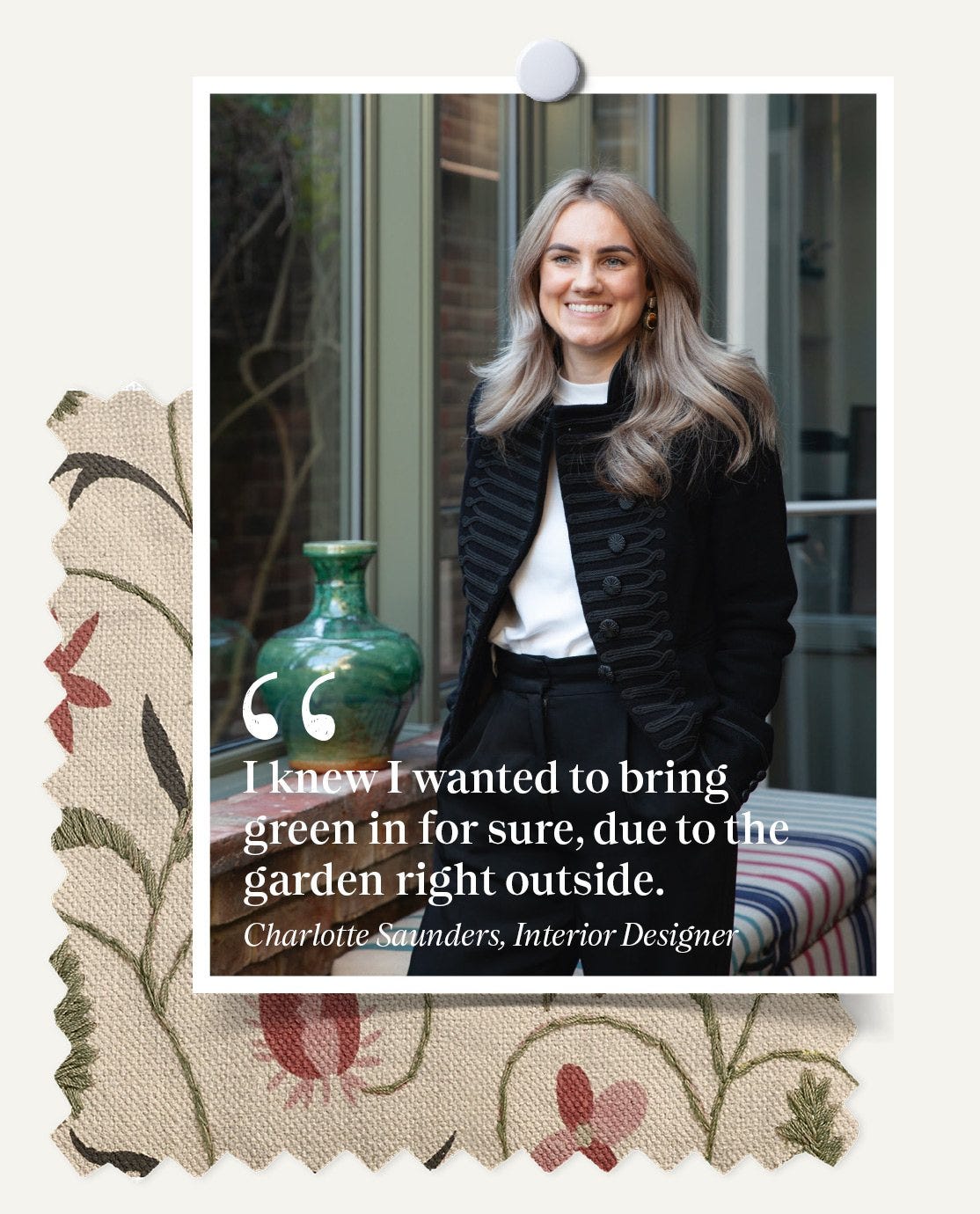 The design process began with a site visit, where Charlotte and Sabina discussed colour palettes and key furniture items; both from the OKA collection and what Sabina owned and loved already. "She has a lot of her own quirky pieces and inherited things that she wanted to incorporate, so I got to work with those as well. We do that quite a lot; it makes everything feel even more bespoke," says Charlotte. In terms of a brief, Sabina gave the designer open rein – a strategy that did not disappoint. When Charlotte came back a few weeks later to present some interior design ideas, it was the TV room that her client was most delighted with. "I would never have thought that I could have fitted those pieces in there. It was so nice to see them come together as I really struggled with that room; the proportions of it and how to make it feel cosy. She came up with an amazing solution," she tells us. The paint colour, which they chose together, stepped it up a level and completed the intimate atmosphere.
This room is a particular favourite of Charlotte's, too. "The footstool has a piece of my heart; I've wanted to use that fabric [Christopher Farr's Chubby Check in green] ever since I saw it. And Sabina loved it just as much as I did, so I thought 'why not?' – that's where I started, I based the room around it," she says. Said footstool is the Fanshawe, part of our Tailored by OKA custom-made seating collection, but with a twist: when you use our Interior Design Service you have the added benefit of being able to upholster the pieces in any material of your choice, as our designers work with an array of beautiful fabric houses. You can truly go as wild as you like.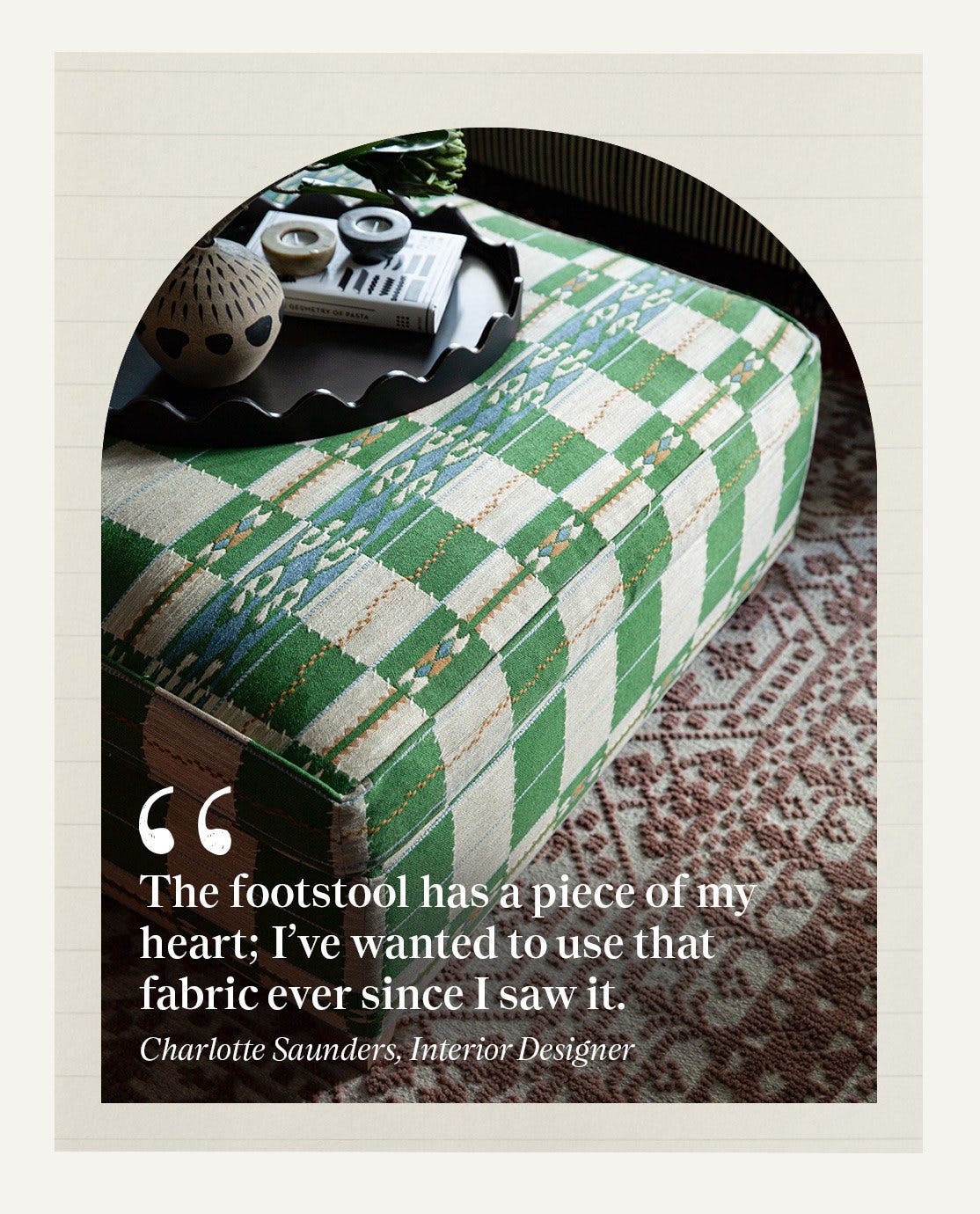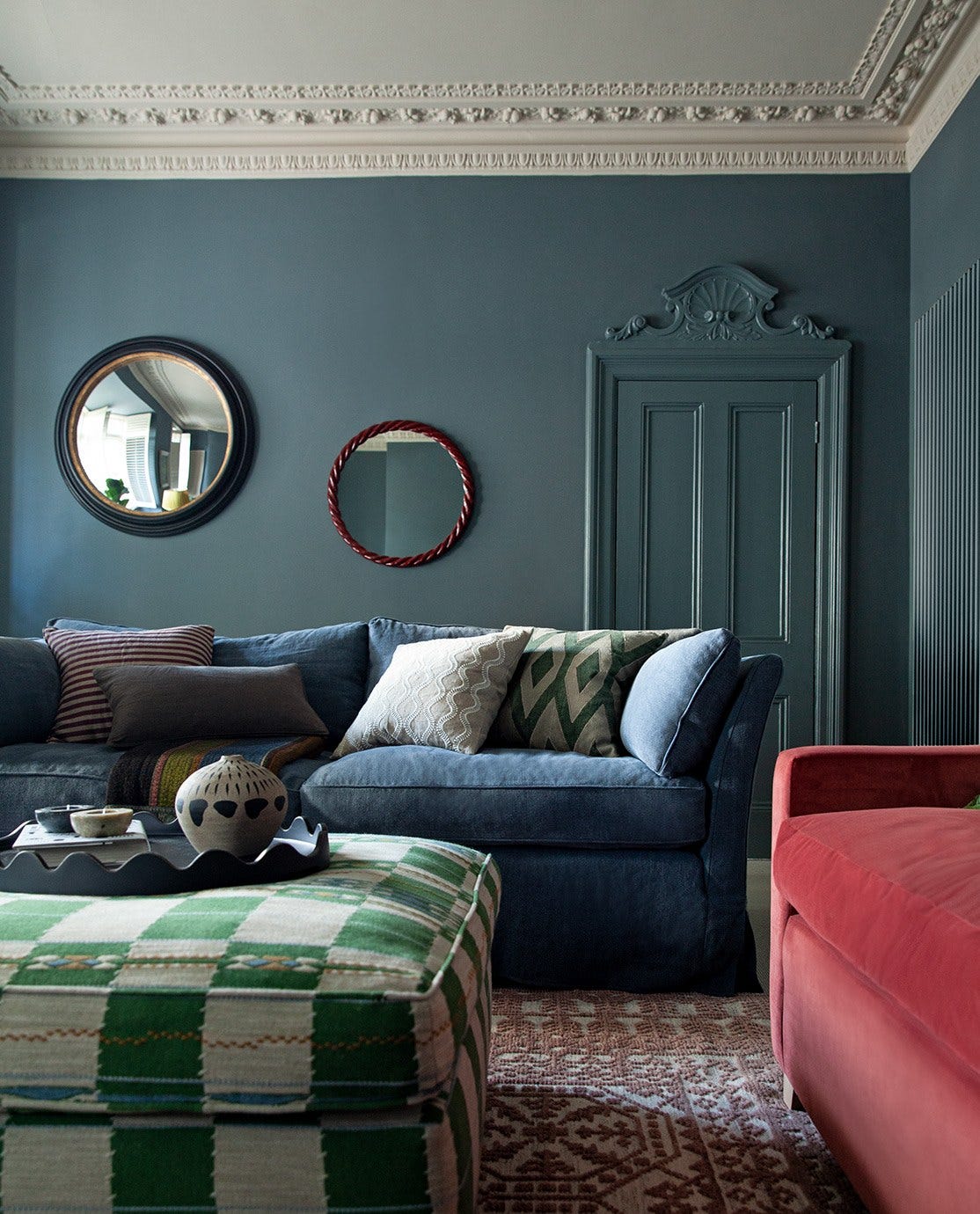 Sabina picked some Tailored sofas too, with the main priority being replacing her existing uncomfortable ones with those that were perfect to lounge about on. "The custom fabric was a brilliant bonus because you can really tailor it to your light and your space, and you know it's not one that anyone else has," she says. The mix of classic and contemporary shapes they chose fit seamlessly into the home, each of which plays a key part in how Charlotte built the colour scheme and atmosphere. In the garden room, there's a light green clever linen that has a good light-fastness rating and is stain resistant, perfect for the bright space and how the young family use it – linked to the kitchen, it's the most in-demand spot in the daytime, where they'll often sit and have a coffee or play games with their daughter. "I knew I wanted to bring green in for sure, due to the garden right outside, and then lots of warm tones as they're Sabina's favourites," says Charlotte. In the more formal sitting room, it was "very much about picking out the colours from Sabina's rug and building the different textures and fabrics around that," Charlotte muses. "The red on the sofa works so well with the monochrome ottoman in the middle; it's quite a dark room so the colour and pattern work really well."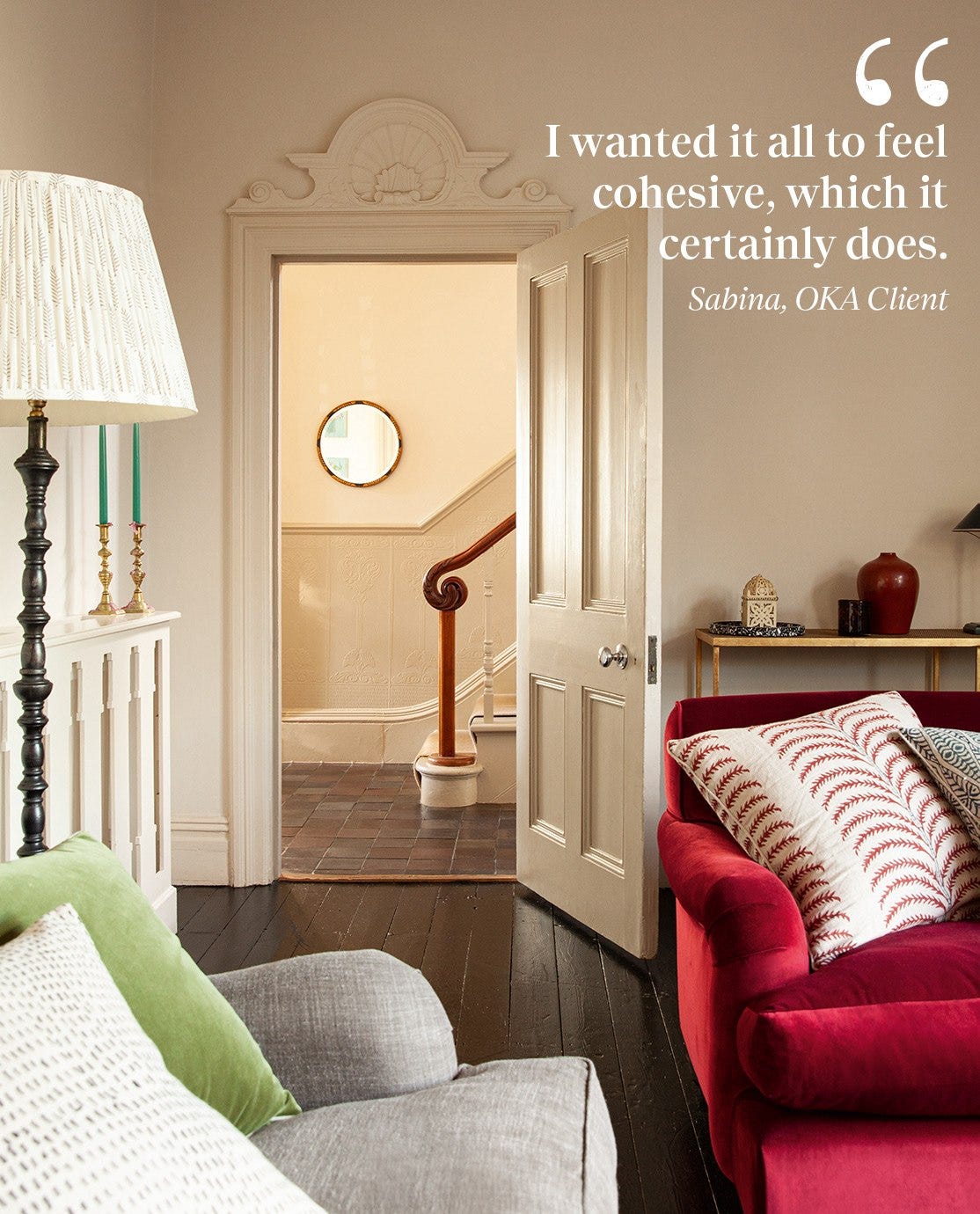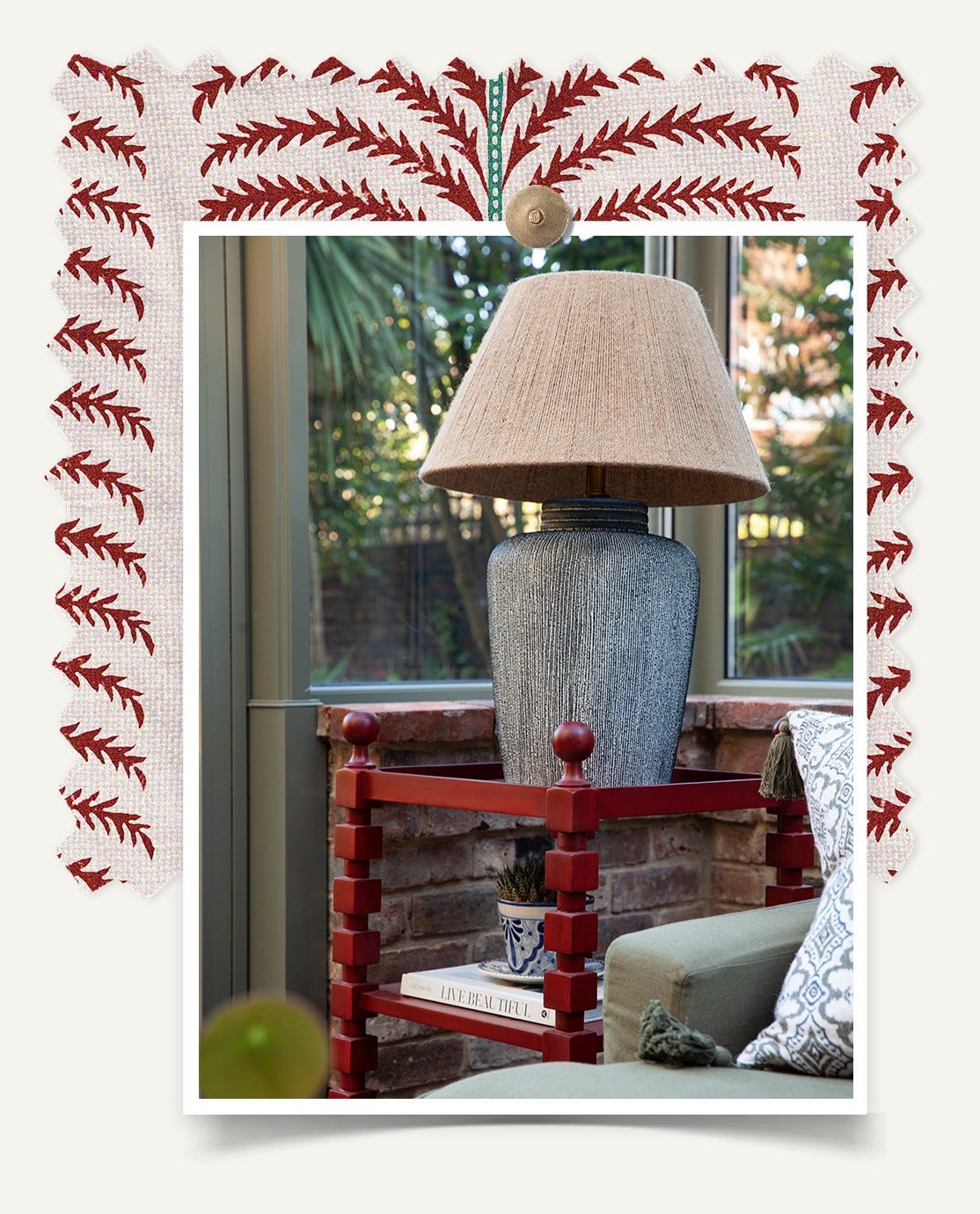 Charlotte's clever use of different types and scales of pattern that run throughout the home – "the space is so big it can take it" – are the icing on the cake. They're the threads that tie the fun, cosy space together; the effect is perfectly composed, yet incredibly welcoming. What you'd really like to do is sprawl out in one of the snug corners – which is exactly what Sabina wanted from the off. "Even though each room has a different purpose, I wanted it all to feel cohesive, which it certainly does – using the service paid off," she says.

If you're feeling inspired to switch up your interiors, or could do with a little help, explore our Interior Design Service.