There are many qualities this Victorian townhouse in north London shares with its period counterparts across the capital, where the era's architecture remains a staple feature: enviously high ceilings, for one, intricate cornicing for another. There are bay windows, too, providing light and character in equal measure, and the memory of once grand fireplaces, now stripped back for modern use. But what sets this home apart is its refreshingly contemporary renovation, which has brought these much-loved heritage features firmly into the here and now. Organic materials have been selected with care to create a space rooted in the environment and sensitive to its surroundings; plaster walls, concrete floors and pale wood give the space a fresh, modern feel, while at the same time allowing for the property's period elements to shine.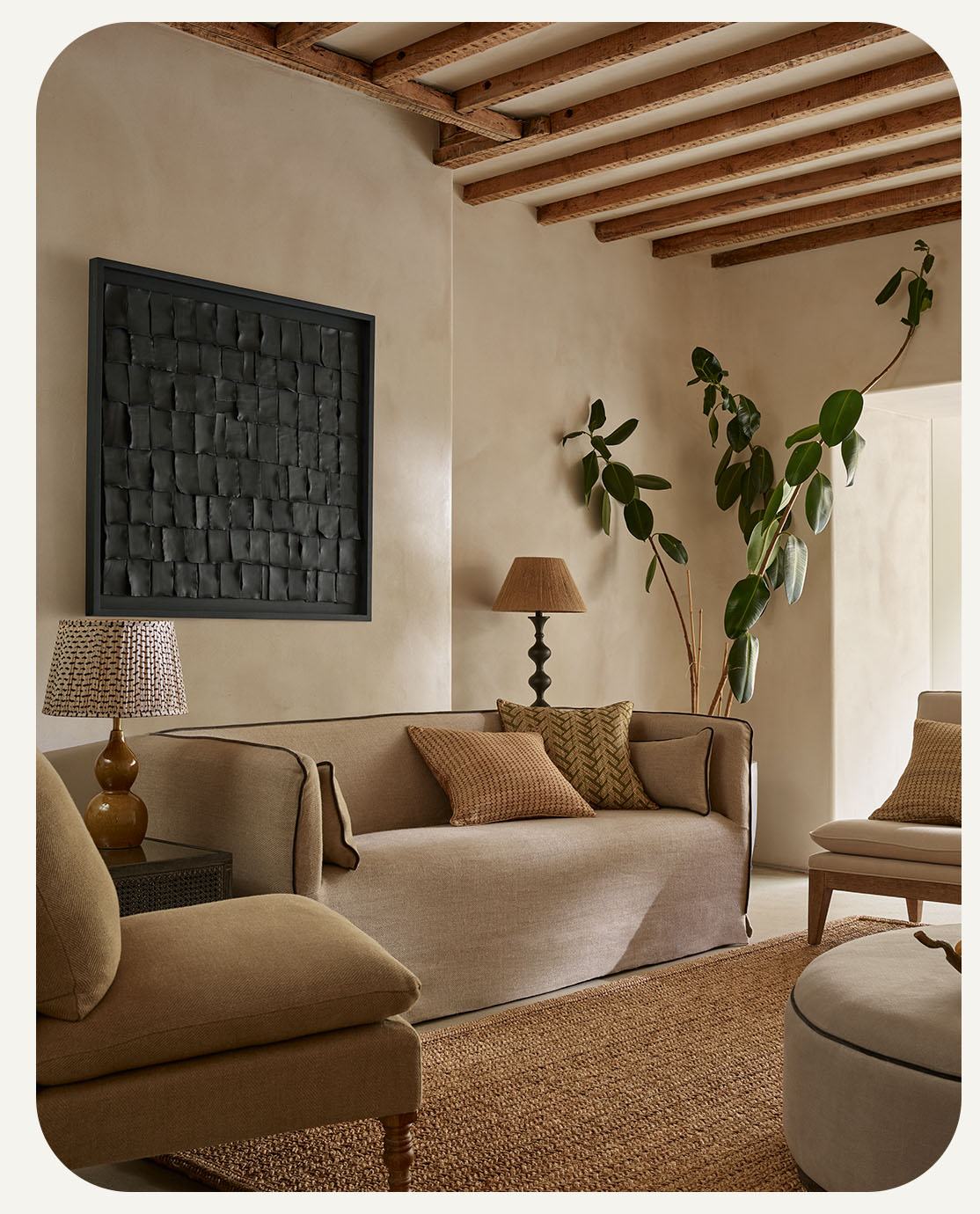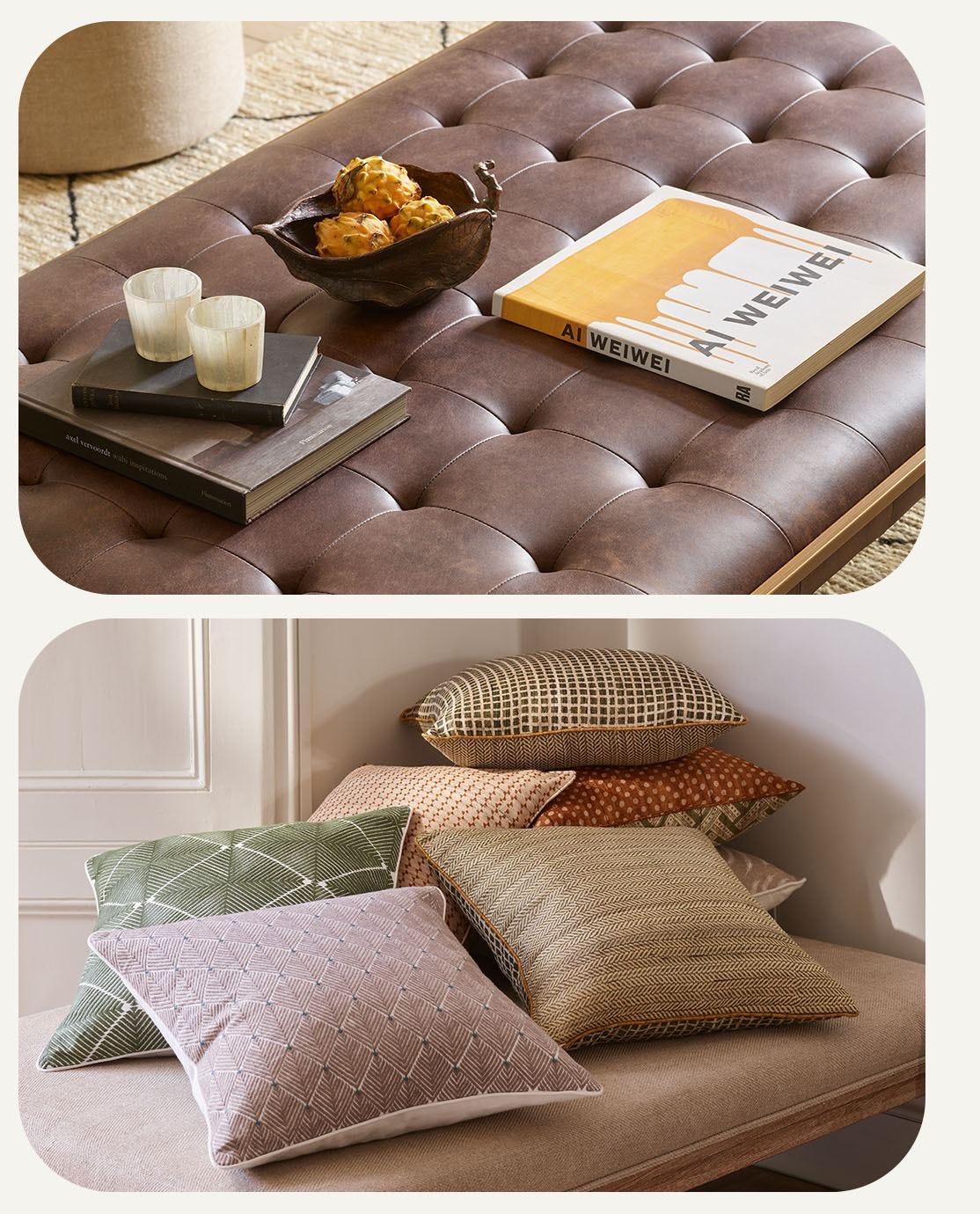 These juxtapositions of old and new, nature and nurture, tied happily with our Spring Collection, where the classic and contemporary intertwine, inspiring a number of interior design ideas among our expert team. Drawing on the property's nature-first aesthetic, they conceived a pared-back and elegant look, where the clever pairing of raw textures and earthy tones serves to elevate and enhance the space.
Take the main sitting room, where the likes of linen, rattan, wood and jute add interest to a muted palette. While neutral shades take the lead, hints of mustard yellow, green and gold bring a subtle layer of warmth; combined with the property's plaster walls, they lend the space a welcoming, sepia-toned hue. Darker shades of black, brown and charcoal cut through the softer colours, blending seamlessly thanks to the subtle repetition of textures and tones – the gold edge of a leather coffee table marries with the mustard of a linen armchair, for example, while the dark wood of a side table picks out the diamond detailing on a rattan rug.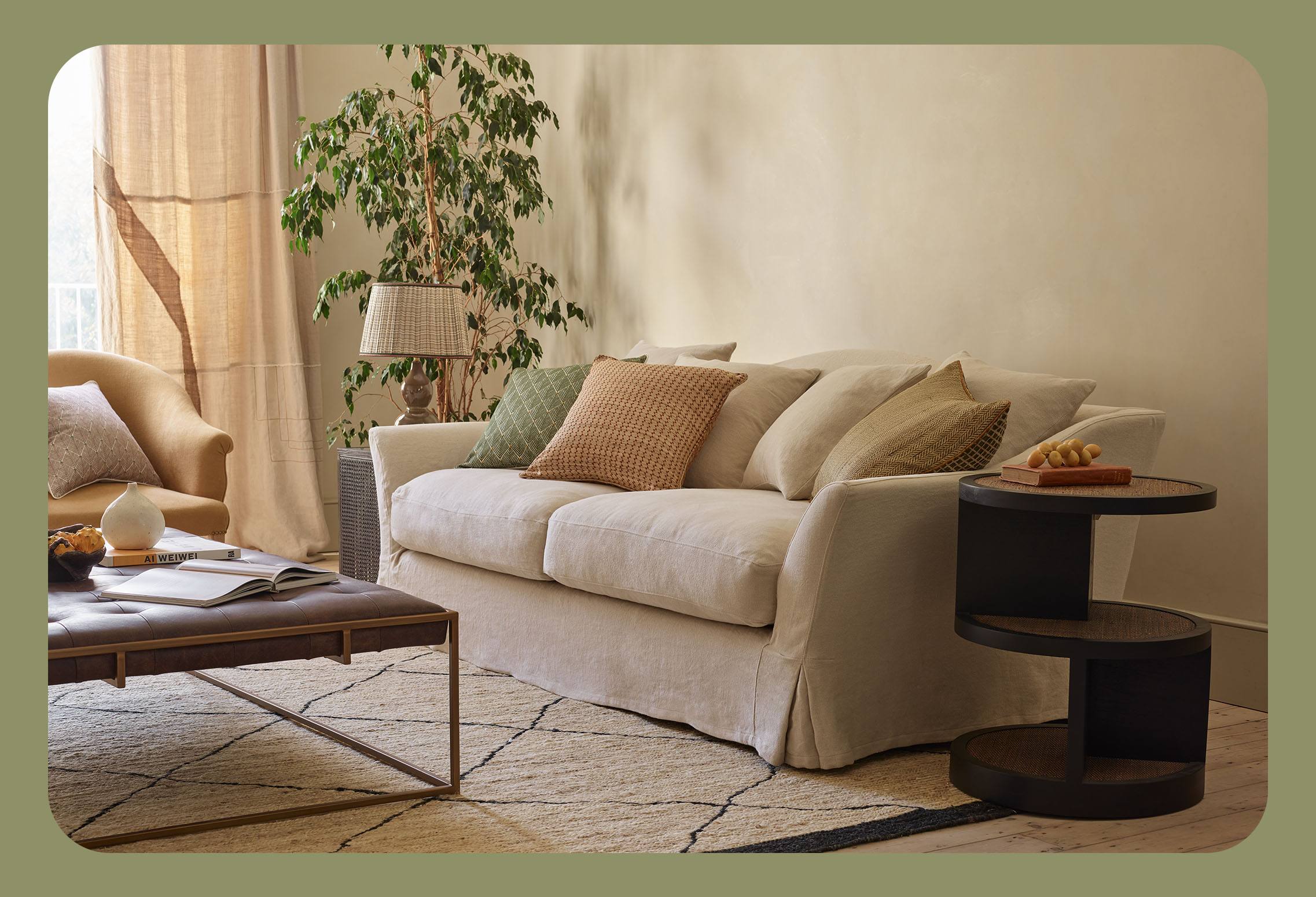 It's these considered combinations that prevent the otherwise minimalist space from feeling sparse. In the dining room, for example, warmth is added in the form of ochre yellow upholstery, which complements the rattan rug and tortoiseshell glassware. In the bedroom, it's the job of soft furnishings and accessories in pale pink, navy blue, mustard and amber to lift the neutrals surrounding them. Here, pattern is used sparingly but effectively; the delicate diamond embroidery of a cushion or the paisley-inspired detailing on a throw is enough to add interest, without drawing too much attention.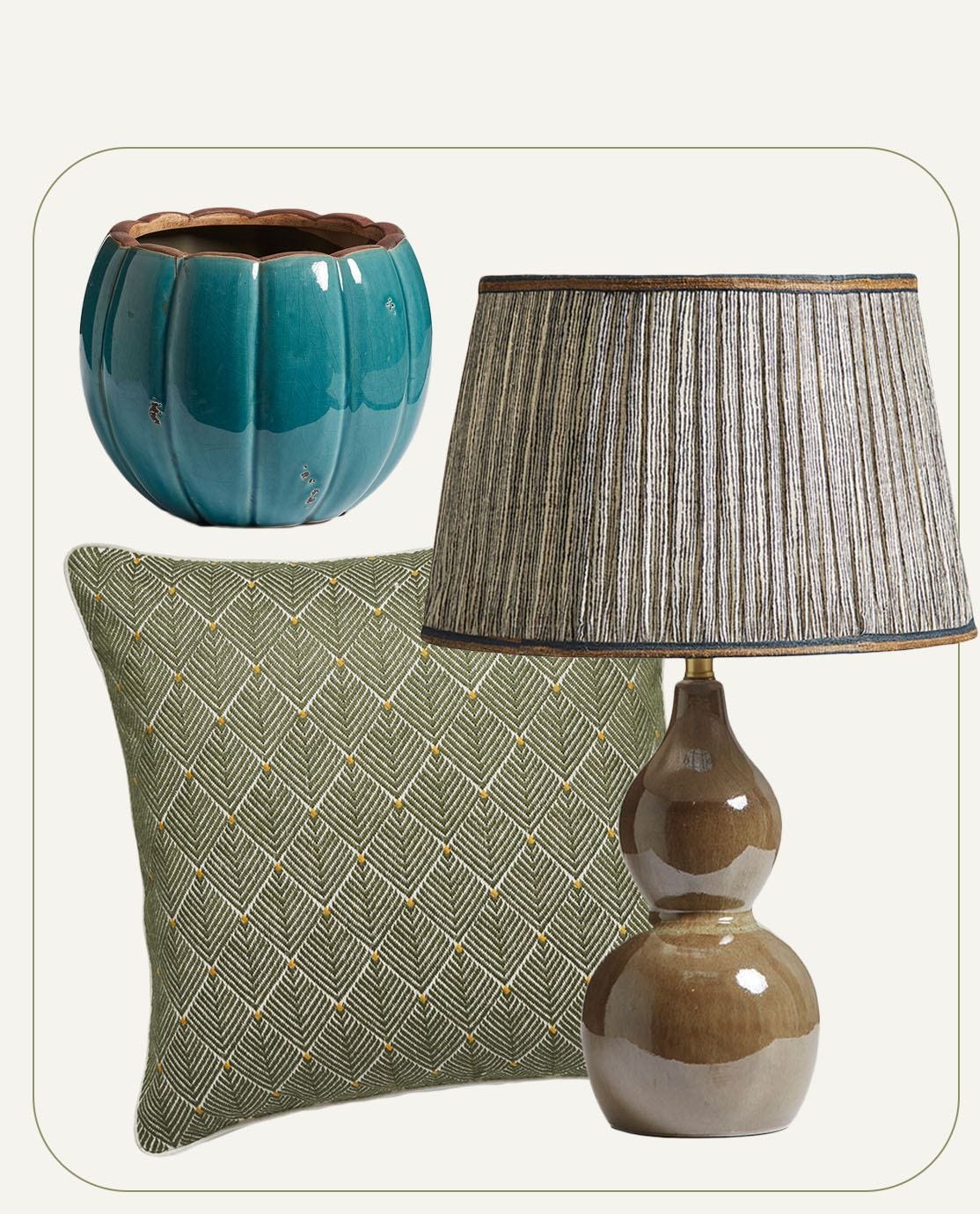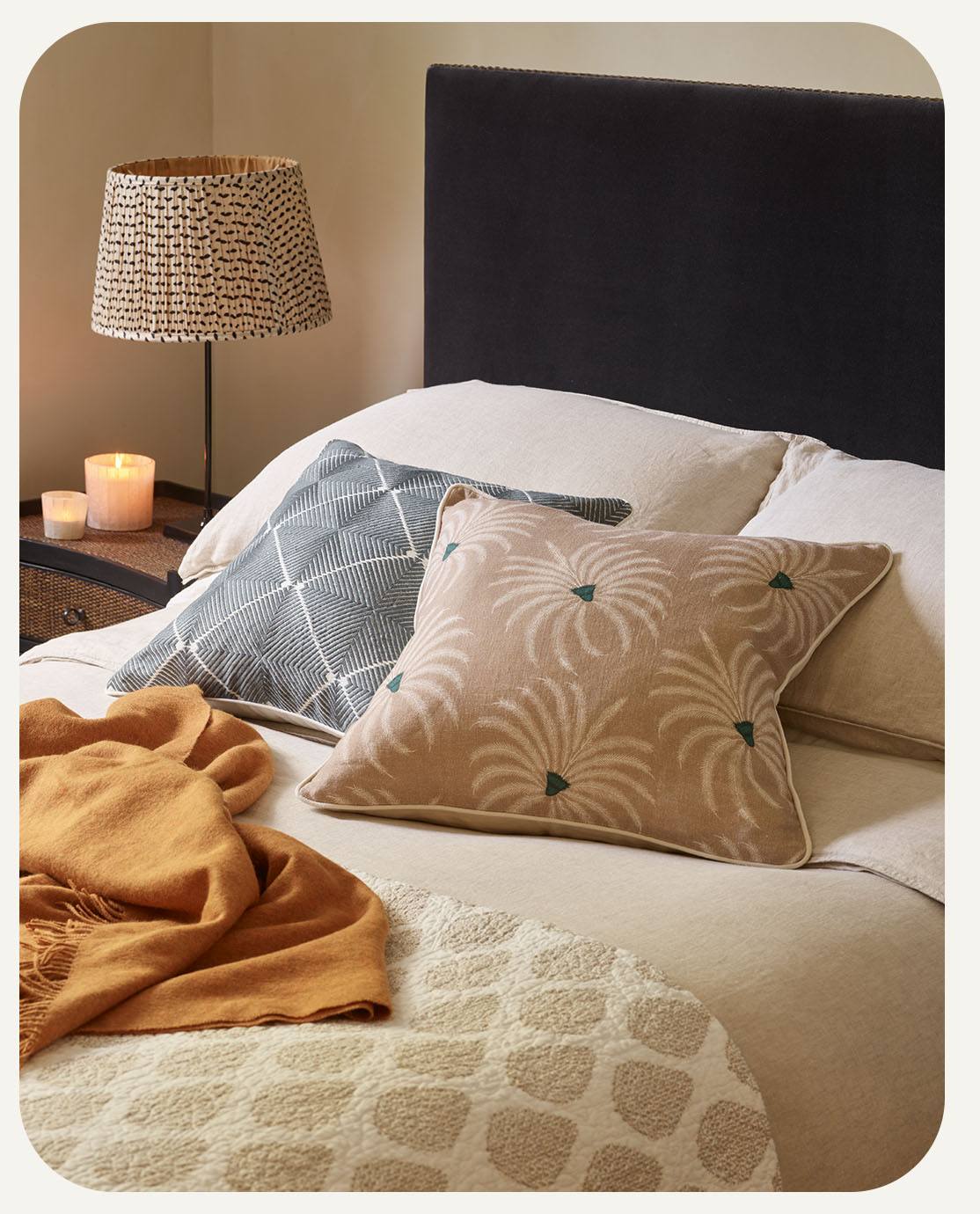 In a space so rooted in the environment, natural motifs seem surprisingly few and far between, but look closely and you'll spot the intricate weave on a cushion cover, inspired by the shape of leaves, or the trailing vine that gives shape to an abstract print, coloured in unexpected tones of blue and bronze. Just as the London townhouse itself is inspired by the outside world, so too is this look – it might not be obvious at first, but like nature itself, its calming effect is ever-present.