Renowned for her Shoreditch restaurant Oklava, chef Selin Kiazim has approached her latest cookbook, Three, with a focus on the building blocks of everyday cooking: acid, texture and contrast. To the untrained ear this might sound technical, but by breaking down dishes to these core elements, Kiazim shows how you can take simple ingredients and combine them in a way that elevates every single flavour. If you're playing host this summer and want to wow your guests, Kiazim's crowd-pleasing recipes will guarantee compliments to the chef. These two are as easy as they are delicious.
Chermoula Beetroots, Dates and Pistachios
Once a beetroot cynic, Kiazim's mind was changed after visiting chef Tom Adams' Cornwall outpost, Coombeshead Farm, where the vegetable was served as part of a first course at dinner. "They were the sweetest, earthiest beetroots I had ever had, with a texture approaching that of fudge," she says. "Like any true foodie geek, I ambushed Tom after dinner for tips and tricks. His dish inspired me to give beetroots another go."
For this recipe, she has paired them with chermoula, a North African condiment that "works really well with the flavour of beetroot. If ever I form an all-girl punk band, I think we will call ourselves the Chermoula Beets".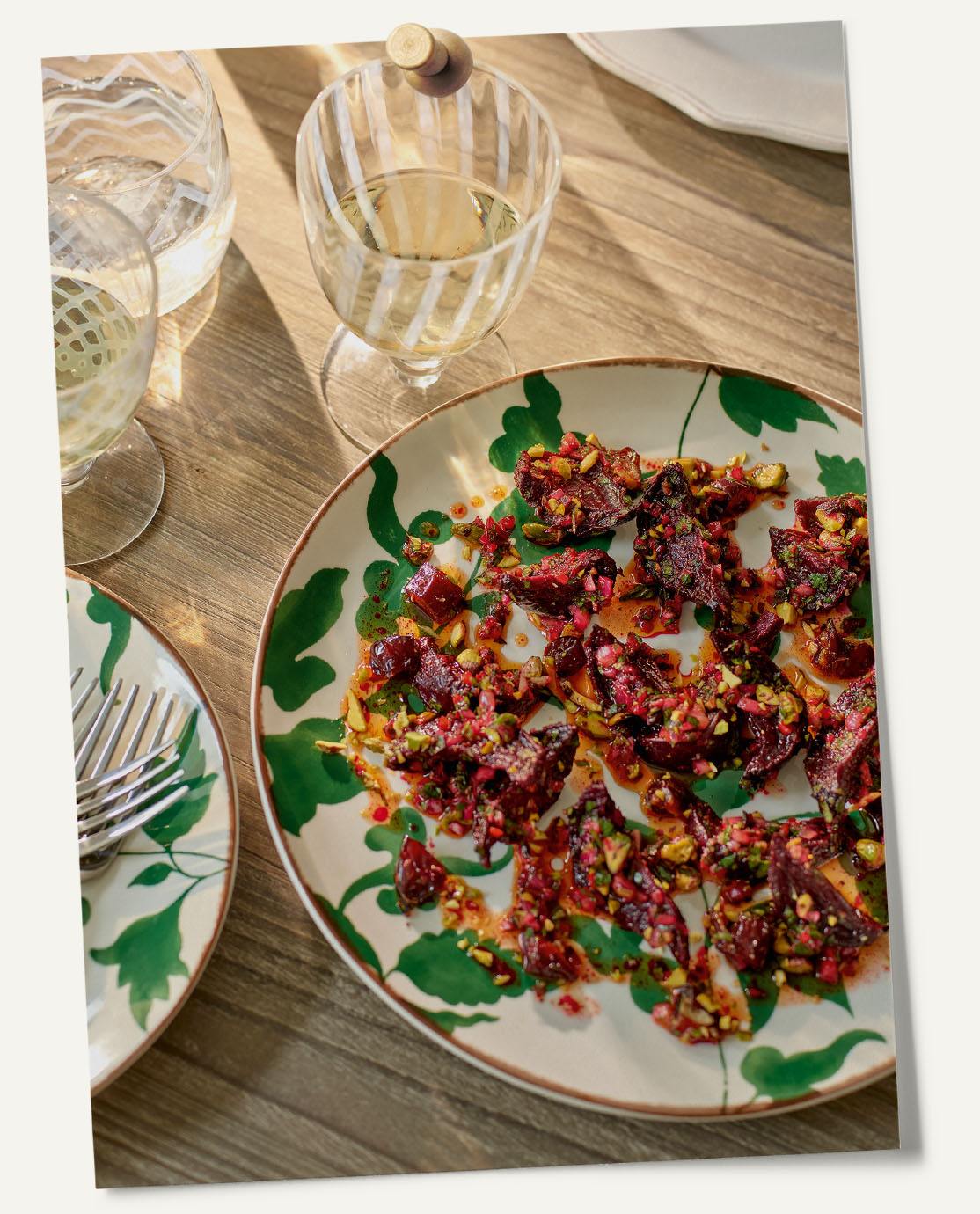 Ingredients for four people:
Chermoula
1 small handful of flat-leaf parsley, finely chopped
1 small handful of coriander, finely chopped
¼ red onion, finely chopped
½ chilli, finely chopped
¼-½ lemon, juiced
1 small garlic clove, finely grated
½ tbsp vinegar (red, white, apple cider or moscatel), plus extra for the beetroots
50ml extra virgin olive oil, plus extra for the beetroots
½ tsp smoked paprika
Beetroots
800g-1kg beetroots, a selection of different colours, if you can find them
5 Medjool dates, stones removed and each chopped into 6 pieces
25g pistachios, toasted and chopped
Method:
1. Heat the oven to 200°C/180°C fan
2. Wrap the beetroots in foil and place onto a baking sheet. Place into the oven and cook for 45-90 minutes, depending on the size of the beetroots – it's ready when a skewer or the tip of a knife inserted into it comes out easily. Leave to cool slightly. Using a small knife, peel the beetroots and then cut into chunks.
3. Turn the oven down to 140°C/120°C fan. Coat the beetroots in a little olive oil and salt and scatter across another lined baking sheet. Place in the oven and cook for a further 2–3 hours or until they have shrivelled a little, to look a bit like sun-blushed tomatoes. Remove from the oven and, once cool, coat in a little olive oil, vinegar and salt.
4. To make the chermoula, combine all the ingredients and season to taste. If preferred, you could use a food processor to blitz all the ingredients into a rough paste. Spoon the beetroots across a serving plate and top with the chermoula. Scatter over the dates and pistachios.
Muhammara
This easy dip originally hails from Syria and is a traditional component of a Turkish spread or meze. "Most recipes will include roasted red peppers, but I prefer to make it without," says Kiazim. "I love it on toast with a sprinkling of chives and Maldon Sea Salt, or in a sandwich with grilled halloumi."
Ingredients for 300g:
150g walnuts, toasted
40g Turkish mild pepper paste (tatli biber salçasi) Available to buy online and in Middle Eastern supermarkets
120ml extra virgin olive oil
1 garlic clove, finely grated
½ tsp dried chilli (red pepper) flakes or powder (pul biber, preferably)
¼ tsp cumin seeds, toasted and ground
½ lemon, juiced
25g pomegranate molasses
1 tsp caster sugar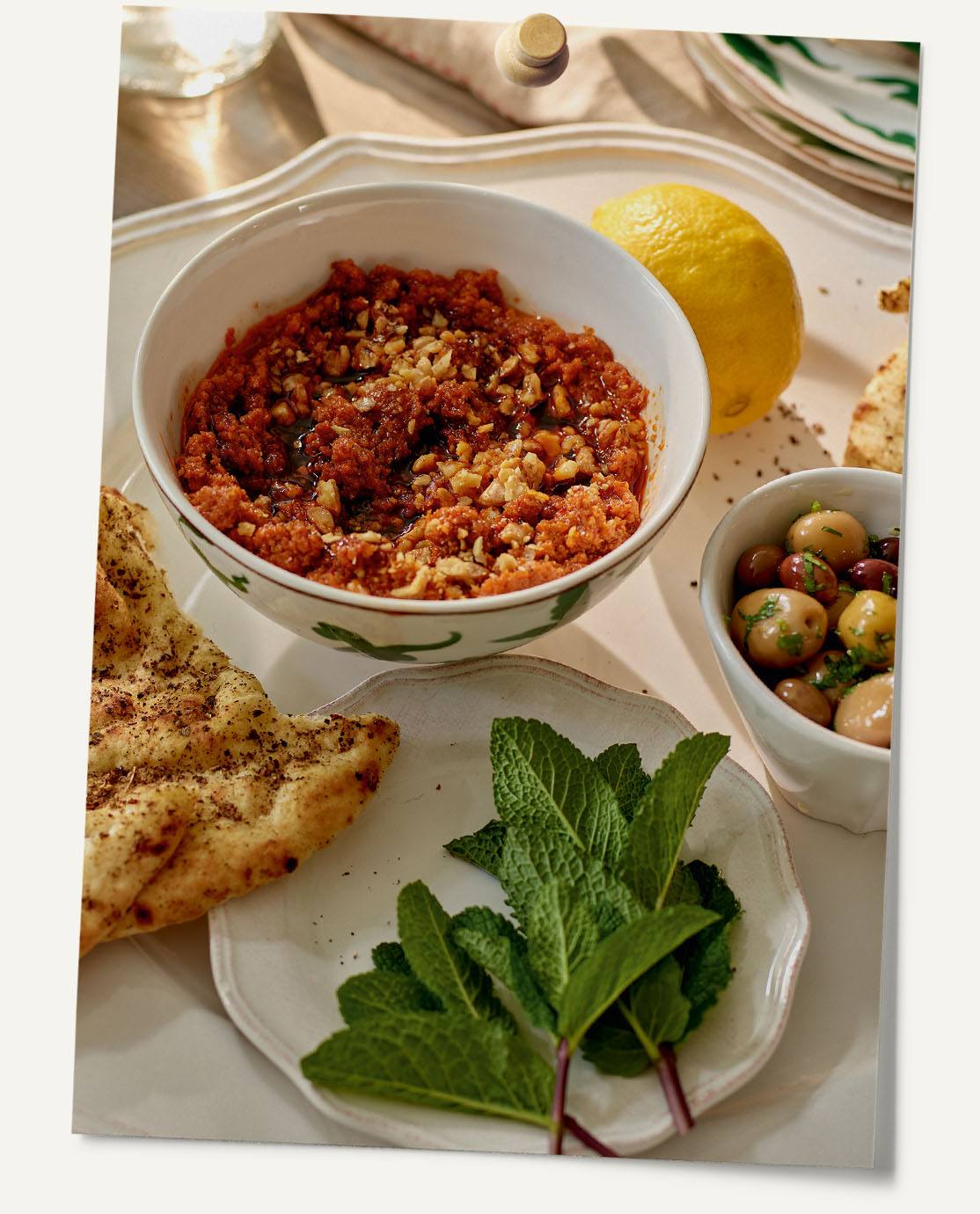 Method:
1. Preheat the oven to 140°C/285°F.
2. Spread the walnuts on a baking tray and roast for 15 minutes, remove from the oven and set aside to cool. Once cool, place in a food processor and blitz to a coarse crumb.
3. Place into a bowl with the rest of the ingredients and mix thoroughly. Season to taste using fine salt. Store in a container in the fridge for up to three weeks.
Baby Gem, Dates, Crispy Lavash and Feta
This salad is one of the few recipes Kiazim repeats regularly, so you know it's going to be delicious. It's easy to throw together and can be adapted according to your own tastes and preferences. Kiazim's favourite variation is "natural dried apricots, bitter rocket and crumbled goat's cheese".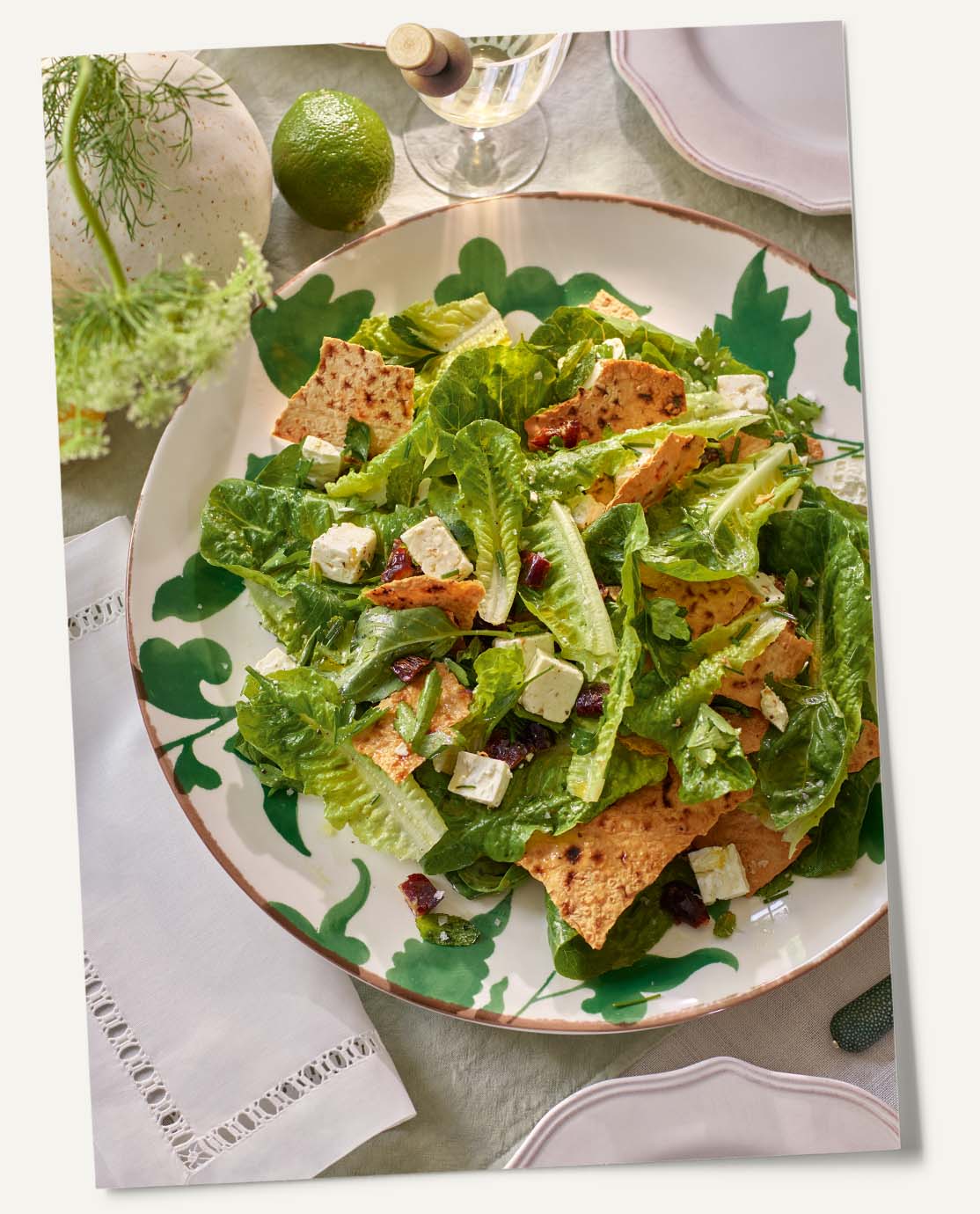 Ingredients for four people:
8–10 crispy lavash shards
6 Medjool dates, cut in half, stones removed
Extra virgin olive oil
200g feta cheese
2 baby gem lettuces, leaves separated
A big handful of freshly picked herbs, such as coriander, parsley, mint, chives or basil
Vinegar (red, white, apple cider or moscatel)
Sea salt flakes
Method:
1. Grill the lavash on a hot barbecue or griddle pan – if you have neither, brown them a little in a dry, hot frying pan. Once the flatbreads have begun to colour and char, place them directly onto the rack of a preheated oven at 180°C/160°C fan for 5–10 minutes, or until crispy, flipping midway through. Remove and leave to cool before breaking into large shards.
2. Cut each of the date halves into 3 pieces and place into a large bowl. Drizzle with olive oil and run them through your fingers so they separate out nicely. Crumble the feta into the dates, ensuring you keep some chunky pieces – you want it to keep its form as you mix it. Add the lettuce and herbs to the bowl.
3. Now it's time to dress the salad. You can freestyle this or follow Kiazim's general guideline: 3 parts olive oil to 1 part acid. Drizzle the salad with the oil followed by your vinegar of choice, and season well with sea salt flakes. If you prefer, measure the dressing into a bowl and taste it first. Give the salad a good mix (it really is best to get your hands in there). Taste to ensure there is enough salt, oil and acid, and adjust as necessary; a measure of a good dressing is if one bite isn't enough.
4. Add the crispy lavash to the bowl and mix again, making sure you coat the shards with everything without breaking them up too much. Serve immediately.