When we selected the location for our latest spring look, a Victorian townhouse in north London that has undergone a refreshingly modern renovation, we were drawn to the property's thoughtful and considered design – the clever use of natural materials to elevate and enhance the home's grand proportions, for example, and the perfect pairing of heritage features with more modern elements. It not only provided an ideal backdrop for our new arrivals, as seen in the images from the look we styled below, but married happily with some of our favourite elements from our latest collection: organic textures and a partnering of classic and contemporary design.
It's interior design studio House of Grey that we have to thank for this striking space, which is emblematic of the company's signature aesthetic. "The spaces we create balance earthiness with the understated luxury that organic materials and surfaces now represent," Founder Louisa Grey explains. "We design with people in mind – by thinking through how they will interact with the space, we make it user-friendly and practical." This particular property is both the studio of House of Grey and the home of its founder, whose vision for the space was to create a retreat that she and her family would want to live in, and that her team would want to work in.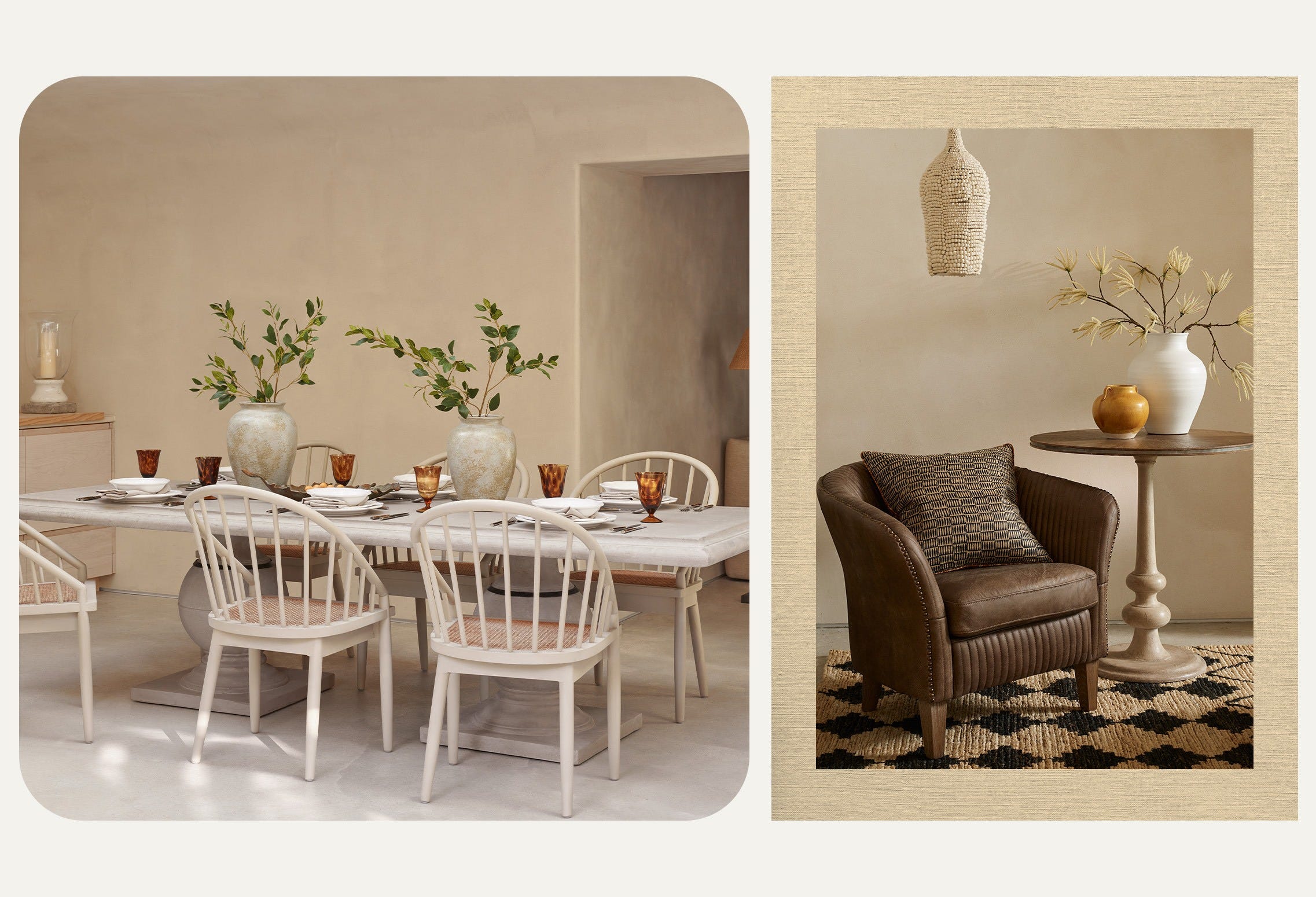 "Over the years, we've noticed many people often talk about when they're next going on holiday and the need to get away from their day-to-day lives," Grey explains. "At House of Grey, we have always believed in creating homes that enable a person to decompress and download the day in a nurturing environment. When we came up with the concept of the home as your own personal, daily retreat in 2018, we wanted to demonstrate that you can build a life that you don't want to escape from."
Key to this are the locally sourced, natural and sustainable materials that House of Grey incorporates into each of its designs. With a mission to leave a positive design legacy when renovating and restoring new and historic spaces, the team works on the principles of salutogenic design, the aim of incorporating wellbeing into an interior space, and circular design, which seeks to have a positive impact on the planet. "We choose to use products that don't cause harm to the earth, and simultaneously have a positive impact on human health," Grey explains. "Pure, natural products and materials have inherent circular qualities, which ensure noxious gases aren't expelled into the atmosphere and toxins aren't being brought into the home or work environment."
Take the London townhouse – every aspect of the property's renovation was carefully considered to ensure it had as minimal an impact on the planet as possible, with materials chosen from, and that can eventually be returned to, the ground. The kitchen is crafted from natural and chemical-free timber and marble, with mineral-coated surfaces, while the floor is bare concrete screed. Upstairs, the existing pine wood floorboards were re-laid, sanded and lightened; where the floorboards couldn't be reused, replacements were sourced locally from trees cleared for the HS2 rail project. All of the walls are coated in non-toxic products, from the clay walls in the kitchen to the 100% limewash paints on the upper storeys, sourced from House of Grey's collaboration with paint company Bauwerk Colour.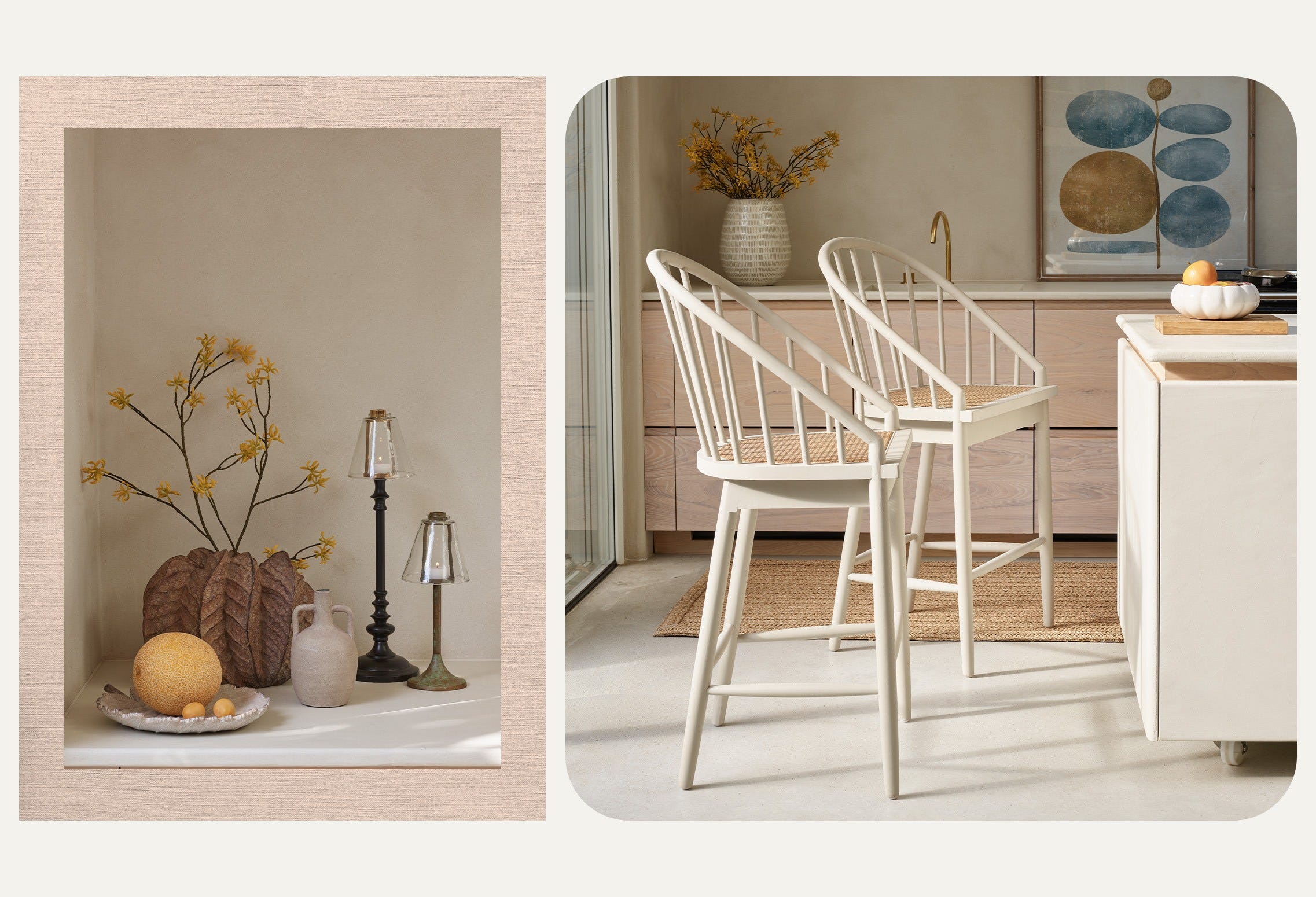 Those looking to introduce natural elements into their own home won't be short of opportunities to do so, as Grey notes "there are many touchpoints throughout the home which allow for the incorporation of natural fabrics and textures." Think linen upholstery, handcrafted wooden furniture, jute rugs, or accessories crafted from rattan, terracotta and clay. For her own home, Grey, a qualified weaver, created wool and jute rugs in partnership with rug brand Armadillo. The designer and her team place a huge value on craftsmanship, explaining that they "source, design and make pieces that will not only last a lifetime but are crafted, cherished and then handed down from generation to generation".
Back at the townhouse, the refreshed cornicing and ornate ceiling roses are evidence that the team stayed sensitive to the property's heritage features, but there are more modern additions that speak to homes of a sunnier setting: exposed timber beams and gently curving walls recall the trullo houses Grey fell in love with in Puglia, a fitting nod to the team's core belief that a home should be a retreat. It's just another way the property represents House of Grey's design philosophy, a decision the team made to help ensure their surroundings inspired and informed their work. "We have consciously taken control of our own destiny, creating our own space, building our values into every aspect of the design," says Grey, "to truly live and breathe what we believe, every day."
You can discover more about House of Grey's work here.
Hero image courtesy of House of Grey, ©Michael Sinclair. Interiors images shot and styled by OKA for Spring/Summer 2023.